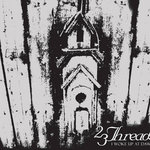 Artist:
23 Threads (@)
Title:
I woke up at dawn
Format:
CD
Label:
Zoharum
(@)
Distributor:
Alchembria
Rated:
While their previous release were approximately based on neofolk, "I woke up at dawn" is presented as "a tribute to the protoplasts of heavy music" by the label and classified as "occult macabre doom" by the band. This new album is an act of courage since it marks a change of musical direction and it reveals how the band is not used to repeat itself.
After an introduction about chaos magick, the album starts with a distorted guitar which almost hide the voice of Ingrid Swen. The musical form is somehow close to doom or stoner metal but with experimental breaches which loose the oppressive sound which evolves upon a slow and heavy rhythm. There's also more meditative moments, as "Hidden between the spaces", where the repetitions is effectively used. The saxophone driven interlude of "Cosmic Monuments" is a way to break the slow pace of the music to obtain a more multifaceted palette which is further enhanced by the remix "Atavistic" by Zenial with its danceable rhythm.
The band has set aside their erratic attitude for form releasing an album which has been conceived in an evidently more coherent manner while it exploits various tricks to escape the pit of boredom tied to the monolithic structure of the genre. It's a really nice release that could be well received not only by fans of the genre.
Artist:
The Touchables
Title:
The Noise Is Rest
Format:
CD & Vinyl
Label:
Conradsound
Conceptually this is an endearingly simple set-up- Norwegian duo Ole-Henrik Moe on a piccoletto violin and Guro Skumsnes Moe on an octobass, setting out to explore and play with sounds on both of the edges of standard human frequency perception, the former high, the latter low. It's a string duet like none you've heard before, a deep dive into acoustic textures and hearing exercises.

After the sparse drone sustains of "Nothing In Between" afford a sort of overture, you are jolted by the instant mania of "Barking Beetle Boogie", which starts at a pace it can't sustain before settling into more sedate territory. This frantic approach is returned to later in "Unicorn Stocking", which also jumps out of the gate at full pelt, exploring more percussive aspects of the sound and pitchsliding excitedly, before letting its energy level drop to more manageable levels.

The press release introduces another unusual concept- the idea of playing the note "E", preferably loudly and at great length, as a way of expressing concern for the 'E'nvironment, and the hope that it's a concept that could go viral. It's a sweet idea though I'd have to suspect it's too cerebral to really take off. I haven't checked the pitch so the following statement may be completely in error, but it's an idea that may be at play in pieces like "Birdabyalullaland", which is grounded in the two instruments repeating a bass note relentlessly and then deviating from it just occasionally in a way that adds both texture and suspense.

"Blackout Lighthouse" loops us back to the beginning somewhat, returning to screechy drones that more sensitive listeners may find as jarring as nails down a blackboard- an acquired taste, but worth persevering with to experience the effect that long immersion has on your aural senses. "Peace Ghost" ascribes a similar, strung-out path but in lower registers, feeling somewhat like distorted found sound at times. This flows nicely into "Byalullalandbird" which puts more ebb and flow into the sustains, and which offers up the rare treat of a violin sounding like an old steam kettle as an aside. Final track "Deserted Desert" strips out mid-range tones, adds a windy rattle, and ends proceedings in a manner that's somewhat on the bleak side.

As avantgarde experimental classical music goes, this work is slightly more playful than most, in principle at least- but it's certainly not without its darker underbelly. It's the forerunner of some releases imminent from a larger chamber orchestra, and on the strength of this, those will certainly be worth checking out. It's also potentially a strong test piece if you're concerned that either your ears or your speaker system are no longer registering dog-whistle frequencies...
"River Without Banks" is named after a chapter in musicologist Grenrikh Orlov's "Tree Of Music" where Orlov draws connections between Western and Eastern traditions of using chant and raga forms to 'eliminate the division between the physical and the spiritual'. Conceptually it's a fluid and open-minded idea that eschews more traditional compositional form.

Musically, Leo Svirsky interprets this principle using a piano, first and foremost, and predominantly solo. Long rolling chord work and super-sustained single chords twinkle and play in a manner that gives us work that feels classical in timbre, but more mesmeric and sometimes even drone-like in form. When it lets up slightly, particularly in the title track, it falls back into more familiar and romantic-sounding themes; on "Trembling Instants" sounding somewhat glib at first. Some strong and deliberate stereo separation, pushing a piano across your aural field, adds to the sense of immersion.

Ten minutes in, other elements are introduced. The piano still remains at the centre but we are also given electronics, strings and trumpet- generally long notes, drawing lines of tension or support to compliment the musical core. In "Rain, Rivers, Forest, Corn, Wind, Sand" it forges an unusual hybrid of almost folksy acoustic drone with more contemporary-sound synthetic touches.

"Strange Lands And People" is the most sombre point, a ten minute piano ballad that is also perhaps the album's most traditional point as well, and coupled with final piece "Fanfare (after Jeromos Kamphuis)", a sparser collection of tip-toeing single chords, the album wraps up firmly ensconced in a sense of musical tradition.

It's a piano-driven album that somehow fails to sing. In trying to find the fluidity and commonality among musical ideas old and new, it has landed in a kind of mediocre middle ground, neither truly one thing or another. It is perhaps held back by self-indulgent piano time where some of the more layered and collaborative sections would have been more interesting to hear extended or explored further. It's pleasant enough though.
Artist:
Gudrun Gut
Title:
Moment Remixes
Format:
Download Only (MP3 + Lossless)
Label:
Monika Enterprise
Gudrun Gut's strong album "Moment", released last year, gets revisited here for a four-pack of relatively straightforward, danceable slices of electropop that's not nearly as dark as I was expecting. Chugging synth arps, acid squelches and lightly broken drum patterns are the bed for a respectful take on the four brooding original vocals.

Legendary German electro-techno producer T.Raumschmiere's take on "Lover" is relatively mild by previous standards, and the Pilocka Krach remix of Bowie cover "Boys Keep Swinging" is nothing short of synth-pop.

Dasha Rush's version of "Baby I Can Drive My Car" has a rolling, progressive-house-ish breakbeat and some lovely pads, but never quite manages to go anywhere, before the almost-ten-minute-long Paul Frick mix of "Musik" sets the breathy and understated vocal against an endearing slow rolling techno groove with a really enjoyable sense of purpose and some rather lush detailing, making it a standout.

No real standout reworks here unfortunately, but an enjoyable if surprisingly lightweight electropop supplement for fans of last year's album.
Artist:
Erkki Veltheim
Title:
Ganzfeld Experiment
Format:
12" vinyl + Download
Label:
Room40
"Ganzfeld Experiment" is a single 44-minute work, pitched as an audiovisual work for electric violin, video and signal processing, but it is being released as an LP and I've only been sent the audio, so I am reviewing it on its sonic merits only.

Finnish-born, Australia-based Veltheim is a violinist, in a word, but he describes his practice as spanning "noise, audiovisual installation, improvisation, notated music, electroacoustic
composition and multidisciplinary performance"- and it's the latter rather than the former we get here. Violin tones are barely recognisable as the source, especially at the beginning of the work, as they have been bathed and deconstructed by processing, pulsing and transformation into something decidedly more electronic in texture.

Instead the result is more akin to a crisp, lo-fi proto techno, with gradual speed and amplitude changes applied to gated and harsh metallic tones for something that's a little sandpapery and a little dark sci-fi. Tone shifts draw out a form of melody that has the appearance, superficially at least, of randomness. Around fifteen minutes in arpeggios begin to form, followed by more distinct melodic pattern loops, offering a more overt compositional structure without really changing the sonic make-up. The natural progression for the melody is into frantic chaos, which duly follows, but by the final stretch of the listen, steadiness and flatter drones have been reestablished, giving a sense of coming full circle.

A couple of times, the pulsing fades away so thoroughly that it becomes inaudible, leaving behind nothing but crisp flavoured noise with echoes of rhythm in it- and it's this level of variation that keeps enough listener interest to make it appealing, and the cyclical structure adds to that somewhat. Harsh for certain tastes, and perhaps lacking in variety for others, I'd still regard this as a strong bit of work in the rare field of violin-meets-noise.