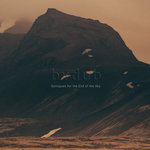 Artist:
Bvdub
(@)
Title:
Epilogues for the End of the Sky
Format:
CD
Label:
Glacial Movements
(@)
Rated:
Even if he's not a very known name, Brock Van Wey has a long history started in the late 80's and oscillating between deep house and ambient. With his new release on Glacial Movements he takes the titles of the tracks by a brief poetry and this is an hint that, more than a collection of tracks, this is a cohesive release.
The first track, "On Deaf Hearts Your Prayers They Fall", seems an usual ambient track with the juxtaposition of drones that create a quiet mass of sound but suddenly a piano chord if used to forge a second part of the track closer to certain modern classical. "With Broken Wings and Giants Tall" use the drone to blur the piano and the voice and transform them in abstract sounds to reveal them only in the closing seconds. The discernible melodies of the guitar and synth make "Sparkling Legions Turn to Black" a track away enough to the usual structure of the genre and closer to the form of the prime movers e.g., the Orb. "Your Painted Armor Aches to Crack" is quiet ambient watercolor and "Clouds Besiege What You Remain" is a crescendo for synth until his end in silence.
"Footsteps Fade If Not Your Pain" is based upon a beat that is loosely audible until when it stop with the soundscape to let an almost inaudible synth accompaniment. The cradling metaloop of "Love Is Never Asking Why" has a mirror in the almost static drone "It All Ends with the Coming Sky" which ends the release.
Even without any ground-breaking moments, this release let the will to hear it again as it balances his well known form with a remarkable sense of balance and a great craft for sound forging. It's worth a listen maybe with headphones.
Artist:
Phonophani
Title:
Animal Imagination
Format:
2 x 12" vinyl
Label:
Hubro Music
"Animal Imagination" is a rough-hewn collection of thinly diced found sounds and electronic sounds blended into an alien and sometimes cacophonous melee of sincere oddness that does a major in experimental and a minor in electronica. The source palette is broad but frequently used ingredients include softened white noise and close-sounding, percussive organic noises, all muddied up with processing that gives the whole thing an unusually intimate, almost smothering feel.

The synth washes and more stable windy drones that are barely audible in opener "Life's White Machine" get their chance to shine in "Deep Learning", a deep alt-techno affair with utterly lovely mesmerising subbass tones and odd time signatures that feels like it might belong on a different album. Another piece that sounds faintly out of place is "A Dark, Sharp, Heartless" with its brief foray into more guitar-shoegaze territory.

The twisted yoik-like vocal of Mari Kvien Brunvoll brings an unusual flavour to "Untime Me" (and possibly uncredited to "I Have No Subconscious"?) that make all-too-brief highlights, before the extensive title track takes what sounds like bowed instruments being manhandled and glitches them into chaos with a result that makes you feel like you're trapped inside a creaky wooden pirate ship that's somehow ended up in the Tron universe- a feeling that briefly returns on album closer "Sirma, 1997".

Longest track "End Of All Things III" is the exemplifier of an album that's thickly layered, complex and at times challenging. It's a clear labour of love with a lot of energy and a definite shine.
Artist:
Steel Hook Prostheses
Title:
Calm Morbidity
Format:
CDS (CD Single)
Label:
Malignant Records
(@)
Rated:
Steel Hook Prostheses (SHP for short) is a (well-known) heavy electronics/dark ambient duo from Texas.
In this specific experimental context bands have usually quite sophisticated concepts and stories behind their musical and graphical aspects. SHP is no exception. As you can read in several interviews here and there in the immense world-wide web, one of SHP's member thought about such a peculiar name because of the time he spent in a Veteran's Hospital, where his mom used to work back in the 1970s. Veteran's hospitals ain't ordinary hospitals, and this guy had plenty of time to observe atrocities and disfigured people. Therefore, most of SHP discography is really about medical stuff.
'Calm Morbidity' is no exception. A quick look at the songs titles prepares the listeners to a full-immersion into freaks ("Cyclopia"), confusion induced by drugs ("Doused with acids"), uncomfortable sensations ("Paresthesia"), etc. In other words, this album is about everything that can go wrong in the medical context. The 'heavy electronics' performed by SHP is not particularly original, but I think that in this genre failing in originality is not necessarily a vice. You have to do a lot of chaos, but you have to be good. You have to find a way to drag the listener into your own nightmares: this is the only important aspect of this music. And SHP are damned good. Their music shifts from a power electronics-based structure ("Hand of glory", "Piss prophet", "The medics" and in particular "Strangury") to dark-ambient ("Doused with acid", "Paresthesia", "Sulphur Drip"). The dark ambient I'm talking about reminds me some Cold Meat industry-based acts such as Nordvargr or Necrophorus. But there is something more, like Lustmord (in particular "Purifying fire") or some stuff produced by Aural Hypnox (Arktau Eos and Zoat Aon). The power-electronics parts are, let me say, more 'modern' and elaborated than classic projects in this type of music. The voice is distorted and modified way more than usual (take Genocide Organ to the extreme), but there is not a typical 'noise-wall', especially because of the dark ambient inserts and in general because it is really 'synth-based' (I would say less analog, more digital, but I might be wrong) rather than just grounded in the use of the typical home-made instruments of the noise scene. As I just said, it is not particularly original, but the way they combine different influences is remarkable. 'Calm Morbidity' is everything I can ask from an industrial album; violence and mystery at the same time: a perfect combination of power-electronics and dark ambient. Highly recommended.
I have to mention that this album is produced by Malignant Records. It goes without saying, Malignant Records has become one of the most important label for this type of music. I'm not exaggerating when I say that, if you like power electronics, dark ambient or death industrial more in general, then you can buy any Malignant's release and you won't be disappointed.
Artist:
Stolen Light
(@)
Title:
Voices
Format:
MCD (Mini CD)
Label:
Inner Demons
Rated:
I have been familiar with Brett Lunceford's work as Stolen Light and Goose since the 1990's when I became obsessed with collecting the entire Troniks catalog. I then also began to discover his label Zaftig research which seemed to cease regular activity in about 2003. The label did continue to release its Christmas compilation until 2008, after that the label went quiet as did the projects with the exception of a few releases here and there on labels like Phage Tapes and taalem.

At this point, we come to the year 2017 which seemed fairly hopeless with everything going on in the political landscape. Early in the year though Dan Fox who runs the label Inner Demons announces he will be releasing some new work from some projects who have been dormant for some time. Projects like Fox's own Loss, 15 Degrees Below Zero and Stolen Light were announced in the new release lineup and hope had been restored to the world.

Stolen Light takes advantage of "field" recordings whether it be from television or just being out in an environment where a lot of activity is going on. In previous releases, the sounds surrounding these recordings can either be very noisy or subtle ambiance. With "Voices", Brett has utilized an approach that is somewhere on both spectrums. The first track Paranoia sounds like what a social anxiety attack feels like with the voices being clear in the beginning and the static building as time goes on. The noise at the end does almost fully envelope the voices by but they can still be heard in the background with no clear definition of what is going on.

The second track Communication And Commerce leads in with a much more dense layer of people chattering and talking in a loud restaurant or bar. The added noise on top is much more subtle this time but it works very well with this track. It is difficult to get good recordings in a crowded space with lots of sounds but Brett somehow manages to pull it off and make it interesting to listen to at the same time.

This is a great return of an understated artist in the experimental noise scene. My only complaint is the release is too short but since the label only does releases in the 3" CDr format it makes perfect sense. I hope to see Brett return to more long-form releases and there has been a rumor of resurrecting Zaftig Research, even if only for the Christmas Compilations.
"Race To Zero" is an epic soundtrack for no particular film. Emotive and energetic strings, bold piano melodies, a variety of different percussive techniques and a sympathetic smattering of electronics and detail-driven post-production give the album an extremely high-budget and dramatic feel that just leaps out at the listener.

Tracks like "Tilted Stage" and the unusually constructed "Soma Vapour" bring the electronics work closer to the fore, making music that is reminiscent in parts of a BT or Hybrid score. There are some crazier moments too, such as the near-oompah brass of "Wax Heart" that plays against rapidly arpeggiating synth sounds over complex live-sounding drums.

Like a film score there are a variety of moods and tensions. "Stone Face" is a slightly militaristic call to arms, the clarion call of a heroic fight back, while "Caretaker" is a more plaintive and somewhat sinister piano piece, that leaves you unsure whether the titular character is a good guy in danger, or the source of some evil. While many soundtracks end with the big finale, here we end with "Songbird", a reflective violin and piano piece with large doses of windy ambience that brings things to an slightly off-kilter conclusion.

It's magnificent and if this were a film score, I'd be heading down to the cinema to learn more. It's one of those albums where the only criticism you think of is that, at 38 minutes, it's too short.