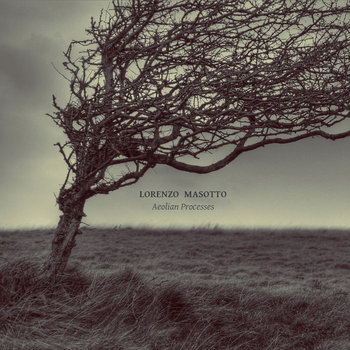 Artist:
Lorenzo Masotto
Title:
Aeolian Processes
Format:
CD
Label:
Dronarivm
(@)
Rated:
Lorenzo Masotto is a classically trained composer which, beyond being a member of a prog/post rock band called Le Maschere di Clara, writes music centered on piano. In the introduction to this release he states that he tries to make mimic music based on image and he want "to portray those images, using only the sound that a piano can paint". This approach clearly carries the listener to classify his music under the neo-classical genre whatever this may means.
The piano of "Arctic Summer" opens this release and introduces the listener into a sound field vaguely reminiscent of certain romanticism which is the key characteristic of what is called "modern classical" as we are in a pure melodic environment without any discernible dissonances and all track are based on the development of a single and clearly developed theme with the addition of simple effects for the expansion of the audial spectrum. This framework is repeated in almost all tracks even if in "Drone" there's some barely audible field recording and a sort of drum, in "My Great-Grandmother Lived In The Mountains" there the accompaniment of a synth or in "When The City Sleeps" there's a trace of kosmische musik in the looping synth in the background. As a matter of fact, they are more an ornament rather than an hybridization.
To evaluate this kind of release is a matter of perspective: if someone appreciate the novelty or the deviation from the canon, this is those kind of release that would be covered by dust but if instead he's searching the comforting sensation that a cantabile has in our musical culture, this release will firmly stand in the music player. Pick your choice.
Artist:
Christopher Chaplin
Title:
Deconstructed (Remix EP)
Format:
Download Only (MP3 + Lossless)
Label:
Fabrique Records
This is an EP of reworkings of tracks from Chaplin's debut solo album "Je Suis Le Ténébreux" released last year. For those who still think 'remix' only means dance music, this release should set you straight. Four guest artists take elements from Chaplin's work and build new environments out of it.

Jama Irmert's take on "Aelia Laelia" is a multi-stage piece full of dramatic shifts, with all sorts of elements flying in and out- choral notes, distorted guitars, drones and deep electronic bubbles. It's generally a little more abrasive than the material on Irmert's own debut "End Of Absence".

Tim Story brings his 'electronic chamber music' aesthetic to the title track from the album, creating something with a slow, slightly jazzy live feel of piano, drums and deep plucked bass, with retriggering electronic glitch-percussive noises and serious sounding radio-like vocal snippets sprinkled very liberally on top.

Peter Zirbs' take on "Lucius Agatho" consists of long guitar-esque drone tones, melded with a rapid tip-tapping of crisp electronic processing. It evolves smoothly and fairly quickly, fitting into a six minute slot but leaving the impression that it could have easily sustained twice as long.

The remix of "Aelia Laelia" is sadly missing from the promo so I can't comment on that, but from the first three tracks of the four track EP, it's a lovely little collaborative package that works well as a sampler both of Chaplin's and all the remixers' work.
Artist:
Suplington
Title:
Repeating Flowers
Format:
Download Only (MP3 + Lossless)
Label:
Youngbloods
(@)
Supliington's "Repeating Flowers" is a rich blend of digital ambiences, synthetic washes, mellow drawn-out instrument notes and effects, and an above-average helping of light multi-ethnic drum sounds. It's a sonic bath, but at times a slightly disorientating one- while it doesn't wander too far into dischord, there are some alien tones and odd juxtapositions here that make the release clamour for attention more than some do.

There's a range of durations here, with "A Ritual Dance For Growth" little more than a 2-minute interlude, perhaps an unfinished idea, while "The Ocean As One Being" is allowed to breath for a justified and welcome ten minutes.

"A Place Of Fear And Realisation" is boldly simple, while "Spring Dance" brings live toms and deep drums into the mix in a way that feels natural and authentic. "Comforting Company" also adopts live drum sounds, but in a more regular and uniform manner than feels more like sample loops. The finger-snaps and gated vocal-like sounds of final track "An Infinite Loop Of Time" are a refreshingly upbeat way to mellow out, devoid of at least some of the melancholy that normally pervades this kind of soundscape.

It's a smooth, fantastically coherent and ultimately rather beautiful 50 minutes of aural comfort, with just enough of the unorthodox about it to give it a memorable character.

(Oh and by the way, although I've listed it as "download only", it is also available as a limited edition cassette, but "cassette + download" wasn't on my options list.)
Artist:
An Erotic End of Times
(@)
Title:
Chapter One
Format:
CD
Label:
Echozone
(@)
Rated:
Well, this looked interesting, at least by the CD cover and the band name - An Erotic End of Times. 'Chapter One' is the debut release by this French duo of Philippe Deschemin and Erwan Frugier. Deschemin had an on-again off-again industrial band called PORN between 1999 - 2012, and it may even be on-again still. Never heard them though. Don't know much about Frugier except that he was involved with PORN 2005-06. Okay, so to quote the one-sheet: "The first album of An Erotic End of Times is a gothic industrial rock and metal celebration of life and death. With 'Chapter One' the duo lay down the cornerstone of a musical work in the wake of dark and esoteric bands like Fields of the Nephelim, Type O Negative or Katatonia." Well, the comparison to the aforementioned bands is a stretch at best, and in reality, totally inaccurate. In fact, this outfit is only marginally goth-industrial and mostly alt-metal. A smattering of keyboard and synths doesn't entitle you to call yourself goth-industrial. On the other hand, there are plenty of grinding guitars and heavy-duty drum programming. I'd call this more akin to bands like Deftones, Disturbed, Godsmack, and White Zombie. If that's your thing, you might like these guys. Most of the time Deschemin sings with a gravelly growl which works well for the metal aspect. I'm not getting anything erotic out of this material, except for some lyrical allusions to sex.

The album opens with "I am become death," a tribute to the Robert Oppenheimer quote, the sample also to be found on this track, with a sludgey metal stew. "Love is the End" picks up the pace offering some headbanging opportunity, but the best thing about it is the chorus hook; otherwise it's the kind of metal you've heard time and time again. "No Rights" has a gothy synth/keyboard intro and backing but little else to offer in its self-wallowing dreariness. I swear I've heard the guitar riff(s) used on "Freaky World" by other bands. The clean chorus vocals make this track probably the best on the album. "One Second" attempts set a Nine Inch Nails-ish mood, but non-memorable metal breaks drag it back into the sludge. Similarly, "Writing on the Wall" utilizes the "Man on the Moon" dialogue sample for way too long sabotaging the mission. "The Hangman" is the first song that sounded really different, with maybe a ghostly nod to Nephelim Fields, but the JFK dialogue sample concerning secret societies just killed the mood for me. After that we're back to metallic pastures again. Finally ending with "The Origin of All Coming Evil," a crawling instrumental number with spooky synth lead followed by lengthy dialogue sample (Einstein?) hammers the nail into this coffin at last.

While I wasn't wowed by this work, some might be. I just don't think it's industrial. Moody alt metal at best. I didn't care much for Deschemin's overblown vocals, and way too much grinding metal guitar for my taste. As (he is also) a novelist, lecturer and political philosopher, I expected more from Philippe Deschemin here, but I didn't get it. (At least the songs were in English.) Maybe next time.
Artist:
Loke Rahbek
Title:
City Of Women
Format:
12" vinyl + Download
Label:
Editions Mego
Loke Rahbek's debut solo album is a collection of dark, distorted drones and electronic washes and piano melodies.

The title track is a highlight, taking EDM sounds and remoulding them into something extensive and cinematic not dissimilar to some of BT's soundtrack work. "A Mess Of Love" is also a mini-epic, beginning sparsely before opening into a triumphant-sounding quasi-orchestral conclusion (and a bizarre single drum hit at the end which frankly sounds like a mistake). Opener "Like A Still Pool" and closer "Take Pleasure In Habits" work well as book-ends, sombre punctuation for what's between.

However at times it feels a little soundscape-electronica-by-numbers, with pieces like "Fermented" a very familiar arrangement of moody tones and lonely piano notes rather lacking in a distinct character, and "Swimwear" carrying a strong sense of deja vu with it. Like many other debuts, a more adventurous focus might have lifted this album to higher accomplishments, but as it is it's a rich and interesting listen.