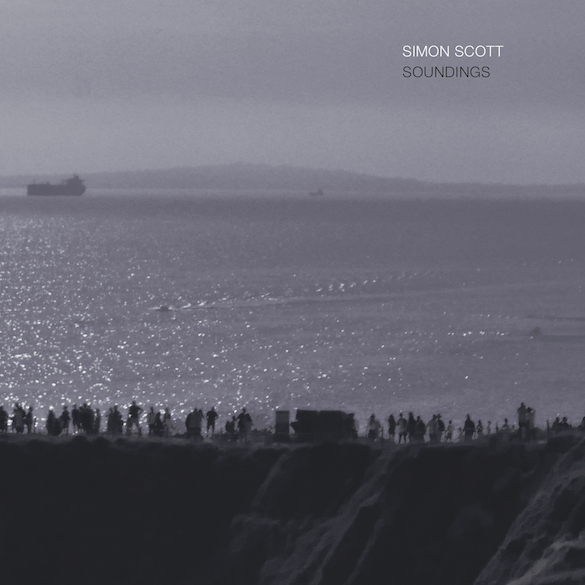 Artist:
Simon Scott
(@)
Title:
Soundings
Format:
CD
Label:
Touch
Rated:
This new release from Simon Scott, already known as Slowdive drummer, is presented as a collection of tracks composed in a four years time span so the field recordings are not a sound make up to give a sense of reality to electronic music, but a temporal tag which link the track to the place, and time, where it was conceived.
The recordings of Storm Barney open "Hodos" and introduce the listener towards a concept of music where field recordings and electronic music, mostly drone based, merge in a cohesive whole. "Sakura" is a melancholic track based on resonances upon the sound of flowing water. "Santori" has an almost dramatic tension while "Mae" has moments with impressive sound masses. "Grace" and "Nigh" borders modern classical territories with their catchy melodies on strings.
"Baaval" is instead a drone interlude to "Apricity", the longest track of this release, where the long tones on strings evolves until they obtain a lyrical force which could be a little too sentimental but of great impact.
An example or organic ambient music which could not have those elements of originality that could charm the listener at first sight but whose impressive craft for harmony and variety will give a lasting place below the laser lens of the player. A really nice release.
Artist:
Kedr Livanskiy
Title:
Your Need
Format:
12" vinyl + CD
Label:
2M Records
After her debut album "Ariadna", Livanskiy says she felt "trapped by her own image". The main medication for this issue, she says, was DJ'ing "old school styles of dance music"- ghetto, house, breakbeat and UK garage. So while the experimental, quirky, sonically fairly lightweight synthpop of the first album is still on display, it's no surprise that it's now fused with more dancefloor-centric elements.

This is most in evidence on the title track, which is here included in two versions, with the 'deep mix' a nice example of old school belearic dreaminess- as is "Sky Kisses", which will appeal still enjoying the more blissed out tracks on old Beloved albums. "Bounce 2" is a fun throwback to ravier days, with its almost complete lack of bass evoking memories of listening to worn-out or badly recorded mix cassettes, for better or worse.

The alt-pop aesthetic is still very much present however. Every track retains a song structure around three minutes, and tracks like "LED" are sincere and straightforward pop ballads. "Why Love" is an alt-electro-disco highlight, and final track "Ivan Kupala", with its early 90's breakbeat, is nicely messy in the best possible way and wraps the album up very nicely indeed.

The 'ghetto' element peeks through in certain aspects, such as the rhythms on "City Track" and "Kiska" or the dubby version of "Lugovoy", but in terms of overall, this remains 'synthpop doing other rhythms' rather than anything that would pass as urban music.

It's a light electro-synthpop release with a lot of character and a personal touch being clearly expressed. It may not be substantial enough for some tastes- either in production depth or due to the brevity of the tracks- but for fairly wistful walking music, this has a lot of merits.
Artist:
VV.AA.
Title:
Tombstone Trance Vol. 1
Format:
Download Only (MP3 + Lossless)
Label:
Stabudown Recordings
Stabudown's compilation album isn't purely 'trance', in any generational use of the word, but a fairly broad collection of almost-entirely-instrumental EDM that spans synthwave, modern electro, synth-industrial, techno and, to a lesser degree, trance in the more early 90's, less mainroom hands-in-the-air sense. Initially there's a musical commonality that comes from some heavy and not-just-4/4 percussive elements that provide most of the tracks with a distinct bang, but as the tracks progress, things get more beat-free, introspective and spacious. The result is an earnest pack of tunes that's so remarkably consistent and planned out that at times you could believe this is an artist album.

TML's "Goshun" is one of the heavier pieces, thick kicks with stuttering vocal sounds, while CLAWS's "Scrappy Industrious F.U." also has the banging attitude but with a production approach that's so bright it ends up feeling feel-good possibly by accident. Kerridge's "Death Is Upon Us", Long Bastard's "Send" and Bad Tracking's "Arnos Veil" form a mini-industrial section (the second of those with some vocals, just to mix things up a bit).

Highlights include Koehler's "Beyond Andromeda", a deceptively grouping of semi-breakbeat and playful high synth arpeggios that's strangely infectious. East Side Ancients' upbeat but coarse-edged dub track "New Happy Fortune" is oddly nostalgic, but in a good way, and it runs nicely into the deeper reverbing delays of Grey People's "Mourning Etiquette". This in turn flowers smoothly into the ethereal tones and heartbeats of "Absolute Other" by Organic Dial. The two final tracks, from Vanity Productions and The Rancor Index, complete the descent into downtempo ambience, bordering on drone, and the journey is nicely complete.

It's a well curated compilation that's more thoughtful and diverse, and less in-your-face, then the artwork and branding may possibly suggest. Definitely the sound of life at the more interesting side of EDM.
'human kind ~ animal mind' is German electro-rock band Soulimage's second album, the first of which I've never heard. Rob. E. Soul handles the vocals, synths and drums while Patty Juhasz takes care of the guitar work. With a little help from their friends (Shir-Ran Yinon from New Model Army, violin on a couple tracks; Michael Erhard - bass on all tracks; and Conny Eberl - second vocal on a few tracks) they put together this album mixed and mastered by prolific German music producer Hitlon Theissen. 'human kind ~ animal mind' is bound to be a turning point in the career of this electro-metal band because it's a powerful trip, incorporating elements of NDH, Darkwave, alt-metal pop that is straight-on powerful. Soul's distinctive bold and potent vocals fit the music like a latex glove, whether he's in melodic mode (most of the time), or in harsh death growl mode (less often). The songs have more hooks than opening day of fishing season. Lyrically, the songs are a good mix of relatable themes without resorting to the mundane or LCD, and not over-intellectualizing. The tracks are forceful without beating you over the head. The one thing (and it's only one thing) is that this sounds very slick and polished; maybe too polished. However, it's hard to fault a well-produced product that sounds excellent. How it will resonate with listeners at large remains to be seen, as the album isn't slated for release until May 31st.

Artist:
Going to Catalunya
Title:
s/t
Format:
CD + Download
Label:
Echozone
(@)
Rated:
Going To Catalunya is the "Independent Acoustic Wave Pop" project of the Dutch duo of Rob Keyzers (White Rose Transmission) and Frank Weyzig (Born For Bliss, White Rose Transmission). Well, at least I'm familiar with Weyzig and Born For Bliss; he used to be with Clan of Xymox and I reviewed positively a B4B album a few years back. Can't say I know anything about the other outfit though. You have to realize that this is just a couple of friends getting together to do a primarily acoustic (guitar, piano) art pop project, and not a real rock band, although that's where they're from. Some elements used here may be misleading though - electronic keyboards, programmed drums, electric guitars, etc., so it's not solely acoustic, just somewhat acoustic based. The concept (and by association, the project's name) was initially focused around Rob Keyzer's life journey to Spain, including the people and events involved during this period of time. The project (in total) comprises paintings, photos, stories and music. The painting can be seen in the cover artwork and also throughout the 12 page booklet. One song ("Polaroids") is dedicated lyrically to photographs and memories. As for the music, it definitely has a melancholy bent in a somewhat progressive skein. If you could imagine Anthony Phillips (first guitarist of Genesis, more pastoral since his departure) replacing Dave Gilmour in Pink Floyd, you might have some idea of what this sounds like. Anyone expecting any kind of heavy rock or snappy songs is bound to be disappointed. It's much more introspective than that, although lyrically, not what I'd call deep. Some will undoubtedly find that Going to Catalunya resonates very well with them. For me, although well-crafted, it was a bit too soporific for my taste.