If you're looking for porn on the Internet, it shouldn't be too hard to find, but if you're looking for Porn, the French Industrial Metal band, that might be a little harder but worth it. This is Porn's third album, and sorry to say I haven't heard the other two. I'm also willing to bet Porn are (currently) a lot bigger in France and Europe than they are here in the U.S., but perhaps 'The Ogre Inside' will change that. The first positive aspect for American appeal is that the vocals are in English. Second is that vocalist Philippe Deschemin doen't just growl, he also actually sings. Philippe Deschemin...hmmm...where have I heard that name before? Oh yeah, he was behind that 'An Erotic End of Times' album. Didn't much care for that one. He's also a novelist, lecturer, and political philosopher, if I recall. So here we kind of have the thinking man's industrial-metal, rather than the typical in-your-face fist-pumping stuff that passes for Industrial Metal these days. You will find plenty of industrial strength muscular guitar (playing a fair amount of familiar riffage) and as well as effective electronics sewn through the mix, yet it's not all sturm und drang. For the occult-minded, there are vocal samples of master-magus Aleister Crowley sprinkled throughout the tracks.

The album plays like a graphic novel exploring themes of violence, lust and desire, pain and suffering, control, death amd mortality, and more. It's a loose concept album, but a concept album all the same. The "ogre inside" is obviously the beast that thrives on destruction, sadism, cruelty and an appetite of excess. For Deschemin it's a losing battle he's waging here but he doesn't go down without a fight. What I felt didn't work too well on 'An Erotic End of Times' seems to work fine here. Maybe I wasn't expecting much from a band called Porn (you've got to have some balls to name your band that), but this is well-produced, musically varied, yet still tough as nails Industrial. Deschemin's vocals are introspectively emotive when they need to be, and also ragingly powerful, and even over-the-top when the song calls for it too. There are times I'm hearing shades of Pete Steele which might make some old-schoolers want to check this out. I really feel that this is an album that needs to be taken as a whole, so I can't pick a standout over the 9 tracks here. Truth be told, they're all good and there's nothing you'd want to skip in the 51 minutes from beginning to end. I think they have another album coming out soon too, and I'd be looking forward to that.
image not
available
anymore
Artist:
Ager Sonus
Title:
Book of the Black Earth
Format:
CD
Label:
Cryo Chamber
(@)
Rated:
Ager Sonus is a German project which is moving his first steps and now has his first album on Cryo Chamber, openly inspired by the imaginary of ancient Egypt. From a musical perspective his music is something at the crossroad between the canonical form of dark ambient which is the unifying feature of all label releases and a more personal form based on small melodies which appear in particular moments of this release.
Above the usual long tones typical of the genre, "Through the Desert" is full of various small detail which drawn the sounds into a concrète environment instead of a void without background noises. The construction of an atmosphere in "The Dead City" is achieved by the small duration of the drones so there's a sequence of them instead of a work on nuances as if there's a narrative behind the work. The use of voices in "Discoveries" is a functional element to the description of am Egyptian place. "Inner Sanctum" is a canonical piece and "Osiris's Courtroom" continues in this path until the final piano melody in the last seconds of the track. "Apophis" shows some good sound effects and "Awakening" closes this release with a remarkable work of writing as the track starts as an atmospheric ambient track, develops with a proper melody for a guitar synth that is reprised, after an ambient break, by the piano to end this release.
Alternating canonical pieces with more courageous ones, even if this could be considered as an average release, Ager Sonus develops a release which could be well received by fans of the genre and has some cue that something interesting could come with next releases. Only for fans of the genre.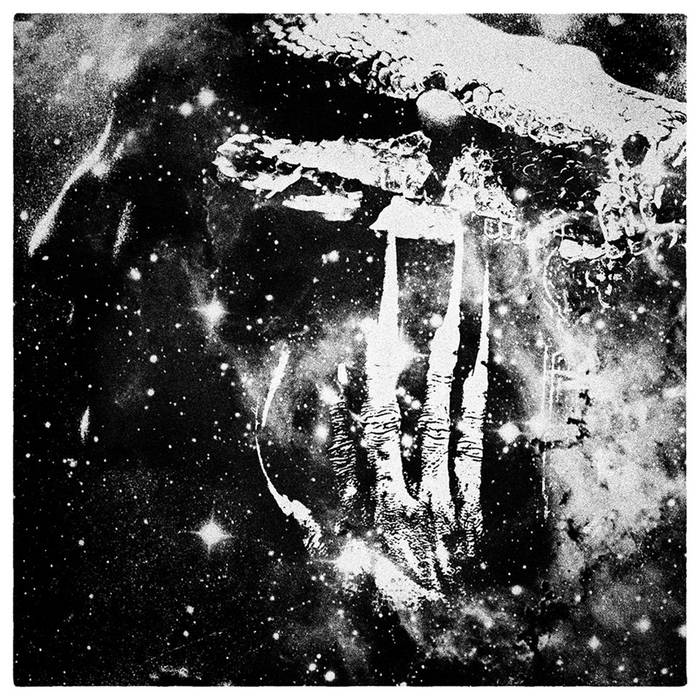 Artist:
Miguel A. Garcia & Miguel Souto
(@)
Title:
The Lurking Fear
Format:
CD
Label:
Anoxia Records
(@)
Rated:
This seems the first release by Anoxia Records, a Spanish independent record label overtly beyond genres. After his last two works as Sudaria, Miguel Souto returns with a work with Miguel A. Garcia, a sound artist and improviser, and it's closer to the field of EAI than black metal as the tracks are edited by Miguel Souto from an improvisation.
"Trioptesmeae" starts as a sequence of small sound events separated by silence and develops in a juxtaposition of noises in a dialogue with the analogue instruments used and in a search for a sort of narrative or at least a path from silence to sound. The stereo separation in "Unknown Kadath" makes clear the dialogue involved in the process of playing by the two musicians as their sonic output is not so different to be easily catch; as the dialogue starts in an almost canonical way it slowly evolves into a sort of mutual support when they try to evolve each other's drone or in a dialectic when one continues the drone and the other inserts small noises. The almost metal oriented start of "Hidátide" introduces the listener into the most aggressive and monolithic track. "The Lurking Fear" is the longest track of this release and is the most subtle track of this release as quiet moments and harsher one are almost in equilibrium as while the initial and the final part of this release are reasonably quiet the central part is a dialogue between noise and drums.
While the form stands firmly in the canon of the genre, this release is enjoyable enough for fans of EAI and it's another interesting chapter in the evolution of this artists. It's really worth a listen.
Slovenian three-piece Širom serve up five lengthy pieces with the gently repetitive rhythmic patterning reminiscent of Steve Reich, but with a spontaneous attitude and constructed out of a broad collection of acoustic, mostly ethnic and folky instrumentation. Alongside banjos, a bass drum and a viola, there are balafon, cünbüs, ribab, bra and mizmar- and I'll admit I had to Google all of those (when you Google 'cünbüs' you mainly get links back to Širom, suggesting either a mis-spelling or they've just made it up!). There are vocal 'oooh' and 'ahhh' notes but this is essentially a 42-minute instrumental work.

Though each of the first four tracks is around ten minutes long, there are distinct sections, generally one to three minutes, ranging from near-ambient to chaotic, with sometimes abrupt transitions inbetween. This means that moods aren't allowed to wallow, and pattern evolution is sometimes underexplored.

Highlight moments include the early parts of second track "Boats, Biding, Beware!" where everything revolves around the marimba-esque sound (the balafon I think) with a mesmeric, soft wooden resonance and some nicely engaging internal changes of pace. The interplay of different and awkward time signatures on different instruments is fascinatingly done at the start of "Maestro Kneading Screams Of Joy", in one of the more consistent pieces which continues that juxtaposition with a gradually waning energy level as it progresses. Final short piece "Ten Words" sounds like a twisted, almost tongue-in-cheek rendition of a traditional folk tune.

The sonic quality sometimes feels a little raw, with the drum sounds in particular sounding a touch thin, and some of the vocal noises strangely low in the mix, giving the whole thing a very live, almost amateurish feel which slightly undercuts the dynamics of the performance. But for that sonic detail though, this is an attention grabbing and extremely enjoyable bit of avantgarde music with a rich, non-cliché cultural heritage.
Artist:
Mirt / Ter
Title:
Bacchus Where Are You?
Format:
CD & Vinyl
Label:
Monotype Records
"Bacchus Where Are You?" comprises five long slices of studio-based improvised electronica from an enigmatic Polish duo who use modular synths to generate slowly evolving, gently rhythmic ambiences full of breathy noises, clicks, and soft pads. It's valid that they describe their work as "post-ambient techno", but it also harks back to early 90's trance ("proper trance" I'll admit to being very fond of), and the sounds of Rising High Records or some of the less organic early Future Sound Of London tracks.

"Morphing" is genuinely beautiful if you're in the right mood, broad and atmospheric. Second track "Bacchus Theme" is a bit more techno-minded, still lightweight but less progressive and with shorter edgier loops. This mood continues fairly seamlessly into the slightly washier "Disaster Reworked".

Things reboot a little for "Wooden Object" which has subtle shades of Global Communication's "76:14" about it, or a mellower version of CNSNNT's "Z". Dubbier electronic wubbles towards the end draw obvious but unavoidable comparisons to The Orb's more stripped-back sound. Things are wrapped up with "Holographic" which, with its more percussive and sparse synth key presses, seems to want to travel slightly further back in time and become a Tangerine Dream track.

It's an extended, deep but soft-edged journey along the line where sounds can be almost-ambient but also almost-techno, where consistency is a bonus and familiarity is an effect. It's only in some of the production details that it's cutting edge, but its sonic approach otherwise manages to be more 'timeless' than 'dated'. It's sincere and completely successful and one of the most satisfying all-round album listens I've experienced in some time. I've used comparisons to some of my favourite artists above and it's intended as high praise.