Artist:
Sweet William
(@)
Title:
Ocean
Format:
CD
Label:
D-Monic Records
(@)
Rated:
ot long ago I reviewed Sweet William's recent 'Time' album and someone from the band's team informed me that they sent a couple previous albums to Chain D.L.K. for review, but they apparently never got reviewed (things sometimes slip through the cracks) so they sent me copies of 'Ocean' (2013) and 'Organic Shades' (2016) which I'm grateful for because these albums deserve some attention. In my review of 'Time' I spent some time briefly describing some of the history of this seminal German Goth band, but no point in regurgitating that again. While 'Time' covers a lot of ground, moods and form, 'Ocean' is predominantly stark old-school Goth. This is an album that sounds as if it could have been made in the early '90s. It's basic, visceral, and intense. 'Ocean' is supposed to be a concept album but unlike many of those that seem to have songs in them merely to further the concept, the songs here all stand on their own. At first I wasn't wild about 'Ocean' because it didn't seem as polished or refined as 'Time' but after repeated listening, I find it just as good, if not better. There is a rawness about 'Ocean' that really cuts to the bone. Even the instrumental track "Tsunami" has a certain harshness and alienation about it that is just chilling. There is much that is similar in flavor to '80s-'90s wave/goth bands we all know and love- The Cure, Echo & the Bunnymen, Clan of Xymox, Siouxsie & the Banshees, Bauhaus, Joy Division and numerous others on this album. For nostalgia's sake (and likely because it's a great song too) there's a cover of Joy Division's "New Dawn Fades" which in my opinion is even better than JD's original version, being much more powerful, although I'm likely to take some heat for that from Curtis's rabid fans. Although there are a few throwaways (kind of natural on an album of 18 tracks) on the album the majority of the tracks are very good, with some such as "Ocean," "Insane," "New Dawn Fades," "Welcome to the Show," and "over" being quite compelling. Oliver Heuer and bandmates Frank Breuer, Markus Gerlach, and Marius Nagel are all in top form on this recording. 'Ocean' is a moody-broody album, but then again, aren't all the best Goth albums?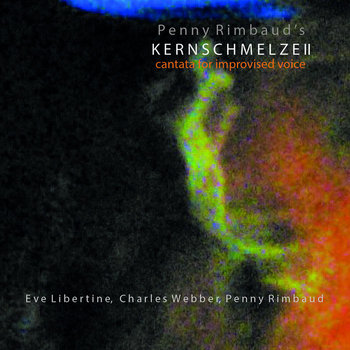 Artist:
Penny Rimbaud's Kernschmelze II
(@)
Title:
Cantata For Improvised Voice
Format:
CD
Label:
Cold Spring
(@)
Rated:
While his previous "Yes Sir, The Truth Of Revolution" was not entirely convincing as centered upon message instead of music, this one seems his perfect mirror. Charles Webber processed the voice of Eve Libertine as Penny Rimbaud's idea was to create soundscape using only vocal sounds on a musical structure based upon the movement and multiplication of sound masses obtained by the layering of vocal lines.
Even if it's named as a cantata it starts with an impressive and thunderous soundscape upon which the voice of Eve Libertine starts her spoken words but the most impressive moments is where the voice filtrated, manipulated and layered generates a movements from operatic vocal lines to noisy moments where phonemes are translated to sounds. During the 8 parts of this opus the voice is rarely used in his natural setting, so the discernible message is lost in a auditory environment where the listener is placed against his expectation of the form and this is perhaps the sense of the whole operation; as the Kernschmelze is a "core meltdown", this release sounds as a "voice meltdown" or the consciousness that the perception of the voice, the emotional impact of the message, is now more important that the content of the message. From this perception, the sound quality of Charles Webber's voice is juxtaposed to the emotional impact of the whole musical structure and the sense of the message is exemplified by the fact that instead of being cathartic all this sound mass simply ends in silence.
An amazing work by an artist that, even with his remarkable past, is again able to offer his views on modern times with the spirit of a newbie. Absolute respect.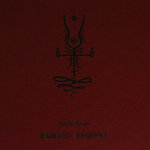 Artist:
Asath Reon
Title:
Buried Visions
Format:
CD
Label:
Black Mara
(@)
Rated:
Due to the scarce informations about this project, it seems that Buried Visions is the first release of this project by Michal Polgár from Slovakia. "Buried Visions" is introduces by verses about an Harvest when a black Sun rises and this apocalyptic vision is an hint that we are close to a Dark Ambient release but this is partially true. A great part of the auditory field developed by this artist is not obtained by drone but by samples, mainly voices, and ritual instruments so it takes perhaps inspiration from certain ritual music and certainly his music has those kind of atmosphere and structure.
The almost religious quietness of "Aka Manah", with the spars beats of the bells and the voices in the background, opens this release with a menacing atmosphere obtained with a carefully constructed soundscape in the background. The noises moving in the auditory field of "Dark Waters" are reasonably evocative in the droning background. "The Timeless Self" is a canonical dark ambient track based on drones whose movements in on details while "Soul Stealing" and "Lone Weaver" revolve around small noises and voices creating a sense of displacement in the listener. The voices and the drones became almost a single musical element in "Rise of the Forked-Tongued" as the firsts support the seconds while "The Damned" uses the samples instead of the voices. "Tower of Silence" closes this release with voices matching the resonances of the drone.
This is a release at the crossroad of dark ambient and religious/ritual music that, even along the path of the canonical form of both genres, is able to put the listener enchanted hearing the craft in the placement of the sound layers and the depth of details of the drones. Recommended for fans of the genre.
Artist: Sugai Ken
Title: UkabazUmorezU
Format: CD & Vinyl
Label: RVNG Intl.

"UkabazUmorezU" is a sonic representation of night-time in Japan, one that may seem a touch culturally stereotypical in parts as it makes steady use of bell percussion, taiko-ish drums and Eastern metallic and melodic tones. But it's still primarily an ambient electronica album, full of digital drones, warm chords and processed found sounds all wrapped up in quite a dubby production style.

It's exemplified by tracks like "Wahiki", "Mei" and the flute-driven "Doujiri" which generate a warm and unique environment that beautifully melds organic elements in a mellow digital space. Occasionally it goes darker, with "Sawariyangi" an example of a more sinister twist on the same formula.

"Ganoubyoshi" implements a bizarre robotic vocal processing reminiscent of old-fashioned analogue electronic experimenting, while final track "Suzunarikibushi" also has strong flavours of 1960's electronic avant garde about it. It's sharper-edged and short-lived tracks like this and the alarm-esque "Kugutsu Biwa" that prevent this release from being a straightforward chill-out experience. Conversely though, "Shinobine" is so sparse that I had to check that the media was still playing, an unusual bed of transmogrified found sound situated surprisingly early in the album.

A unique release, full of character and enthusiasm, that gives a fresh take on experimental soundscaping.
Described as a companion piece to the title track from her debut album "Solas", "Fairge" is one twenty-minute work commissioned and written primarily for the relatively small Ahered and Brunzema organ in Oude Kerk, Amsterdam's oldest building. Long, sustained and mesmerising organ chords are decorated by the addition of modest and sympathetic cello and electronic layers to create a deceptively simple sonic carpet.

Occasional chord changes and a gradual sense of tonal shift that at times feels like a Shepard tone effect result in something that seems static at first, but which under the surface, is never standing still. A two-note pattern slowly reveals itself in the upper register that over time transforms into a plaintive unanswered call.

Seventeen minutes in, a gradual cessation begins in which the purest organ tones are slowly left alone in their own space, a fade which continues beyond our hearing into a final minute which is essentially silence.

Fairge is Gaelic for the ocean, and if this is an evocation of the sea, it's a very calm, sedate and empty moonlit plateau.

It's a bold and beautiful work that, on first listen, made me sign up to Singer's mailing list with immediate effect, and want to check out "Solas" at the first opportunity.