Artist:
Mike Cooper
Title:
Reluctant Swimmer / Virtual Surfer
Format:
LP
Label:
Discrepant
(@)
Rated:
Saluted as 'the icon of post-everything' according to Lawrence English's words, Mike Cooper returns on excellent Discrepant catalogue by a sort of aural documentary, collecting the recording of a live set this creative artist made at the Controindicazioni Festival of Improvised Music in Rome in October 2003. Ideally divided into four movements, which can be considered as two as it seems that Mike (now living his sixties) slowly prepared the sonic soil in the first half of each set for the cover song he performed in the second one, they belong to a moment where the seed of that agonizing and reckless exoticism sometimes evoked by his recent experiments on lap steel guitar were still audible. It's pretty amazing to notice that some sonic strategies in the slowly processed movements could vaguely resemble the ones that contemporary artists like Fennesz are spreading in our days; such an approach, combining electric scorch marks on guitar-driven melodies, diluted frequencies that could be matched to the scientific tracking of the dream activity of a drunkard who fell asleep on yellow fluffy pillows, field recordings that sound like coming from "yellowing" printed pictures and other sonic freaks appearing like ghosts here and there over an impressive combination of real-time sampling, digitally processed sounds and minimal guitar loops, is particularly evident in "Virtual Surfer", gently merged with the endearing dejected hug of the lyrics of 60s folk singer Fred Neil's "The Dolphins", looking like an interplay due to the way the slightly changed medley ("I've been searching/For the dolphins in the sea/And sometimes I wonder/Do THEY ever think of me") fades into a feast that could be matched to the imitation of some more or less telepathic chat between the smart mammals quoted by the song. In order to give you an idea of what you could listen to "Reluctant Swimmer", the other half of this release, you could imagine an American-folk song inadvertently performed by a medieval automata or by clocks in the lab of a clockmaker, occasionally oiled by flanger effects and wooshing sounds, before the track fades out in the cover of the raconteurish caress of the ode "Movies is Magic" by Van Dyke Parks. The cover I'm using here refers to "Reluctant Swimmer" comes from the mind of collage artist by Evan Crankshaw, but the one related to "Virtual Surfer" is likewise beautiful.
Artist:
S S S S
Title:
Just Dead Stars For Dead Eyes
Format:
12" vinyl + Download
Label:
Hallow Ground
Though described as the product of found sound from a two-week residency in a performing arts centre, this is not ambiences and room tones. Certainly those ingredients are somewhere in the mix, but the whole soundscape is so drowned in dark synthetic bass noise that any sense of the centre's original atmosphere is long, long gone. An actor, also based in the centre, has been recorded talking, possibly rehearsing, and his crushed and unintelligible voice is a constant presence, but again any sense of meaning or purpose is gone.

After a relentless opening, the first part calms down, relatively speaking, with the bass notes settling to a steady electronic throb and some awkward-sounding percussive hits and stretches echoing around on top. If this were real-life ambience, the sense of impending threat would be palpable.

The second part has a similar structure, opening with a sonic affront that's higher pitched and more gaseous before thinning out into a broader hum, with the surprise and brief inclusion of a rather sci-fi three-note repeating glass-like melody. The sustained notes of suspense are littered with glitchy and backwards vocal snippets and formless percussive noises. There's a cameo in the final minutes from the real unprocessed ambience underneath soft choral notes, as part of an almost anachronistically harmonious resolution.

This is a well-planned, thick gloopy wave of noises and details that reinvents whatever space it was originally recorded in into something wholly unrecognisable, and at times unwelcoming. Ambience twisted, with attitude.
Artist:
Ludodowwn
Title:
Mirror / Bleach
Format:
Download Only (MP3 + Lossless)
Label:
Ludodowwn
Ludodowwn's debut EP is not as "grimy" or "twisted" as its accompanying press release and branding would suggest. Branding as "dystopian mesh of Radiohead and Animal Collective", I'd agree with the latter but not the former.

"Spit & Lead" is the opener, that sets a very bright uptempo tone that isn't maintained throughout the release. Ludodowwn's native Australia has a strong track record of electronica-pop (and for the record I'm thinking more SonicAnimation and Infusion than Minogue there) and the opening track suggests the release will be along those lines, with an uncredited female co-vocalist and a well-rounded synthpoppy arrangement. Things get darker and slower later on, but it's a nice place to start.

"Two One" brings a faintly tribal synthdrum programming to the fore. The vocal is low in the mix and hard to discern but is vaguely Joy Division-ish, seeming almost drunk in parts. Highpitched synth bleeps and FX busy themselves at the top end while the bass notes evolve very slowly.

Title track "Mirror / Bleach" is a track of very distinct halves. Three minutes of moody melodic drone, metallic chord washes and distant voices abruptly jump at the three-minute mark into a short-lived groove (the "Bleach" part?) that seems to have been borrowed from a chillout lounge album and which can quite justifiably and shamelessly be described as 'funky'. It's a massive gearshift and it mostly works, but despite being the title track, in the context of the EP the "Bleach" bit, if that's what it is, is a major anachronism.

"Heads Within Heads" has that glitchy 75bpm rhythm with spurts of rapid-fire hihat fire as though the drum programming is itching to break into drum'n'bass but isn't allowed. The languid and indiscernible vocal lacks the energy of the underlying music that expertly shifts and adjusts its tone, heading at parts back into the vicinity of synthpop territory.

Things slow down as they wind up, with penultimate track "Polar" a ballad-slow, super-light drum rhythm over which lullaby-like loops repeat. A sharp-edged bass cuts in halfway through and the vocal gets less soporific and more pained, but both settle down again towards the end.

Closer "Escapism" is also quite lethargic, pitch-shifting synths over a slow-stepping beat that again is 70bpm but sounds like it wants to be 140. Again the offkilter approach to vocal tempo gives things a strangely inebriated or carefree tone, which forms interesting parallels with the sombre and sad tones being created.

Overall this is a succinct and natty EP, with a lot of ideas and production values that are very high for a debut. It's insular but polished downtempo electronica from someone who's clearly one to look out for in future.
Artist:
Zeitkratzer
Title:
Performs Songs From The Albums "Kraftwerk" And "Kraftwerk 2"
Format:
CD & Vinyl
Label:
Karlrecords
(@)
The music of Kraftwerk needs less introduction than almost any other, and has been reinterpreted in dozens of different ways by everyone from Rammstein to Fatboy Slim to the Cardigans- and more than a few classical and avantgarde reinterpretations as well. Does this release stand out as bringing something new? Not really. Is it good fun and surprisingly successful? Yes it is.

Focussing only on the earlier Kraftwerk albums which had a thinner and arguably more abrasive tone, the ensemble of woodwind, strings, a couple of brass instruments, piano and drums faithfully recreates the barren soundscape that was originally electronic, in an almost exclusively acoustic way. It's admirable for its attention to detail and an excellent tribute.

In the parts with steady drumbeats, particularly the opener "Ruckzuck", the tone overall is reminiscent of Jeremy Deller's "Acid Brass" in some ways; live performance trying to emulate extremely quantized electronic patterns in a way that doesn't kill off the energy required for expression. If this takes the ensemble out of their comfort zone, then for the rest of the first side of the LP- "Spule 4", "Strom" and "Atem"- they are clearly on more comfortable ground with the sparse and experimental, occasionally concrète ambiences.

"Klingklang" is a highlight, becoming a jazz number at points with some lovely double bass and flute work. Final track "Megaherz" has utterly beautiful clarinet tones (I'm a sucker for a sad clarinet) over a distant bowed mood and is rather lush too.

While reworking Kraftwerk in a new context is certainly not a new idea, the very successful and faithful, restrained approach throughout "Performs…" makes it a welcome arrival and certainly worth hearing. Apparently a second tranche of reworked early Kraftwerk songs is imminent and will form a second volume to this work, and I'll certainly want to listen to it.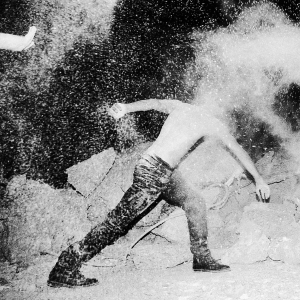 Artist:
Stromboli
(@)
Title:
Volume Uno
Format:
12"
Label:
Maple Death Records
(@)
Rated:
After their remarkable debut, Stromboli returns with an new release whose main characteristic, according to the liner notes, is "the introduction of the Revox A77 tape machine" which means to embrace a music aesthetics. Even if this is a minimalist project, the music is based on a short and concise form, instead of a long and apparently sloppy one, and this is at least a solution for the usual problem of this music which is brushing the boredom.
The rhythmic background of "Drag Phase" starts this release and the listener is suddenly overwhelmed by a barrage of sounds which are however always far from being a dull stacking until all the spectrum is fulfilled while "Downwards" is a sort of crossover between techno and meditative guitar music that has an hypnotic effect. The surrounding echoes of "Haunted" evolve in a sharp rhythmic pattern while "Drop" evolves around sustained tones vaguely reminiscent of early minimal music. The B side of this release is opened by "White Walls" which is even more minimal and abstract as it juxtaposed looping rhythm and drones while "Arrows" is as structurally complex with his many layers of sounds which are obtained with samples, drone and rhythms as it sounds apparently trivial ad a first distracted listening. The rhythmic cage of "Glow" evolves in a sort of drone that introduce the hypnotic mass of sound which is the core of a track like "Basedow Graves" whose final loop closes this release.
This is a release whose coherent development and relatively short duration shows how to obtain the maximum result with the minimum of the means and how a careful writing creates a sense of novelty in a codified form. Simply impressive.