Artist:
Krzysztof Penderecki
(@)
Title:
Kosmogonia
Format:
CD
Label:
Cold Spring
(@)
Rated:
The importance of a composer could be seen when it's able to expand the boundaries of contemporary music; even a label as Cold Spring, devoted to post industrial and similar genres, can publish the reissue of a release by Penderecki. He's however well know to be one of the most noisy and abstract composer of the post-war period so it's not an issue to see him close to a Merzbow's reissue while it's strange to see that one of his landmark release was never released in a digital format after his vinyl release more than forty years ago but this is indication of the arduous nature of his music.
The first track "Kosmogonia" is based on the alternation of noisy moments, mostly obtained by fast and loud musical lines, and quieter ones so it's something close to the eruption of a volcano and after an instrumental first part, the voices are most prominent element of the second ones with movement close to mass of drones obtained by an unorthodox use of the chorus. While most composers would use electronics to obtain subtle masses of sounds, "De Natura Sonoris II" uses violins to obtain slow and detailed drones and other instruments to interrupt them with unexpected grain of noise or rhythmical ellipsis. Even in the same musical context, "Anaklasis" is more oriented toward the percussive element obtained by the instruments and with short sound lines so it's sequences of small events generating a complex overall schema. "Fluorescences" closes this release juxtaposing the two elements of the pieces collected in this release: the long textures and the short sound elements so quiet and noisy moments are in a dialectic form in the search of an (in)possible synthesis.
It doesn't make any sense to recommend or not this release as its importance is so huge to be an essential listening to those who have a minimal familiarity with contemporary music; however, for his sound properties it could even be an introduction for fans of drone or industrial music to a world that is often seen as boring or outdated but has covered similar path to this genres with other vehicles. Essential.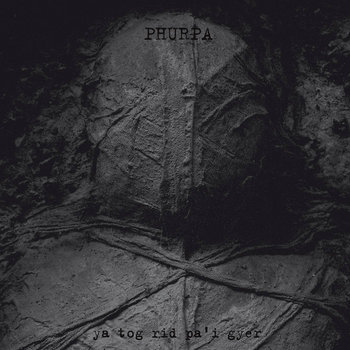 As a mirror to "Rituals of Bön II", this release is the successor of "Chöd" and, obviously, it moves towards the usual territories of band. As stated in the previous reviews, their music is based on traditional religious music, mainly from the Bön tradition, and so it requires meditation by the band to perform it and by the audience to hear it. It's not music based on modes or melodies but it's closer to certain musical tendencies where sound and his properties are more important than his path; it's contemplation rather than reasoning.
The first part starts quietly as based on bell's resonances which as introduction to the initial harmonic chant that introduces the listener into a rather familiar territory; then percussions and cymbals generates an almost "industrial" (in a broad sense) introduction to the aerophones (their name is not listed) whose bass drones and unusual sounds generates their usual sound field changing from quiet and meditative to cathartic and loud. Then, a long singing part takes the listener toward the end of this part with the accompaniment of the cymbals.
Just when the listener is certain of what he's going to listen, the second part starts with wooden percussions and a chordophone; so their sound is even more minimal and has his evocative character from the use of silence as a proper sound material. When the other elements of their sound returns are introduced by seconds of silence, creating the sense of hearing a ritual.
As few project, they creates the sense of developing a single opus out of separated fragments and it's so musically pure to be an absolutely essential listen even if it's not music for everyone. Unratable and to be heard in silence.
Artist:
Things To Sounds
Title:
3 [42:02] Live
Format:
CD
Label:
Wide Ear Records
(@)
Rated:
A possible keyword to tag this album - the third in their discography as you can easily guess by its title - by Things To Sounds - a trio free-improv grouping Tobias Meier (alto saxophone), Yves Theiler (piano and synth) and David Meier (drums and things making sounds...) - could be 'tension', as they managed to make something where they rendered a constant tension from the very first moments to the end. Live recorded at Limmitationes Festival - one of the nicest meeting in the field of free-jazz and improvisational music, organized by Udo Preis in Austria for many years - on 14th May 2016, their live session shows up a wide range of techniques (tapping, strangled phrasing, screeching, cave-like reverberations and many more over 42 minutes - another detail you can guess by the title) and an impressively wide set of unpredictable strategies to render a somehow palpably lively nervousness and a tension ranging from low to high voltages, which is going to meet the tastes of the lovers of free improvisations on live stages. Have a check if your ear is wide enough (to paraphrase the name of the amazing Swiss imprint that released this sonic object) and if it's accustomed enough to this kind of sonorities.
Artist:
Aeoga
(@)
Title:
Obsidian Outlander
Format:
CD & Vinyl
Label:
Aural Hypnox
(@)
Rated:
Aural Hypnox, the Finnish experimental label which is one of the physical manifestation of the Helixes Collective (including a constellation of projects orbiting around more or less dark ritual ambient), picked one of the columns of the label, Aeoga, for their very first release on vinyl. The duo, which prefers to keep their real names secret in order to focus on the potentially cathartic effects of their aural experiments, formed Aeoga just one year after the label was founded and, as far as I know, all releases under Aeoga came out under Aural Hypnox imprint. Also available on a nicely packed (as usual) CD edition, 'Obsidian Outlander' is slightly different than their previous releases. First of all, its length is apter to an EP instead of an LP, but it was introduced as their fourth album so that we can't really criticize the way it got filed. The moment when they get close to their earlier rite-like outputs is the central shortest tracks of the release "The Black Loom" (the ascending and descending chanting voice spreading over ritual percussive hits are really absorbing) and "Obsidian Towering", where the previously mentioned voice turns into a sort of entranced humming while weird whispers and ghostly chirping surround it. This short ritual output gets opened by "Initiatory Boil", where a set of percussive elements (including metallic hits and what sound a sort of rolling on a metal surface) seems to crackle and pop (without boiling actually!) over an ethereal melody that becomes clearly listenable at the end of the track. One of the most entrancing moment is the following "Rot Magnetism": a deeply low frequency and an obscure subtle chant begin to fill the aural sphere before a sort of subtle whisper and other elements get gradually inoculated. According to some more or less esoteric writing, the obsidian is a ritual element that requires a process of purification before having positive effects. If it doesn't get purified, it could attract negative energies. Whether you believe or not to this kind of matters, such an ambivalence seems to be rendered in the last two tracks of this album (the fourth in Aeoga discography). Both "Outer Observatory" and the final "The Sublime Canvas" get filled with disembodied weird voices, sinister aural entities and slowly rising dark melodies (close to some stuff by Lustmord or Troum).
Artist:
Roman Leykam
Title:
Essence
Format:
CD
Label:
Frank Mark Arts
(@)
Rated:
We already introduced some of the outputs of Roman Leykam's musical incontinency. The most recent we talked about is maybe "Impressions", a very good one for listener's meditation. There was also a track titled "Essence" in its list, but it has nothing to do with the sound that he explores on this album, likewise titled "Essence". He keeps on focusing on the painstaking forging of aural settings for meditation, but he preferred to squeeze an acoustic guitar for this lofty target. He didn't squeeze an instrument he found in a pawnshop, but he chose a Line6 Variax 700, one of the aesthetically ugliest guitar, but one of the best in producing some particular kind of sonorities in my opinion. Roman seems to know this acoustic jewel and its mods very well, so that he turns the instrument into something closer to Japanese shamisen, Indian sitar (tracks like "Subterranean River" or "Instinct" are the ones where the Line6 resembles this instrument) and a set of classic legendary guitar like the D'Angelico New Yorker, the Selmer Maccaferri or the National Reso-Phonic Style "O" - some of the instruments that inspired the mods of Line6 Variax 700 -. Roman often switches over different mods in the longer-lasting of the seventeen improvisations he packed in "Essence" (such as "Food for Thoughts" or "Uncomplaining Patience"), but all of them are mainly based on slowly picked chords (strumming is really rare on this album), that highlights Roman's interesting handling of effects.