Artist:
Ulrich Mitzlaff
(@)
Title:
X-RUN-4 Prismatique
Format:
Download Only (MP3 + Lossless)
Label:
Crónica
(@)
Rated:
Background noises get typically considered a disturbing element of live recordings, but I won't say the same for this output, capturing a solo improvisational session by German (even if he resides in Lisbon since a long time) cellist and composer Ulrich Mitzlaff in a spacey hall nearby the motorway close to Humberto Delgado Airport in Lisbon under commission of the Portuguese National Civil Engineering Laboratory over two different days (November 30th and December 21st 2014). Besides the typical reverb added by vast spaces, the hissing noise generated by traffic as well as more or less distinguishable sounds of departing and landing airplanes seem to have been fully integrated in the recording as they were (without any treatment), and I'd rather say you could have the feeling that Ulrich's beloved instrument, as well as the stylistic shaping he evokes by means of it, got sometimes synched to the aural manifestation of human transportation. Covering an almost indistinct range between polka to skronk of free jazz till occasional episodes that could vaguely remind the prodigious counterpoints of Bach's Cello Suite 1 or even Beethoven's final parts of some of his more dramatic scores (resurfacing in particular during the central piece, the 20-minutes lasting "4-one", featuring Beethoven's just mentioned phrasing between 13th and 14th minute) features occasional percussive elements (mostly found objects and materials), highlighting the feeling of an authentic real-time recorded improvisation together with the performative fits of madness resulting into sudden accelerations of chord tapping and squeaking scratches (almost rendering the image of Ulrich while using his nails on his cello till they begin bleeding) as well as unexpected sparks of harmony. The instrumental eruptions, as well as their bizarre clutching with surrounding noises, could let you imagine that the composer/performer is just putting on an act a sort of dramatic fight between a forgotten cello and the rest of the absent-minded/absent-minding world; they are akin to two aural inputs or attractive poles that could vividly stage a struggle between emotion and apathy in the somehow alienating society we often could experience.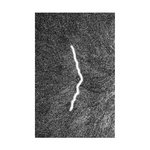 Artist:
Carlos Casas
(@)
Title:
Vucca De Lu Puzzu (Fieldworks #19)
Format:
Tape
Label:
Canti Magnetici
(@)
Rated:
This new work by Carlos Casas is based upon recordings done in the Vucca de lu Puzzu, a mine in south Italy, where he was invited for a residence and where he fell during a recording session. So the piece is based also on the sound of the place and the sound of the magnetic resonance he had to do due to the fall. The result is another tile on his exploration on the sound of particular locations.
The side A of this tape is occupied by "Puzzu", a track based upon the contrast between the field recordings that generate a mass of sound which emerge from a quiet soundscape and radio frequencies which create a sense of displacement. The B side is instead occupied by "Vucca", a track based on field recording that are organized in such a way that the first part is almost noisy while the second is quiet and contemplative and the final part seems based upon real instruments, or so it seems, and ends in silence.
The impressive quality of his work is his ability to catch those sense of extraneousness of those places in relation of current urbanisation and, even if it's not something really different from his previous fieldworks, is another confirm for his artistic status. Truly recommended for fans of field recordings.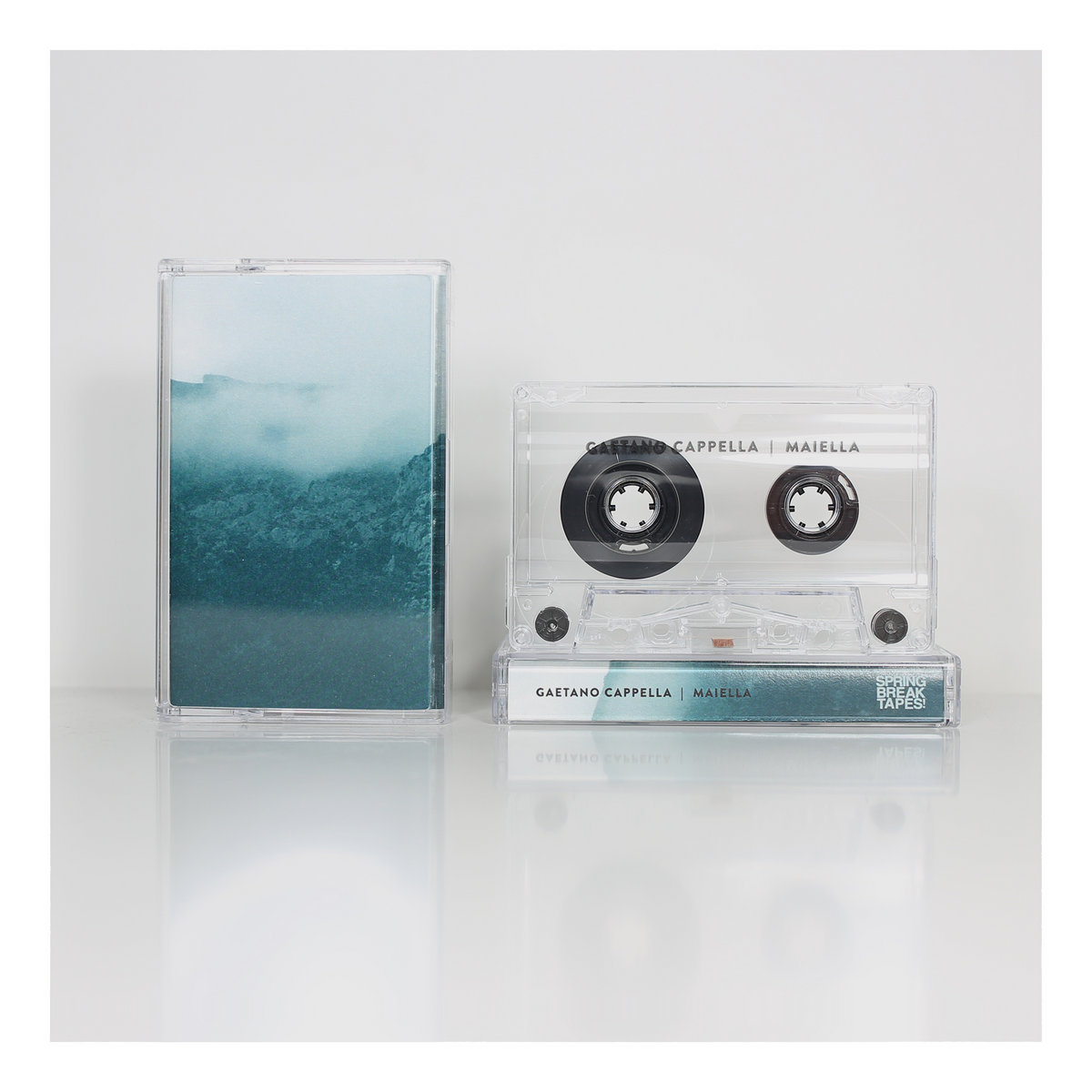 Artist:
Gaetano Cappella
Title:
Maiella
Format:
Tape
Label:
Spring Break Tapes
Rated:
Gaetano Cappella is a young 26 years old guy coming from Abruzzo, Italy. On early 2015 because of a personal crisis he decided to isolate himself from the outside world just to get connected to nature. Once he made it he started to feel like the suffering of the earth was concerning and inspiring him. This, after being without playing for three years, made him started recording his EP "Maiella". Soundwise, the two sides of the EP are composed by field recordings and manipulated guitar sounds. Guitar loops where played using two portable cassette tape devices (the old walkman) and everything was mixed and played live on a Fostex four track recording device. No software have been used to record the music you're finding here. Personally I really appreciated the approach Gaetano had with his sound sources, as the small melodic parts are well mixed into the background drones which are enriched by flashing sounds and sparse rhythmic parts. Being magmatic and intense, "Maiella", before being released on tape by Joe McKay's Spring Break Tapes has been played live at the exhibition "Italt In A Frame", which was part of the Triennale in Milan. Gaetano has started to work to new material which will be part of a trilogy and part of it has already been used as audio installation at the Path Festival in Verona. Even if the tape sold out in few days after the release, you can check the digital files here https://springbreaktapes.bandcamp.com/album/maiella
Artist:
Jonty Harrison
(@)
Title:
Voyages
Format:
CD
Label:
empreintes DIGITALes
(@)
Rated:
I imagine that some atheists or rationalists could get captivated, after they'll listen the overlapping of farming animal sounds and field recordings grabbed in some mosque full of praying devouts and in an Italian church while reciting the rosary in a moment of "Espaces caches", the first 14-minutes lasting track of this collection, assembled by an impressive quantity of sound samples, which got premiered on June 7th, 2014 during the Klang! Electroacoustique festival in Montpellier under commission by Maison des arts sonores. Similarly, fans of nautical themes or seaside places could get entranced by a group of tracks, belonging to "Going Places" where many sounds got grabbed nearby harbours and quays (including underwater echoes of the quays and floating strain at their moorings caught near Sidney Opera House, barnacles found in Sidney Harbour, in the surroundings of Great Barrier Reef, and on the beaches of the isle of Corfu - Greece -, recordings of boats, swifts and harbour activities in Corfu and Poros, boats straining taken at the yacht club in Boston, Massachusets) and lovers of Iceland - I met many people devoted to that chilling place in the recent times (hoping it's not a mass phenomenon following the funny way by which Iceland football team used to greet their supporters at the end of matches at the recent European football championship) - would be delighted by the sounds of bubbling waters taken from geothermal pools at Seltun, the buzz of radio cables hanging from Hellissandur radio masts in Snaefellsness overlapping the sound of melting ice and subterranean glacial stream, taken nearby the Solheimajokull glacier. Besides the evocative sonic collages that Professor Jonty Harrison provides in this huge selection, the aspect that could interest in sound explorer like us and most of our readers is the way by which he transplanted field recordings into stereophonic channels, particularly in the above-mentioned "Espaces caches", initially a 30-track tape for multichannel sound system, which was entirely produced and mastered by Joseph Anderson in the first months of 2016 at the Sound Lab of the Center for Digital Arts and Experimental Media of the University of Washington in Seattle by means of stereophonic Ambisonic UHJ Encoding. The final result of this "transcoding" process is - believe me and my headphones - really impressive, while the most relevant aspect of the 23 tracks by which Jonty split a selection from his massive sound archive, collecting a plenty of recordings grabbed during many journeys all over the world, is the criteria that he mostly adopted to group together those recordings. Most of the tracks manage to assemble events that could be related to similar or sometimes identical phenomenon or cultural happenings, where the aggregating element is mostly aural, and these aural manifestations are similar to colors depicting the same event according to more or less mysterious rules that vary by different cultural environment! For instance, you'll hear bells from four different places (Chartres, Venice, Berlin and Corfu plus the Montaione clock in Tuscany), sounds from four different railway station (Florence, Pisa, Rome and Castelfiorentino in Italy), interlacing of pipes and drums from many different sets and settings (ghaitas in Marrakech, Morocco, piccolo bands parading during the Carnival of Bael in Switzerland, bagpipers in Morelia, Mexico and aural entities such as firecrackers and the noise of coins in offering bowls in a religious procession nearby the Temple of the Reclining Buddha in Bangkok) in single tracks. Harrison's collages define an engaging way of matching audio travelogues and field recordings.

( trained audiophiles should check these guidelines for a really immersive sound experience: http://www.ambisonictoolkit.net/publications/2016/06/22/harrison-voyages.html )
Artist: Night Club
Title: Requiem For Romance
Format: Download Only (MP3 only)
Label: Gato Blanco

This album blends fresh-sounding, post-electroclash pop music that, with the right image, could easily get into the pop charts, with some quite sparse, dark electro production touches that have shades of John Carpenter and hints of late 80's Depeche Mode about it. It also taps firmly into the modern synthpop vibe and should appeal to fans of Freezepop or Spray who like their lyrics irony-free sometimes- unsurprising given Night Club's LA base.

The assured steadiness of "Dear Enemy" could easily have been a track from Annie's first album. "Psychosuperlover" has the vocal tone and production qualities of a Kylie Minogue track, but with darker lyrics that are as close to S&M references as it could do whilst remaining firmly TV-teen-drama-friendly. Night Club have a strong track record of getting tracks placed in TV shows, and the EQ and mastering has certainly got that target in mind, sometimes steering clear of more sinister frequencies.

The bridge section of "Show It 2 Me" adds extra 'wub wub wub' which suggests that Night Club are holding back their true colours somewhat and that they are itching to thicken up the beats. All the tracks are radio-edit length and some of them are crying out for epic, grandiose club remixes. At thirty minutes and thirty seconds all in, it's not the most generous of packages. Well-formed, but small.

Overall it's rather short, and slightly too familiar-sounding, but it's a polished bit of electro-synth-pop, lyrically dressed up as darkwave but actually just a little on the light side.