Artist:
Institution D.O.L.
Title:
Exzess
Format:
CDS (CD Single)
Label:
Klanggalerie
Rated:
Introducing at length Institution D.O.L. shouldn't be necessary. For those who love industrial music it is a very well-known name, but Chain DLK has readers from very different types of electronics music. Institution D.O.L. is the creature of Barbie B. (joined by Meta Dolor in 2016). He has been pretty active between 1998 and 2008 and then, for some reasons, he quitted all musical activity until 2014. He hold collaborations with very famous acts such Wertham and Stahlwerk 9, but I would say that probably Institution D.O.L. are more known than them. This is a very important project in the scene, and it has inspired dozens of other acts. Institution D.O.L. plays its own specific type of industrial music, which is a perfect balance and combination of extremely violent power electronics and obscure dark ambient. This is a type of music that requires talent and experience. Barbie D. has both.

'Exzess' is (as far as I know) Institution D.O.L.'s newest album. This is the type of album that strikes you as a thunderbolt the first time you listen to it, because it has impact. Sometimes albums with impact become pretty boring after few days, but this is not the case with Exzess. Listening after listening you discover new sounds, new particulars that escape at first. This album is a perfect combination of dark ambient and noise/power electronics. Everything in this album is extremely well curated: samples, synths, voices, transitions. This album is like an organism: all its parts are discernible, but at the same time they find their own identity just in the whole. Unlike many other industrial albums, this masterpiece is more than the sum of its parts. Example of track delivering perfect transitions and wise integration of different sounds is Silent Night (best track in the entire album in my opinion).'Fallen and furious' - together with the title-track 'Exzess' - is the track that exemplifies this back and forth between noises sounds and atmosphere typical of a certain dark ambient tradition.
'Exzess' is a masterpiece of modern industrial music; an album that will soon become a classic in the genre. A classic is not just a must-have, but it is an album that communicates something new and different anytime you listen to it: this is the case of 'Exzess'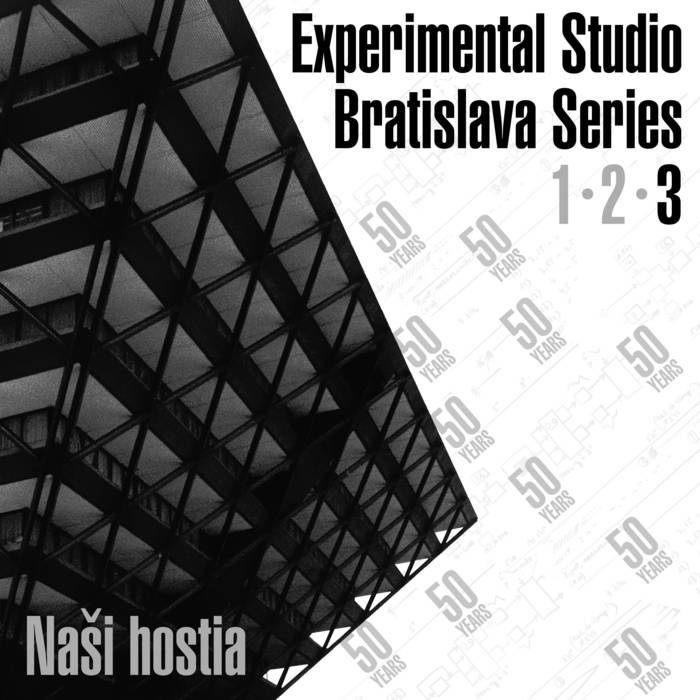 Artist:
VV.AA.
Title:
Naši Hostia: Experimental Studio Bratislava Series 3
Format:
CD & Vinyl
Label:
4mg Records
Rated:
Born to celebrate the 50th anniversary of the Experimental Studio Bratislava, Slovakia, the "Experimental Studio Bratislava Series" arrived at its third and final volume. The first volume was focused on the pioneers of the Slovakian scene, people like R. Berger, P. Šimai, I. Zeljenka, Ivan Hrušovský, Jozef Malovec, Peter Kolman, etc.
The second volume was focused on the newcomers, with tracks recorded mainly in the 80s by people like Milan Adamiak, Martin Burlas, Robert Rudolf, Svetozár Straina, etc. The tracks on the first volume have been composed and recorded with self-made studio equipment and electronic devices, thing that was the norm for recordings made in the 60's and 70's in Bratislava. On the second volume, we can see the increasing of the use of Western equipment like the Studer 907 with console, etc.. This technical development has allowed the developing of the techniques and ideas in sync with avant-garde composers who were living the other side of the iron curtain like: Karlheinz Stockhausen, György Ligeti, Pietro Grossi etc. The third volume is focused on the guests who visited the Experimental Studio Bratislava. Composers like György Ligeti, Lothar VoigtlÄnder, Liviu Dandara etc. participated at the annual International Seminars on New Music in Smolenice, Slovakia. The first Seminar held in 1968 was opened and attended by Karlheinz Stockhausen – playing his "Hymnen" for the first time abroad – for the Slovak composers an ear opener and a learning process on how "to make" this kind of "music"… In the following years New Music personalities like Ligeti, Mauricio Kagel, Lutoslawski, Gorecki, Sofia Gubajdulina etc. attended the Smolenice Seminars. On this volume we have seven tracks: "Poème Symphonique for 100 Metronomes" by György Ligeti, performed and recorded in Smolenice Seminars, 1969. Liviu Dandara, a Romanian composer, with his electro acoustic composition "Affectus Memoria" that shows his artistic development after his studies in Darmstadt. Milan Slavický, born in Prague and deceased in the same city in 2009, studied musicology at the Faculty Of Philosophy in Prague and composition at the Janacek Academy in Brno, recorded in 1982 "Variace Na Laserový Paprsek". Georg Katzer studied piano and composition in Prague and East Berlin. In 1982 he founded the Studio For Electroacoustic Music where he was the artistic director until 2005. He recorded in 1976 "Rondo". Lothar Voigtlaender studied at the Leipziger Musikochschule and in 1984 joined Georg Katzer to form the Society for Electroacoustic Music in Berlin. "Meditation Sur Le Temps" is his track here and it has been recorded in 1975. Zoltán Pongrácz was an Hungarian composer who taught in different parts of Europe (also in Cologne with Stockhausen, Pousseur, Ferrari and Jaap Spel. He's here with "Mariphonie", a track recorded in 1972. Alois Pios is the last composer of this compilation and was a Czech composer and music pedagogue. He studied at the conservatory and the Janacek Academy of Brno.He tought in Prague, kept master classes, gave lectures and conferences across Europe. In the 60s he promoted avant garde music in Czechoslovakia and for this reason he has been persecuted for twenty years, from 1969 to 1989 having all his work banned. "Speleofonie" has been recorded during this time, in 1976. As for the other volumes, 4Mg Records is presenting this opus in a vinyl plus CD format, where the latter contains the whole tracks, while the LP has the excerpts for format reasons. Be sure to check this fundamental document of the Slovakian electro acoustic music. Take a listen here https://4mgrecords.bandcamp.com/album/na-i-hostia-experimental-studio-bratislava-series-3
Artist: GIW
Title: Never Is Always
Format: 12" vinyl + Download
Label: ti-Records

An exercise in contrarianism, "Never Is Always" is Pablo Giw's experiments with creating electronic music, both house music and darker more experimental works, but only using acoustic means- his trumpet, found sound percussion and his own voice. It's an ambitious and diverse project and the results are intriguing and mostly very successful.

Opener "Morning Machine" is actually one of the weaker parts, with 60's-style beat poetry updated for the digital age, an indulgent self-analysis involving rewriting one's ego in binary, over a layered drone of trumpets and other noises- one of those tracks you wish there was an instrumental version of. Similarly "The Golden Calf" is more conventionally jazzy and more akin to what you might expect from 'a trumpet album', with late-arriving lyrics that are vaguely Karl Hyde-like in the way they manage to sound like stream-of-consciousness yet carefully planned at the same time.

As the work progresses though things get much stronger. "Hain" is a highlight, a long piece of unique-sounding dancing music with a simple and infectious groove. The layered atmospheric trumpet-sourced atmospheres like "What's Outside Isn't There" are very strong, as is "Gone" which sounds like someone trying to play a full Phillip Glass orchestral work on a solo trumpet at racing speed, yet somehow it works. "I Saw You - Trouble" is two connected short ideas, with "Trouble" an organic recreation of stuttering house music with a strangely endearing awkwardness. The dark sinister stepping electro of "Right Endeavour" is a short interlude that hints at a very different style that could easily be explored much further to great effect.

So while the poetry-driven tracks ultimately didn't 'click' with me, overall there's enough energy and originality in here to make it definitely worth checking out.
Artist:
Irmler / Oesterhelt
Title:
Die Gesänge des Maldoror
Format:
CD & Vinyl
Label:
Klangbad
Assuming my German is just about adequate enough to understand the press release correctly, "Die GesÄnge des Maldoror" is a mostly-instrumental musical setting inspired by the six cantos of the influential Isidore-Lucien Ducasse writings of the same name from 1869.

It's a startling and dynamic six-part epic composition combining a compact traditional orchestra with a sprinkling of added ingredients ranging from prog rock-style heavily effected guitar through to electronic ambience.

After a deceptively calm start, the first and longest part is a multi-sectioned affair full of percussive shifts and tension, with a theatrical flavour. The short second part pushes the prog rock elements and will appeal to King Crimson fans, before the third part shifts gear boldly into a pared back near-minimalist environment of soft drone, distant indistinct solo choral voices and gentle bells- towards the end of which, the German spoken-word reading of the text sharply jolts the listener's complacency.

In some ways, the second half mirrors the first. The fourth part brings back the orchestra, with gentle plucked strings, before yet another unexpected diversion into analogue synth noodling reminiscent of very early Kraftwerk, that then somehow hops into downtempo jazz. The fifth part, another highlight, loops us back round to the rock guitar, with added sharp-edged cuts and distortions, which fades as the more conventional orchestra returns, before the sixth and final part offers us a sombre analogue-electronics-heavy finale.

Every time you think you've settled into the listening experience of this album, things shift- but in a non-brutal way that keeps you along for the ride. It's a fascinating, expansive, melodramatic and high-budget affair which deserves a lot of attention.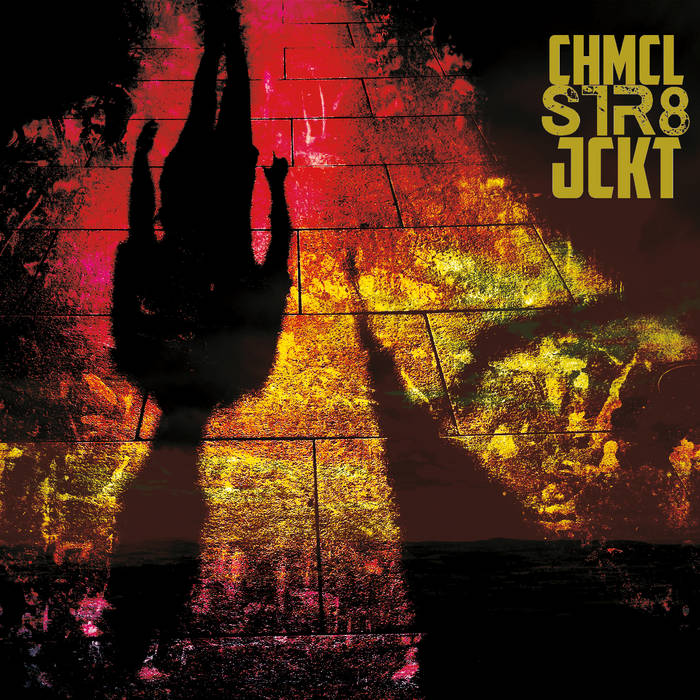 Artist:
CHMCL STR8JCKT
(@)
Title:
s/t
Format:
CD + Download
Label:
self-released
Distributor:
Bandcamp
Rated:
That is a fine-chosen and very Industrial-minded band-name for a newcomer-project out of Hawthorne, NJ.
CHMCL STR8JCKT is a duo consisting of Kevin Snell (programming / vocals) and Mike Cairoli (guitars) and they present us with this self-titled 8-tracker their debut. You'll get a varied produced onslaught of Electronic/Industrial music pretty much inspired by some prominent top-acts of the Coldwave-scene like Imperative Reaction, Mindless Faith, SMP, or Idiot Stare.
Always with a Metal-oriented background in mind, this release offers multiple dark and sinister moods along all known paths of Industrial music and themes. What can be positively noted is their tendency to balance their Electronic-minded side to a same level to their gritty guitar-oriented side. There are several good ideas in their compositions included to keep the blood boiling although it definitely needs a bit development. Some of their used electronic bass-lines or lead sounds haven't been cooked with the freshest water available. "Dressed to Kill" with its stuttering old-school synth-bass-lines is a promising warm-up, while "One Last Salute" with its grinding guitars should set fire under the roof. Here hides the next point I tend to criticize, because especially "One Last Salute" could be much more efficient if it gets a tougher and more punching outfit. "House Upon the Hill" would be a fine tune to play a bit with the Harsh-Electro junkies out of the Terrorbanana-camp but unfortunately it still misses the needed drive. Overall a good and recommended debut and I really enjoy the sinister and hauting expression while it isn't at all flawless.
Some refreshments have to be made, maybe a foreign and experienced producer / sound-engineer could be helpful too with hints for further development. But fairly enough produced for a debut.