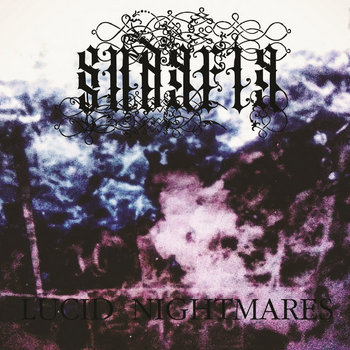 Artist:
Sudaria
(@)
Title:
Lucid nightmares
Format:
CD
Label:
Frozen Light
(@)
Rated:
Just a few months after "The Syncretic Labyrinth" this Spanish project returns with a release which confirms the quality of this project. While in the previous release the black metal influence was under the curtain of experimental music, this release shows more clearly this reference as there's even vocal and a more defined song form in certain parts of this album which, however, is closer to a single piece in seven parts than a collection of tracks.
The masses of violins of "Lucid Nightmares" introduce a listener into a sound field where movement is generated by the overtones and some small noises in the background so it could be a little too long and requires a reasonable high volume to be fully appreciated. "Mirrors of Ignorance" is instead a more constructed and atmospheric track as the various sounds are immersed in silence while the second part is a slowly moving line of synth. "Pale Old Gods" oscillates between quiet synth movements and dark moments of noise where the black metal influences emerge clearly. While the first and third part of "Age of Vice" are based on a sort of lied for piano, guitar and growl vocals the second and central part is a thick soundscape for low frequency drones. After some seconds of silence "Shapeless Flame" erupts in a mass of feedback which has a resolution in "Abhorrent Breeding" with his mass of sustained tones of synth that, after some second of silence, introduce the listener to "Abortion" whose quiet and almost psychedelic developments accompany the listener towards the end of this release in an almost dreamy atmosphere as a sort of relief after a nightmare.
More focused than his predecessor even if plagued by a production somehow a little too blurry or unbalanced in volume in certain moments, but this is a standard for the genre, he gives the impression that there's more to come from this project. Highly recommended for fans of weird black metal.

p.s.: there's also space for an unlisted bonus black neofolk track.
Artist:
Vogon Poetry
Title:
The Heart Of Gold
Format:
Download Only (MP3 + Lossless)
Label:
self-released
While Vogon Poetry owe the name of their band, this single, previous single and forthcoming album "Life The Universe And Everything" entirely to Douglas Adams' "Hitchhiker's Guide To The Galaxy", sonically their retro synthwave seems to be targeting just a few years later than "Hitchhiker's" was released, channeling a mid to late-80's electropop sound with thick drum machine kicks, bright synth arpeggios and simple one-note basslines. A long-note-friendly male vocal croons over the top.

The lyrics are all a tribute to the eponymous spaceship's first appearance in the "Hitchhiker's" story as well, making this effectively a piece of indulgent fan-tribute pop. I was half expecting the music video to be populated by people in dressing gowns waving towels alongside people with prosthetic second heads. I wasn't far off- there's so cosplay involved, but plenty of (presumably unlicensed) video extracts from the 2005 movie.

The package comprises the original version and three remixes, all of which stay firmly in synthpop territory and never stray far enough from the original to justify their existence. The Peter Bolmehag remix in particular has all the same flavours as the original. Egil Axelsson's remix ups the pace of the synth patterns with a long drumless intro that sounds like it's going to break into happy hardcore before settling into something more like U96. Oren Amram's remix, after a classy intro, settles into a steady and familiar groove with an arrangement of sounds reminiscent of early Erasure at times. A bundle of remixes that dared to try different genres and being less respectful to the original would have been more interesting to hear.

I'm not sure the world needed another piece of "Hitchhiker's Guide"-related fan pop, but this is a reasonably polished and high quality bit of synthpop that should have a fairly wide appeal even to people too young to get any references to froods or Pan-Galactic Gargle Blasters. Vogon Poetry are not, in this case, the third worst in the universe.
"Another Blue Day" is a beautiful expression of simple relaxation. A succinct arrangement of gentle, faintly reed-organ-like synthetic tones wash and ebb back and forth with supreme patience, while… that's it. This release neither provides nor needs anything else.

The straightforward, deeply soporific tone continues for 42 minutes, easily enough to lull all but the most agitated of minds into a relaxed state- or full-on sleep. Sometimes it's so quiet you begin to suspect you've paused it by accident.

It's split into two parts ("Another Blue Day", "And Another") and the second part has an extremely subtle difference in tone that's barely noticeable- somehow it's marginally more fragile, with quicker changes in tone a small step in the direction of conventional melody. But save for an interlude of silence that separates the two, you would be hard pushed to tell that the second part has started.

The epic simplicity of "Another Blue Day" if you're looking for a musical expression of lying in the grass and staring at length up at a cloudless sky. And sometimes that's all you need.
Artist:
Ernesto Diaz-Infante (@)
Title:
Manitas
Format:
CD
Label:
Kendra Steiner Editions
(@)
Rated:
This new release by Ernesto Diaz-Infante is a structured improvisation where he tries to achieve, using his words, "a spectral way of playing" and was inspired by ecil Taylor's 'Air Above Mountains'. While his latest releases were based on strumming, this release is based on guitar lines without a tone center. This makes the first minutes of this release hard to follow for those unacquainted with this kind of musical development. The second part of this release, starting at approximately 10 minutes, is based, more than on the strumming with whom it begins, with the guitar as a sound source rather than on his traditional use so it's even noisy. The final part, beginning with another strumming, returns to the free form territories as if the structure called for a circle.
It's noteworthy how, instead of closing himself in a cliché, he decided to explore a different territory without resorting to the usual contemplation of guitar sound with strumming but entering a dimension closer to free improvisation exploring another level of guitar sound. Even if this could frighten a fan used to hear more or less the same music from a known artist i.e., have his expectation fulfilled, he's reminded how listening means being exposed to the unknown. Recommended.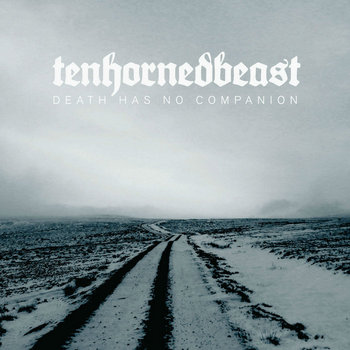 Artist:
TenHornedBeast
Title:
Death Has No Companion
Format:
CD
Label:
Cold Spring
(@)
Rated:
Even if it's not a really known name, the project of Christopher Walton has already a considerable discography and it's based upon a form of dark ambient based on drones with some noises to color the plain audio field. This new release collects three long track where it's the quality of the writing the real center of this release rather than experimentation.
The beginning of this release is set by "The Wanderer" a long track based on drones which ebb and flow creating a sense of something changing but, at a closer listening, there's a work of perspective as when one drone is on the foreground, the other act as an accompaniment and this procedure is enacted as a loop with an hypnotic effect. The silence in which "The Lamentation Of Their Women" is immersed when the initial loop emerges creates a sense of tension that is further enhanced by the noisy samples, that are drones of short duration, used in loop until in the final part of the track the elements are juxtaposed creating a sort of false catharsis. "In Each Of Us A Secret Sorrow" closes this release mixing the structure of the first two tracks creating a track that in his stillness has a sort of narrative that capture the listener's attention.
Whilst it's a release deeply rooted in a known form, there's a work upon it that creates something that escape boredom in every way. A remarkable release.