Artist:
Kantyze
(@)
Title:
Mutation EP
Format:
Download Only (MP3 + Lossless)
Label:
Free Love Digi
(@)
Rated:
Even if they recently landed on Free Love Digi's evergrowing catalogue, the project, named in a way - Kantyze - that could excite lovers of Kant's philosophy, quantum-based physics and any possible intersection of these branches of human knowledge, by French duo made up of Igor 'Knockoutz' Denat and Frederic 'Feubo' Bauffe with the support of Bernard William aka Dj Ben, is not new to the scene. We already introduced some of their outputs on m-Atome, their own imprint, the label through which they dropped their self-named debut album in 2005, and maybe some releases on IM:Ltd, a drum N bass/dubstep label we occasionally focused on. This digital album on Quentin Hiatus' imprint enwraps nine tracks, sounding quite different from what I previously heard from these folks. First of all, they remarkably decelerate the rhythmical pattern in many parts of the album; furthermore, they seem to prefer saturators like glitchy or dirty sonorities and a smidgen of estragons to the reverb by which they filtered some sounds. The fact that this album was titled "Mutation" underlies the recognition of such a stylistic change (or mutation!). And it's well known that the effects of mutations are unforeseeable and sometimes dangerous, but as far as I listen, they gained some interesting results, particularly when they keep the indicator of bpm on higher levels. The hoarding of laser beams, smudged rhythmical patterns, and crumpled mid-tempo aren't always so intriguing in my opinion: tracks like "Franco Un-American" or "Kyber" as well as the opening - "Has It Ever Occurred" - and the final - "The Bonus Song" - ones dock with some mutations of drumstep and trap, but they often sound like exercise of safe forced landing. On the other side, tracks like "Cipher" or "Expanse" doesn't really rise the speed of the rhythm, but the malignant contorsion they forged are much more engaging, and I'd say the same for "Piece Of Cake " (even if one of the recipe - that alarm sound close to a preset of a Casio - could make some listener dyspeptic), but kantyze reaches its top on this album on the fastest rollers, such as "The Blastmaster" (in spite of that alien turkey chirping all over the track!) and the awesome headbanging "The Riddim".
Artist:
Dicepeople/Moi Saint
(@)
Title:
Shallow Under Skin [EP]
Format:
Download Only (MP3 + Lossless)
Label:
Syndicol Music
(@)
Rated:
I'm sure there are a good number of people out there who have heard of London, UK's dark electro project, Dicepeople, consisting of Matt Brock (music) and Rafael Filomeno (visuals). I've reviewed a couple of their previous releases in the not too distant past, and they usually have some interesting music to offer. They also tend to utilize female guest vocalists and that's where Moi Saint comes in. Apparently Matt's been busy running a label - Syndicol Music when I wasn't looking and has signed a bunch of artists to it, among them Absolute Zero, Starsha Lee and Moi Saint. Moi Saint is young lady from Liverpool, UK who makes her own brand of dark electro, a bit darker and more gothy than Dicepeople. From what I can tell she is relatively new to the scene and has an EP titled 'The New Moon' (download only) on the Syndicol label. You can hear it all on her Soundcloud page, which I did before previewing 'Shallow Under Skin,' which is more like a maxi-single than an EP. Obviously Moi Saint is a pseudonym or stage name and I can't tell you what her real name is because there's no info available on that, so I guess she wants to keep her identity mysterious for now. I can tell you that on her own material she seems to do it all- electronics, percussion, voice, and she does a great job of it. The music is atmospheric, the synth-work accomplished, and she has an entrancing soprano voice, somewhat like a cross between Collide's kaRIN and Elektra Dekker. Sounds like the perfect person to collaborate with Brock's Dicepeople. The title track "Shallow Under Skin" seems to highlight the strengths of both artists with a pretty hooky chorus that just might motivate 'em on dark dancefloors. Lyrically the chorus is a bit shallow, but effective. "Fallen Down," the second track (or b-side if you will) is good dark electro albeit with less panache than the first number. I wasn't wild about the percussion on this track though; it seemed a bit perfunctory. Both songs are much more pop than esoteric, a sure sign that Dicepeople are heading for a more commercial market. I'd say the tone of "Shallow Under Skin" is mock-sinister, while "Fallen Down" is sort of creepy-cute, along the lines of The Birthday Massacre (sans guitars, of course). The remixes of both tracks though are anything but commercial. The Deflexity Remix of "Fallen Down" is quite experimental stripping some of synths out of the music and adding others that have a dirtier, grittier sound, as well as some piano later. Vocals seem more lucid and there is a completely different, more schizoid feel to the song as a whole. As for Microchip Junky's Lack of Depth Mix of "Shallow Under Skin," it is also somewhat experimental replacing thick synth pads with grittier sounds and allowing the vocals to be heard clearly. Unfortunately it also exposes the song's inherent weakness and doesn't really do much to captivate the listener. I would have much preferred both of these tracks being remixed for the dancefloor which could have had added some oomph and gotten DJs behind this release. Be that as it may, the combo of Dicepeople and Moi Saint is an interesting one, fitting hand-in-glove with each other, and I hope they continue their musical partnership as the potential for something truly great is within the realm of possibility. Release date on the 'Shallow Under Skin' EP is January 22nd.
Artist:
Tarab + Artificial Memory Trace
Title:
Obex
Format:
Tape
Label:
Crónica
Sonic experimenters Slavek Kwi (Artificial Memory Trance) and Tarab have engaged in a kind of cultural exchange whereby they provided objects and activity sounds to one another, irregularly transforming them into amended sonic products that would then be recycled into other noises. The result is a hard-edged, heavily-processed hour long collection of processed noises, often metallic, hard, percussive and deep, sprinkled with glitches, crackles and breathing noises.

Many of the 14 tracks are just short interludes that sound like messing around with a sound effects library, but there are three much longer pieces that give this cassette a solidity. "Entimorf 3", at 17 minutes long, is a piece of many stages, a dynamic collection of rumbles and industrial surprises that at times opens up into hollow spaces with rolling lava-like rumbles, where metallic bends and stretches are morphed into something that almost sounds like pining wolves.

"Transform 1" seems to revel in harshly counterpointing two environments, one akin to a forest where trees are being felled distantly, the other a heavy industrial space with overwhelming pneumatic power.

Final track "Lampsh" follows a slightly more trodden noise path with reverberent tones and deep EQ'ing giving everything an underground feeling, with sharp and rapidly cut hits and bangs giving a sense of panic and claustrophobia.

Some of the shorter pieces are not quite so short, "Transform 2" for example a slightly more sci-fi five-minute development of "Transform 1", "Transform 2B" four more minutes of the same material sources rustling tighter and closer..

Overall "Obex" has a raw, gritty quality to it that's reminiscent of some of the darker sonic experiments of the 60's and 70's, delighting in its own avantgarde harshness. It's a release that will particularly appeal to experimental enjoyers of sounds with a more distinct physical pedigree.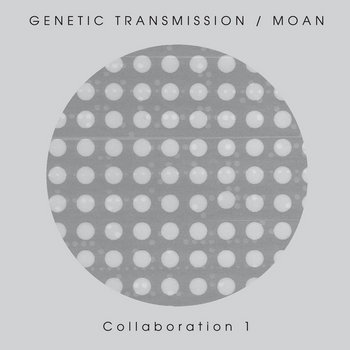 Artist:
Genetic Transmission / Moan
(@)
Title:
Collaboration 1
Format:
CD
Label:
Zoharum
(@)
Distributor:
Alchembria
Rated:
As usual for this label, the reissue plans for selected artists are carefully done: this time is the turn of Genetic Transmission and his collaboration with Moan. This release was conceived as a sort of split release were they contributed their own sonic vision and their track even if they conceived together the sound sources and exchanged their results.
Track 1,3 and 5 were arranged by Tomasz Twardawa (GT) and the first one disposes the sound in the audial spectrum in such a way to properly define a space were an environment unfolds while the second one is more concerned with the sound details and their evocativeness and the third evolves by accumulation of sounds until a more sparse framework closes this release.
Track 2 and 4 were arranged by Rafa Sdej and the first one is focused of the surrounding of the listener with the construction of thick drones upon which small noises generates movement and became the focus of the second part of the track and this framework is further developed in the long other track where this form is expanded not only in time but also in the depth of the musical elements.
An impressive release were especially the Moan's track reveal the level of craft involved in the release of such masterpieces of experimental music. It's not the writing involved in this release, but the manipulation of the sound until the listener has not to follow a sort of discourse but he's placed in an environment in which his mind can move. Truly recommended for fans of the genre.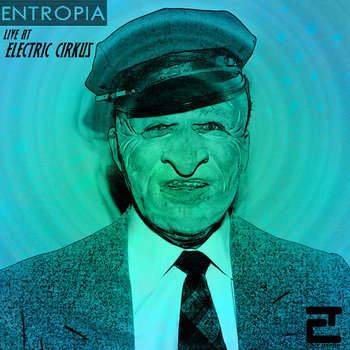 Artist:
Entropia
Title:
Live at Electric Cirkus
Format:
CD
Label:
Eclectic Productions
Rated:
There no introduction to this release except from the line up of the band (Dr.Lops: keys, modular synths; Ugo Vantini: electronic drums; Amptek:b synth guitars, analog sequencers; Carlo Micali: sound engineer) and the liner notes stating that this live was recorded on two tracks i.e., no overdubs. However Entropia's music could be roughly described as techno with a splash of ambient.
The release is divided in two parts: the first one is composed of four solo track: "The Great Escape From The Holographic Sanitarium" and "Fight The Winged Dragon" are from Ugo Vantini and they are minimal tracks based on the manipulation of the rhythmic sources and so they are more atmospheric than hypnotic. "Modular From Cassilde Hell" is from Doc Loops and is a crossover between a noise track and a sci-fi oriented synth track. "Supercluster Blaster" is from Amptek and it sounds as more oriented towards kosmische musik as the sound of the guitar is so effected that it's closer to a synth.
Then it starts the part featuring all the band and, instead of being the mere juxtaposition of the elements of the solo tracks, there's some elements emerging from the interaction: the rhythmic cages reminiscent of certain techno, with convincing results especially in "Memories Of An Electric Circus" and "Dance U Sob", which moves the result from the relatively meditative territories of the first part to more danceable one until "Nasty Tales From The Maudit Stage" marks a final part with a more attention towards the sonic construction until "Inner Spooky Universe Paraphernalia" closes this recording blending all the elements of the previous tracks.
This is a release oriented towards a very defined audience that could appreciate the craft of exploring this clearly defined genre while the others could be a little disappointed by the absence of any deviation from the canon. A nice release.