Artist:
Sylvain Chauveau & Ensemble Nocturne
(@)
Title:
Down To The Bone [An Acoustic Tribute to Depeche Mode]
Format:
CD
Label:
Ici d'ailleurs
Rated:
I'm not a lover of cover bands or cover projects, as they are often not so original or fitting to the mood of the original song, but this one by Sylvain Chauveau could be an exception and I'm not really sure that speaking of cover could be really pertaining to this collection of eleven really inspired reinterpretations of well-known songs by Depeche Mode that got released ten years ago by Les Disques du Soleil et de L'Acier and recently re-released (on vynil as well) by Ici d'ailleurs. Nothwithstanding the score, Sylvain and the Nocturne ensemble highlighted the melancholic nuance of songs like "Home", "Policy of Truth", "The Things You Said", "In Your Room" or "Never Let Me Down Again" by means of a somber acoustic and poignant suit, which delighted both more inveterated fans of Depeche Mode and the fans of more minimalist outputs by Chauveau, who recorded this profound and devotional declaration of love to these matinee idols by means of his likewise deeply emotional voice, even if I think that some songs ("Death's Door", "Freelove" or the above-mentioned "Policy Of Truth") were not so really suited to his kind of vocal timbre, but his rapture, a certain inventiveness - I particularly enjoyed the ones on the glitchy clots and the lo-fi experiments on "Enjoy The Silence" - and the elegance that got provided by Nocturnal ensemble often balance some supposed imperfections out, but I won't label them imperfections as the aim of Chauveau's reinterpretations - thank goodness! - is not emulative at all!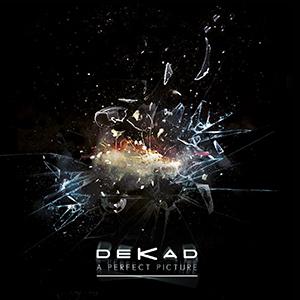 Artist:
Dekad
Title:
A Perfect Picture
Format:
CD
Label:
Boredom Product
(@)
Rated:
Four years after the release of the album "Monophonic" JB Lacassagne is back with his project Dekad with a new album titled "A Perfect Picture" and, to me, it is perfect indeed. Already with the previous album, always released by Boredom Product, JB started a redefinition of his sound since the band reduced the line-up from three to one and with "A Perfect Picture", I think that he found the right balance from melodic catchiness and cool electronic sounds. Helped out by Foretaste's members XY and Member U-0176 for production, plus XY and Celluloide's Darkleti on vocals on the single "Poladroid" and "Tied Up" respectively, the album's tracklist contains ten potential hits. Tracks like "Poladroid", "Tied Up", "Slowmotion" or "Beautiful Inside" with their upbeat rhythms or the intimate atmospheres of "Not Really There" and "Hate", to name a few, have the power to convince the listener immediately. If some of them make me think of the latest Depeche Mode B-sides (which are the tracks I prefer, by the way), others, just sound like perfect synthpop songs with great sounds and arrangements. Lyrics wise, JB deals with the love relationships under different sides but what is coming out is an overall feeling of uneasiness where extreme passions take a hold, in a negative or in a positive way. To check the whole album, just use Spotify or your preferred app and be sure to check also the video at https://www.youtube.com/watch?v=Ung2TCEDFCI
Artist:
Cursa/Gamma
Title:
Egg Cup/Warthog
Format:
Download Only (MP3 + Lossless)
Label:
Plasma Audio
Rated:
Another blessing on the expanding Plasma catalogue got thrown by Cursa, the London-based bicephalous project by Tim Ogilvie and Kit Maloney, whose declension of neurofunk keeps on matching together chrome-plated sonorities, dizzy drum rolling, bouncy hooks for junglists and gloomy robotic atmosphere on the hitting tune "Egg Cup", a crackling formula which is going to delight fans of quite known d'n'b entities such as Noisia, Lynx, Ed Rush'n'Optical or Survey and could let you imagine the scary white rabbit, who bedevils a troubled teen during a nap, could cross the boundaries between reality and fiction and materialize in the guise of an electricity-driven tormenting monster. Likewise tech-hey and slightly disquieting, the nettlesome plasma silicium that Hungarian producer Mark Gulacsi aka Gamma poured into chains of elastic bouncing bumps and screwing basslines on his tune "Warthog". Intended for the lovers of the twitchier side of bass-driven music.
Artist:
Nox Interna
(@)
Title:
Spiritual Havoc
Format:
CD
Label:
Echozone
(@)
Rated:
Nox Interna is Gothic Rock/Industrial Metal band with Richy Nox - vocals, composition; Peter Geltat - guitars; Robert Müller - guitars, programming; Tom Krüger - guitars, programming; and on this album, Boris Oksuz - bass; and Tobias Haas - drums; with Reza Udhin - backing vocals. 'Spiritual Havoc' is supposed to be their third album, but I can't find their other two, so I would assume those releases were somewhat limited. I think they've been around from 2010 or 2011, but there's a good chance you haven't heard of them before...until now. Nox is from Madrid, while the other band members are from Berlin, so what we have here is sort of a Spanish-German hybrid.

The album begins with "Kill Yourself and Be Reborn," a hot mess of a number that gets your attention with staccato hammering, single-note guitar and a strident beat. There's a wild chaos about it that rubbed me the wrong way, and to be perfectly honest, after one listening to that song I put the CD away to save for later. Well, later has come, and though my opinion of the song hasn't changed, the rest of the album does makes up for it. "An Eastern Song" which follows is certainly more controlled and sounds somewhat typical of German gothic metal. Not a bad song at all; well-arranged and intelligible, but not really a standout. "Parasites" slows the pace down a little and offers an eerie-gothy synth line, and I'm beginning to detect a host of influences from Type-O Neg to 69 Eyes to Rammstein, and likely others. Confusion and Darkness indeed! It's "Tomorrow Never Knows" (no, not a
cover of the Beatles tune by the same name) that could be the hit of the album. Unfortunate choice of a title to Google but the song is really good with a great hook. Possibly a little too brief being only a little over 3 minutes, but always leave them wanting more. A real stomping burner is "Agua de Vida" with lyrics in Spanish, and although Entiendo ningún español, it still sounds pretty good in my estimation. "The Last Sip of Hope" is the obligatory power ballad. A little too funky for me, but Euro goth girls will probably love it. "The Rotten Wings of Truth" has a techno intro overlayed with gothy organ and then
metal guitars. A decent track, but for me, not killer. "Dead Heroes" is a little simpler, but has a better hook. "Sleeping in the Asylum" is rendered with workman-like precision but other than mood, not much stands out. "El Ciclo" with lyrics in Spanish certainly does
sound like Spanish gothic rock, but may only appeal to Castilians. "Art of Chaos" tries too hard to include so much, but in the end does not succeed. Now for a surprise - "Rebel Yell," a real cover, not a song with just the same title. It won't replace Billy Idol's iconic original, but it is an interesting take on a classic. Likely a fave live too. The album concludes with "Sons of Silence," a song with philosophical lyrics that perhaps should have been more of a downtempo ballad than an uptempo rocker.

In conclusion, Nox Interna's 'Spiritual Havoc' is an uneven album, but for this band, a fairly accomplished one. There are a few really good tracks that make it worthwhile. In the greater scheme of things, Nox Interna still have a ways to go before reaching the summit of the mountain of goth-industrial-metal rock bands out there, but with perseverance and a commitment to quality over quantity, they might very well make it.
Artist:
Luxury Mollusc / Ontervjabbit / Animal Machine
(@)
Title:
s/t
Format:
CD
Label:
[&]
(@)
Rated:
I was not familiar with any of these bands before getting this, but looking at the cover and the lo-fi presentation (artwork is a creepy drawing on pen and paper, blank CDR), I kind of expected some noise here (especially since it came in the same package as Sist En 343, which was some great noise). So I was a bit surprised when I put on the disc. First up, we have Luxury Mollusc with 'Fishing For Chalk Lung Breathing Is A Chore Wax Tundra.' This is gritty and a bit noisy, but not really noise. Imagine a post apocalyptic landscape where the machines are still running simply because there is no one left to shut them off. As you can expect, the machines have become a bit rusted and parts have started to fall off of them, but they keep grinding away. This is the feel that we begin with. Lots of reverb gives it a cavernous feel, and it gets progressively noisy as it goes along. The machines are starting to break down and it's beginning to show. Nicely done. Next up, Ontervjabbit comes in with all guns firing with 'Disruption Slot' This is a slab of heavy, feedback laden noise that crushes everything in its path. There are recurring themes throughout, but this is surprisingly good if you like rumbling, grinding noise. As such, it manages to keep the nonstop intensity going while still being engaging. It ends with an ear piercing squeal of feedback, just as I thought it would. Well done. If you were looking for some kind of aural respite after Ontervjabbit's assault, you will find none in Animal Machine's 'Live at the Rehearsal 14.10.12.' But while Ontervjabbit functioned mostly in the lower end of the spectrum, Animal Machine aims for the treble side with lots of white noise before heading into a segment of rumbling bass and feedback about halfway through. So much feedback. If you like harsh noise, this will definitely be up your alley. Overall, don't let the cover fool you ' this is well worth checking out. This album weighs in at around 66 minutes.