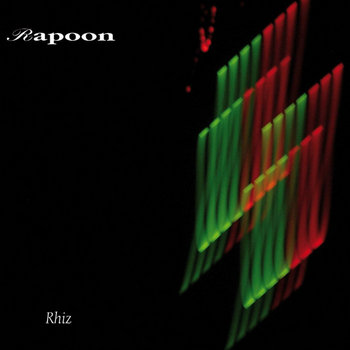 Artist:
Rapoon
(@)
Title:
Rhiz
Format:
CD
Label:
Zoharum
(@)
Distributor:
Alchembria
Rated:
In the now impressive, for number of releases, list of reissues of Rapoon made by Zoharum a release as "Rhiz" finds his place. Accurately the label present this release as a dance music one and so it's something different from the key albums from this project and so it sounds more as an experiment to be up with the times than an inspired release.
When the rhythm of "Gupta Highway" starts, there's a moment of disorientation as, instead of the usual hypnotic framework, there's a shift towards IDM territories so the rhythm is, at least apparently, less regular and it's the center of the track and the vaguely oriental samples are mostly underlining of the track. Instead, "Ho Gaya Can", features a moment, at the center of the track, where the rhythm stops and the familiar elements of the project properly emerge as in "Hunters and Pardesi" where there's more space for the soundscape as the speed of the track is lower. "LagaKe Swan" is the first track where the drum line is in the background, at the mix level, so the second part of part based on sparse piano note and a spacey drone find a remarkable equilibrium. While the first part of "Future Sajna" is the typical IDM track, the second part features a loop connecting the track with the canon of this project. "Last Stop" closes this release with more question than answers as it follows structurally forms established by other projects.
Honestly, if this was a release from an unknown IDM band, it could be valued as a derivative but good release that could be loved by fans of the genre but, as it's a release from one of the key name of an entire period, the lack of a moment that truly lasts in mind is a key lack. Only for collectors.
image not
available
anymore
Artist:
Dronny Darko
(@)
Title:
Abduction
Format:
CD
Label:
Cryo Chamber
(@)
Rated:
This new release by Dronny Darko marks a change of direction as, while his previous release were rooted in a canonical dark ambient form based on drone, "Abduction" is more focused on small sounds, background noises and field recordings mimicking realistic environments. So it's something really close to lowercase music for a large part of the time.
The metallic noises, probably from a field recording, open "Abduction" and are the foundation of a track where the electronic element is used to underline the atmosphere of the track as, instead of drones, small sounds are used so "Arctic Pollen" is even close to certain lowercase music as certain part of the track are based on quiet drones based on sinewaves and background noises moving in the audial space. "Intermission 1 - Crystalline Tunnels" is a mimic representation of his title using sounds to evoke someone walking through a tunnel as "Vapor Swamps" sounds as everything was suspended in the air while "Lactose Chamber" uses metallic sounds to return to the ground. "Intermission 2 - Curtain of Patterns" is a noisy interlude to "Veils of Static" where the use of noise is effective for the change of musical direction of this release and "Electrode Salts" closes this release alternating quiet moments and aggressive ones.
The great quality of this release is the contrast between a quieter first part and a noisier second one so, when the listener could start of being bored by the quiet sound spectrum generated by the attention to the sound nuance, there's a change towards thicker masses of sound. Practically, a real surprise.
Turkish drone-pop creator Ekin Üzeltüzenci's latest solo album is a melancholic affair channeling personal anguish into deeply sad arrangements where organic guitar and piano sounds meld with synthetic atmospheres and slow, dream-pop vocal hums. Wind tones frequently wash over the top for added texture. The result is an introspective sonic expression of misery that's at times quite powerful, at other points bordering slightly on the self-indulgent.

Highlights include the extremely filmic and deceptively simple "Episodes", with its glass melodic notes and windy atmosphere, and "Final Cut" which has a similar make-up but more piano driven. It's a strong formula that goes unbroken across the forty-minute release.

Tracks like "Like A Child" and "Before A Full Moon" have a strong ballad heart to them, but it gets washed away by production that sometimes seems wilfully muddy, designed to make the individual stems less distinct as though lacking in confidence somehow.

"Ghosts Inside" sits somewhere between two stools- dark and inaccessible in some ways, yet not allowed to explore its full potential for longer or deeper experimentation. It's one of those releases that actually feels too consistent. As such it feels almost like a gateway listen for people not yet adjusted to full-on ethereal soundscapes.
Artist:
Macronympha / Body Stress
(@)
Title:
Vile Affections Pt.1
Format:
7"
Label:
8EMINIS
Rated:
Macronympha is now Joe Roemer and Leo Sabatto (also known as Armenia) working together long distance and creating some of the best harsh noise available at this moment in time.

Body Stress is a newer harsh noise musician from Copenhagen. Body Stress is creating an excellent wall of sound in the same vein maybe not as cut-up but still pleasing to the ears for folks that like this type of stuff.

Vile Affections Pt.1 is two grueling sides of harsh noise on which may be the best sounding "lathe" I've ever heard. This 7" comes packaged in a nice hand-made cover with some excellent collage work.

This one is limited to 10 copies and may be pretty hard to get your hands on but if you can find this one it is well worth the effort.
Artist:
Kraft
Title:
Harvest Of Despair
Format:
CD + Download
Label:
Opa Loka Records
As Kraft, Robert Hofman offers up ten slices of dark and ominous shoegazey neofolk that makes prominent use of electronic post-production as well as some unusual vocal and found sound choices to give it a distinctive character.

Opening track "The Dreadful Hours" was the project's starting point, a heavily cut-up jazz demo reworked into a long evolving distortion. The poem at the end of the piece sits slightly uncomfortably and doesn't really add anything- final track "Zapovit" has the same problem, leaving you in the odd situation where the album's opener and closer end up being the least successful tracks.

Other tracks such as "Gauze & Effect" have more energy, adding to the steady hums some backwards mechanical rhythms and played-around-with vocal sounds. "Lights Out" mixes human panting, horse noises, DIY sounds and synthetic choral noises in a blend that ought not to work, but really does in a slightly Tangerine Dream-esque manner. The brief, buzzing bee-laden awkwardness of "Black September", with a sound which seems like an attempt to deliberately imitate the skipping of a scratched CD, is particularly uncomfortable.

Others such as "Gold Into Lead" are more akin to weird ballads, with plaintive melody lines wandering seemingly aimlessly above the bizarre bank of percussion, with "In Tongues" taking a solo acoustic guitar strum and twisting it through delays and effects into something imitating minimal techno. "The Wake" has a particularly strong melodic core, while other pieces feel looser and more improvised.

A standout track is "Ember", a slightly dub-flavoured track which takes violin and folk acapella sounds treated to sound like old gramophone recordings and marinades them in an echo chamber until they become something much more sinister than they already were.

Messing around on the borders between jazz, drone and neofolk gives "Harvest Of Despair" an unusual and distinctive palette that really catches your attention.