Artist:
M. Slagle
(@)
Title:
The Endangered Consciousness
Format:
CD
Label:
Spent Decibel
(@)
Rated:
M. Slagle (M for Matt) has been involved over the years with projects such as Side 3, Negativehate, Navicon Torture Technologies, Diathoron, Sullen Rail, Thevetat, Theologian and Dracaris. He's had several releases previously, but this is the second under his own name on the Spent Decibel label. I know that some of the projects he's been involved with are of the dark ambient/noise/power noise genres, but here on 'The Endangered Consciousness' it's electro-industrial all the way. The music (consciously or unconsciously) owes a debt to acts such as Frontline Assembly, Skinny Puppy, Haujobb and the like, while not attempting to imitate them. The thirteen tracks on this album remind me of a time in the 1990s when a whole new crop of electro-industrial artists were entering the scene, such as Index, Fenton Feckler< Gridlock, Battery, Crocodile Shop, Heavy Water Factory, Razed in Black, and too many more to mention. The music is predominantly synth-sequencer driven, full of old-school sounds that are going to take you back a couple of decades. It's the kind of industrial style you just don't hear much of anymore. One of the highlights of the album is a fairly faithful cover of Maryann Faithfull's "Love Hates" from 1995. (Haven't heard that one in a while.) Slagle's vocals are pretty decent in that raspy electro-industrial mode, also adding some atmospheric backing "ah ahh aaahs". Although that isn't the only song with vocals, it would have been nicer if there were more throughout the album. The tracks are certainly short enough to warrant them (none being excessively drawn out instrumentals) and likely would have infused a more human aspect into the synthetic machinery. Even though some of those aforementioned influences spend large chunks of their albums in instrumental impetus and atmosphere, most of their tracks feature vocals. It's the glue that sticks subconsciously in the mind of the listener and deserves a more prominent place in the music. Besides the elaborate synth sequencing, the crunchy beatwork also deserves a mention. 'The Endangered Consciousness' is one of those albums that you may have to listen to more than a couple of times to appreciate, and I know that in this age of instant gratification it may be asking a lot, but still there is some reward here.
Artist:
Broken Down
(@)
Title:
Drop Dead Entertainer
Format:
CD + Download
Label:
Altsphere
(@)
Rated:
I have to say it was with some trepidation that I loaded this CD into the player; after Broken Down's 2015 debut, 'First Spit,' I had absolutely no hope for this project. It was fucking awful, with a capital F (or A if you prefer). Thankfully, 'Drop Dead Entertainer' is a whole lot better, and while still pretty far out there, has its moments of lunatic genius. Imagine if the Dead Kennedys and the Residents got together to put out a hardcore punk industrial album. It might sound something like 'Drop Dead Entertainer'. It vacillates from manic-panic to just plain weird Asylum of Charenton song stylings. The subgenius behind Broken Down is Jeff Maurer, who alternately sounds like Jello Biafra filtered through the histrionics of John Lydon, and Henry Rollins in his Black Flag days.

The way 'Drop Dead Entertainer' begins might give you some clue to the utter weirdness of this album- A neoclassical piano melody over which is heard an obscure film dialogue sample about "pushing your spirit through the veil to a gasless reality" takes up the first minute, then after "The Entertainer's Sermon," "Sunburn Factory" kicks in with synth bass, programmed drums and industrial guitar, and Maurer's strange vocal styling in sing-song martial fashion. There's other keys in the background on the chorus bolstering the intensity, and the hardcore punk influence is in heavy evidence. It's like mixing Nitzer Ebb with Suicidal Tendencies. Strange as it is, "Cervical Vertibrae Evolution" doesn't work half as well with piano on the verses and Jeff's (normal?) odd voice, and hoarse death metal vocal on the chorus. There is plenty of distorted industrial/punk/hardcore guitar which serves as a staple sound throughout the album. The faster "All You Need Now" works better, ripping through every barrier that gets in its way. Very California hardcore punk. Surely a rabble-rouser if played live.

Back to more oblique territory on "Nightly Trance" and this sounds as if it was cooked up by asylum inmates. Quite often Broken Down returns to an odd piano-based number which begins rather innocuously, then morphs into heavier and more distressing terrain. It's unusual, but I'm not so sure it's a good thing; a rather disjunct format. There often seems to be some sort of schizophrenic disparity in Broken Down's songs between vintage chanson, and the industrial punk that inexorably boils to the surface; a musical Jekyll and Hyde if you will. Over the 18 track on the album, some are truly inspired while others are barely tolerable. It's like there is no filter on Broken Down's creative nozzle, letting anything and everything from the spigot spew forth. I think most that attempt to listen to 'Drop Dead Entertainer' all the way through are going to find it an arduous undertaking. Some songs like "Down The Stairs" are just plain goofy, regardless of the industrial metal trappings, and maybe that's where the (seeming) Residents influence comes in. Songs sometimes have a habit of taking odd turns and heading off into unexpected directions. As a whole I find 'Drop Dead Entertainer' to be an "acquired taste," but some people out there are going to love it for its undeniable weirdness.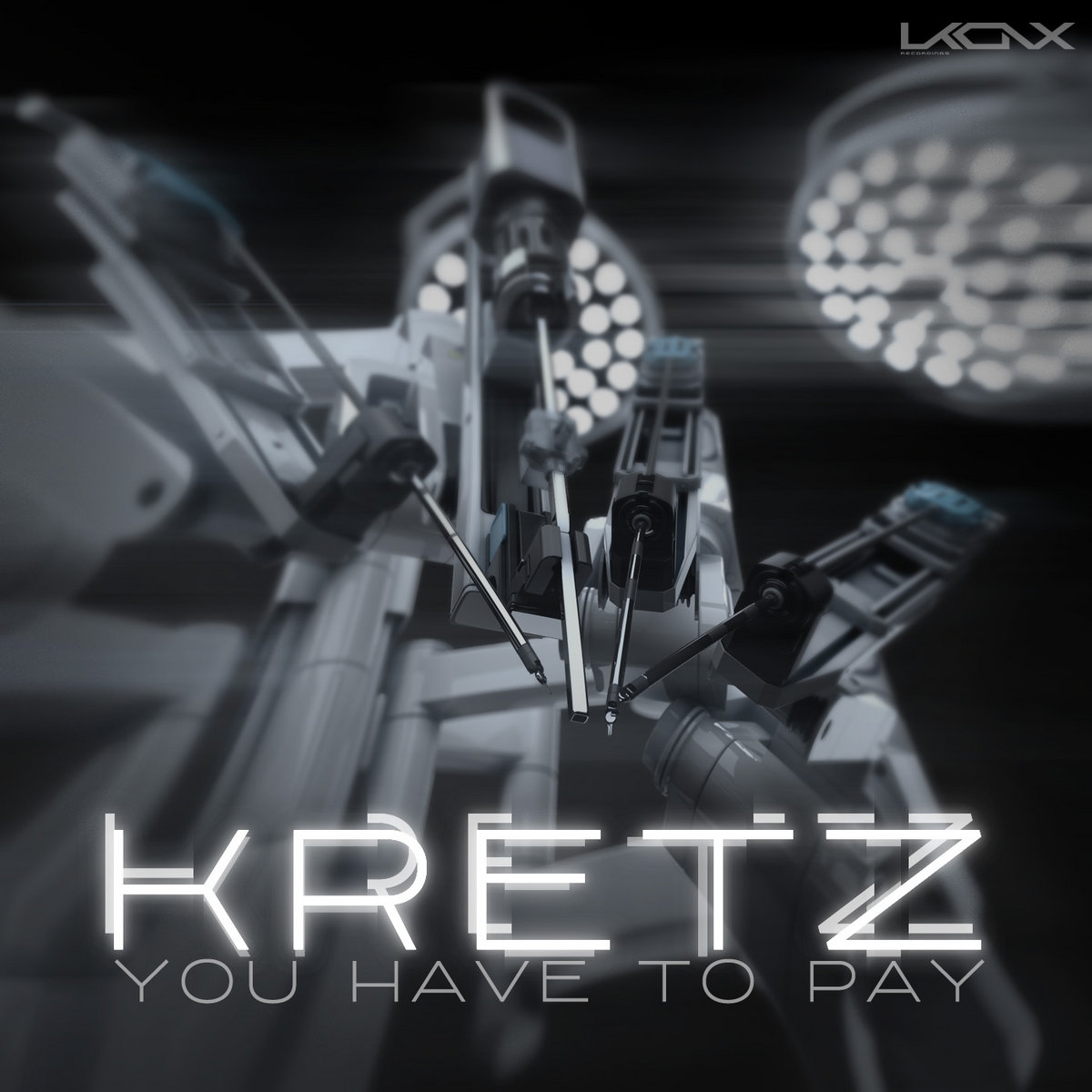 Artist:
Kretz
Title:
You Have To Pay
Format:
Download Only (MP3 + Lossless)
Label:
Ukonx Recordings
Rated:
Jonas Lund a.k.a. Kretz born in Stockholm and has a long history in the music industry. He has a past as a record company A&R and as a label manager but as musician, he started making music on the C64, Atari and Amiga. He released stuff for a lot of record labels such as: Svek, Loop records, Skint Records, Good looking, Mo´wax, React, Paper Recordings, Why Not, Reco-Nice, Plump House, Sub-Stance to name a few. On the electronic music scene he had releases under three different monikers: Anode, Rex 42 and Kretz. With the latter, he released stuff since 2012, all digital releases and the last one is a single for Ukonx Recordings. "You Have To Pay" and "Get Dirty" are two fast tempo (140 and 135 bpm) tracks that mix electro funk vocoder vocals with robotic rhythms and dancefloor attitude. We have few pads here and there and many synth lines that help building the rich rhythmical bone, creating in this way, syncopated intervals into the 4/4 main structure. Also melody is making its part into the creation of two cool tracks that for sure will get the attention of the electro heads willing for good tunes. The single is closed by the Deemphasis remix of "Get Dirty". On this version the Ukonx label boss is focusing on the bass parts and is adding 808 drum sounds, new pads and 303 acid sounds. Nice!
Artist:
Chronotope Project
(@)
Title:
Lotus Rising
Format:
CD + Download
Label:
Spotted Peccary Music
(@)
Rated:
Jeffrey Ericson Allen's Chronotope Project is back with a new release, 'Lotus Rising,' his eighth album and fourth with Spotted Peccary, after 2017's excellent 'Ovum' which I reviewed here. Allen's 30 year study and practice of Zen serves as the inspiration for this one, focusing on the image of the lotus flower, Buddhism's most recognizable symbol. The album's eight tracks tell the story of an aspirant's journey of self-actualization on the Buddha Way, stressing the importance of the moment. Allen explains, "Zen emphasizes the identity of practice and realization. Practice is not a 'means' to awakening; it is awakening itself, just as music is not a means to reach the end of a piece, but an evolving expression in time, in which each moment expresses an aspect of the whole."

I suppose the album could be viewed in that way if one were to think about it, but I think, Grasshopper, one would already need to have a zen mindset in order to make the association. The Haken Continuum Fingerboard, an instrument which affects a smooth glissando sound, not unlike a pedal steel guitar (with no Hawaiian or country music affectations) dominates quite a bit of 'Lotus Rising,' gliding effortlessly over gently sequenced synthesizer and ambient pads, producing a languidity to rival a lazy Sunday afternoon in July. Because of this, there seems to be little overt variation from track to track. There are subtleties, but it may require several listenings to pick up on them. The exception I found was the Deleriumesque "Opening The Hand of Thought," the fourth track in. The synth sequencing and mysterious aura are a bit stronger and the lack of HCF on it gives the piece a different vibe. Although there is a thread of rhythm in 'Lotus Rising,' that tends to be subtle too, at least until the last (and longest) track, 'Homage To The Three Jewels." Here we have a more percussion-oriented rhythm giving the piece a hint of tribal, also supported by a chorus of low voices and a delicate flute.

There might be a tendency to lump the music on 'Lotus Rising' into the New Age category, but it is nowhere near as melodically saccharin as your typical New Age outing. For me, this is music for drifting and dreaming, for exploring your inner-mind, not just some background ambiance for massage therapy or Reiki sessions. (Although it could work for that too.) Overall, Chronotope Project has produced another fine ambient work that should satisfy the most discriminating ambient enthusiasts.

Artist:
Styrofoam
(@)
Title:
We Can Never Go Home
Format:
CD + Download
Label:
Sound In Silence Records
(@)
Rated:
If you're deep into Euro-electronica, the name Styrofoam is likely known to you. Belgian sound producer Arne Van Petegem has worked with so many, including Valerie Trebeljahr (Lali Puna), Andrew Kenny (The American Analog Set), Ben Gibbard (Death Cab for Cutie, The Postal Service), Bent Van Looy (Das Pop), Markus Acher (The Notwist, Lali Puna), Miki Yoshimura (Munk) and Alias, just to name a few. 'We Can Never Go Home' is his 8th album under the name Styrofoam, with more EPs and singles, and his first full album in 8 years. Although his name is familiar to me, I can't say I've even heard his work before, so I guess I'm coming from an unbiased perspective, one way or another. The album is full of percolating synth sequencing in a myriad of shimmering, bubbling dimensions underpinned with legato basslines and slap-dashy but effective percussion, giving the impression that some of this has been well thought out, and some of it just throwing caution to the wind saying "what the hey..." So in a sense, it sounds partially like some pieces could be adapted as background for real commercials, while others have no commercial potential whatsoever. Regardless of some unconventiality, the format is largely standard with synth sequencing (arpeggiated, or otherwise) being the core, percussive elements nudging things along, a slow-moving bass bottom and synth melody or something more abstract (sometimes abrasive) on the top. I guess this is just what Styrofoam is, or does, but it would have been nice to hear something that didn't conform to the format at all. At times I was reminded of earlier Kraftwerk (you know, before they got into pop songs) but not exceptionally so. My one beef with the music is that a couple of tracks took way too long to end - a single note just sustained for what seemed like eons. Some of the song titles are as abstract as what you hear - "It Isn't Real So It Doesn't Count," "The Crook of Your Elbow," and "Did Your Mouth Buy You This Scar?" but it hardly matters as 'We Can Never Go Home' seems to be more of a complete work than a collection of (instrumental) songs. Perhaps most telling is the picture on the front of the album cover, a dead pool at some resort or civic center. It fully looks like summer in the background but no swimming fun here! So in a sense, this album has the sonic trappings of nostalgia, but none of the depth the first-hand experiences of it. In that sense, we never can go home. Handmade cardstock CD container, limited to 300 numbered copies.