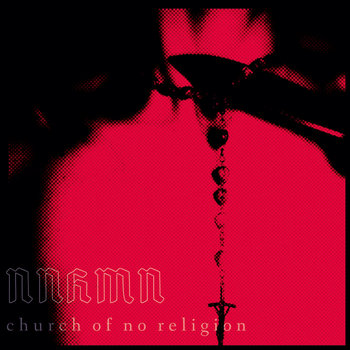 Artist:
NNHMN
(@)
Title:
church of no religion
Format:
CD
Label:
Zoharum
(@)
Distributor:
Alchembria
Rated:
NNHMN is a duo from Berlin whose music is a synth electronic vaguely gothic or new wave and "church of no religion" is presented by the label as a form of gothic i.e., non Christian, ceremony. The critic of religion a common topic in section of the dark scene is conveyed mostly by the nice artwork based on symbols.
Their music is rooted in the form based on the triad vocals, synth and drum machine and while undoubtedly evocative at its best, it's sometimes a little bit commonly known. A good half of this release is focused on rhythmic beats more or less suitable for dance floor while the rest is concerned with the construction of pseudo religious atmosphere due to the vocal by Lee which are truly effective in this purpose with aid of effects.
This is that kind of release that could be well appreciated by fans of the genre that will be bound by the craft in the making but the other could remain puzzled by the lack of novelty. It's worth a listen.
Artist: Oibaf & Wallen
Title: Hela EP
Format: 12" vinyl + Download
Label: Univack

The "Hela" EP has two original tracks from the Spanish duo, both of which are dreamy pieces of light and melodic instrumental techno which take you on leisurely eight-minute journeys. Gentle touch synth work and dancefloor-steadying beats are all very nicely balanced. Neither track holds any major surprises but as DJ-friendly synth-prog goes, it's the strong execution of a tried and tested formula that leaves you with a smile on your face.

They're quite similar as track pairs go. "Balder" has a shade more determination, while "Hela" is a touch more sorrowful initially with its more drawn-out minor synth pads, which feel like they become more optimistic as the sound opens up- a track just as (or maybe more) suited to long motorway driving as to dancefloors.

Arude's remix of "Balder" is notable for inverting the normal process often found when progressive house gets remixed. It's the groove and percussion stems that remain more intact, keeping the mood quite similar, while an unexpected and quite twangy new melodic layer is introduced. As remixes go, it works well and adds breadth. Similarly, Paul Angelo & Don Argento's remix of "Hela" adds a bit more melodrama, with synth stabs and some slowly introduced pulses. It's a bit of a shame that the melodic pads have been twisted and bathed in granular and lo-fi effects here, as the combination of drama and strong melody could've been the complete package- it makes me want to try playing both mixes at once just to see if the whole thing feels more complete!

There's no "wow" or surprise factor built in here, but Univack have offered up a beautiful and dependable pack of melodic and progressive techno that has to be admired.

Artist:
VV.AA.
Title:
Note Lithuania: Experimental / Electronic 2019
Format:
CD + Download
Label:
MIC Lithuania
The Music Information Centre Lithuania might have a drab name, but their releases have reached the point now where seeing a new work from them in my inbox is a cause for excitement, and I'm happy to push them to the top of my queue. This compilation just squeezed in before Christmas, and is a 71 minute collection of selected experimental and ambient pieces from Lithuanian artists, mixing some previously unreleased material with recent album tracks.

What really pleases me about compilations like this is how breadth and consistency can be found simultaneously. On the one hand, it showcases a good range of sounds and tones, yet on the other hand, if you were played this release 'blind' and told it was a single-artist album, you could believe it. It's predominantly full of acoustic and synthetic atmospheres, pads, drones, electronic effects, and occasional soft and crisp rhythms that build naturalistically from found sounds more often than from compositional structure.

Highlights include- but are not limited to- Patris ideleviius' brooding and cinematic "Sonata ianileve", a beautiful softness of melody in FUME's "Strala", and the truly romantic "Glimpses Of Dust" from Nortas. There's a soporific thread that runs through several pieces that have a calming, sleepy vibe. Tracks like Skeldos' "Tylos", Daina Dieva's crisp and icy "litis remias siena virpant vanden" eschew anything percussive in favour of either flat or slowly ebbing atmospherics that really draw you in.

For contrast, dark electronica that loosely borders on industrial and even techno can be found in Distorted Noise Architect's compelling "Fictive Live", and the journey towards Tiese's "JM FM" is a descent into much more frustrated noise work, showing that it's certainly not all happiness and light.

The compilation progresses in a nice considered way, and after the angrier noise comes 'the synthwave section'. Unit 7's "Methods Of Coercion" and Phil Von's "Capsized Poetry" are both strong, perhaps lacking in distinctive character or melody that would make them really shine, serving more like gaming background music, but rich nonetheless. Proceedings are them calmed down nicely to close, with the Nortas track followed by the enchanting, broadly ethnic vocal, flute and string tones of Raguvos' "Medziotojas" which gently nods towards the more folky side of MIC's work.

If every country had an agency as strong as MIC Lithuania when it comes to finding and highlighting the quality electronic and experimental music coming from their scene, the world would be a very rich place indeed, sonically speaking.
Artist:
Gri, Gutman, Mosconi
Title:
Uncoded Winds Below The Waves
Format:
CD + Download
Label:
Midira Records
"Uncoded Winds Below The Waves" is an ambient work that feels decidedly textbook at times. Its basis is a field recording of two stormy nights in Crete, but the musical work around it is fully geared towards taming and pacifying that sound. This is done by setting it in gentle slow electronic environments (four pieces, around ten minutes each), blending in other sounds of calmer waves both natural and artificial, and slowing everything down. The consequence of this is akin to a sonic impression of what it's like to be curled up safely indoors during a dramatic storm.

Sonically, this goes large rather than homely. The synth passes are thick, epic and richly textured, sometimes almost cinematic in quality. Opener "Grecale" reels you in with a loose sense of optimism and space, which contrasts nicely against final piece "Maestrale" which is decidedly more oppressive-sounding.

In "Scirocco" there's a soft kick drum that runs like a heartbeat underneath, providing structure but sounding quite isolated, as though on loan from more constructed music that hasn't arrived. This is built upon, a little, in "Libeccio" which just begins to border on structured electronica, but maintains its composure almost resolutely.

Cynically, there are parts of this that do feel like ambient music by numbers, leaving you with a strong sense that you've heard it before. However it's the assured composition and pristine-quality production values that carry this release, plus the fact that while the formula may be familiar, it's still successful. This release certainly warrants inclusion on your sleep or chill out playlists, where it will pass by unremarkably but pleasantly. A timely release for a Northern winter.
Artist:
Gintas K
Title:
Variations In A-Moll For A Granular Synthesis
Format:
CD + Download
Label:
esc.rec.
Gintas Kraptaviius recorded this series of six fairly long live electronic improvisations during an art residency in Estonia in 2016. The reference to A-moll (or A minor), famously used by Beethoven and Chopin, suggests or at least implies traditional melodic experimentation- but this is very different and much more technical beast.

This is because the granular synthesis here is sharp, raw, and digital but sometimes lo-fi. It's rapid-fire- there are no long notes here, but rather there are series of rapid bleeps and clicks at different tones. Over the course of six pieces, these rapid-fire digital patterns based on differing notes in the scale rise and fall in turn, sometimes jumping, sometimes ebbing, a series of digital waves of varying textures that never stand still. The sense of impulse and expression of the live human dial-control can clearly be felt- it's not overly clinical.

The stereo separation and individualisation is mostly quite extreme, making this quite disorientating when listening on headphones. At times this is glitch music, but in the programmer's sense rather than the musician's sense, with spontaneous and momentary impulses that feel almost like compression artefacting has been approached so as to draw the 'art' out of 'artefact'.

With the choice of chord, there is a curious melodic synchronicity that shines through at times. The layered, differently-triggered notes sometimes fall into alignment, like a kind of melodic eclipse, creating arpeggios that now and again feel familiar and reminiscent of traditional music. It's a curious effect, melody from statistics and probabilities rather than composition, but it's an occurrence that's frequent enough to be more than accident, and it works.

There's not a great deal that distinguishes the character of any of the six numbered pieces compared to the others. For example, the central section of piece 3 is somewhat quieter and more bubbly or a while before introducing a notable bass pulse, while piece 5 feels slightly brighter, more optimistic and confident in its tone at times- but each of these is a temporary distinction. All but one of the pieces is over ten minutes long, which gives each a chance to have plenty of its own internal variation. This does make a 67-minute album something of a deep dive, and a difficult listen for anyone who will find the raw digital sounds too abrasive.

It's a simple concept, in a way, but it's executed with a strong sense of purpose and some very solid expression. If digital exploration in raw form appeals, then take a long ear-dive into this.