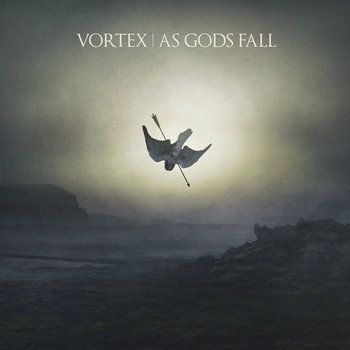 Artist:
Vortex
Title:
As Gods Fall
Format:
CD
Label:
Cyclic Law
(@)
Rated:
This release from the project by Marcus Stiglegger is the final part of a trilogy based on the Nordic mythology of the Edda used as metaphor for a world out of balance. This release features a bunch of guest which is a vital element of this release as they put other elements to the main framework which is essentially ritual dark ambient.
The first track, "Awakening", opens this release with a sort of harmonic chart introducing an almost martial second part and the blend of the two elements is rather evocative. "Awareness" is instead quite an instrumental neo folk track with the melodic line of the violin underlined by the rhythmic element. "War Is Coming" is a long track using a guitar line to incorporate metal element to the final result while "The Slain" is a quiet ambient track until the folk rhythmic element slowly emerges. The almost drone metal initial part of "Odhinn's Wrath" introduces a furious part based on drums and loops. "Hel On Earth" is a quiet ritual track with the use of harmonic chant and resonances upon a deep drone while "Valhalla" is a folk dance track upon a cinematic soundscape which emerges fully in the final part of the track. The ambient background of "The Priestess" is used for the female spoken words and "A New World" quietly closes this release with this lines of guitar and a final lullaby based on a glockenspiel.
The second CD is a collection of remixes which expose hidden elements of the tracks rather than be oriented towards dancehall and is a good companion for fans, even if it's somehow unrelated with the main CD.
"As Gods Fall…" is a remarkable release mostly because the great variety of influences which span from folk to metal is fused in a reasonably cohesive whole that maintain the listener's attention with apparently no efforts. Truly recommended.
Artist:
Gabriela Friedli Trio with Daniel Studer and Dieter Ulrich
Title:
Areas
Format:
CD
Label:
Leo Records
Recorded in two days in late 2015 but only released this year, "Areas" is the live-in-the-studio sound of an avantgarde jazz trio brimming in both confidence and mutual trust. While Friedli's piano work takes centre stage and the artist credit, it's the interplay between her keys, Studer's bass and Ulrich's drums (and occasionally bugle) that make this a rich and complex performance.

While tracks like opener "Largo", "Bova Blaua" and "Masse" flow in waves, shifting between pause and mania and back a few times, other works like "Hul Hound" and "Um Su" are more consistently down-tempo and sombre affairs.

The artist photo in the CD inlay has two of them with straight faces and the other smiling, and that's really quite appropriate for the tone of the release, which is predominantly earnest and straight-faced portraiture but not without a bit of playfulness, for example in the curt back-and-forth of "Minuten". Both "Miedra" and "Fil Da Ramosa" flirt with steady, more straight-flowing classic jazz grooves but then pull away- rather far- from them.

It is, for want of avoiding contradiction, a fairly conventional-sounding avantgarde jazz work, with the sonic qualities and production values all high-quality but uninventive, with a very natural sound. It exudes quality throughout and if you like your jazz experimental and dynamic, but also quite straight-faced, then this is a premium product worth checking out.
Artist:
Bit-Tuner
Title:
Arabian Nights
Format:
Tape
Label:
-OUS
"Arabian Nights" is a 40-minute live set in which Bit-Tuner layers up tapes of field recordings and other sounds sourced in Cairo over a collection of curt, jittery, slightly lo-fi electronic beats that gradually shift in speed, pitch and arrangement in complex ways that evolve without ever jumping.

The sections are numbered 1 to 5 rather than named, and they flow together but also have their own distinctive elements. "AN 1" is split into two parts and provides the most cinematic section of the release, with the most internal variation, before "AN 2" gets a bit grimier. "AN 3" has a notably steadier groove and uses car horn noises to strangely captivating effect, generating an atmosphere that's simultaneously gritty realism and alienation. "AN 4" has something of a hip-hop swagger in its groove and leaves the atmospherics behind before "AN 5" ends slightly quirkily with synth pulses and a softer melodic element.

It's a quite distinctive arrangements of sounds that stands out for its quite bold simplicity. Intriguing, thoughtful environmental electronica.
These are unreleased works dusted off from rehearsal tapes recorded for a 1976 concert. The fact the concert also featured works by La Monte Young and Terry Riley is a reasonably strong indicator of what to expect, but since these pieces are so heavily rooted in the sound of tunable electric keyboards, there's an extra layer of melodic context and more familiar electronic experimentation here. Young or Riley's works might be described to exist in their own vacuums, and while these works too form a sort of self-imposed splendid isolation, there are flickers of the outside world- a world of Rick Wakeman and the Radiophonic Workshop- that seem to seep through.

The two parts of "Mode nouvelle des modalités", running for just over half an hour, is a sombre and lengthy bit of Rhodes-based improvisation and impulse work with quite a pure vision to it, split roughly into a lonelier-sounding first part and a warmer, dreamier second.

"The Well-Tuned Marimba" is a complex exercise in high-pitched melodic sounds- marimba settings on the keyboard more fully surrounded by sine wave generation, live electronics and a sheng, all deliberately merging and blending into each other's space so that it becomes impossible to unravel the sound you're hearing. The high drone that builds underneath is genuinely unsettling, and the overall displacement effect genuinely powerful- early 'plinky plonky' tone disguising a very bold piece.

"Equal Temperament Fender Mix" invokes mentions of Radiophonic Workshop again, serving as it does as a prime example of the 70's vanguard of experimental atmospherics, a nearly 25-minute long piece exploring the new worlds of loop and reverb and echo and decay through extensive tape manipulation. As a melée clears towards the end, we are left with unrelenting arpeggios that are slightly reminiscent of Philip Glass.

A fascinating unearthed collection of 70's experimentation. With hindsight it sounds quite familiar thanks to the wealth of similar music that has been made since, and time and the evolution of ambient has perhaps deprived it of its edge, but in its original context it was certainly worthy of more attention than it ever received.
Artist:
Oliver Coates
Title:
Shelley's On Zenn-La
Format:
12" vinyl + CD
Label:
RVNG Intl.
Oliver Coates, who recently toured supporting Thom Yorke, has come up with a rather quirky concept to wrap this relatively short album. The title pays tribute to a genuine Stoke-On-Trent nightclub of the late 80's and early 90's (where acts like The Prodigy played), but reimagines it relocated onto the fictional planet of Zenn-La. It's certainly original.

Sonically though, the tribute is from a subtly different era, and to my ear certainly seems more late 90's. The soft, melodic, stepping electronica is reminiscent of Ultramarine or µ-Ziq, Aphex Twin in his mellower moods, or at times early Mr Scruff without the sense of humour. There's almost no low-end kick or bass throughout, this is expression through synth melodies and high-end percussion only. At a time when we're up to our ears in synthwave and 80's retro, this feels like it's staking a claim for reviving a less revisited sound.

There's a stepping, uptempo-trip-hop flavour to tracks like "A Church" (featuring quite freeform vocal offerings from chrysanthemum bear) that's quite endearing, and the off-kilter glitchiness and deceptive simplicity of "Cello Renoise" is a highlight. "Charlev", with its steadier but still super-soft 4/4 kick, does touch on the 80's but the meandering, jazzy, flutey synth lead line owes more to Planet Mu than classic synthpop. Final and longest piece "Perfect Apple With Silver Mark" is its own self-contained world of entrancing atmospherics and sun-bleached dream-techno, with an oddly abrupt end.

Though it claims to be channelling memories of raves and nightclubs, this is a lightweight, sweet, Sunday-afternoon-home-listening kind of electronica, and as such it's quite rewarding and it's got enough unusual ideas packed into 38 minutes to keep giving good value. A quaint anomaly.