Artist:
Nonconnah
Title:
Winter EP
Format:
Download Only (MP3 + Lossless)
Label:
Silber
Arriving very late in the year '17, Nonconnah's 22-minute Winter EP is a particularly understated work, in presentation and publicity and also in sound. Dark soft rumblings, digitally processed atmospheres, heavy reverbs and abstract field recordings blend into a set of five deep, eerie and uncomfortable environments as cold as the title suggests.

Opening track "When You Sank Into The Leaf-Strewn Earth" has a supremely low steady kick to it that hints at the approach of something rockier that never arrives, before "When The Blackbirds Formed An Inverted Cross" reveals a strangely more accessible side with slow, backwards-like melody and glitching effects. This then unfolds further when "When Your Hands Trembled As You Watched The Barren Fields" which brings the spontaneous glimmers of melody further into the mid-range while continuing the edgier hints of white noise on top. Fourth track "When The Ceiling Hit The Floor As The Barn Collapsed Around You" strips things back into darker territory with central use of sharp-edged gating or timestretching and a sense of claustrophobic breathing that bizarrely jumps into a bit of abstract warbled-piano slapping at the end. This treated piano then becomes the centrepiece of final track "You Said The Snow Is Like Amnesia I'm Forgetting Everything" which is like a short twisted parody of a filmic theme for love or death.

There's more to this Winter EP than initially meets the eye and it's a well crafted mini-album in effect, quite raw-edged in parts but easily exuding enough character to make it a tly interesting listen.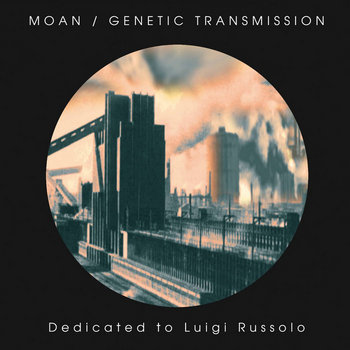 This release is a proper split album of Moan and Genetic Transmission which pays a tribute to Luigi Russolo. The Sadej's piece is the recording of a sound installation for an exhibition called "Man at work" while the Twardawa's piece is a reconstruction of piece whose master tape was lost. Properly enough both pieces were developed using metal objects as sound sources and not traditional instruments.
The track by Moan, Men at Work (Ludzie Przy Pracy), is a reference to the influence on the Futurists of the working environment so it's full, if not of the sound sources itself, of elements which seems taken from a factory and have that sense of unstoppable movement which fascinated Russolo more than a century ago. The track by Genetic Transmission, Przebudzenie Miasta, sounds instead more influenced by the Intonarumori as it's a long juxtaposition of noises; by the way, distant enough by the thick masses of the genre and closer to the subtle juxtapositions of musique concrète. The quiet crescendo ends in a play for the two stereo channels which takes the listener towards a car factory.
While it could sound as a little too adherent to the ideas exposed in "the Art of Noise" then the question is if they could have done otherwise as this album is a tribute to that book. A small classic.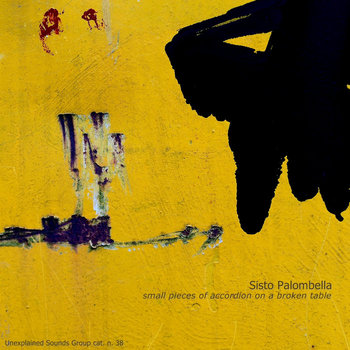 Artist:
Sisto Palombella
Title:
Small pieces of accordion on a broken table
Format:
Download Only (MP3 + Lossless)
Label:
Unexplained Sounds Group
(@)
Rated:
While he's sometimes defined as minimalist, Sisto Palombella has a personal identity: first of all he use an instrument, the accordion, which is closer to the traditional, or folk, approach to music than to the avant-garde one; then, his music a sort of tie to the song form or the accompaniment to silent film so it's something that, even in his complexity, sounds familiar.
As the first track, "L'Airone", starts, the listener is immediately introduced in the typical minimalistic environment where small melodic cells are repeated until their phases created a sort of inner melody during the loop. While "El spacolo" continues in the same vein, "Natureverse" is able to create a rhythmic pattern from an instrument which is not a percussion. "Flop" is a catchy song while "The second subversive trip" denotes an impressive control for the timbre. While "Cervo Zoppo" and "Entrapped in a pop blues" are returns of the minimalist patterns, "Sartascn' sfrasciat'" uses a series of tricks to subverts his own from from the inside. "Il Condor", "L'Aquila" and "Bloody Christmas" close this release as variation around a form that is as multifaceted as apparently identical to itself.
In his commitment to form and his writing ability is able to let the listener forget, at least for a moment, to his evident and almost calligraphic reference to Terry Riley and, perhaps, this is the best compliment someone could write about his music. Truly recommended for fans of classic minimalism.
The live set by which she introduced her sound in Europe, called Sediment, through the stage of Berlin Atonal (the edition of last year), was really impressive and many lucky listeners, who attended that gig, said that her performance could be defined as a milestone to initiate a new sound and a new identity for contemporary techno. After the ecstatic reaction and the long-lasting applause as well as the collaborative output as Ourea with Sam KDC, Japanese performer and sound maker Maiko Okimoto aka Lemna dropped four tracks that will delight those listeners and all those ones, who will approach her sound after coming fashionably late. In order to have an idea of her sound, you could imagine a possible hybrid between Japanese industrial techno of the first 00ies/late 90ies (a name for all...Riou Tomita) and the darker side of minimal abstract German techno, blended in repetitive and hyper-compressed ritual-like beats, but in order to have a better idea, just listen what she made on this "Urge Theory". The hypnotic polyrhythms that Maiko builds got alternatively enhanced by unexpectedly hammering stresses on bungee patterns ("Metamorphosis", "Dice"), amazing viscously worming low frequencies ("Blot"), mincing of mechanical cogs ("DLPFC"). Have a check!
Artist:
Nuaru
(@)
Title:
Like In A Dream EP
Format:
Download Only (MP3 + Lossless)
Label:
Free Love Digi
(@)
Rated:
The incipit of this digital tidbit that Nuaru, a Dutch - from Eindhoven - producer grown in the nest (or I'd say in the greenhouse, given Nuaru's love and interest for botany) of Basserk, could vaguely resemble the sonorities of a lot of stuff by Burial or Fanu, but the ethereal breathe, the sound of tapping raindrops, the crystalline melody and the puffed claps soon become gears of a pleasant rhythmical engine, whose fuel is what he called "nature bass" in "Like In A Dream", the first half of this sonic drop. The engine rolling beats in the second half "She Blends In With The Ocean" is even more energetic, but in spite of the fact the (h)earthbeat-like bass is more thunderous and concentration levels of percussive elements is higher, Nuaru keeps that breathe-like effect alive by a wise dosage of "organic" elements and playing on gain levels. Just nicely liquid!