Artist: Freddy43
Title: EP03
Format: Download Only (MP3 + Lossless)
Label: Basserk

Over two years after "EP02", Freddy43's "EP03" is a pack of three downtempo electronica instrumentals from the Dutch producer. It's characterised by some crisp trap-like beats, and a hip-hop swagger combined with a very clean sound, and some rich subbass work that really give your speakers some exercise (much-needed exercise now that your speakers aren't allowed to go outdoors nowadays).

There's a slightly bubbly twist in each one, in different ways. "Blowfish" gives a breathy, backwards-style synth, while "Polo" has a squeaky, curious arpeggio line that feels oddly damp.

"Serpent" is the odd-one-out of the three, with a much more laidback beat and bassline that step surprisingly close to jazz. Its oddness comes from the expressive, wobbly and relentless melody line and vocoder-ish noises that are decidedly Luke Vibert-ish at times.

Averaging under four minutes each, these feel like instrumental versions of radio tracks rather than DJ-friendly items, and the sheer amount of empty space in the mid- and top-range really make these tracks feel like grime tracks with the raps taken off. A smart lyrical rapper could have a field day working with these, they're practically ready-made.

If you're not a rapper then this is an interesting little pack of electronica curios with a nice quirky character. Something gently different.
I'll confess to being unfamiliar with Beatriz Ferreyra's work, but the pedigree is very strong, having been active in music concrète consistently since the 60's, and continuing to actively compose for everything from film to ballet to music therapy still. This Room40 release gathers together three disparate pieces from her back catalogue and serves as a form of introductory sampler.

The stuttering, glitchy cut-up vocal treatment on primary piece "Echos", built seemingly entirely from layers and loops of vocal noise and shattered, disassembled yoik-like melodies, feels quite familiar to a modern listener, thanks to the ease and availability of software for digital manipulation. So what's remarkable about this piece is that it's from 1978, and as such, was well, well ahead of its time- a ground-breaking piece of complex cut-up tape work, when given context. It's also notably playful too, and finishes with a laugh- an unusual twist in a normally super-sombre genre.

By 1987, the time of second piece "L'autre ... ou le chant des Marecages", the technique has stepped on somewhat and the process no longer prescribes the form. Again this is a work that toys with vocal sounds, twisting them and transforming them into various instruments. In its quieter and more sinister moments, there is a clear connection with Ferreyra's studies with György Ligeti- but it also has more spontaneous moments, a few more sudden waves and changes, and again, just a shade of playfulness that gives variety to the tone rather than undermining it.

We jump forward to 2007 for final piece "L'autre rive", which is accordingly much more ambitious in scope. The vocal sounds and theatricality is still there, providing a consistent thread that makes this album work as a beginning-to-end listening experience, but we are met with a new array of richer atmospherics and a rather grandiose hollow atmosphere that feels far less intimate and more sci-fi than the previous two pieces. The creaking and groaning puts you inside some form of giant, broken machinery in the first part, before a moderately abrupt shift in tone brings us into a sparkly, glittery, wet cavern of some kind- in my imagination, at least. It's one of those intriguing audio adventures that will invoke all kinds of subjective imagery.

It's a welcome and very well-balanced sampler introducing me to a composer whom, it's clear based on the quality of evidence presented, I and more people ought to have heard of.
Artist:
woriedaboutsatan
(@)
Title:
Crystalline
Format:
CD + Download
Label:
Sound In Silence
(@)
Rated:
worriedaboutsatan is basically Gavin Miller (ambient electronics, guitar), from Yorkshire, UK, with a little vocal help from Sophie Green on this album, which is worriedaboutsatan's sixth, I believe. Over the years, worriedaboutsatan has shared stages on tours and supports with a diverse array of musicians, such as Underworld, Ólafur Arnalds, Clark, DÄlek, 65daysofstatic, Tim Hecker, Pantha du Prince, Braids, HEALTH, Kiasmos, Pye Corner Audio and many more. They've also played a number of music festivals between 2016-2018.

Can't say I've heard any worriedaboutsatan previously, but on 'Crystalline' Gavin doesn't seem particularly worried about Satan to me; in fact, the music doesn't indicate he's worried about anything. Not to say this is all happy-go-lucky; it's more ambient minimalism along the lines of Brian Eno, It's not drone, but more atmosphere with somewhat minimal light guitar phrases, and gentle bass, maybe some cello (sound) here and there. Sophie Green's ethereal vocal are wordless and swathed in reverb as if they're part of the atmosphere. Of course, there's an aura of melancholy throughout the 8 pieces on the album totaling a mere 35 minutes. Percussion/rhythm is used sparingly, and the pacing is predictably slow. Repetition is a formularized factor as you might expect, and also might give the (false) impression that this kind of composition is easy to do. The way worriedaboutsatan orchestrates the music is everything though, and not just anyone can do that well and make it sound anything but dull.

While not omnipresent, Miller's ambient guitar adds a uniqueness that transcends typical ambient minimalism. He hits all the right notes when they need to be hit, and never does more than necessary to get the (atmospheric) point across. I also find it interesting that Miller looks a bit like a young Robert Fripp in pictures I've seen of him, although he'd probably be the first one to deny the resemblance. There are tracks on 'Crystalline' that sound like an actual band, maybe the lighter side of the Cocteau Twins without Liz Fraser. For what does not apparently seem to be a wide variety of sounds, worriedaboutsatan does manage to pull together a wide variety of compositions that never seem to wear out their welcome, as long as you're in the mood for them. Numbered and limited in the traditional Sound In Silence format to a mere 200 CD-r copies, or digital download if you'd rather go that route.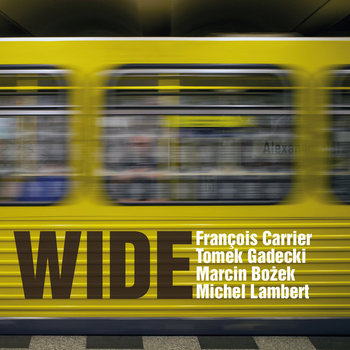 Artist:
François Carrier, Michel Lambert, Tomek Gadecki, Marcin Bozek
(@)
Title:
Wide
Format:
CD
Label:
ColyaKooMusic
(@)
Rated:
During the years François Carrier has released a number of release with whom has established himself as an interesting voice in Free Jazz. This new album documents a concert at MÓZG in Bydgoszcz, Poland, and features the canonical duo of François Carrier and Michel Lambert in a dialogue with Tomek Gadecki and Marcin Bozek which has the task to add a sense of novelty to the whole.
The concert is divided in three section: "Wide" revolves around the dialogue between alto and tenor saxophone with the rhythmic section as a support, at least for the first part, until a solo interlude by Carrier introduces the second half of the track where the use of the french horn by Bozek marks a section where there's a slight timbre research juxtaposed to a call and response. The third part is a return to the form of the first part. "Radiancy" is a movement from an almost lyrical first part based on slow melodic lines by the saxophones to a second part based of faster lines which give musical space to the rhythmic section to escape from the role of accompanyment. "Leeway" lasts just over half an hour and ebbs and flows between quiet and fast moments and shows, apart from the technical skills, the players sense of measure to give a moment for everyone.
Even without any particular novelty in its form, this release transmits the joy of playing together of the artist and this quirk, in times of inflexible individualism, get some fresh air to the listener. Recommended for fans of free jazz.
Artist:
Andrea Laudante
Title:
Banat banat ban jai
Format:
CD
Label:
KysaliSound
(@)
Rated:
One of the most interesting output on Francis M.Gri's label KrysaliSound, that was kindly offered to the avid ears of more demanding listeners see the signature of the young Italian composer Andrea Laudante. In spite of the fact he keeps on study composition and electro acoustic music when this album was released, Andrea shows certain maturity in the definition of his stylistic pathway as well as an interesting approach to composition. The influence of the aesthetic outlook by John Cage becomes manifest since the very first moments of the opening "Southern Lights", which besides some echoes of Brian Eno's "By This River" in the melodic line, the amalgamation of piano and surrounding environment sounds like a clear reference to Cage's pianism, the aesthatetic framework of his 4'33" including its intimate connection to Rauschenberg's "White Paintings" that Cage himself defined as "airports for the lights, shadows, and [dust] particles" to underlines the unusual role of art against the moment and the place where art is and as an invitation to feel the surrounding universe. Such an invitation in the sound art of John Cage - whose notorious "In A Landscape" sounds explicitly quoted in the awesome suite "In A Scapeland" - got accepted by Andrea, and such a fact sounds evident when he describes his album 'Banat banat ban jai' as a diary of a journey through sound and listening, as a form of meditation: "Listening carefully to every kind of sounds in different places and with several methods gave me a new perception of the world around and inside me. [...] There is no difference between the sound that comes from a guitar and the sound that comes from wind blowing through leaves, if we know how to listen". Cage's pianism is not the only entity you'll meet during the listening of this album, which is going to sound a search for interesting hybrids as its listening will progress. For instance "Maheshwara" (one of the names of Shiva, that becomes somehow famous for a devotional song of the mystical stage of Nina Hagen) sounds like combining bell-driven meditation sessions and some of the more extreme electroacoustic experiments by Pierre Schaeffer, the awesome "Between Us", where it seems the listener breathing cycle get mirrored by cycles of inhalations and exhalation between the concrete sound and some field recordings of a seaside environment and the emotional ones rendered by daydreaming melodic gushes, reminding the exoticism of some contemporary minimalist composers, or the intersections between swirling cacophonies, disquieted piano chords and natural and urban field recordings in "Yugen" are just some samples of the cross-breeding techniques by this composer. Deserves a check.