Artist:
hackedepicciotto
(@)
Title:
The Current
Format:
CD & Vinyl
Label:
Potomak
(@)
Rated:
Ask any rivethead about Einsturzende Neubauten and you're likely to get a "yeah man, they're great!" response. Likely they will know the name Blixa Bargeld, leader of EN. If they're really a longtime fan of the band, they may even know the name Alexander Hacke (EN's bass player) as well. Hacke is 1/2 of hackedepicciotto, the other half being Danielle de Picciotto, an NYC gal who moved to Berlin in 1987 to become the lead singer of the band Space Cowboys, co-initiator of the Love Parade, a collaborator of the Ocean Club with Gudrun Gut, a member of Crime & The City Solution, and also Alexander's partner in crime. 'The Current' is hackedepicciotto's fourth album, and possibly their most powerful one yet. For this release hackedepicciotto has amped up the percussive aspect of their music to create a powerful rhythmic feel, a wilder and more danceable element. Hacke's background with Einstürzende Neubauten can be felt in the many rhythmic tracks. Danielle's considerable contributions include violin, autoharp, hurdy gurdy, vocals, spoken word and electronics. And there is a fair amount of spoken word, giving the album a somewhat political flavor. Politics aside though, this is excellent experimental music, at times in the vein of Swans, at others Einstürzende Neubauten, with some passages reminiscent of Legendary Pink Dots, the electronic minimalism of Suicide, and others. 'The Current' is by no means a minimal album though; in point of fact, quite the opposite. It often sounds huge, much bigger than a 2-person project. There is not a single concession to "pop" on it, which I find quite refreshing, although the music isn't so esoteric as to be inaccessible. The overall aura is melancholic with a grim determination to leave stagnation in the dust. A good number of tracks have that Swans' improvisational feel, and there is a generous infusion of swirling psychedelia as well. de Picciotto's elfin voice adds an exotic element that saves things from becoming too dark and dour, and is a nice contrast to Hacke's more austere vocals. 'The Current' is where modern industrial music should be heading, not a rehash of KMFDM, FLA, Skinny Puppy or NIN dance music. (Not that there's anything wrong with that.) The album is being released January 31 on Einsturzende Neubauten's label Potomak, and I think they've got some upcoming live shows at venues in Europe. Einstürzende Neubauten has a new album ('Year Of The Rat') coming out soon, and a tour as well that I'm sure Alexander Hacke will be participating in as well, so it looks like 2020 will be a busy year for hackedepicciotto. 'The Current' is a worthy album you should just pick up on my say-so, Neubauten fan or not, you'll thank me later.

Artist:
Vlad In Tears
(@)
Title:
Dead Stories Of Forsaken Lovers
Format:
CD + Download
Label:
Echozone
(@)
Rated:
It's bands and albums like this that begs the question: "What is Goth (anymore)?" In years gone by it used to be a pretty easy question to answer. Siouxsie & the Banshees, the Cure, Sisters of Mercy? Sure. The Smiths, Gene Loves Jezebel, New Order, Evanescence - not so much. (And for this instance, let's not go down the darkwave road.) So what have we got when a band has a very gothy name (Vlad In Tears, sounds pretty bloody gothic to me), a gothy album title ('Dead Stories Of Forsaken Lovers'), and the band has a dark gothic look, but the music has all the earmarks of melodic metal. Musically, Vlad In Tears has more in common with bands like Amorphous, Dark Tranquility and Ghost (and maybe even Van Halen) than gothic metal bands like My Dying Bride, Lacuna Coil, Type O Negative and 69 Eyes. (Think of Vlad In Tears as more of a pop pseudo-goth metal outfit like HIM.) This Berlin-based band was founded by the three brothers Kris (vocals & piano), Lex (guitar) and Dario (bass) and their friend since preschool, Alex (drums). The band, originally based in Italy, started out by playing cover songs but soon created their own (kind of) dark sound. 'Dead Stories Of Forsaken Lovers' is their eighth album (since 2006) and I imagine they've build up quite a following since their inception. The album consists of 17 tracks, which is six or seven too many in my opinion, but we'll get to that later.

Opening strong with "We Die Together," vocalist Kris set the tone in the tune with a perfect bit of melodic pop metal that perks up the ears and alienates, well...nobody. Never been so happy about a suicide pact for lovers. All the elements are in place, hooks fastened tightly to the skin, a commercial winner all the way around. Bit of a mating ritual in the sexual conquest theme of "Tonite," the obligatory "puttin' on the moves" number. "Born Again" (with guest vocalist Lex Megaherz) isn't about religion (thankfully) but rather being redeemed, renewed and re-invigorated by a woman. By this time the album is settling into that familiar melodic metal groove, and for those who love it, it's well...groovy. For those (like me) finding it a bit clichéd, I'm wondering if this is pretty much all there is here. From a pop metal (emphasis on pop) standpoint, the songs are mostly pretty good. From a goth standpoint though, not nearly brooding, dark or edgy enough. Songs tend to have that modern alternative sound that just seems so ubiquitous in rock today. At least the major portion before the Special Acoustic Tracks ends strong with "Tears Won't Fall," a neat rocker with a few short, mellow breaks. If the album ended there, it would have been just fine, but no- 7 acoustic ballads get tacked on weighing the whole down like a millstone.

First up is a remake of Alice In Chains' "Man in the Box," a pretty big MTV hit for them, but certainly no ballad. It's just Kris and his piano trying to channel Layne Staley's emotion, but he has to work too hard at it to come close. I could have lived with that if it was the only bonus track, but six more follow, and that's just waaaayyy too much. It's not that these minimally orchestrated (piano or guitar, the last being a little of both) tunes are mediocre (they're not), it's just that after a couple of numbers it becomes a yawn-inducing experience. It would have been much better to spread them out over the next few albums rather than shoot the wad all at once here. Also, the way the last song ("Entrapped Soul") just ends inconclusively, it sounds like a demo. Not good. The album would have rated higher if not for those last 7 cuts, which, like it or not are still part of the album.


Artist:
Sunil Sharpe
Title:
Etaci
Format:
12" vinyl + Download
Label:
BPitch
This EP from Irish techno producer and DJ Sunil Sharpe is a really natural fit as his first release for the BPitch label, offering up as it does a blend of instrumental techno that's both reliable and interesting at the same time, in true BPitch style. Each track lays itself out over five minutes, mostly built around single grooves and assured slow shifts in parameters and filters that keep things constantly danceable yet always shifting.

The title track opens with an initially unremarkable techno thump but then starts intriguing with a staccato bassline that's subtly grooved and offbeat, bringing a real sense of urgency and tension that plays nicely against the occasional "it's a dream" spoken word interjection.

"Timber" feels retro at times, its 'ugh' vocalisations and squeaky acid tones sometimes feeling like techno of twenty years back, but with fresh production- and a really unusual twist of tone halfway through that I suppose it technically a breakdown but which sounds like the DJ has already mixed through to the next track, before bringing back the last one.

"Amun" rolls along thanks to a buzzing and toothy bass, a mostly two-note melody and some curious vocal loops that give an unusual and crisp texture, before final track "Ukkin" brings the sense of urgency back with an alarm-like retriggered stab and rapid claps.

This is techno with its serious face on, earnest and high quality, and while none of the tracks jump out as future classics, it's a workmanlike and super-reliable, dancefloor-assured 12".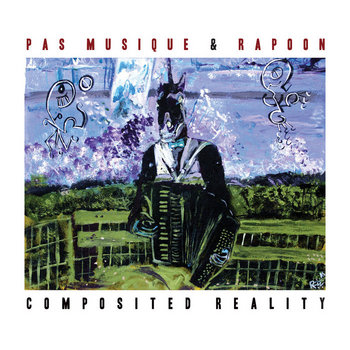 Artist:
Pas Musique & Rapoon
(@)
Title:
Composed Reality
Format:
CD
Label:
Zoharum
(@)
Distributor:
Alchembria
Rated:
"Composited Reality", the third collaborative release by Pas Musique & Rapoon, was released in 2018 on USB stick and now it's available in CD from Zoharum which nowadays releases much of Rapoon music. This release consists of six new tracks and field recording which are mixed in a track lasting a little more than 52 minutes at the threshold between experimental music and field recordings.
The piece starts in a canonical Rapoon with hypnotic tones on a Middle Eastern base, the second part is based on noise generators and loops, the third part is mostly based on loops; sparse wooden percussions introduce the fourth part of the track which seems more ambient oriented until swarming musical cells emerge and last until a texture introduces complex tones that ebb and flow and vanishes when a carillon is used as a way to mark a more structured part based on field recordings and samples, followed by a more static part based on beats and percussive loops. The last minutes of this release are filled by abstract sound impressions and a final part which slowly return to a form close to the beginning of the track.
This release struggles a little bit to pique the interest of the listener during the static phases, however it reminds the listener about the assembled nature of reality when it's used for artistic purposed. A nice release for fans.
Artist:
VV.AA.
Title:
Fieldwave Vol. 1
Format:
Tape
Label:
Nonclassical
"Fieldwave", curated by Nick Luscombe, is an attempt to highlight the increasing predilection for musicians to include field recordings and natural sounds into their work. The first side of the tape is a collection of nine short works, mostly around the three minute mark, and essentially a sampler, giving us a breadth of approach to that integration, with the field recording aspect sometimes dominant, sometimes bordering on incidental.

So while Hojo + Kraft's "The Hours Descend" is a composed edit built almost entirely of field recordings that have been ordered to form an open-minded narrative, in contrast to that pieces like Tuulikki Bartosik's "Crossing Over Forest, Laho Lake, South Estonia" is essentially an accordion piece with a folky vibe for which the field recordings provide general atmosphere and texture rather than being the main focus. Others span the two, with Iain Chambers' "The Regents' Canal" layering found bell-tone sounds- that could either be church bells or industrial pipes- and extensively effecting and pitching them in the production process to bring melody into the portrait of a landscape.

For Now's "Yellow Flowers" is practically an audio drama, a snapshot of family life cut into pieces, and contrasts nicely against purist field recording pieces like Kate Carr's bizarrely compelling "Highway Bridge Drain Pipes, Saskatoon, Canada". James Greer's "Get Yer Kicks!" and D_BAM's "Mr. Slush" are also notable for being so oddly unrecognisable, both more sci-fi than naturalistic, heavy sonic post-production twisting sounds into shapes very far removed (thankfully) from the everyday.

The second side of the tape is an utterly different experience, given over completely to the 27-minute work "Ng Geen Yun (No Police Here!)" by Gabriel Prokofiev. Whereas most of the first side could be regarded as ambient, this is sonic reportage from a recording artist who found himself caught up in the Hong Kong protests of 2019. Obviously they were a time of great civil unrest, but in terms of tension and stress levels, I would describe this work as a 'medium'. Whether because the artist was on the periphery of the action- much of the large crowd shouting feels a bit distant- or whether because the recording is from one of the steady marches rather than the flashpoints, there's an odd sense of security here. At times it's almost as though we're in a football crowd, surrounded by fellow supporters who are passionate without truly thinking that these events are important- which feels quite at odds to the scenario as we were shown it in the media. Certainly it's a crowd who are not happy with their team, particularly in the final few minutes, but overall it's far more peaceful than I expected. Being unable to speak the language (apart from a couple of very short English language snippets that catch you unawares), perhaps I would have appreciated the underlying tension more if I had understood the wording of the crowds' chants.

This is a really nicely compiled selection of new works that show the versatility with which field recordings can be adopted to form their own artworks, or to supplement and bring almost infinite distinctiveness to existing musical forms. If anyone you know thinks that 'field recording music' is just a bunch of birdsong and ocean wave recordings, play them this.