Artist:
Strafe F.R.
Title:
The Bird Was Stolen
Format:
CD + Download
Label:
Touch
Strafe F.R.'s second album since returning from a 20-year hiatus is an exercise in contradictions. Truly experimental, it provides us with 14 unique and hard-to-read environments of metallic noises, heavy filters and tape effects, heavily gated guitar and guitar-like noises, pulses and processing- then crashes into them to various degrees with percussive surprises that are sometimes harsh and unpleasant, sometimes quirky bordering on comical. Even the press release skips from talking about vanilla fudge in coconut trees and finding Liszt sleeping inside a piano to the devoured liver of Prometheus. It's one of those "really don't know what's going to happen next" releases, exemplified by the sudden appearance of heavily processed vocal on "Aconite" with a lyric in which the album title is found.

But among the wilful surprises, there's a rich depth to be found here as well. Though constructed from unorthodox parts, "Prepper's Home" is a fascinating bit of electronica with a truly emotive undercurrent that suddenly breaks into almost Krupa-esque jazz rhythms in its second half. "Pianosmoke", built from an experiment in playing bass and guitar sounds through a loudspeaker inside a piano in order to stimulate the resonance of the piano, ends up being a very coherent and melodic work that with the right electronica remixes would have a lot of crossover appeal, while other pieces like "Flare", though built of similar stock, have a darker layout and a more spontaneous and theatrical flavour. "Violet Sun" is a good example of a sparser approach, in which the processed guitar evokes feelings of some sort of alien road movie, while final track "Towton" throws furthest back towards the band's 80's roots with some very analogue, fuzzy tape flavours and Nina Hagen-ish vocal wails, right down to its abrupt halting end.

It's an unpredictable, fresh-sounding and rich hour-long release which never drops the interest levels, and it's certainly worthy of attention.
The track titles are possibly the most out-there aspect of this three track bundle of steady house grooves with a variety of sampled and synthetic Eastern flavours meandering over the top, though they're not without their musical quirkiness.

"Too Much Fun In The Temple Of Doom" is the most characterful of the set, with ghostly feminine vocal sounds phasing in and out over a spoken word incantation that prefaces a very bouncy upbeat peak section, it's an unusual attempt to bring Indiana Jones-style cod-mysticism into a relatively simple danceable structure, and it works.

On the B side, "Dervish Euphoria" has a slightly rockier beat and a nice gradual build towards a bright arrangement of synth pads and sampled chanting that feels Summery and refreshingly positive, before "Exploding Toads Mystery" is a nice set-up of jungle environment atmos, looped soft tribal drum patterns and sparing use of electronics.

Not sounding as sinister as its artwork may imply, it's a perky package that flirts with some cliché ideas but comes out with a not-too-familiar flavour.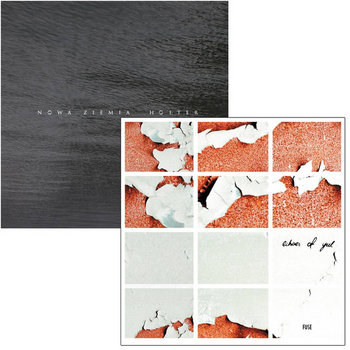 Artist:
Nowa Ziemia / Echoes of Yul
Title:
Holter / Fuse
Format:
CD
Label:
Zoharum
(@)
Distributor:
Alchembria
Rated:
After a while, Zoharum returns with another chapter of their split cd where they collide compatible musical project and present them with separate cover for both project. This time, rather to present obscure projects, are Nowa Ziemia and Echoes of Yul which were already reviewed and well received. This time both project are focused on drone and guitar and seems likely as both sides of the same project.
The half by Nowa Ziemia start with "MW" which is a field recordings introduction to "agiew" which is a slowly developing drone for guitar colored by a sparse feedback and armonics while "MT" exposes resonance over a rolling beat. "Holter" closes this side with distortions and resonances giving a movement to the drone and echoing some metal influences.
The half by Echoes of Yul is completely filled by "Fuse (Version II)" a long, over 35 minutes, track whose first part proceeds by accumulating drone in a slow crescendo intertwining psychedelic parts with noisier ones until the drums introduces the coda with metal oriented guitar lines.
This is an enjoyable release and a split of two project working in the same fields so it doesn't sound as a split but as a cohesive release that could be well received by fans of minimalism or drone metal. It's really worth a listen.
Artist:
Sverre Knut Johansen with David Helpling
Title:
The Vast Expanse
Format:
CD
Label:
Spotted Peccary Music
(@)
Rated:
Sverre Knut Johansen's third release on the Spotted Peccary label lives up to its title, 'The Vast Expanse,' as it is expansive, but then again the composer is known for his spacey compositions. On this outing he has some help from ambient guitarist David Helpling who has been producing his own albums since 1996. 'The Vast Expanse' is a fairly mellow affair with little in the way of cosmic disruptions or stellar explosions. Nearly constantly in motion, there is a sense of purpose without urgency or impulsiveness in the music. It is as if it was a gradual unfolding of the universe in all its glory. While the opening track, aptly titled "Origins of the Universe" seems tentative at first with a plethora of sounds floating in the cosmic void, it eventually coalesces into a more solid formation, underscored with bass-driven rhythm and a distinctive melody. Nearly half way in, it really gets cooking and develops a theme that's going to have you thinking...Vangelis! That's not a bad thing either. Helpling's guitar adds a bit of panache without overtaking the orchestration. So far things are off to a wonderful start. Johansen stretches synth pads for miles, maybe even light years across title track, "The Vast Expanse" with nice melodic content and effective arpeggios. I found the melody on "Emotion Strata" too repetitious and overbearing for my taste, but the arrangement was nice. "Space and Time" is a cool track because the melody is rather abstract and you can blissfully float along without getting wrapped up in something too tuneful. "The Beginning," the longest track on the album at over 11 minutes begins in ambient space (or space ambient) before it develops any motion. When it did get going I was reminded of the early '70s electronic outfit, Tonto's Expanding Head Band. On this piece a simple theme augmented by arpeggios and sequencers is built upon until it becomes something quite fantastic, then dissolves away into hyperspace. Heavy (and I do mean heavy) pizzicato open "DNA" with probably more echo-verb than needed and become a mainstay of the track. A little much in my estimation. The rest of the album is just good space ambient chill, not particularly exciting or innovative, but enjoyable all the same. I liked 'The Vast Expanse' better than 'Secret Space Program' (Johansen's last album), partly because it isn't trying to be anything it's not, and also because of the universality of the music. Space ambient enthusiasts are guaranteed to have a wonderful trip with this one.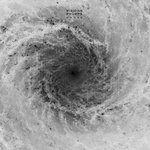 Artist:
Visions & Phurpa
Title:
Monad
Format:
CD
Label:
Cyclic Law
(@)
Rated:
This release is a collaboration between Visions, the experimental project of Frederic Arbour, and Phurpa which is one of the most radical and arduous project of these days. The result is an expanded musical spectrum where time has the property to let all musical resonances express their potential to be a sort of trigger for meditation.
The well known low frequencies which characterize the music of Phurpa opens "Ascendance" but the contribution of Vison is audible after a few seconds as their rather minimalistic approach is evidently filtered and juxtaposed as applying color to a black and white musical picture. The dark ambient form of Visions is more prominent in "Fohat" as only Purpha's percussion are clearly audible in the final part adding a sort of religious mood to an overall meditative atmosphere. "Monad" is based on a frequency separation between the two project: Vision has the higher frequencies while Phurpa has the higher one but instead of be a trivial juxtaposition there's a real dialectic between the two musical streams and this is further enhanced in "Reminiscense" which closes this release with an impressive audio spectrum of rare evocativeness.
This release could be seen as an introduction to Phurpa's music as it's a lot easier listening to their music or as the addition of a spiritual element to the processual framework of Visions. However, it's one of the releases of the year for the genre.