Artist:
David Rothenberg & Douglas Quin
Title:
Before the War
Format:
CD
Label:
Earth Ear Record
(@)
There's something utterly symbolic in the fact that I got this CD in the beginning of March when the war in Iraq was about to begin and people's feelings all over the world were boiling hard while all thoughts revolved around that approaching catastrophe which was just one of the many events in the history of mankind.

David Rothenberg and Douglas Quin offer their own vision of the lost Eden on BEFORE THE WAR. It's not fruitless "yearning for innocence", though. It's an attempt to find that "painful point" where the natural flow of things is interrupted and the world is submerged in the depth of chaos. The war is the main drama but possibly the most intricate and painful experience is the prelude to war. Agonizing wait, oppressive numbness, confusion, inscrutability of the reality, tension in soul, and, as a protective reaction - carelessness and longing for one-minute delights, blindly following the life-loving nature of man - it's all there, within ten stylish, laid-back jazz compositions. The artificial beauty adds to the natural one and gives relief to this soft and melodic sound painting. The open topics - our world, people and the nature - everything transforms and becomes intimate by means of the personal and expressively restrained playing.

As was stated by the creators of the album, the leitmotif of BEFORE THE WAR is the nostalgia. This leitmotif doesn't allow confusion to creep in and helps to retain the clear perception of the geographic kaleidoscope found on this CD. Zimbabwe, Algeria, Karelia, Sweden and Lebanon - all are perceivable in that way or other. These were the places where the musicians - David Rothenberg and Douglas Quin - took their inspiration from, either indirectly - by using native acoustic timbres and musical stylistics, or directly - by reciting (narrated by David Rothenberg) the facts about tragic moments in the life of various corners of the world. Wonderful instrumental passages of David Rothenberg (clarinet, keyboards), Bill Douglas (bass, flutes) and Russ Gold (percussion) surround the hypnotic samples of wild life and human voices from Alaska, Madagascar, Costa-Rica, Kenya and Brazil, all collected by Douglas Quin. The fifth composition called "Karelian Night" deserves special attention. Here we can hear the only appearance of Mari Jarvinen. Jouhikko (Finnish bow instrument with three strings) was brought to life in her hands. We can also hear her crystal voice which can only be called disarming, that gave the composition completeness and deep lyricism.

Earth Ear Records that has released this album as always doesn't leave the listener embarrassed. The disc comes with an extensive booklet, from which you can learn the real situation that provoked the appearance of this album, as well as the methods and principles, upon which musicians built their improvisations, the conceptual basis of their creative work.
Provision consists of four machines programmers; Matt Coker-vox, synths, lyrics; Leslie Hyman-Lead synths, programming, lyrics; and the husband and wife, Breye Kyzer-percussion, programming, lead vox, lyrics; Katie Kyzer-synths, vox, lyrics. One of the most innovative electronic acts in America, who has performed as an opening act for Red Flag ( who mastered the band's debut release), Anything Box, Imperative Reaction, and Cut.Rate.Box. Their first release 'Evaporate' shows alot of intense vocals, intricate analog programming and expressive percussion. Lyrics so passionate and so emotional which talks about love, lust, trust, lies, betrayal, deception and society. Every track will make you dance without skipping a beat. You'll enjoy tracks "In Love", "This Moment", "Lies", "Memories", "My Only Question", "Devotion" and the self-titled "Evaporate". This Houston, Texas electro act reminds me of 80's electronic pioneer Information Society, but the band have their own unique full-filling sound while other electronic bands are copying from others. "Evaporate" is filled with energetic dance floor pounding beats going at the rate from 116-135 bpm (beat per minute). Provision provides a brilliant 100% pure synth-pop dance album that features 12 tracks so captivating with an futuristic edge.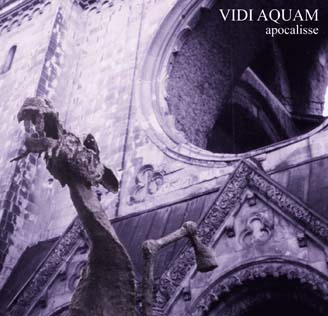 Limited to 166 copies, APOCALISSE is a compilation which gathers six tracks of a tape titled "9.96" plus six unreleased ones coming from the 1995/'97 period of the band. I wasn't familiar with Vidi Aquam's sound and since the first listening it made me remember some new wave/goth bands that were active in Italy in the 80's. For the foreign people that isn't aware of the Italian post/new wave movement of those years, try to imagine a mixture between Batcave bands, first Coil and Joy Division. The sound they produced was someway unique and almost unknown outside Italy. The most famous bands have been Dead Relatives, Limbo (the first tape and mini LP), Blusons Noirs (the first band of Massimo Mantovani, who soon after formed Thelema) along with many others. For sure this is a mere classificantion because there were so many bands and influences that it's restrictive to name few influences or few genres because as usual there were bands with a darker sound as well as many Cure followers. Well, this isn't Vidi Aquam case as their sound is taking its forms from post punk and early Death In June but they are able to experiment even more presentig us twelve tracks tense, dark and worth the listening. Most of them haven't got a definite melodic structure but when effected guitars and keyboards create the atmosphere, then the vocals take care of the melody with recitative parts. A good mixture of dark ambient, 80's post punk and early industrialism that could interested industrial lovers and goth freaks. Check some at their webpage and contact them.
Kamikaze 52 formed after a motorcycle incident where Alexandar Goldmann (guitar) and Sui Yamamoto (vocals) were involved and met each other. Soon after they started to find other people touched by the "divine storm" and after several line up changes they defined their sound as a metal electronic goth monster. Their first effort titled DESTROY YOURSELF TO RISE is a mixture of powerful sounds headed by a wall of distoted guitars, drums and Sui's howlings. The sound is compress and compact and sometimes remember me Guano Apes as well as some German gothic bands. The first four tracks ("Desire", "The Whore And The Liar", "War" and "Scream For Me") along with "Bitch Of Destruction" are the most convincing ones for me because sometimes on the other tracks I find that Sui's voice doesn't change that much (with few exceptions, like on the ballad "Emotional Overkill), while the music is well conceived and is always powerful.
image not
available
anymore
Taba is a guy coming from Bologna and his demo CD is a melting pot of eccentric rock and various experimentations with a little touch of jungle. The five instrumental tracks seems to be like his personal nightmares in loop (see for example the video of "Speedball" where the only theme is based on his feet squeezing an orange) and he tries to confuse the audience even more with his writings and images that you can find into the data session of his CD. Is he a genius or only an annoyed guy? Who am I to know it? Frank Zappa?