Even though many might think that new album by Atari Teenage Riot founding member and singer Hanin Elias is one of those crossing the fine line that we try to keep drawing around the bunch of genres we deal with at Chain D.L.K., "No Games No Fun" manages to keep a foot on our side of the line all the way from the first to the last of these 13 tracks... What it is, it's a songwriting built with Brit noise-pop in mind but played on electronic instrumentation and with musicians that are most definitely not unfamiliar to our "gray area". Hanin Elias shares the writing and production desk with Alex Hacke of the Neubauten (whose influence you can hear quite remarkably in the song he plays in), Merzbow (another unmistakable contribution), J. Mascis of the Dinosaur Jr, Can "Khan" Oral, Mario Mentrup, Philip Virus, C.H.I.F.F.R.E. and of course with her Atari-fellow musician Alec Empire. The eclectic feminist singer screams, sings and speaks her direct, straight-in-your-face and political lyrics on top of the tracks, most of whom are in collaboration with the german collective C.H.I.F.F.R.E.. Energic and electrified womanliness «beyond shewolf romanticis, girlie super-numerarism and business battle dress». Her second album will be released on Fatal Recordings, initially a sub-label of London's Digital Hardcore Recordings, now indiependently relaunched in Berlin by Hanin. Fatal's anti-male-domination attitude go well along with Hanin's anthems such us "You Suck", "Rockets Against Stones", "No Games No Fun". If you are into women kicking ass, if you are into Teenage Riot, if you are into experimental distorted space-core, if you are into brutal brit-tronica or new millennium rrriot-grrl underground post-punk, check this out cause you might just have a blast! Hanin Elias' super-dope she-rock-electronik-distort-experimental-core second album will hit the street on March 11th!
image not
available
anymore
Negative Format are ready for us with a new eleven tracker that once more shows their great ability in creating electronic techno music. Personally I find "Cipher Method" to be superior to its predecessor. It's like if it kinda steps back to observe, it's a little more laid back but in a floating way. It is still pounding like a motherfuckin' Love Parade! It delivers well done electro-dance with a mittle-european flavor to it. The voices are treated, as we are used to, mainly through vocoding, distortion, phasing. The tracks have rich and consistent beats between 129 and a whopping 170 bpm ("Algorythm" introduces a great variation on NF's usual rhythmical material with a deep dubby bass line and almost true drum'n'bass grooves!) and the song structures are solid and coherent. There are several samples to be found (for example from Kevin Costner's latest movie "Dragonfly" in the song "Schema", as well as other Hollywood material) too. This record proves once more that they know how to evolve, they don't get stuck, they work on new sounds and are creative. Without such a rich palette and such a knowledgeable use of these sonorities they wouldn't stand the competition, instead they do. There's not much else to say, Negative Format always come through as a skilled techno-tronic act that has a lot to bring to the table and knows how to play its cards. You can bet they'll take the house if you give them a chance.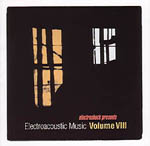 Artist:
VV.AA.
Title:
Electroacoustic Music Vol. VIII
Format:
2 x CD (double CD)
Label:
Electroshock
(@)
Distributor:
Eurock
What better way to close the batch of new releases from Electroshock than with one of their "Electroacoustic Music" series compilation? It's time for the eight volume and it gets quite freaky and experimental on this one. The songs are mostly from the last couple of years by artists such as: Lisa Walker [Canada] and her underwater violin performance with whale sounds; Claire Laronde [France] and her crazy pitched and improvised chaotic piano playing; NY-based Milica Paranosic [Yugoslavia] (also member of D'Divaz) and her short four-compositions suite "Lulla" that portrays jazzy and vanguardish experimental work with a vivid folk heritage; Vivian Adelberg Rudow [US] and the circus-ish sounds of e-space-ri-mental galactic nowave; Jukka Ruohomaki [Finland] and the escalating four-part airy and windy ambient-trance "Necromancer Suite"; Robin Julian Heifetz [US] and the political improvisational experimental piece that symbolizes the tragic oppression brought upon the American Indians by the US government; Christopher Andrew Arrell [US] and his voice-only experiment based on triggered sampled parts of speech in different languages including Italian, German, French, English, Spanish and maybe more I didn't recognize; Diego Minciacchi [Italy] and his twelve and a half minutes long sophisticated sonic mosaic of found sounds, field recordings, modulating waveforms, voices and synthesized sounds; Gary Di Benedetto [US] and his experiment entitled "A Drop in the Bucket" uniquely based on the sound of a water drop repeatedly falling in a bucket for more than twelve minutes dynamically inserting differently pitched or different kind of drops samples and underlaying ambience noises; and Chaos As Shelter [Israel] (aka Vadim Gusin) and his "Death of Bellflower" song with prominent bell-sounding metallic sounds, oniric floor noises, low screeching disturbances etc. Another open window on the international variety of how electro-acoustic music is perceived and interpreted.
OK one note before we start... .I am not much of a fan of death metal vocals at all, nor do I believe death metal is a separate genre like everyone thinks. I think it's the same exact metal with a guy (or god forbid) a girl growling like a bear choking on a dick. But at times it works. It worked for Crematory, though (1). Their keyboard work at knack for atmosphere kept most of it together, (2). They were far better when they had the non-death metal singer. And bands who cross this and gothic almost always end up on some super cheesy level, ala Cradle of Filth. This one tends to blend those two together nicely at times but stumbles on some ends, like the opening track. Psuedo gothic Tubular bells with a romping corny metal tune and death vocals!?!? It's fucking horrible! But on the second track it begins to pick up and get me moving, with it's nice mix of piano cascades and gothic metal guitars. The CD in general stays along those lines, drifting off in death metal vocals here and there. Overall, it'd be better to just sing normal and not overpower the atmosphere with trying to be brutal. But not bad at all though at the same time. It's keyboard work is masterful to say the least, and the female vocals are superb. Only problem I had with this was the opening track Rule of music here: gothic bells+death metal vocals=shit. Other than that, I'd recommend it. PS, the girl on the front cover is stunning beyond words, that is the kind of beauty that inspires great poets!Rating:8Also recommended are My Dying Bride and Anathema, the two masters of gothic metal alongside Neurosis. Also if you get to see them, see Paradise Lost on tour now. Think of a heavy more melodic Mission UK with PL's newer stuff.
Very unique experi-metal release, fusing together elements of Dream Theater, Iron Maiden, Queensrycheand the dark melodic sounds of Mission UK. The sounds constantly switch, from hardcore punk to melodic power metal to gothic metal, bridging very wide gaps between genres effortlessly. The singer's vocals as well are very diverse too, ranging from melancholy to raging to operatic (in a metal kind of way), keeping in flow with the many experimental phases of the sound. My favorite would have to be the opening track, especially in the chorus line, which is both heavy and melancholy at the same time, reminding me a bit of old school Iron Maiden with a bit of a Mission UK feel to it. The vocalist does remind me a lot of Joeff Tate of Queensryche during the chorus line and in his operatic spots, which is no small feat!Very diverse CD that will keep you guessing and will grow on you very quickly. These guys did their homework regarding crossover of genres, and still being able to fit some well placed keyboards for atmosphere. Energetic, ever-surprising, and devoid of all the stereotypes surrounding the Finnish metal scene. And gotta love the artwork and their 20's lounge getups! Rating: 10.