image not
available
anymore
Dreamfree a 3 inch single cd by a dark electronica band named soulscape the band hails from chicago a 3 piece band consisting of mel-vox sam-bass and dan-guitar.

The first track also the title of the 3 inch single is called Dreamfree a symphony meets switchblades. Mel sings they can't see beyond the myopic futile misery of their lives leaving you mesmerized and bound Sam and Dan provide the darkness accompanying him in this reverlry with haunting bass lines and hard cutting guitar. This track has already became a dancefloor hit and has potential to take all dancefloors by storm.

The next track is called Rise Again this track haunts you like no other with it's singing refrain calling to you I stand my ground I rise again letting the world know that he will conquer all leaving us with a visual of a monster frozen in ice from ages past soon to be warmed and awakened to rise and make it's presence known and heard. Sam's bass cuts right through us hearing that same refrain again and again while Dan just simply tears it up.

The last track is called The Crossing also a possiblity of another dance floor tragedy hit singing to us. Nibiru is calling to you don't be alarmed all your dreams of this moment come alive.
This is an esoteric incantation calling on the old gods to come join us and dance with us the goal here is dance dance dance! and never forget where it all comes from.

Check out Soulscape at the Underground Lounge 952 W. Newport, doors 9.p.m. playing with Infinity Interrupt and Mnd Flux Funeral courtesy of heresyproductions.com

Coming from Slovakia, Frown produced over the years two self produced demos and two albums for Moonstorm, a German label dedicated to dark goth and metal music. After two years from their first album "Features And Causes Of The Frozen Origin" Frown produced this LUNARY BRIGHTSHINE AND FIERY SPLENDOUR, which gathers into its twelve tracks clear influences of two bands which headed the dark metal and goth movement of the last decades: Type O Negative and Sisters Of Mercy. While the Sister Of Mercy influences aren't that evident, Type O Negative music echo during the whole album, under many forms: melody arrangements, vocals, etc. Sometimes there are also little punk moments a la Misfits but withouth any doubt Peter Steel has been the main influence of the band (maybe a little too much). Without being clones (even if we aren't too far) and producing good goth metal, Frown album is powerful and contains good tunes but in my opinion they've got a certain unused potential they could explore to detach themselves from their heroes. Check their website and make your own opinion listening to some mp3s.
image not
available
anymore
Artist:
GOTHICA
(@)
Title:
The Cliff Of Suicide
Format:
CD
Label:
Cruel Moon
(@)
Distributor:
Audioglobe
BUY from
THE CLIFF OF SUICIDE is the second CD for this Italian band which found home in the realm of Cruel Moon, the Cold Meat Industry sister label devoted to folk dark sounds. The CD opens the feast with "Nel Buio", a track which immediately shows to the listener what he's about to listen: ten tracks full of pathos and love, influenced by Dead Can Dance and by medieval atmospheres. If you listen carefully to the music it can easily reminds you Brendan Perry's arpeggios as well his taste about strings arrangements. In this case it's not a mere copy and if you loved that band you can easily appreciate Gothica. Stefania's vocals can't be compared to Lisa Gerrard's one but we are talking about different styles because as you can easily guess from their name, Gothica gathered on their music all the influences dear to the Italian gothic movement filtering them with their cultural background. If you already read my reviews you know that I don't like that much this style of singing (I preferred Roberto's) but I definitively appreciated the atmospheres and the music of the band. Check it out if you love dark and medieval tunes with good musical pieces. P.s. The CD contains also the video clip of the main title which you can watch with your computer.
image not
available
anymore
After two albums, two mini cds and a line up change, Scream Silence produced an intense and melancholic album. The ten tracks of this new release sound gothic with a little bit of metal and tons of melody, while Hardys' vocals paint desolate landscapes of love delusions. Being romantic and powerful at the same time, SEVEN TEARS with tracks like "Timid Try" (beautiful melody with energic riffs which convinced me since the first listening), "Morphosis", "Asylum" or the powerful "Consolation" is a good album with at least five beautiful tracks. Sometimes the tracks sounds similar but the general atmosphere is compact and pleasant and you'll find yourself playing some tracks over and over. Scream Silence with this album remembered me also a rock version of the new Covenant musical path. Germany is discovering itself romantic and energetic at the same time and it seems to like it...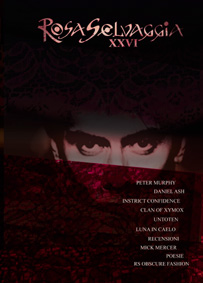 ROSA SELVAGGIA IV is a compilation which is sold with the glossy magazine of the same name. Into this issue 26 you can find interviews with: Peter Murphy, Daniel Ash, Clan of Xymox, Untoten, Luna in Caelo, GOR, Mick Mercer, In Strict Confidence, dj Franz, Simone Arcagni, Mouth of Indiffernce, Pleasure and Pain plus articles, writings and reviews. The CD contains unreleased tracks or rare ones of the following Italian bands: Gothica, Spiritual Front, Lily's Puff, Northgate, Vidi Aquam, Runes Order, Etoile Noire, Hysterie, Rose Rovine e Amanti, Enigma Eden, Daniele Brusaschetto, Psycho D-Vein, Aenima, Siking With Love. The sound goes to goth/post punk/new wave (Sinking With Love, Psycho D-Vein, Vidi Aquam, Aenima, Etoile Noire, Northgate), folk/dark (Gothica, Rose Rovine E Amanti, Lily's Puff, Spiritual Front) to electronic/industrial/dark (Runes Order, Hysterie, Daniele Brusaschetto, Enigma Eden). I don't have the magazine but I think that it's in Italian language. These are the rates to get a copy in Italy: 10.oo Euro + 1.86 for the CD version or 5,oo Euro + 1.86 for the magazine only. Write them or send the money to Rosa Selvaggia, via Venezia 10, 2003 Cologno Monzese (MI).