image not
available
anymore
Artist:
Wordclock
Title:
Heralds
Format:
CD
Label:
Cryo Chamber
(@)
Rated:
As I already have a reasonable number of releases by Cryo Chamber already reviewed, and this is one of the last labels completely committed to a genre, I approached this release with a certain confidence about what to expect. As usual, this release is presented with few words and a generic inspiration about journey hunting for myths of forgotten sacred sites; so this is supposed to be dark ambient.
So, as the first notes of "Bell Ringing I" begins, there's a surprise in the acknowledgement of a framework closer to modern classical and without the pseudo-romantic cliche related to the genre: strings and piano draw quiet lines of sound with a production giving a feel to be recorded some time ago as there's a sort of blurring applied. "Bell Ringing II" is, instead, immersed in a background close to the form of the label but, as soon as there's a melody emerging, this is a canvas and not the drawing. "Bell Ringing III" close this track introducing the listener towards a proper song with a perceptible rhythmic structure. As "Beatrice's Euphoria" evolves there's a sense of writing as, instead of the drone emerging, there are melodic lines. While at first sight "St. George" seem static, it's only because the loops are almost imperceptible in a noisy environment. While "Where Mercy Lives" is almost danceable in his catchy elements, "Thames Does Flow" is more dreamy in his gentle musical tones. "Heralds" closes this release blending all the elements of the previous tracks leaving the listener with the feeling that something is missing.
Almost impressive in his détournement of the elements of the genre, which are present but relegated in the background of a form deeply rooted in the pivotal use of the tune, so that it could be even appreciated by the casual listener. It's able to escape both the trap of dark ambient (boredom) than the ones of modern classical (triviality). Applauses.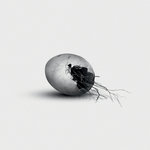 Artist:
Hesychia
Title:
Metanoia
Format:
CD
Label:
Cyclic Law
(@)
Rated:
Hesychia is the the new project by Austrian Arthur Rosar and this is its debut release. This is presented as inspired by the concept of apatheia i.e., the freedom from all passion, but, apart from the quietness of certain moments, there isn't a true link in the music to this concept. The overall framework of Metanoia is a dark ambient mostly based on the atmospheric quietness of classic ambient and sustained notes of synth than to hyper details soundscape of actual trend of the genre. So the result could sound a little bit outdated but it's more enjoyable by listeners which are not fans of the genre.
A bell resonances opens "Apatheia" and this sound is repeated in a loop becoming the structure upon which a crescendo obtained using drones and noises create a sonic wall of great atmosphere. "Metanoia" is, instead, a short dark ambient track which overwhelms the listener and acts as an introduction to "Nepsis" where sharp and sustained tones are immersed in a dark and detailed soundscape. "Maranatha" is a long musical journey from a noisy drone to a solar ending marked with spacey tones while "Revelation 21;5" closes this release with a menacing drone oscillation between noisy moments and deep but clear ones.
While undoubtedly in the canon of the genre and without any truly personal moments, this project shows a good work on writing as there's not any moment of boredom or trivial continuation of drones and a careful development of the atmosphere. Perhaps it could be only for collectors but they'll be satisfied.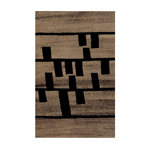 Artist:
Michael Bonaventure
Title:
Darenth
Format:
Tape
Label:
Canti Magnetici
(@)
Rated:
In the liner notes written by the artist himself, Michael Bonaventure describes this release as based on three tone poem i.e., every drone and loops is based on three notes and he makes heavy use of small shifts in alteration to create harmonic movement in an almost static tonal landscape. As usual for him, the only instrument used is the organ of which he shows the malleable sound properties.
Darenth is divided in three parts: the first one is based on relatively loud drones which, instead on lasting for the entity of the track, are interleaved with quiet parts based on pulsating tones whose variation is in the background of the loud parts and so are the line connecting the blocks. The second part is a more canonical drone track slowly developing until some seconds of silence introduces a slow melody which, perhaps for the cultural connotation of the instrumens, has vague sense of mysticism. The third part starts with a static drone slowly evolving in mass, continues with a quiet part with remarkable nuances and has a conclusion with an heavy drone which overwhelms the listener.
As radical in his sound palette as canonical in his sound structure rooted in a certain minimalism, this release is another example of how a language could bring something new while linked to the old. Recommended for fans of minimalism.
Artist:
Akira Kosemura
Title:
In The Dark Woods
Format:
CD + DVD
Label:
Schole
(@)
Rated:
Ten years ago, Akira Kosemura was sneaking into many headphones and music lovers' heart of "western" world by means of the masterpiece "It's On Everything" (coming out on Lawerence English's Someone Good). Over ten years, I followed this brilliant artist through Schole Records, his playground and his label, through which he also released some stuff by artists (such as Quentin Sirjacq and Dakota Suite) akin to his style as well as his own albums. Ten years after that sort of debut by which he breached the gates of the hearts of many lovers of piano-driven music (many fans of musicians like Dustin O'Halloran, Nils Frahm or Max Richter got closer to Akira's outputs), he comes back by another set of piano fugues, "In The Dark Woods", where he kept many of the known features of his sound (the central role of piano, minimal but intense compositions, an elegant crossover between electronics and acoustics and, last but not least, an emotional set where a certain anxiety continuosly fades into a peaceful search for a contemplative symbiosis and an interplay with nature), but he developed an interesting theme on this new album: according to the introduction on the label's website '"Treasuring a serene feeling and an intimate conversation with oneself." is the main concept of his new work, which recalls vivid emotions, as music goes into one's body and feels a blood flow deep into a heart. As indicated in the title, an entire album is filled with an obscure darkness and a world of misty sounds never to be feared of, like a comfortable quietness in the dark where a child in the womb is hearing mother's heartbeat'. Such a cross-over between dim and light emotional sets can explain the reason why he also composed a dedication to Laura Palmer, the notorious fictional character of David Lynch's TV series Twin Peaks, as well as the alternation of melodic moments, embracing slightly different dosages of obscurity and light, electronics and acoustics, whose core and apex lay in the two final tracks, the title track "In The Dark Woods" and the piano solo reprise "Letter From A Distance". As usual, Akira has regard for the visual aspect of his art by attached a DVD including five video clips, a booklet including snapshots of "In The Dark Woods" clip (featuring the dancer and reader Kimiho Hulbert and directed by Shin Kikuchi), a download coupon including another version of "Spark" as well as a very elegant package.
Artist:
Elizabeth Anderson
Title:
Trilogie Janus
Format:
Download Only (MP3 + Lossless)
Label:
empreintes DIGITALes
"Trilogue Janus" is a collection of three sonic compilations, each almost exactly ten minutes, and each made up of shorter sonic vignettes collated and contrasted into a soundtrack that's mostly frenetic- there are fleeting moments of calm due to a reduction in elements but the pace never really lets up fully.

It's all about the electroacoustics here, with sound structures made out of organic found sounds, electric sparkles, and various shades of noise. Pitches shift and bend across the stereo field, at times almost comically squeaky, at other times almost impenetrably rumbling and deep. It's rough-hewn at times and definitely reminiscent of some of the more energetic and sinister-sounding moments of the Radiophonic Workshop's back catalogue, to the extent that with the possible exception of the mastering and the breadth of the EQ, it would be possible to believe that this was recorded over 20 years ago, but it wasn't.

While each of the three pieces have more than a few elements in common, opener "L'éviel" ends up feeling the most sinister, spending a lot of time in the lower registers, whereas there's something a little quirker about "Chat noir" and its twisting of higher-pitched bell tones. Of the three pieces, "Neon" has the most sedate sections, with flittering noises that sound like digital birdsong opening up into a bizarre alien parody of an idyllic countryside-meets-beachside environment, though this shatters and rebuilds in a manner more akin to the other tracks after the three minute mark.

"Trilogie Janus" is also, notably, the first empreintes DIGITALes digital-only release. Format purists will slate me for saying so but a release with such dynamics and use of pure tone notes was never ideally suited to analogue formats anyway so personally I welcome the shift.