Though given my rule of fururistic electropop only", this one seems pretty interesting. The tracks remind me of some of the music played in gay nightclubs around my street (no I'm not by the way), very dancefloor oriented and overly happy, in true pop style. Altough the bands on here remind me a lot of Erasure, Psyche and Depeche Mode though, yet not too much. I am a rather untrained ear though in the basic synthpop and electropop fields though, so I may be wrong. A nice little trip back into basic synthpop, pure and simple, away from some of the boom-chukka synthpop so prevailent nowadays. And chock full of bouncing ballads as well, though they are rather peppy! Rating: 8.Anything from Anything Box is also recommended when you're in that guilty sugary electropop mood. I'm hiding right now and listening to both back to back, then I'm back to my hardass rivethead self by morning, promise! :-)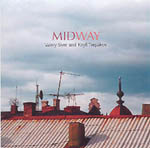 Starts out like a Michael Hedges composition with a Spanish flavour only to evolve into this electro-ambient soliloquies with deep lounge bass lines, lush beats, shy synth pads, world music instruments and tasty found sounds organized with meticulous artistry to originate a sophisticated spell of blended impressions and expressions. Valery Siver (composer as Migrator and dance remixer as Love Unlimited) is a multifaceted St. Petersburg native musician who has focused his career on the study of guitar and who brings the richness of his instrument in "Midway"'s playground to meet with Moscow based Kiryll Trepakov (part of K.U. Street and Medusa7 as well as founder of Expedition Zero) who also studied guitar but who later concentrated on folk string-instruments plucking, drums, audio engineering, sound research and manipulation and the study of the characteristics of sounds. From such team players you can of course expect great things in terms of quality of compositions, wideness of palette, variety of moods etc. Personally I'd expected or hoped for a little more of those enchanting Hedges-like atmospheres for acoustic guitar and reverb only, but the duo has decided to make use of such passages only as a mean to introduce more complex pictures of auditory elements, and the result is but gorgeous and regenerating. By the time I listened to this album half way down for the first time it had already become one of my new favourite soundtracks for relaxation and of the best ways I can think of to represent the essence of the electro-acoustic music that Electroshock so promptly and magnificently sorts out.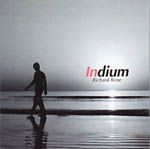 Without knowing founder of Aikido Morihei Ueshiba (1883-1969) described American composer Richard Bone's new album when explaining which the eight forces that sustain creation are: movement and stillness, solidification and fluidity, extension and contraction, unification and division. Translating those eight forces in sounds seems to be exactly Bone's mastery because you can feel those strengths. You can hear the absolutely still tranquillity move around you in a warping fashion, you can feel the fluid sounds solidify at times and then flow away with the same grace they were flowing in, you can sense the way the visions drawn by these aural sonics extend beyond imagination designing new landscapes that your mind has not yet conceived and then contract inside to change the surrounding environment, you can allow your mind and your soul to unify while dividing what is around you from what is inside you while listening to this. "Indium" (a soft, malleable, ductile, lustrous and silver-white metallic element that remains liquid over a wide range of temperatures) is the right title for such achievement and the beautiful artwork in helps conveying the message. If you are in search of your intimate universal balance and you want to deepen your research with some first-class organic ambience, "Indium" should be the next CD you accompany your voyage of exploration with. Beauty is mystified, stillness is actualized, quietness is spread and ethereal softness is solidified. Never boring (even without beats), quite simply excellent and utterly astonishing.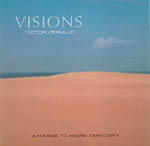 Beautiful photography that brings together the hot sand and the cold snow in the same way that Victor Cerullo's "Visions" bring together Italy and Russia along with their long-lasting musical traditions. "Visions" is a homage to film director Andrei Tarkovsky that presents an eclectic artist and his un-tiresome explorations in the hemispheres of field recordings, ambient experimentation and classical interceptions. Nine compositions and three long mostly synth-based "Timelapse" suites of majestic proportions that tie a bundle of sporadic choirs, analog floors, orchestral arrangements, cosmic sonorities with the same rope that pulls back all of the above when it comes down to portraying the perfect balance of nature with fluid samples of water, birds and the like. The coherent recurring synth sound helps you find the way to your own interpretation of Tarkovsky while Cerullo performs his oniric pieces of calm and personal psychedelia.
Old school ambient electro... .. a mix of Autechre atmospheres, Gary Numan circa "Berserker", a bit of Headscan, and Download's "Effector". Old school synthlines merge over top of minimally placed and constrained beats, with those charming analog synthlines. Sounds at times like the perfect IDM, at others great videogame music for something like Megaman 2 or Guardian Legend. The CD has no particular strong points as this is another one of those CD's where the flow is in song to song, though I do happen to love "Like Machines". Great for those who love an old school, analog feel to their electro, and it's hypnotizing qualities. Rating: 9. Also recommended are the above mentioned bands and CD's, as well as Lassigue Bendthaus.