Artist:
Mathias Delplanque
Title:
Témoins
Format:
Tape
Label:
Crónica
"Témoins" comprises three pieces of sound art composed and compiled between 2011 and 2014- or just the first two pieces if you opt for the cassette rather than the download. Conceptually they are post-production-light layerings of organic recordings from three different locations that were given to Delplanque as though they were instructions, on top of which Delplanque played some 'real' instruments in situ to sit within or atop those environments.

Initially, "Roz" has a pure-sounding bit of improvised glockenspiel for its musical core, spouting occasional formless and pleasant notes that surf the mixed rural exterior sounds- birdsong, sheep, distant wind and traffic etc. A surprise cacophony of spontaneous percussion heralds an unexpected shift into the second half, which is brasher, littered with odd backwards-sounds, mumbling voices and nearby rapid watercourses- perhaps exposing the 'workshops for schools' element of the original commission. This settles almost as abruptly as it begins as we loop back to the calmer and more ambient world we first came in on.

"Bruz" is a sharper and more indoors piece, sampling percussive door slams, loud air conditioning units, passing conversational snippets, catering noises, drilling and distant vacuum cleaners all from a college campus. It's described as a 'sound postcard' and as that, it's a postcard from a situation from where nobody would ever send a real postcard- frankly it would be fundamentally dull if it were not for the glockenspiel-like sound which, again, wanders gently over the top to provide the impression of structure into an otherwise fairly shapeless arrangement of found sounds more fitting of a sound effects library than a curated piece of sound art. This melody morphs into a softer, more accordion-like arrangement towards the end.

Shorter digital-only track "TU" rolls with the same environmental tones as "Bruz" but with more instrumentation, unfolding out of piano, acoustic guitar and other ensemble instruments as though they are warming up to perform traditionally, but instead they begin to sustain indefinitely. When paying attention rather than treating this release as background noise, this track- despite being tacked on- is absolutely the strongest and most detailed of the three, thanks in part but not entirely to its closer relationship with a more traditional performance. At times when the piano plucks away idly it feels structurally similar to Jean-Michael Jarre's "Waiting For Cousteau" but with college sounds instead of water.

Elements of this sound art feel like walking a path very well trodden before. Some of the environmental sounds are certainly cliché and conceptually there's nothing that could be described as challenging in particular. It's the soft, chilled out melodies at the top end that make this collection worthwhile.
Artist:
Shuttle358
Title:
Field
Format:
LP
Label:
12k
Initially there's something joyously perky about Dan Abrams' album "Field" that the opening spoken-word sample about death doesn't manage to diminish. Revelling in late 90's digital sound processing, bleeping and lightweight glitches as though spearheading a revival of an era overshadowed by the amount of 80's sound revival we're currently seeing, it channels the old attitudes of Luke Vibert and Richard D James but takes advantage of some more modern and soft-edged production touches to create something very listenable.

But after the playfulness of tracks like "Caudex" there's also a quality and depth on show that reveals itself as we get a few tracks in. The symphonic multi-stage moodiness of "Edule", with its softly rolling pads, is particularly rich- "Sea", following the same formula but with an added note of tension added by repetitive high-pitched notes, is also strong. On "Blue", the soundscaping veers a little towards over-recognised synth tones but without totally breaking the illusion.

It's a very well-realised 11-track, 38-minute album with a clearly defined identity. Even at that relatively short running time it perhaps runs out of new ideas before the end, but it's certainly smooth and accomplished.
Artist:
Psy'Aviah
(@)
Title:
Lightflare
Format:
CD
Label:
Alfa-Matrix
(@)
Rated:
Belgian music producer/composer Yves Schlepe is back with a new Psy'Aviah album titled 'Lightflare,' in some ways similar to 2016's 'Seven Sorrows, Seven Stars,' and in other ways, not so much. The similarity is in the vocalists Yves uses this time around - 'SSSS' alumni Kyoko Baertsoen, David Chamberlin, Mari Kattman, Ellia Bisker, Fallon Nieves, and Addie Nicole are all back for another go-round. There are some new voices too but we'll get to them in time. The overwhelming impression I had of 'Seven Sorrows, Seven Stars' was a cornucopia of eclectic electronica. I can't say that's the case with 'Lightflare.' Schlepe calls the album his "testament to hope," but sometimes hope just
isn't enough. You've got to back it up with great songwriting, and often that's difficult to do. Too many tracks fall short in that department. Opening with "Lost At Sea" (Mari Kattman) on vocals we find a mid-tempo number that's totally dependent on Kattman's voice floating in the upper register for the chorus hook. It's an okay song, but nothing to write home about. Ellia Bisker is up next with the similarly paced "Aftermath," and the best thing about this song is the harmony vocals that follow the lead like an echo. I will admit the song has a bit more going for it melodically than the opening track, but it just isn't a "grabber". Perhaps the best song on "Lightflare" is "The Great Disconnect" sung by Psy'Aviah's live vocalist Marieke Lightband. This is a wonderful piece of modern moody trip hop with very cool melody, excellent contemporary lyrics, and Lightband's superb sultry vocals which really sell it. As good as Addie Nicole is on 'The Sound of the New" (and she's plenty good) the song sounds like a blatant attempt just to go mainstream commercial. Plenty of hook, and about as much substance as a can of Pringles. If you thought that might be pandering, "In the Sound" featuring MiXE1 is part DivaPop, part electro-rap. Maybe I'm getting old. Maybe this is what the kids want to hear nowadays, but it struck me as kind of crass. "For Myself" featuring Lofthill sounds like
Trent Reznor in a boy band. Mari Kattman is back on "Heavy Heart" and as good as she is, the song just wallows in misery without anything else that makes it compelling. "Reboot Reset Relay" sung by Fallon Nieves is a step up with its cyber-themed meme, and a strong dance vibe as well. David Chamberlin gives it his best soulful shot on "Ghost," which has a good dark electro groove but lacks any memorable hook. Phoebe Stone takes the vocal helm on "Lonely Soul" which kind of sounds as melancholy as its title but at least has a memorable hook. Kyoko Baertsoen executes "Plan B" and due mainly to her sublime vocals makes it the second best track on the album. MiXE1 is back with "Game Changer," and though I wouldn't call it a game-changer for the album, it's a lot better than "In the Sound." It has some edginess, which I suppose is just what's needed at this point. "Under the Rain" (vs. Koner) is an understated number that almost captures a little of the eclecticism of 'SSSS'. Final track "Mr Vanity" is a cheeky number with Fallon Nieves on vocals quite reminiscent of "Not What I Expected" off the previous album. The production is really good on 'Lightflare' and vocally everyone gives it their best, but the songwriting is uneven often leaving something to be desired. I understand that there is a deluxe version of this album with a 2nd remix CD, but I wasn't sent that one. (Don't think it would have made much of a difference anyway.) Instead, Yves sent me an Alpha Matrix label compilation CD with a Psy'Aviah cut on it. I'll be reviewing that sometime in the near future when I've has a chance to absorb it all.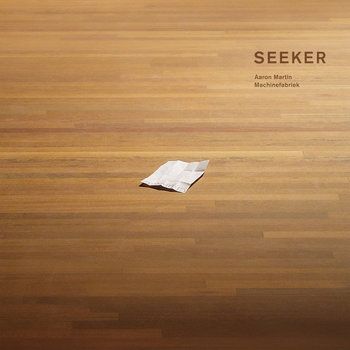 Artist:
Aaron Martin & Machinefabriek
(@)
Title:
Seeker
Format:
CD
Label:
Dronarivm
(@)
Rated:
To celebrate his fiftieth release, Dronarivm releases a work conceived in 2013 for a dance piece by Iván Pérez called "Hide And Seek". As I believe that there's no need to introduce neither Aaron Martin nor Machinefabriek, I will go straight to the musical point: the interaction between the instruments, mostly cello, played by Martin and the electronics played by Zuydervelt. The music could be roughly classified as glitch or modern classical in respect to what is considered to be real center of interest or writing.
The canonical glitchy opening of "Wake" introduces the listener in a framework which is immediately reversed by "Wings in the Grass" rounding around a romantic cello melody. As "Arms Turn Slowly" develops there's a movement from abstraction to the song introducing a quiet piece as "Leaves Are Swimming" reminding the quietest moments of Machinefabriek's discography. "Hidden" is a minimal ambient interlude to the second part of this release. "Seeker" is an hook to the tradition of dance music with his evocative cello melodies while "A Small Crowd Points" and "Close to Dark" evolves around drones, focusing on sound details. The voice of Aaron Martin closes this release in "Buried Cloth" creating something similar to a sense of peace.
While it doesn't sound as a simple accompaniment for a ballet, it has a sense of completeness that doesn't need a visual counterpart. Perhaps this couldn't be exactly a virtue for a music conceived with a precise objective but it's surely best for the listener. Another example of clear talent.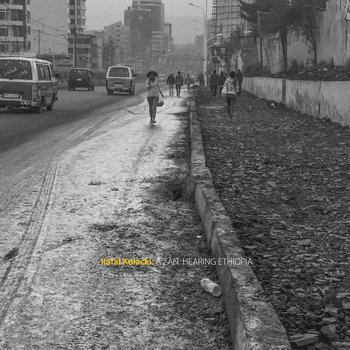 Artist:
Rafał Kołacki
(@)
Title:
Ā'zan. Hearing Ethiopia
Format:
CD
Label:
Zoharum
(@)
Distributor:
Alchembria
Rated:
As its previous "Hijra. Noise from the Jungle", this new release by this Polish artist is a set of field recordings; they were made in Addis Abeba and this city was chosen as there are many different languages and different forms of religious activity. So, there's again a cultural and political concept in this recording: the possibility of coexistence of different cultures in the same place.
As the first seconds of "'zan" are heard, the listener is immediately placed in Ethiopia, and there's an audio feeling of a postcard, as there's the sound of the environment, more precisely bird's singing, along with the recording of a song from the radio or tv. As the release develops, it's clear how there's any interest in documenting the musical scene of the place but to capture the sound of everyday life. While there are anyway tracks like "'gar" devoted to the music of this place, it's mostly, if not entirely, singing as if they were recorded from a religious rite. Instead, as in "R... 's", music emerges as a phenomenon as just another sound i.e., a clacson, and where is completely absent, as in "Ab", there's a perceptible evocation in the recordings. So, as the of voice of "Faras" end his chant, and the release, there's a sense of a journey's end.
Absolutely impressive in his ability to capture the soul of a place, it's completely different from the typical release of field recording more concerned with the precise audio details; so it's absolutely necessary.