Artist:
Jim Denley
Title:
Cut Air
Format:
CD & Vinyl
Label:
Sofa
You probably have expectations of what a solo flute album would sound like- you may need to revise them. The diverse Australian, South Pacific and Amazonian ethnic traditions of the diverse flute family meet the European tones I'm more familiar with on this collection of layered improvisations of extremely long drone-like notes with a warm, deep, comforting tone. In my ignorance some parts sound like a didgeridoo, but there's also plenty of other shapes and tones going on.

The feeling of breathing transcribed through the instrument is steady and mostly soporific, though certain note alternations (for example 5 minutes into the first track) do lead to slightly more active periods. It never shifts into anything that might be called challenging or difficult.

With an LP-like format, you get two 19-minute long pieces with a similar flavour. "For Celina Rokona" has slightly more percussive elements in parts but as pieces they are non-identical twins. The gating-like and fluttering effects at the end of the title track and the opening of "For Celina Rokona" are a fascinating example of organic noises imitating electronics, sounding almost Radiophonic Workshop-like at times.

"Cut Air" is a bold and simple listening experience, a captivating example of the breadth of possible sound from one instrument family- and also quite simply a nice way to chill out.
Firmly at home on Planet Mu, "Devout" is a polished bit of electronica, bordering on dream-pop but with a sometimes grimy side. Rap tracks like "Priority", which starts out sounding like any other vanity rap but develops into something much more introspective. In fact the whole release is tinged with a melancholy reflection and a deep honesty about relationships and parenthood. While it's not a concept album, there's a strong theme of devotion and longevity.

"Fate" is a lush ballad with lovely Denai Moore vocals, arguably lacking the strong hook that would make it truly powerful. The flanged Asian-sounding synth sounds of "My Life" (featuring Miles Mitchell's own voice) are a quirky highlight, as is the faintly moombahton-grooved ballad "Our Love". The instrumentals are strong too, with a playful levity in pieces like "Black Tides" robotic whirr patterns (and a bassline that sounds like it's about to turn into Fleetwood Mac). "Honor Oak" treads a fine line close to sounding a little silly, like a kind of electro-lullaby, as though some of these tracks are as much for the child as for the parent.

"Devout" is a succinct and deeply heartfelt emotional bit of electronica with an unquestionable sincerity. At times it is a little lethargic, but if you're looking for romantic and vulnerable electronica that really works, you'll find it here.
The title track of this synthy tech house EP from Filterwolf has that very stripped back, slow and sincere arrangement that's become very popular in pop at the moment; stick a Jess Glynne or London Grammar-style vocal on top and what you'd have here is a radio-friendly pop record. As an instrumental it does feel like it's perhaps missing an element, but it's a steady and smooth number that's great walking-with-headphones music.

"Dream Brother" is a simple groove with a filmic synthwave flavour and a straightforward, fairly lightweight 4/4 kick. It's one of those tracks where the slow introduction of new layers teases a crescendo which never peaks.

"Ultra" has a slightly thicker electro stomp, with a determined acid bassline and a short female "feeling" vocal sample that gives proceedings a bit of a 90's vibe, in a good way. With its rich claps and "uh!" noises, this ends up being a highlight of the EP.

"Nights In Eivissa" by contrast has a more leisurely step to it. A plinky Royksopp-ish melody twinkles over a steady simple bassline, making this a bright and cheery carefree track, and the glitched orchestral stabs that arrive halfway through are worth waiting for.

Perhaps I'm being shortsighted but as they stand, these tracks are good quality, slickly produced and fresh-sounding, but lacking the unique selling point that could make them really attention-grabbing.
Artist:
Maciek Szymczuk
Title:
Light of the Dreams
Format:
CD
Label:
Zoharum
(@)
Distributor:
Alchembria
Rated:
The first thought about this new Szymczuk's release is the evidence of how this release seems mainly influenced by Kosmische Musik but, at a deeper analysis, it reveals a more complex net of influences; it's inspired by dreams and his musical development is driven by synth and also it features a cover that can be modified by the listener that can change the color and shape of the heart of the female figure in the cover which wear eyeglasses as it was a symbol rather than a portrait of someone.
The first track, "Chapter 1. Escape from Reality and Enter this World of Dreams", starts with a dreamy line of synth and it evolves in a second part based on rhythmic structure that is hypnotic while "Chapter 2. Dream of a Woman a Pig" is more varied so the synth are used to underline the development of the beat. "Chapter 3. Dream of a Wave and Rock" is more quiet and focused on the atmosphere while "Chapter 4. Dream of an Arab Omlette" is based on that sort of structure which is derived by Arab musical tradition and is as hypnotic as it's not repetitive. "Chapter 5. Dream of Five Sisters and Three Sheep" is based on the same structure but under the dub influence. "Chapter 6. Dream of the Mirror Stars" and "Chapter 7. Dream of a Small Watermelon" are atmospheric track based on the careful choice of synth timbres. "Chapter 8. Dream of a Black Dog Called Antichrist" closes this release with a measured use of echo which confirm the aim of creating a dreamy atmosphere.
The Pasonlini's quote 'Truth lies not only in a dream, but in many dreams" is expressed with the use of variations on the same which reveals a sense of form that put this release on a path of tradition and, so, it's a release that could be enjoyed by a wide range of listeners. A really nice work.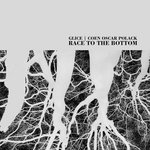 Artist:
Glice | Coen Oscar Polack
(@)
Title:
Race To The Bottom
Format:
Tape
Label:
Narrominded
(@)
Rated:
After the release of Fleisch, Glice returns with another release on Narrominded that is a collaboration with Coen Oscar Polack which has a reputation made out of releases based on subtler equilibrium in respect to the Glice's thick mass of sound. However, Glice has an idea of noise much more multifaceted than the usual barrage of sound which is the usual expectation of the listener when he approaches a release classified under the noise genre.
So the first minutes of this release, as even a sax enters in the audio framework, seems to have more in common with free jazz than noise as the complex audio spectrum associated with this genre hasn't a physical impact but instead is a sort of ever changing figure where all sounds, even if they are dissonant, have a relation with each other so there's a sort of crescendo until all sound generate a sort of drone and a voice stops all this mass and engage a sort of dialectic with the noises that generates a rhythmic structure which creates the path for the final cathartic part based on noises ending in silence as all components are silenced in an exercise of deconstruction.
With a greater dynamics than an average noise release, this work could be even classified as experimental as they are evidently much more concerned with a musical development than an dull exercise of musical impact. Truly recommended for all fans of experimental music.