Artist:
Tristan Welch
(@)
Title:
Washington D.C.
Format:
Tape
Label:
self-released
This is a shrinkwrapped cardboard sleeve cassingle with a transparent-red cassette inside that has professionally printed labeling on the shell. The package sent to Chain D.L.K. includes a copy of the Bandcamp description explaining what is recorded on the tape and the artist's statement, a vinyl sticker, a 5"x7" glossy photo print of what appears to be a tree covered in Christmas lights, and a download code. The Bandcamp copy explains that it is a "self-released cassette of minimalist heavy ambient movements. Drones for peace." I'm assuming "drones for peace" is a play on words, since the title of the cassette itself, "Washington D.C.", refers partly to the fact the side A's drone is in the key of D, and side B's is in C. Key of D and C, Washington D.C. Drones for war, drones for peace. The recordings themselves would be comfortable as a soundtrack for something in the neighborhood of a David Lynch film, but Tristan seems intent on leading listeners in a more political direction, attempting to apply features to this otherwise basically featureless music. There is almost nothing here. The recordings are of a decent quality, it's not a difficult or intense listen. Even other reviews he has posted on his Bandcamp refer to it as a nice chill-out-forget-your-troubles tape, so when he gives the listener specific examples of images to conjure while listening, it comes off as extremely forced: "The atmosphere of a failing rail system. The disappointment of gentrified neighborhoods. The insecurity behind a lost statehood. The headquarters behind mindless drone strikes." This heavy-handed approach at giving meaning and depth to these sounds comes off as kind of desperate and hollow. Propping up kind of vanilla ambient pieces with vanilla social commentary is bad enough, but he sealed the deal with the lackluster packaging. The artwork on the o-card is three stars with two lines of a musical staff beneath them, with two notes (I'm guessing our friends D and C) hanging from the staff. Because of Tristan's leading text, I'm assuming the stars are ballpark references to the United States stars and stripes, or military decorations. I understand minimalism, and could maybe just let this slightly clunky imagery slide, but the absolutely atrocious font choice for the text on the spine explains plainly that moving graphic design was never a consideration here, or at least could never be achieved by this artist. Despite the shallowness of the sounds, artwork and artist's statement, there's an alarming amount of attention (and money) given to the total package here...the professionally printed sleeve and cassette, the shrink wrap, the vinyl sticker, even the additional effort of bothering with the Bandcamp download code, but none of this warrants the overpromotion. The ambient drones are pleasant, but "pleasant" clearly wasn't Tristan's intent as much as "deep". But there is no depth here, and I really hope that Tristan's next effort delivers more substance.
Artist:
Mei Zhiyong & Dave Phillips
(@)
Title:
s/t
Format:
LP
Label:
Urbsounds Collective
(@)
Rated:
Dave Phillips is a sonic activist, composer, performer and researcher based in Zurich, Switzerland. Mei Zhiyong (or MeiZhiyong) is a Chinese artist now living in Changchun City, Jilin Province, China working in harsh noise, experimental music, independent film, photography, and field recording. Both of these artists have illustrious credentials in the field. dp has been a purveyor of radical sound since the mid 80's,
working solo since 1987, and has developed a unique sonic language typified by sharp compositional techniques and strong environmentalist connotations. A few of the projects he has been associated with include Fear of God, Ohne, Perverts in White Shirts, Rabid Dogs, Dead Peni, and Schimpfluch-Gruppe. According to the text on his website, "dp re/searches and ponders existences and behaviourisms humanimalistically.
Sound as communication in direct and primal form, a language, a tool of metaphysics, a conscience and a consciousness, opposing the omnipresent restriction and reduction of life and living. Sound communications that activate primordial shared emotions otherwise hidden under the debris of civilization, inviting rumination, encouraging intervention, endorsing catharsis, therapeutical stimulation is acknowledged. sonic activism, ritual protest music." Mei Zhiyong has releases going back to 2011, tours quite a bit and has this to say regarding noise (music): "exploring the nature of the way, the body is a tool, thought is a program. All the manic, quiet, extreme, abnormal have been preset by procedures and tools,noise is the carrier of breaking all the rules, only impaling nothingness will really make you get rid of the contradiction between voice and body, between body and mind." Pretty heady concepts that blow away the misconception that "all these guys want to do is take out their frustrations by making noise." There could be a degree of that involved but it certainly isn't their raison d'être.

This isn't the first collaboration between Phillips and Zhiyong; more like the third, as far as released recordings go. On this limited edition (300 copies) LP on the Slovakian Urbsounds Collective label the recording and composition is by Dave Phillips while all sounds are by Mei Zhiyong. Think on that a bit. Before I begin discussing what transpires on this recording, I must reiterate my sentiments on noise music. It is a genre that that has steadily declined in what I favor, and my tolerance for, and appreciation of it has significantly diminished. Where I once found a cacophony of sound stimulating and invigorating, perhaps even cathartic now and then, now I tend to find most of it annoying and irritating, leaving an acrid taste like handling a mildewed record. That said, I can still give you an idea what's going on here. There are no track names, just two sides - the A side clocking in at 15:45 and B side at 18:54. The A side begins with some manipulated vocal utterances by Mei Zhiyong morphing into a variety of electronic noise squalls. Throughout the recording(s) a variety of sonic environments are explored- hyper-electronic mutant animal farm, annoying air raid drone, field recording of ambient small crowd chatter, strange machineshop, bursts of static, alien factory, chaos at the broken videogame arcade, destruction of all relevant (and some irrelevant) equipment, raping circuitry, and more. Not all is hellacious; there are some passages of calm monotony. They don't last terribly long though. Considering that these recordings were culled from the duo's 2015 European tour, I have reason to believe they were collaged by Phillips as sort of a "greatest hits" of maximum intensity and velocity, sort of an audio documentary with multiple layers for maximum effect. You must realize that the source was improvised, even if the mix was a tad calculated. Noise enthusiasts might drive themselves a bit crazy trying
to figure this all out, but that only enhances the record's replay value as one wonders what the hell was going on at certain given points. This one is certainly not for noise novices as a deep regard for the discordant, jarring and explosive is required.
Artist:
Krzysztof Penderecki
(@)
Title:
Kosmogonia
Format:
CD
Label:
Cold Spring
(@)
Rated:
The importance of a composer could be seen when it's able to expand the boundaries of contemporary music; even a label as Cold Spring, devoted to post industrial and similar genres, can publish the reissue of a release by Penderecki. He's however well know to be one of the most noisy and abstract composer of the post-war period so it's not an issue to see him close to a Merzbow's reissue while it's strange to see that one of his landmark release was never released in a digital format after his vinyl release more than forty years ago but this is indication of the arduous nature of his music.
The first track "Kosmogonia" is based on the alternation of noisy moments, mostly obtained by fast and loud musical lines, and quieter ones so it's something close to the eruption of a volcano and after an instrumental first part, the voices are most prominent element of the second ones with movement close to mass of drones obtained by an unorthodox use of the chorus. While most composers would use electronics to obtain subtle masses of sounds, "De Natura Sonoris II" uses violins to obtain slow and detailed drones and other instruments to interrupt them with unexpected grain of noise or rhythmical ellipsis. Even in the same musical context, "Anaklasis" is more oriented toward the percussive element obtained by the instruments and with short sound lines so it's sequences of small events generating a complex overall schema. "Fluorescences" closes this release juxtaposing the two elements of the pieces collected in this release: the long textures and the short sound elements so quiet and noisy moments are in a dialectic form in the search of an (in)possible synthesis.
It doesn't make any sense to recommend or not this release as its importance is so huge to be an essential listening to those who have a minimal familiarity with contemporary music; however, for his sound properties it could even be an introduction for fans of drone or industrial music to a world that is often seen as boring or outdated but has covered similar path to this genres with other vehicles. Essential.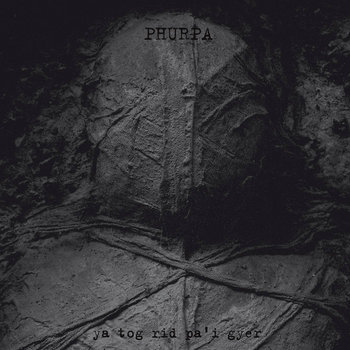 As a mirror to "Rituals of Bön II", this release is the successor of "Chöd" and, obviously, it moves towards the usual territories of band. As stated in the previous reviews, their music is based on traditional religious music, mainly from the Bön tradition, and so it requires meditation by the band to perform it and by the audience to hear it. It's not music based on modes or melodies but it's closer to certain musical tendencies where sound and his properties are more important than his path; it's contemplation rather than reasoning.
The first part starts quietly as based on bell's resonances which as introduction to the initial harmonic chant that introduces the listener into a rather familiar territory; then percussions and cymbals generates an almost "industrial" (in a broad sense) introduction to the aerophones (their name is not listed) whose bass drones and unusual sounds generates their usual sound field changing from quiet and meditative to cathartic and loud. Then, a long singing part takes the listener toward the end of this part with the accompaniment of the cymbals.
Just when the listener is certain of what he's going to listen, the second part starts with wooden percussions and a chordophone; so their sound is even more minimal and has his evocative character from the use of silence as a proper sound material. When the other elements of their sound returns are introduced by seconds of silence, creating the sense of hearing a ritual.
As few project, they creates the sense of developing a single opus out of separated fragments and it's so musically pure to be an absolutely essential listen even if it's not music for everyone. Unratable and to be heard in silence.
Artist:
Things To Sounds
Title:
3 [42:02] Live
Format:
CD
Label:
Wide Ear Records
(@)
Rated:
A possible keyword to tag this album - the third in their discography as you can easily guess by its title - by Things To Sounds - a trio free-improv grouping Tobias Meier (alto saxophone), Yves Theiler (piano and synth) and David Meier (drums and things making sounds...) - could be 'tension', as they managed to make something where they rendered a constant tension from the very first moments to the end. Live recorded at Limmitationes Festival - one of the nicest meeting in the field of free-jazz and improvisational music, organized by Udo Preis in Austria for many years - on 14th May 2016, their live session shows up a wide range of techniques (tapping, strangled phrasing, screeching, cave-like reverberations and many more over 42 minutes - another detail you can guess by the title) and an impressively wide set of unpredictable strategies to render a somehow palpably lively nervousness and a tension ranging from low to high voltages, which is going to meet the tastes of the lovers of free improvisations on live stages. Have a check if your ear is wide enough (to paraphrase the name of the amazing Swiss imprint that released this sonic object) and if it's accustomed enough to this kind of sonorities.