Norman Westberg, from the experimental rock band Swans, has been creating his own modestly simple but powerful solo product on the side for some time. Initially selling CDRs through Etsy, of all places, one of the earliest of these has been picked up and re-released on the Room40 label, with a new bonus track making 3.

It's a very simple premise consisting of guitars and some effect pedals, yet the result is an extremely rich and textured synthesis of long tones and soft rhythms that sounds like it could have been crafted over many hours with many thousands of pounds' worth of equipment. Here are some long and careful ambiences with a delicate touch.

The title track undulates initially around 60 beats per minute, the bottom end of a regular heart rate, very conducive to curling up and relaxing. As things evolve and develop, a sense of alarm slowly creeps in, so that after twenty minutes, you realise almost in awe you are now listening to a melodic siren that is failing to panic you- yet you don't mind.

"Homeset Trunc" tenses things up a little, with choral-esque sustained tones affixed above a stepping rhythm that's loosely 120bpm and which somehow manages to sound womb-like and industrial in equal measure. Lighter guitar patterns later on keep things comforting as the deeper rhythm ebbs away.

Bonus track "A Particular Tuesday" drops the rhythmic component almost completely in favour of clear, gently contoured and interwoven guitar tones with a glass-like fragility.

All in, it's an exemplary exercise in simple, beautiful experimental tones that's far more than the sum of its parts.
Artist:
Andrea Natale
Title:
Time To Go Back
Format:
Download Only (MP3 + Lossless)
Label:
Basserk Records
(@)
"Time To Go Back" is 4 tracks of heavy-footed, steady techno, all taking acid riffs, simple kick-and-hihat drums and plenty of slowly twiddled effects and producing something with simplicity and drive.

The title track has a supremely dark but brief dark electro breakdown before looping back into a spoken-word "time to go back" vocal sample that has hints of the 90's about it, but with 2017-level subbass.

"Ouch" employs that classic heart rate monitor beep for tension above a flangey, busy synth line and a strangely infectious tempo-stepping bassline. A rave-era vocal scream is used sparingly to good effect.

"Unexpected Places" is a simpler and weaker affair, a constant sequenced synth loop squealing over a more lightweight rhythm, brightened a little by some percussive sonic frills and a vocal snippet which you'll be unsurprised to hear says "unexpected places".

By contrast, final track "Vault" is much thicker, a throbbing and pulsing kick and an alarm-like bell sound kicking in with immediacy and not relenting for six minutes. Muted synth stabs wander in and out in this tightly-focussed track.

This is no-nonsense stuff that's as dark as the artwork suggests, with an appealingly heavy thump.
Artist:
Mensimonis
Title:
Clone Fever
Format:
CD + Download
Label:
Opa Loka Records
The story of how Radboud Mens and Lukas Simonis came to work together as Mensimonis is remarkably prosaic. Both independent audio experimenters in their own right, they both helped run recording and improvisation workshops in secondary schools, whereupon they found themselves on stage performing together in front of a bunch of teenagers who, they say, preferred playing "a stupid game on their iPhones" to listening. It's a refreshingly unpretentious beginning.

But unfortunately, the story behind it is arguably more remarkable than the sound itself. Simonis runs spontaneous guitar notes and short patterns which are sustained through feedback until the result is a thick soup of guitar drone that carefully tip-toes towards howl-round but stays under control. The more electronically-minded Mens meanwhile is generating deep drone tones that sit underneath, much of it slightly buried in the mix and supplementing the overall tone.

While long tracks are never a problem, the succinctly-titled 22-minute-long opener "The individual is handicapped by coming face-to-face with a conspiracy so monstrous he cannot believe it exists" doesn't quite warrant its own duration. There's not enough progression, nor is there enough detail in the sound, to sustain interest for that long. Second track "Few believe me when I tell them that the rulers of this planet are of reptilian bloodlines" is less patterned, a more consistent wall of electronic drone and hum with occasional hints of metallic industry.

"Give the clone a soul, god is watching over your shoulder" is a little bit more twinkly, with the bass tones lolling around in space vacated by stripping back the guitar feedback, and the gentle balance is certainly more palatable- the strongest track of the bunch. Final track "All rumors being investigated" brings plain and persistent rhythmic guitar twanging back to the fore in a slightly more ingratiating fashion, but shifts towards the familiar feedback drone in the second half more successfully.

This is one of those extended drone releases with such a steady hum that when it finishes, your ear begins to feel alienated, as though it has normalised this music as its new base level. While it isn't spectacularly innovative or eventful on the surface, it's a coherent and simple package of long drones that will take your thoughts into a different place.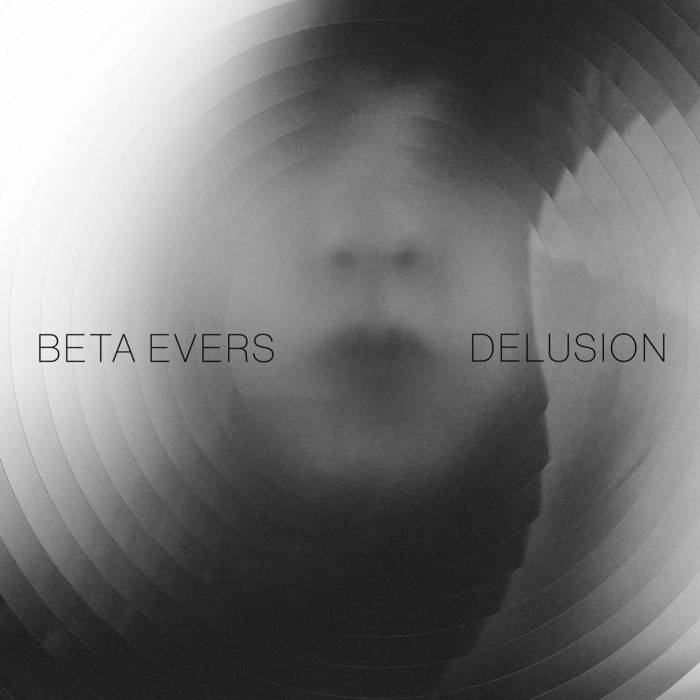 Artist:
Beta Evers
Title:
Delusion
Format:
LP
Label:
Bodyvolt
Rated:
Personally I knew Beta Evers, a.k.a. Brigitte Enzler, because of some tracks I listened on compilations or for her collaboration with Gerald Donald on the projects Gedankenexperiment and Zwischenwelt, basically because I own and like those one. He material wasn't really easy to get for me, so when Fulvio Guidarelli (a.k.a. Lisfrank) told me that she did her first album, I was quite curious. Even if this is her first album under the Beta Evers moniker, Brigitte since 90s has been active, first with a band (i didn't find its name) and with a small label, then after a hiatus, on the late 90s she started to organise parties and then in the early 00's she founded the Kommando 6 collective. After a while and until 2006, Kommando 6 became a label devoted to electro music. The following years see Brigitte busy with collaborations and Beta Evers 12"s releases. On late 00's she founded the label Bodyvolt and its sub-label Venus Noir (which is focused on producing electronic music female vocalists). Briefly this is her past and now I can talk about "Delusion". It has been released on vinyl by Bodyvolt and on CD by Daft Records (in this edition, as well as on the digital download, you can find two bonus trakcs: "Hit Me" and "Kalt"). Listening to the tracks of the album, the first thing that pops out to my attention is the detached style of Brigitte's vocals. Since we have titles like "Frozen Breath", "Sore Suspense", "Nothing But Art And Pain", "Torrid Illusions" or "Kalt", the impression I had is that she wanted to use the tracks like a personal journal where you find her emotions there, naked. For that reason they didn't have the need to be overexposed using vocal melodies or pathos. "On a day without light, you touched me...", she's saying opening the album and the cold atmosphere starting with "Velvet Leaves", will carry you through all the record length. Musically we pass from upbeat tempos like "Frozen Breath", "Stirring Dreams", "Torrid Illusion" and "Hit Me" to mid tempos like most of the remaining tracks, where electro wave and minimal synth are the main influences. For the synths timbre, analog is the way to go: you can hear the sawtooth and the square waves making their ways, like claws tearing a curtain, through the dry beats of the drum machine. "Delusion"'s even if it's containing songs it's not an easy listening album and it grows every time you listen to it. She will play live in Germany in 2017, keep an eye on the live events list!
Artist:
Michel Banabila
Title:
Sound Years
Format:
12" vinyl + Download
Label:
Tapu Records
"Sound Years" is a Michel Banabila sampler, segueing selected tracks from ten previous albums along with one new work into two gentle, chilled-out continuous pieces. This has the diversity and variation of a various artists chillout compilation, but impressively, it's all the work of one man (and a couple of guest appearances).

Smoothness is the order of the day here. Gentle piano melodies, occasional plaintive guitar strums, and found sounds including the classics such as falling rain ambiences and tropical birds, blend with the mellowest flavours of electronica chill-out such as the deftly twisted and re-pitched vocal samples in "Earth Visitor". Other sections are more pared-down, simple warm drones, deep vocal sustains and cultured resonance.

The second side opens with a slightly more cinematic bent- a real orchestra warming up alongside a virtual one, broad sci-fi choral pads and robotic noises have us floating outside a spaceship. The ambience gradually gets more down-to-earth, with plaintive violin lines (from guest Oene Van Geel I think) and micro-cut vocal snippets glitching away in "Radio Spelonk".

While some of the elements are cliché, they are used tastefully in a way that freshens them up. Even the cockerel crowing sound, used to great effect by The Orb, makes an appearance. In fact The Orb is a comparison worth making; if you like either of The Orb's most recent two albums, then you should absolutely check "Sound Years" out.

To someone unfamiliar with Banabila's work, this is a seriously impressive and accomplished retrospective. A wide orchestral palette and some absolutely top-notch production, with a beautiful sense of space and an ability to shift subtly between warm and cold atmospheres, makes this an aural joy in its own right. The transitions are seamless and this absolutely stands up as its own work, without any of the unsatisfying incompleteness you sometimes get in compilations.

It's released on Banabila's own Tapu Records. Several of the original albums from which these tracks are sourced are legitimately available to download for free online, and this compilation will definitely make you want to peruse things further.