Artist:
Sonny Sharrock
Title:
Ask the Ages
Format:
CD + Download
Label:
M.O.D. Technologies
Rated:
In 1991, the planets of saxophonist Pharoah Sanders, bassist Charnett Moffett, and drummer Elvin Jones aligned with the sun of guitarist Sonny Sharrock to yield the once-in-a-generation musical experience that was ASK THE AGES. Produced by Bill Laswell, who also chaired this reissue 24 years later, it has stood the test of time because it is time incarnate, a defining force of suggestion by which any subsequent imitator will burn in its atmosphere. It therefore pales in comparison with truth to say that Sharrock's final proper album (before his untimely death in 1994) sounds as fresh as ever, for this would imply it's even prone to decay to begin with.

From the interactive alchemy of "Promises Kept," it's clear that Sharrock was someone who cherished the forthrightness of a melody, an artist who gave so much that the only ether could contain him. It's not that he transcends himself through the music, but that the music transcends itself through him. These energies rub off on his bandmates, who bring their own locutions to bear on the collective text that emerges. Moffett's solos are as concerned with smoke as Sharrock's are with fire, while Jones breathes oxygen between them. Sanders, for his part, plants the bandleader's every atom in the garden of "Little Rock," while the rhythm sections flips every atmospheric pancake before it burns. Whether in the blasting evocations of "Many Mansions" or the cerebral glories of "As We Used To Sing," Sharrock bungee-jumps into one abyss of inspiration after another, breaking open the packaging of ancient materials and eliciting from them geysers of information. He not only shreds but reimburses other dimensions for their sacrifice.

Even the tamer "Who Does She Hope To Be?" is no less replete with flame, trading explosiveness for a smoldering burn. The air itself becomes flammable, as throughout "Once Upon A Time," wherein finality sings through Sharrock's blinding talent. And even as his influence remains palpable in such diverse axe-wielders as Buckethead and Nels Cline, ASK THE AGES proves that his influence extends lives in the flesh of listeners just as well, and I would dare anyone who professes love for the guitar to experience these sounds without wonder.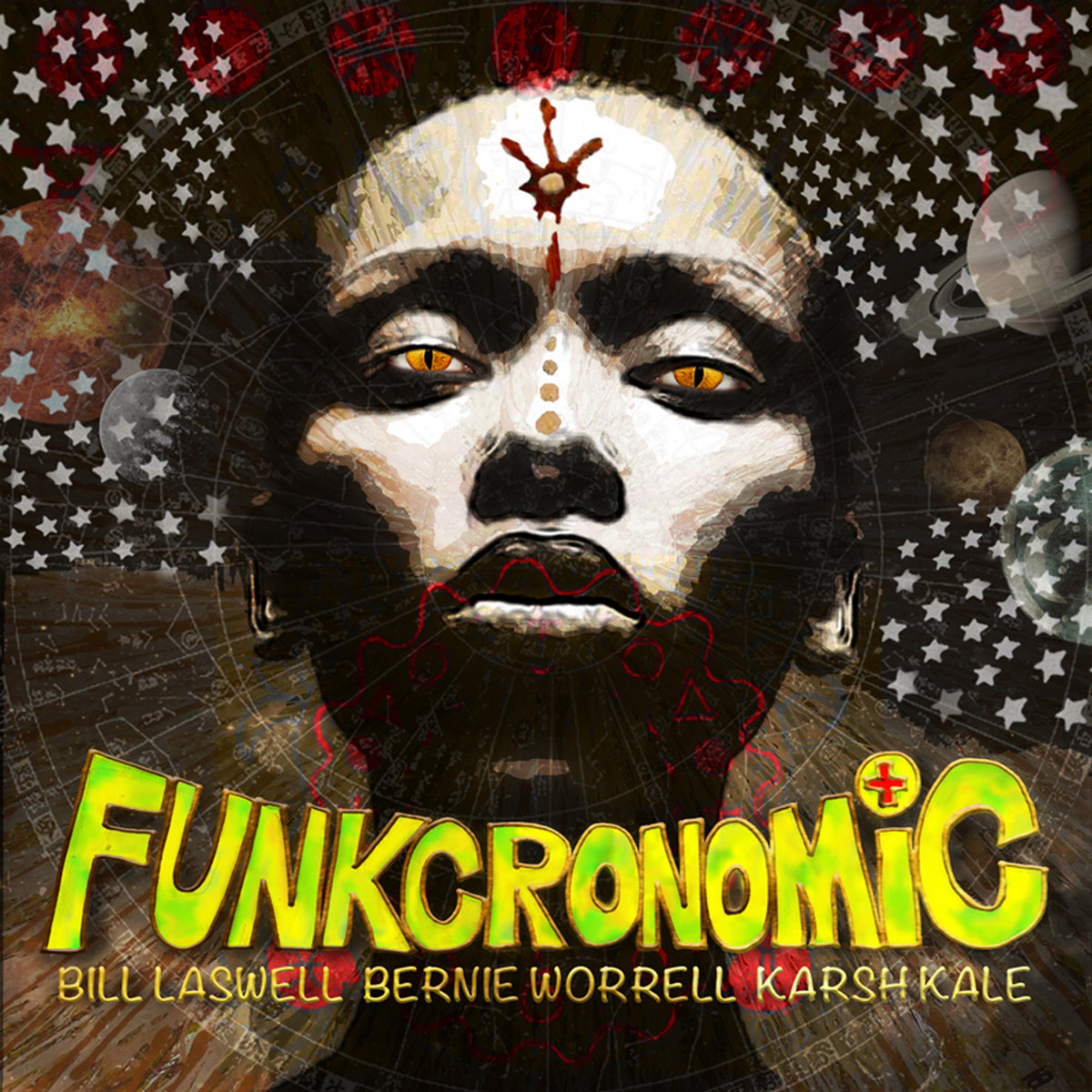 Artist:
Bill Laswell/Bernie Worrell/Karsh Kale
Title:
Funkronomic
Format:
Download Only (MP3 only)
Label:
M.O.D. Technologies
Rated:
Funk, in its purest form, is written in the language of escape. Not so much an out-of-body as inner-body experience, it turns the world around like a mirror to reflect only the brightest parts of our souls. In this intimate yet far-reaching collaboration between bassist Bill Laswell, keyboardist Bernie Worrell, and drummer Karsh Kale, we dive off cliffs of ego into the bottomless pool of creativity that drives these master musicians to seek sonic truths.

As "Woo Doo" somersaults into the funk-o-sphere, it offers glimpses of a future in which peace and sparkling emotions walk hand-in-hand without ever looking back. It lifts us beyond the entanglements of everyday life and to the spirit of resolution from which we've been trained to disassociate ourselves. The underlying current of "Flashlight-Redux" likewise taps an optimistic marrow and spins from it an appreciation for life. There is a distinct feeling of illumination, of knowing that darkness can never win so long as there is music to keep it at bay. "Outer Woo" underscores this dynamic even further, beginning with a warm introduction from Worrell, whose fingers then tip the fulcrum into a rhythmic invitation. The vibe is supremely welcoming, and under its influence we may dance without fear. The lights dim, ironically enough, in "Flash Back," wherein oppressions cease to be and the only call to arms is to lay them down. All of which yields the concluding "Shochurolling." In this tune, Laswell's bass line and Kale's lockstep are so heavenly that they feel downright sentient, even as Worrell slings an earthly shine.

In the end, this album is a master class in the art of perspective. It reminds us that being too close to the sun would mean certain obliteration, whereas at a divinely ordained distance it becomes a source of life. The music of Funkronomic likewise stands at the precipice of death and invisibility, finding purpose in its finite mortality. Listening to it makes Worrell's passing harder to bear. Then again, we know he's nodding his head somewhere, smiling through this planet's dramatic chord changes, over which he stands poised to strike an eternal groove.
Artist: Mark Renner
Title: Few Traces
Format: 2 x 12" vinyl

The pitch of "Few Traces" seems to be a revisiting of the scant discography of Mark Renner, who has two LP's to his name, both from the late 80's, the most known of which is "Painter's Joy". This collection is a mixture of greatest hits and unreleased bits. 21 tracks, ranging from fully-fledged verse-chorus clangy-electric-guitar-pop songs ("Half A Heart" being a prime example) to short sketches that are more like unfinished song ideas than truly experimental pieces, the title track or "Princes Street" being examples of the latter.

Of the influences listed in the press release- Yellow Magic Orchestra, Skids, Cocteau Twins- the most apt are probably Big Country from a sound point of view, and Ultravox in terms of songwriting. Production-wise it couldn't sound more 1980's if it tried, with very bright mid-range but a warm fuzziness underneath.

There's some very good, quite conventional but strong songwriting here- "More Or Less" being worth highlighting. Some of the tracks have a decidedly demo-level feel to them. "Autumn Knows You By Name" and "It Might Have Been" sound like instrumentals for which Renner never got around to recording the vocal, while I'm no guitarist but there are what sound like a few out-of-time strums in "The Wild House"…

"The Sun In His Head, A Storm In His Heart" is interesting but anachronistic- a more genuinely experimental and potentially ahead-of-its-time ambient piece layering up slow synth chord pads with a long recording of a passionate public reading of Scottish poem "Hush"..

People who remember Mark Renner's music with fondness will be very pleased to hear some unearthed material, but otherwise it does feel like a somewhat indulgent release where the full extent of the source material and its historical relevance doesn't necessarily merit the luxury anthology treatment.
Artist:
Aaron Spectre
Title:
Roots We Seek
Format:
12" vinyl + Download
Label:
Jahmoni Music
"Roots We Seek" is a joyous soundclash of an EP, broadly structured as jungle-meets-drum-and-bass but throwing in generous doses of reggae and rock guitars, Jamaican-style hip-hop vocals alongside smatterings of electronica squeaks and squirls, scratches and record stop sounds. Some of that's not the regular fodder we're most often sent at ChainDLK but you can't help but get into the infectious energy factor that runs throughout.

The title track is the most poppy and radio-friendly, with the most feel-good and positive vibe of the set and a less kick-heavy jungle rhythm, even (less so) on the chorus. I'm not sure where the sample is from but it reminds me of some of LSK's first couple of albums.

"They Don't Know We" has a gritty attitude and fury-laden complex drum programming with a decidedly cathartic vibe, and "Three O'Clock Rock" takes things further in that direction with howling guitar feedback and an almost gabba-like mania that gets sharply contrasted by the steady reggae breakdowns. "Hey Natty Dreadlocks" takes the very familiar 'under mi sensi' vocal and wraps it on another frantic, siren-laden bit of d&b with serious urgency.

Exhibiting spectacular control over an everything-but-the-kitchen-sink sonic arrangement, fans of acts like The Qemists or the more energetic offerings from other sonically open-minded acts like Dreadzone or Afro-Celt Sound System will love this, as will- yes I'm going to say it- the junglist massive.
Artist:
Heal
Title:
Espace d'incertitude
Format:
LP
Label:
Sound On Probation
Laurent Perrier has stepped away from his laptop synthesis and towards modular systems for this album of two halves, with each half focussed on a particular synth or brand of synths.

The first half is "the Buchla side". Analogue loops, patterns and arpeggios cycle around, with gradual knob twiddling gradually tweaking the sound, sometimes purer and bleepier, at other times grimier with hints of acid bass. And that's the whole of the first half- no extra layers, no pads, no percussion, just the self-driving bleepy synth patterns that unfold and evolve in nine relatively succinct packages, each around 4 minutes long. There's not a whole lot to distinguish between these first five pieces, but to get a flavour, try opener "Post pesto".

The second half, "the Mutable side", switches to synthetic pads, with repeating solo chord patterns that keep your focus single-handedly for minutes on end, resulting in a more chilled-out affair. Slight key flourishes on "Hysterese" are quaint details that add depth to a mostly stripped-back affair, although "Poids d'evidence" builds to quite a swell of sound. Final track "Stridule" feels like the culmination of the whole affair, with shorter bleep patterns and pads finally blending into the one longest and more melodic arrangement which, despite still only being a couple of layers, ends up sounding practically symphonic compared to the sparseness that has preceded it.

It's as much a synth showcase and a demo of what can be achieved with careful twiddling as it is a fully realised album, more like two short EP's with the same concept and different synths stitched together, but nevertheless it's a good example of what compelling sounds and patterns can be created from a very minimal brief.