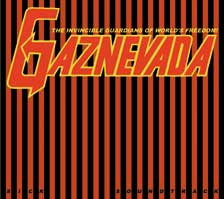 Gaznevada adventure started at the end of the seventies when Billy Blade, Bat Matic, Andrew Nevada, Chainsaw Sally and Robert Squibb decided it was time to give a form to their social / sonic hysteria. At that time alternative foreign records weren't that much distributed here in Italy, so it wouldn't be that correct to link Gaznevada sound to the one of The Contortions, Lydia Lunch and generally to those bands who took part to the no wave movement in USA (maybe they had been more influenced by early Talking Heads from what I can hear on "Oil tubes"). You've got to know that Italy and especially Bologna had a musical developement on its own, just like Pordenone and Firenze. Anyway, the first recordings of the band were gathered on the homonymous tape released by Harpo's Bazar on 1979 (tape that will be released sometimes soon). On this reissue you can find "Mamma dammi la benza" from that tape along with every track coming from their very first album SICK SOUNDTRACK (Astroman also included the track recorded as Billy Blade And The Razors which was given free as a one side single on the first press), the MLP DRESSED TO KILL and their single NEVADAGAZ. Musically you can hear a certain developement that brought the band from the punk impetuosity of the first single ("Blue TV set" is a real punk anthem) to the experimental jazz new wave of the first album where you can find gems like "Going underground" (really memorable its melody and the powerful sax parts), "Japanese girls", "Shock antistatico" (here it seems really to listening to the Contortions of "Designed to kill" mixed with the astonishing band's personality), "Tij-u-van" (a weird opening part that seems coming right from the "united states of middle eastern drunken land" just to turn into a upbeat post punk track). Punk turn back with the live recordings of "Now I want to kill you" where Gaznevada use all their energy for a straight punk song. Listening to this you'll releaze that the band was able to do direct songs with particular structures. With DRESSED TO KILL the sound is a little more elaborated even if there aren't so many differences from the first album. Tracks like "A. Perkins", "Dressed to kill", "Frogs on the phone", "Going underground (2)" (a two minute eccentric reprise of the song coming from the previous record), "D.J." and "When the music is over" (yes, it seems to be twisted experimental cover of the Doors track) are less direct respect the first album but they define a little more the sound of the band adding to it some lush light with those crawling rhythms and cold vocals. This is the second CD released by Astroman and it could be useful to tell who's behind this label. Well, you won't never tell, but it's the same person who was running Italian Records then who decided that it was time to make people discover a part of our musical past that no one should forget. See you soon with he's next reissue: Freak Antoni. I suggest you to don't miss these reissues, you'd regret it! P.s. Get your copy at http://www.sonicrocket.com
Artist:
ARGINE
(@)
Title:
Le Luci di Hessdalen
Format:
CD
Label:
ARK Records
(@)
Distributor:
MASTERPIECE Distribution
Rated:
New work for the Italian band ARGINE, the third full length for a band that released a year ago the anthology "Rifrazioni" to commemorate ten years of activity. A new album that is a turning-point, forgetting the limits of an apocalyptic-folk scene that is too tight for Argine, looking back at the post-punk and new wave origins and at the same time looking ahead, to new form of alternative rock. A very good work, marked by the usual melodic taste the band showed in former albums, the great care of arrangements, even if this time the songs are simpler, with a more direct attitude and a punk anger and energy.The tracklist includes new songs and other going back to the first period of the band, to the first demo "I Colori del Silenzio", dated 1996. So "I Nostri Occhi" and "Spina Nel Fianco", historical songs, are now revisited emphasizing the new wave spirit with filtered voices and a darker feeling. "Lamento Funebre" is the older version of the first album's titletrack "Mundana Humana Instrumentalis", with lyrics by P.B. Shelley, now more dark-rock oriented. In all the album Corrado Videtta's voice shows a melodic attitude unexplored in previous works, with something that in "Le Luci di Hessdalen" and in "Punti Invisibili" reminds me of CSI's frontman Giovanni Lindo Ferretti.Acoustic and electric guitars, bass, drums and percussions, enriched by the great violin lines of Edo Notarloberti (playing as guest on most of dark/folk/neoclassic/rock Neapolitan bands' albums) and the sweet voice of Cecilia Videtta, alternating the classical soprano tone and a softer and "pop" attitude, make "Radjodramma", "Lucente Anima" and "In Silenzio" songs on the edge between an emotional and thoughtful music (lyrics are always one of the strongest features of the band) and a commercial tendency. "Girotondo" is a song that makes me suffer, for it's a sweeping and rhythmical punk song, very melodic and with a great commercial potential but it's totally destroyed by a terrible mixing (while the other songs aren't bad mixed): you'll hear only a padded bass overwhelming drums and voices, and above the chorus female voice is totally impossible to understand. This song is great and deserves much more.To conclude, a new album that is new born: towards the recovery of its past, the band has found its path, mixing new-wave, post-punk, alternative rock, poetic feelings and commercial attitude and it's now ready to exit the niche to meet a greater public.
For those of you guilty, as I was, of thinking that Scorn was done, Mr. Harris came back with a new CD, out for the interesting and challenging Polish label Vivo (check out www.scorn.vivo.pl for more info on this album). Scorn left behind the isolationism, the dub, the drum'n'bass experiments and concentrated on a new form of claustrophobic industrial music. Originally recorded in October of last year for a live radio session on radio Breaks FM (nubreaks.com), this pioneering artist's new album is based on electronic sounds and is very beat intensive. "List of Takes" scores aggressively in the heart of him/her who is looking for a cold blend of morbid loops and droning sub-harmonics. In a nutshell you'll still be faced with the essence of Scorn's sonic signature that he developed throughout the years, but this time you'll get a piece of everything working together as one. In other words you'll recognize the elements, but you won't recognize their sum. The new rhythm-noise direction undertaken by this un-stoppable experimentator will definitely please most of you. Over 70 minutes in a limited hand-numbered tri-fold ecopack.
image not
available
anymore
Artist:
KMFDM
Title:
WWIII Tour 2003 CD
Format:
CD
Label:
Sanctuary Records Group
Distributor:
BMG
Rated:
Next October KMFDM will start their 2004 world tour, but if you have missed them on the 2003 WWIII Tour and you can't make any of the dates of the 2004 tour (check out their website for more info) then you might wanna consider buying either the CD or, even better, the DVD of the tour. While the DVD (see review in these pages) is already out and for obvious reasons is definitely a smarter purchase than the audio-only CD, this disc will be available later in July for all of you who still don't have a DVD player or who want to listen to a KMFDM concert in the car. The tracklist of both CD and DVD includes: "WWIII", "From Here On Out", "Blackball", "Ultra", "Brute", "Stars & Stripes", "Pity for the Pious", "Moron", "Revenge", "Bullets Bombs & Bigotry", "Light", "Juke Joint Jezebel", "Intro", "A Drug Against War". What is surprising and at the same time maybe slightly disappointing is that, except for the audience noise, the live CD is practically identical to their studio album (except for the song "Intro" that introduces all the band members in a very funny, original and song lyrics style). The band is so precise and faithful, which is great, but at the same time doesn't leave much space for differences of any kinds that might make a gig special or worth remembering, if you know what I mean. Of course in the end what counts is that the band is great and fucking kicks ass!
image not
available
anymore
Artist:
KMFDM
Title:
WWIII Tour 2003 DVD
Format:
DVD
Label:
Sanctuary Records Group
Distributor:
BMG
Rated:
With a line up consisting of Sascha K, Andy Selway, Lucia Cifarelli, Raymond Watts and Steve White, the legendary industrial rockers KMFDM embarked on their WWIII tour with a video crew shooting away hours worth of live and basckstage footage. Fortunately Sanctuary Records Group released both a CD (due in stores on July 27th) and DVD (out yesterday, June 22nd) as testimony of this great tour. The DVD packs in the same tracklist of the CD (read the CD review for more info) but in addition to the thirteen songs it features a bunch of interesting and funny behind the scene footage and bonus material, which includes: three music video clips (an animated video of "Skurk", a very creative stop-motion video of "Ultra" with Lego toys and some archivial footage in the clip of "Stars & Stripes"), tons of interviews with band and crew members, huge amounts of offical tour and unofficial fan photos slides (if you ever took a photo with them during this tour chances are you are probably in this DVD yourself!), videos of the making of the western intro, tour bus footage and jokes, birthday parties, blogs and journals, recording studio footage, whale watching footage, lyrics, e-card, press kite and much more... Basically one of the most content-packed DVDs you'll ever get on the market, period. Worth every penny you spend! The quality of the live shows footage is excellent. Good lighting, good sound, multiple angles, multiple cameras, footage from different gigs with different costumes and apparel and totally flawless performances! Jam-packed with extras, this DVD definitely gets two thumbs up for the quantity of material, and as always with KMFDM, you know it's more than just quantity, it's top notch quality too!