Artist:
PTSMC (Pine Tree State Mind Control)
(@)
Title:
Vast Right-Wing Conspiracy
Format:
CD
Label:
Voidstar Productions
(@)
Rated:
Pine Tree State Mind Control is obviously a pretty outspoken and political band, or as they call themselves, part cult, part corporation, part social experiment. Fifth in the "Transmission" series, PTSMC are back with their sixth CD of experimental industrial noise. Recorded partly in Sweden and partly in the US (Rhode Island), "Vast Right-Wing Conspiracy" is a collection of twelve tunes aimed at criticizing the concept of individuality (more about this in the booklet's notes). Repetitive, harsh, rhythmical and less rhythmically-oriented material will make your ear bleed and your mind wander off, getting ready to absorb all the hidden (but openly stated) messages that every track carries with it (buy their merchandise, get a job -that's sort of unexpected for a band like this, probably more on the irony/oxymoron side of things-, stop dressing goth-style, don't be rude, be happy and other messages along those lines). The band will again be participating in the three-day Providence noise Fest (www.darkambient.net/noisefest). Out July 9th.
image not
available
anymore
Artist:
Muslimgauze
Title:
No Human Rights for Arabs in Israel
Format:
CD
Label:
Vivo / The Label
Rated:
Lots of records by Muslimgauze have been coming out lately, and many of them portray the most electronic side of his production, which to me is a pleasant re-discovery. With this frame of mind, polish label Vivo released a 550 copies limited edition of "No Human Rights for Arabs in Israel", a six tracks CD mostly based around electronic beats with vague hints to percussions and other sounds. Included are the title track, two versions of "Teargas" and three versions of "Refugee", one of which, along with the title-track, were originally released on a 10" out on Staalplaat, who by the way licensed this material and did the art-work for this CD. Also two of these versions are actually different versions of the songs "Wabi Araba" and "Herzliyya". As always the sound is mostly if not completely focused on its rhythmical side. There are less interruptions in the flow of the beat than in other records. This CD was released in a multi-fold ecopack, according to Vivo records' use (www.vivo.pl) and was co-released by the Muslimgauze's official webmaster's own label The Label & XZF (www.the-label-xzf.net).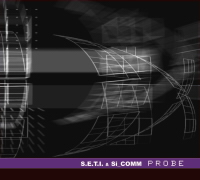 Artist:
S.E.T.I. & Si_COMM
(@)
Title:
Probe
Format:
CD
Label:
Vivo
(@)
Rated:
Barry G. Nichols, as Si_COMM (mostly known for ECM 323) teamed up with Andrew Lagowski as S.E.T.I. (Search for Extra-Terrestrial Intelligence - also know for his other projects Legion, Terror Against Terror, Lustmord, Isolrubin BK), to put together "Probe", a limited eco-pack CD featuring six audio sci-fi titles. The experimental glitch-electronics contained herein, is the fruit of a collaboration of two artists that have always had an interest in outer- (or other-) worldy sonics and in the possibility of life outside our little planet. The quasi ambient formula used to generate these oniric sound bits is busier around the upper part of the whole frequency spectrum, while the lower register rumbling is only used to accentuate the disquieting atmospheres. It's interesting to note that even though the listening experience seems to be centered around melancholy and loneliness it actually represents the quantity of life-forms present in space, so in spite of the fact that it might evoke drifting cold soundscapes of desolation, it really is trying to picture the pollution of beings and how crowded it is. As their press release and CD's sleeve notes explain, this world is actually getting too small for us all and we have to start thinking with the right frame of mind to prepare for different types of possible scenarios in the future. As they are quick to point out, "man became information with the discovery of DNA" and "evolution is accelerated when technology fuses with biology", and then they go about depicting the possibility of post-humans being regolated by sound and visual pulses. I am sure Lagowski would love to live in such a society, because with his life-long career of generating sound pulses he'd probably be the master and the king ;-)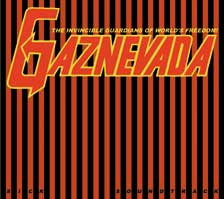 Gaznevada adventure started at the end of the seventies when Billy Blade, Bat Matic, Andrew Nevada, Chainsaw Sally and Robert Squibb decided it was time to give a form to their social / sonic hysteria. At that time alternative foreign records weren't that much distributed here in Italy, so it wouldn't be that correct to link Gaznevada sound to the one of The Contortions, Lydia Lunch and generally to those bands who took part to the no wave movement in USA (maybe they had been more influenced by early Talking Heads from what I can hear on "Oil tubes"). You've got to know that Italy and especially Bologna had a musical developement on its own, just like Pordenone and Firenze. Anyway, the first recordings of the band were gathered on the homonymous tape released by Harpo's Bazar on 1979 (tape that will be released sometimes soon). On this reissue you can find "Mamma dammi la benza" from that tape along with every track coming from their very first album SICK SOUNDTRACK (Astroman also included the track recorded as Billy Blade And The Razors which was given free as a one side single on the first press), the MLP DRESSED TO KILL and their single NEVADAGAZ. Musically you can hear a certain developement that brought the band from the punk impetuosity of the first single ("Blue TV set" is a real punk anthem) to the experimental jazz new wave of the first album where you can find gems like "Going underground" (really memorable its melody and the powerful sax parts), "Japanese girls", "Shock antistatico" (here it seems really to listening to the Contortions of "Designed to kill" mixed with the astonishing band's personality), "Tij-u-van" (a weird opening part that seems coming right from the "united states of middle eastern drunken land" just to turn into a upbeat post punk track). Punk turn back with the live recordings of "Now I want to kill you" where Gaznevada use all their energy for a straight punk song. Listening to this you'll releaze that the band was able to do direct songs with particular structures. With DRESSED TO KILL the sound is a little more elaborated even if there aren't so many differences from the first album. Tracks like "A. Perkins", "Dressed to kill", "Frogs on the phone", "Going underground (2)" (a two minute eccentric reprise of the song coming from the previous record), "D.J." and "When the music is over" (yes, it seems to be twisted experimental cover of the Doors track) are less direct respect the first album but they define a little more the sound of the band adding to it some lush light with those crawling rhythms and cold vocals. This is the second CD released by Astroman and it could be useful to tell who's behind this label. Well, you won't never tell, but it's the same person who was running Italian Records then who decided that it was time to make people discover a part of our musical past that no one should forget. See you soon with he's next reissue: Freak Antoni. I suggest you to don't miss these reissues, you'd regret it! P.s. Get your copy at http://www.sonicrocket.com
Artist:
ARGINE
(@)
Title:
Le Luci di Hessdalen
Format:
CD
Label:
ARK Records
(@)
Distributor:
MASTERPIECE Distribution
Rated:
New work for the Italian band ARGINE, the third full length for a band that released a year ago the anthology "Rifrazioni" to commemorate ten years of activity. A new album that is a turning-point, forgetting the limits of an apocalyptic-folk scene that is too tight for Argine, looking back at the post-punk and new wave origins and at the same time looking ahead, to new form of alternative rock. A very good work, marked by the usual melodic taste the band showed in former albums, the great care of arrangements, even if this time the songs are simpler, with a more direct attitude and a punk anger and energy.The tracklist includes new songs and other going back to the first period of the band, to the first demo "I Colori del Silenzio", dated 1996. So "I Nostri Occhi" and "Spina Nel Fianco", historical songs, are now revisited emphasizing the new wave spirit with filtered voices and a darker feeling. "Lamento Funebre" is the older version of the first album's titletrack "Mundana Humana Instrumentalis", with lyrics by P.B. Shelley, now more dark-rock oriented. In all the album Corrado Videtta's voice shows a melodic attitude unexplored in previous works, with something that in "Le Luci di Hessdalen" and in "Punti Invisibili" reminds me of CSI's frontman Giovanni Lindo Ferretti.Acoustic and electric guitars, bass, drums and percussions, enriched by the great violin lines of Edo Notarloberti (playing as guest on most of dark/folk/neoclassic/rock Neapolitan bands' albums) and the sweet voice of Cecilia Videtta, alternating the classical soprano tone and a softer and "pop" attitude, make "Radjodramma", "Lucente Anima" and "In Silenzio" songs on the edge between an emotional and thoughtful music (lyrics are always one of the strongest features of the band) and a commercial tendency. "Girotondo" is a song that makes me suffer, for it's a sweeping and rhythmical punk song, very melodic and with a great commercial potential but it's totally destroyed by a terrible mixing (while the other songs aren't bad mixed): you'll hear only a padded bass overwhelming drums and voices, and above the chorus female voice is totally impossible to understand. This song is great and deserves much more.To conclude, a new album that is new born: towards the recovery of its past, the band has found its path, mixing new-wave, post-punk, alternative rock, poetic feelings and commercial attitude and it's now ready to exit the niche to meet a greater public.