Artist:
Gebrüder Teichmann & Wura Samba
Title:
2 Cities / Berlin - Lagos
Format:
12"
Label:
Noland Tracks
(@)
For their own "2 Cities" release the Teichmann brothers have created a subdivision of their own still-fresh Noland label called Noland Tracks, for more club- and dance-minded material. Their first release, their second collaboration with Nigerian percussionist and singer Wura Sumba, is certainly DJ friendly- deep paired-back house beats with African percussive flavours, clean synthy basslines and simple, mix-friendly structures are the order of the day here. Part of a larger "Ten Cities" concept from the Goethe Institute, this is more dancefloor than art concept.

In "Fivefour", things are at their best when things are kept simple- it's a fantastic groove, steady and easy to get carried by. When the distorted lead synth starts wandering off into an improvised solo after the six minute mark things go a little wayward and start sounding a little thin. Also, beware a transition so surprising just before the two minute mark that you assume you've segued into a different track. The deep, slightly tribal house beat stops dead, we pause, and suddenly we're into a retro electro environment. The original elements gradually reappear and fuse together, but it's a drop so abrupt you might assume the DJ made a mistake!

"Transist" features Wura Samba's vocal for the first time and it works well. The blend of African melodies and house beats is often a winner, and so it is here. Dark, acid basslines rumble under a slightly spaced-out vocal. This is one of those B-side tracks that's stronger than the A-side.

Final track "Alantere" is mostly instrumental, with snippets of the vocal arriving halfway through. Here the percussion is allowed a couple of breakdowns to go a little wild, an interlude in what's otherwise quite a moody, slow-stepping synthwave-ish track which has plenty of confidence.

The German - Nigerian collaboration is clearly a winning combination, and well refined. The result is steady but not attention-grabbing.
Artist:
Asfast
Title:
Peace In Drifts
Format:
12" vinyl + Download
Label:
Ventil Records
(@)
Much of Leon Leder aka Asfast's album "Peace In Drifts" sounds like moody dubstep with the main bassline and the kick removed, leaving just the looping dark atmospherics and glitches. This is dark unsettling electronica, with wailing synths, sub-bass thumps and crisp, edgy, slightly languid percussion. Sample the track "Draft" for a fairly clear idea of the agenda here.

The press release compares each of the mostly short pieces to haikus, but this is overstating things; firstly they're not all that short, 39 minutes across 11 tracks makes them more like radio edits than miniatures, and secondly there's a bit of a lack of the whole poetic structure and twist that the best haikus have mastered. Many of them are single ideas, single scenes or moods, evolving slightly through switching layers on and off. Only a handful of pieces, such as "Bump Cut" and "Poser", have a real sense of dramatic change.

The slight swagger of "Drift" starts off surprisingly close to a grime instrumental without the bass- it may be missing the gut-punching but it still has that cockiness and loopy lyricism, before edgy sawtoothed synth sounds fade in to fill the space. "More" with its regular percussive crunch sounds like an intro to a heavy EDM album that doesn't arrive. Conversely, tracks like "Well" have a more complexion, with ambient, glass-like tones. Final track "Peacepie" is abruptly glitched-up ambient tone that wouldn't sound out of place on the Leaf or Planet Mu labels.

It's a very polished collection of tracks, but the succinctness that is extolled as a virtue in the promotional material may actually be a hindrance, curtailing pieces and preventing them from evolving into something with a sustained mesmerising effect.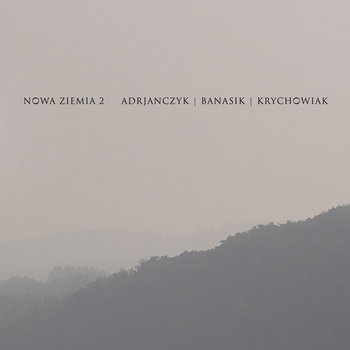 Artist:
Nowa Ziemia 2
Title:
Adrjanczyk | Banasik | Krychowiak
Format:
CD
Label:
Zoharum
(@)
Distributor:
Alchembria
Rated:
Nowa Ziemia is the project of Artur Krychowiak, a guitarist who seems somehow influenced by certain post-rock. After his first obscure releases, Nowa Ziemia 2 is the name of this collaboration whose result is two duet with Dawid Adrjanczyk and Micha Banasik. This music stands on the path of some post-minimalism where the basic form is modified with the introduction of elements from ambient and especially EAI.
The first track, "Banasik & Krychowiak", starts quietly with a drone in the background and a sort of guitar loop and it evolves slowly as the noises in the background starts to emerge from the musical settings, the guitar begin to articulate small phrases and the drone continues his evolution. The field recordings which close the track introduce the listener into the second track of this release, "Adrjanczyk & Krychowiak", which starts as an abstract track based of continuos mass of sounds, closer to continuous tones rather than drones, and during this evolution the guitar evolves into a strumming until, at half of his length, the track returns to a drone and reverberated chords of the guitar and goes into a sort of meditative psychedelic rock.
Apart from some lenghtiness, this tracks shows some ideas to escape the limits of a writing that is derivative of his models and underline how improvisation could be useful to add some color to a grey palette. Nice but only for collectors.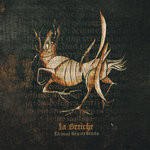 Artist:
La Breiche
(@)
Title:
Le Mal Des Ardents
Format:
CD
Label:
Cold Spring
(@)
Rated:
La Breiche is a project that could be classified in the Pagan Folk's genre but their music is not rooted in the canonical form of song, so they are clearly more inspired by ancient form of European music whose minimalism arose by the sound palette of instruments like the hurdy gurdy; so, "Le Mal Des Ardents" is a mostly instrumental album and it remembers how music was an accompaniment to other ritual activities rather than a form of entertaiment.
When the hurdy gurdy starts "Le Mal Des Ardents", the listener is introduced into something that is as tradition as not usual folk music as it's intended today as it's something tied to the usual form of song using voice and guitar. La Breiche use instead relatively complex melodies bound to a regular rhythmic structure. The hypnotic chant of "La Nef Des Fous" reveals the sense of atmosphere which is at the core of writing at the tension towards the creation of drones. "Apôtres Du Chaos" is an obsessive introduction to "Froide Lune" whose large section of quietness enhance the resonances of the gong while "Enfers" seems experimental as they border dark ambient territories using acoustic instruments. "L'Oracle Du Soleil" is an harmonic chant that creates a sinister atmosphere and "L'Antre Du Pesteux" closes this release with a sense of sound with is a traditional characteristic of electronic music rather than folk even if its final part return to a more canonical folk form.
Honestly, this is not a record for everyone especially those who expect to hear songs after reading the word folk in the description but it's recommended to curious ears that could find how the seed of minimalism, now narrated as a result of modernity, has a much longer story. Listen with care.
Artist:
5TimesZero
(@)
Title:
0K
Format:
CD
Label:
Echozone
(@)
Rated:
5TimesZero is a five-man synthpop band from Essen, Germany, and 0K (that's "zero Kay", not OK as in "okay") is their debut album. The one good thing about having five guys in the band is that in live performance there should be less reliance on computer assistance. It also makes for a fuller sound. The five guys are:
Attila Schuster, Carsten Rehmann, Hendrik Stefenhag, Jürgen Merkel, and Michael Hanses. They like to categorize the band as dark electro but it doesn't sound that dark to me. Fortunately these guys sing in English (with one exception in their native German, but it's a really good song) and '0K' is somewhat mature, but not necessarily totally serious synthpop. The production is really stellar here which is a great thing for a debut album. The majority of the tracks are club-friendly with some of them being real dancefloor burners. Vocals are pretty good and effective of carrying the melodic content. I'm hearing shades of Gary Numan, Frankie Goes To Hollywood, Heaven 17, New Order, Pet Shop Boys and to a lesser degree, Depeche Mode and Kraftwerk. While not every track is going to stick in your head like a gummy bear, there is enough variety and enough hooky melodies and vocals to make you come back for more. Best tracks are "Unimportant" (with a Freezepop sort of groove), "Don't Push Me," "Instrument," "Pyromaniniac," "Frozen," and "Augen der Grosstadt." Worst track is the goofy "Naked," an obvious joke with the lyrics "We are going to the strip club dressed in flip flops..(totally naked)...we are going to the strip club dressing the girls up." Overall though 5TimesZero is refreshing change from a lot of the newer synthpop bands on the scene these days that are just trying too hard.