In practical terms there's very little to say about "Blood Stretched Out"- two very long piano solo pieces (43 and 35 minutes) consisting of slowly adjusting and shifting fast rhythmic hammering of a classical piano in a reverberant, seemingly middle-sized room.

The title track must have been physically exhausting to play, with the left and right hand alternating rapidly. Each hand position adjusts occasionally, creating chord changes that are sometimes barely audible, sometimes more abrupt. There's no space, no pause, just a steady and rapid flow of notes whose tails pile on top of one another as quickly as they can fade. At times the chords are deep, uncomfortable and tense, undermining any attempt to use this piece as a relaxing sonic wash. Towards the end both hands move to the right, hammering high notes in a way that's bordering on tortuous.

"Chromochromatics", with its slightly closer recording tone, is a more structured piece with some use of space inbetween the notes. Miniature phrases of frantic, sporadic melody jump around playfully. Underneath the traditional art-rationale ("ideas are exploded and explored, constantly shifting, melding and reconfiguring into continually perplexing forms which are at once circular and linear", no less) there's a raw, improvised feeling to this- and to my plebian ear, frankly the majority of it sounds like spontaneous key-smacking experiments rather than reconfigured patterns.

"Blood Stretched Out" is a manic and dynamic 79 minutes of piano affrontery that clamours for attention, yet isn't wholly welcoming when it receives it.
"Blu Deux" is a collaboration between Philippe Lamy and MonoLogue when they try to find "a deeper and more emotional stability to their dizzying and often cacophonous work" as it's presented in the liner notes. This release is a based upon a form of glitch which uses this aesthetic as a way to explore short sounds as elements for a larger sound form immersed in a quiet sound background rather than underline the rhythmic element.
The first track of this release "Les merveilleuses aventures de il suono misterioso (Hours d'oeuvre)" is a fragmented series of samples which break the quiet sonic landscape of a glitch beat upon a quiet drone. While this first track explores the sound as something unexpected in a familiar context, "Tout est blu" use a structure based in three part: the first uses a beat in the same way the samples were used in the first track, the second part explores small sounds in a quiet environment and the final part juxtaposes noisy drones. While the first part of "Les yeux de mezzanotte" develops small sound grains into larger forms, the second part tries to create a similar forms using large sound grains. "Des oreilles pour voir, degli occhi per sentire" is the quietest track of this release where all sounds are searching the listener's attention rather than impose themselves using volume while "Prime parole, dernière pensée" reverts the form using a large volume to blur the sound detail at least in the first part and, after a short silence, it develops into an humble dialectic between samples and drones. "Il tuo mormorio colora le temps (Dessert)" closes this release with drones at the threshold of silence and a quiet crescendo until the end of the track.
Honestly, it's not an easy listening as for large part of this release the listener has to concentrate or let other sounds enter the sonic environment to deal with the silence which is the glue which ties together the sound elements but it shows how, when a genre pass the stage of being a novelty, develops a discourse from a list of words. It's really worth a listen.
Artist:
Kshatriy
Title:
Samantabhadra
Format:
CD
Label:
attenuation circuit
(@)
Rated:
The title of this new release by Kshatriy means "Noble in Everything He Does" and is the name for an enlightenment associated with practice and meditation. As it's rarely depicted alone he's seen as a symbol of the freedom form any duality i.e., dialectic, concepts.
The first part of this release, "Samantabhadra", starts as a something between a drone and a loop as the resonances of the drone periodically emerge as in a loop and develops quietly letting all sounds unfold without any contrast but using this predictability as a mean to let the listener concentrate on sound, so even when it starts a sort of noisy deviation from this path after a while it's stopped to let the track end in an almost perfect circle with the start. The second part, "Samantabhadri", uses a small metallic beat as the centre of the track as all sounds revolves around this beat so a sense of time passing became the focus of the track until this beat stops and this release ends in silence.
Someone could say that there's anything new on this release but the idea of composition is not about creating something new but to say something using a known form and this is the key to access this release. Samantabhadra is a deep reflection about mind and time using music and it's something that all fans of drone and meditative music will truly enjoy.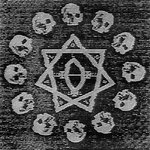 Artist:
Trepaneringsritualen
(@)
Title:
Deathward, To The Womb
Format:
CD
Label:
Cold Spring
(@)
Rated:
This new release from Cold Spring is the reissue of the first 12" of Trepaneringsritualen which is based upon an invocation of Babalon and a rendition of the black flame, the cataclysm which is the other side of love. Another ritual work done during a winter solstice is present as a bonus track.
The distorted voices of "The Birth Of Babalon" start this release and introduce the listener into a sonic environment where almost almost all sound are below the midrange region and this creates an oppressive effect. "Deathward, To The Womb" is a longer and more defined track where sounds are sparse and emerge from a bass drone. "Osiris, Slain & Risen" returns to the structure of the first track but reveals a better use of the limitations of low-fi while "She Is Flame Of Life" is noisier and more aggressive as it uses higher frequencies while "Sacrament & Crucifixion", with his use of a dull beat, is almost ritualistic in his repetitiveness which develops in "All Hail The Black Flame" where the scream introduces the listener toward the end of the original release. The bonus track of this reissue, "I Remember When I Was God", is better produced and has a clearer sound which enhance the quieter and meditative moments of the track when the distorted voice doesn't appear.
Even if this release is relatively canonical in his musical development, it has an evocative property which take the most out a minimal palette of sound. All fans of classic industrial music will enjoy this release.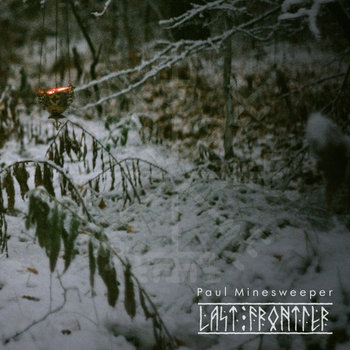 Artist:
Paul Minesweeper
Title:
Last Frontier
Format:
CD
Label:
Black Mara
(@)
Rated:
This release is described by a poem by M. Gidlevskiy about abyss as a symbol of something which pushes someone to begin a spiritual journey. The music by Paul Minesweeper stands in the school of dark ambient which adds ethnic elements i.e., traditional instruments, to the drone's infrastructure with the result of creating a link with his cultural heritage.
"Clarions Of Arrival" opens this release with a structure based on a drone acting as a gravity center for other musical elements as samples or guitar sections which remind to metal territories. "Siren" is instead a more canonical track based on a drone whose elements slowly unfold. The synth of "Icebound" starts to create a sort of solemn atmosphere that is doubled by the guitar as they are in two separate region of the spectrum, a low one for the guitar and a mid one for the synth. The drone of "Farewell" is so rapidly changing that is almost depicts a melody while "Solid Heaven" is developed upon distorted sound sources. "Oculatory" and "Dissolve Me" are relatively canonical dark ambient exercises while "Nomad Amongst Stars" is characterized by the present of samples in the background creating a sort of narrative about the theme of travel which found his rest in "Last Frontier". "Beyond" closes this release with a meditative drone.
This release has two sides, as it was a 12", the A side (the first five tracks) is impressive as it's able to craft the elements of dark ambient and drone metal in a cohesive whole revealing a defined personality while the second side is a little too predictable in his development. However, it's truly recommended for fans of drone music.