image not
available
anymore
Artist:
Zenial
(@)
Title:
Minotaur
Format:
12" + DVD
Label:
Zoharum
(@)
Distributor:
Alchembria
Rated:
This new release from Zenial is an LP supported by a DVD where most of his composition were portrayed by WÅadysÅaw Szulc and Marian Kraczkowski. As almost all composition were recorded in a residency in the Stockholm EMS studio, the musical output is vaguely reminiscent of the old days of electronic music where all sound were mainly generated by oscillators and so they deserved a particular tones, something which today sounds old and new. As a mirror to this approach the visual part were shot in 16mm so it has the same visual style of the post war's avant-garde.
The synths of "Minotaur" open this release balancing noise and atmosphere while "Lament of Ghoul" is focused on loop and rhythm. "Hades" moves even if it seems to be a static track. "Soul Check" closes the first side of this release showing a clear vision of the sound palette to use.
The B side is open by "Serapeum" a cinematic track using foley sound to enhance his evocative premise and "Gorgona" follow further in this part as, while a loop is in the foreground, the background is based on a richly detailed soundscape. "Live in Braunschweig: psychopomp" closes this release presenting the more noise oriented side of this artist which relies on musical impact.
"Minotaur/Chimera" is a DVD which gives this release a visual part so "Serapeum", directed by WÅadysÅaw Szulc and Marian Kraczkowski, creates abstract figure from fluids while "Minotaur" features geometrical figures. "Lament of Ghoul" depicts a view of a sort of monk in a sort of cemetery while in "Gorgona" he's working in his cell. "Hades" returns to abstract geometrical figures. The three remaining tracks are from the previous release "Chimera" and are based on different visual concepts: "Chimera" is a street movie shot in a place, "Rosora 28" is based on light procedures synchronized with the rhythmic sine wave and "Rosora 28 : Wymiar 4/5" closes this DVD juxtaposing the two approaches.
Even if the musical output is based on a codified form is so focused on carefully developed form that is charming in his details, the DVD included in some copies of the LP shows the talent of WÅadysÅaw Szulc and Marian Kraczkowski of creating abstract images with analogue means. It's so enrolled with the nostalgia of a time where artist creates something with nothing that it's really worth a reverent listening.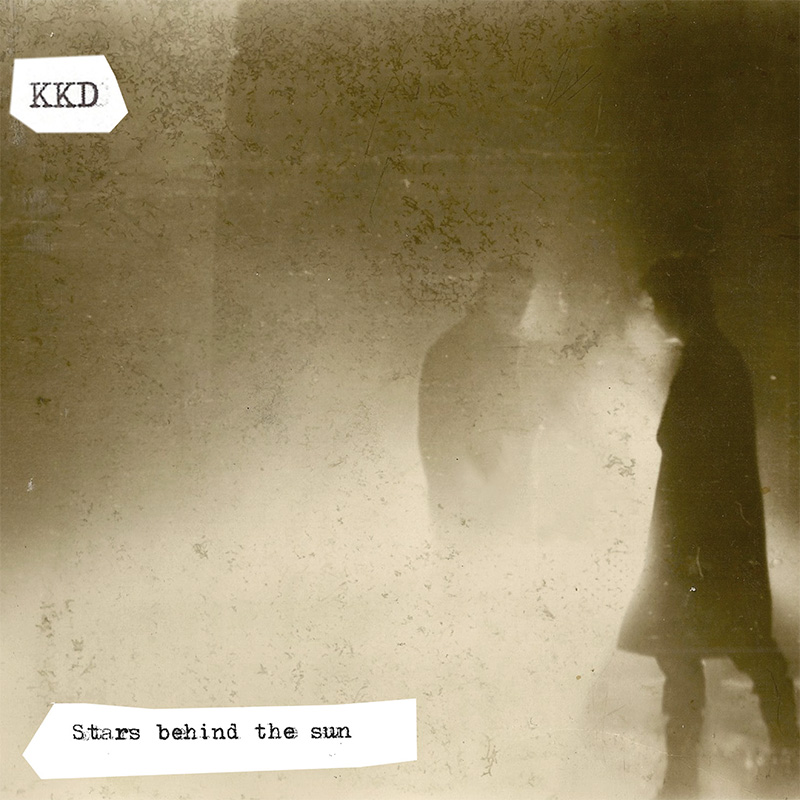 Artist:
KKD
Title:
Stars Behind The Sun
Format:
12"
Label:
Synthetic Shadows
Rated:
Active at first in the late 70s/early 80s and now alive and kicking again, KKD were coming from Modena (Italy). Taking an ex hotel as headquarter where experimenting with sounds and graphics, they took the post punk / new wave sounds as a starting point just to let their imagination run free. If tracks like "Sound From The Universe" were sounding quite standard for that period, others like "I Need Help", "Stalin Strategy" or "Kippur" were examples of their will to break the boundaries of genres. Even if they were using bass and guitars, they were filtering them through the Korg MS20 synth, creating in this way a post wave hybrid. The sign that their intuitions were good was showed also from the fact that Ralph Records appreciated them but, unluckily, we had the chance to check only two of their songs on the ultra rare compilation "First Relation" released in 1983 by Lisfrank's label Man Mask: "House TV" and "And In Your Mind". Now, thanks to Synthetic Shadows, a wider audience is able to check KKD music by purchasing the LP "Stars Behind The Sun", a compilation album that gathers fourteen tracks composed from 1979 to 1983. On this album there's no rip off track and you'll have the chance to have a glimpse of their music. Prepare yourself for dark post punk, minimal wave experimentations, new wave catchy melodies and more!
Artist:
Miguel Frasconi
(@)
Title:
Standing Breakage (for Stan Brakhage)
Format:
Download Only (MP3 + Lossless)
Label:
clang
(@)
Rated:
It's a known fact that many interesting and sometimes really important discoveries are purely accidental. It's what occurred to American composer Miguel Frasconi on the occasion of the first "score" of this composition, as while he was working on sounds he keeps on making from glass instruments or objects - he was one of the founders of The Glass Orchestra in late 70ies and some of his sonic findings were borrowed to well-known composers, musicians and sound artists such as John Cage, Jon Hassell and Morton Subotnick -, a quartz crystal glass bowl got damaged, but instead of replacing it, he decided to check how it could sound and this aspect if the first relevant one of this output; according to his own words, "almost all the sound in this particular piece come from one quartz crystal glass bowl which had been struck a bit too forcefully during a rehearsal a few months before. The instrument was still whole but there was a clean fracture from its rim to its base. Right away I knew I needed to record the attempts to complete the breakage.". The second relevant and somehow surprising element of "Standing Breakage" is what happened after this discovery: "I was curious to hear which new pitches would result from splitting apart the original pitch of G#. But once again glass proved to be unpredictable, this time in its refusal to break further. As hard as I tried throughout the recordings for this project, the bowl would not continue to crack. Many wonderful sounds were coaxed from this one object in its unusual state, particularly the vibrations resulting from rubbing and striking near the fissure". The manipulation and the alteration of these sounds provided new stuff for this 20-minutes lasting suite, whose title is a play on words and an appropriate dedication to the late experimental filmmaker Stan Brakhage, who occasionally filmed breaking glass objects for some of his outputs.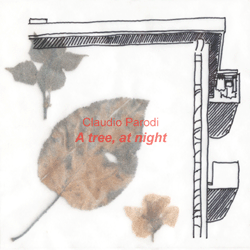 Artist:
Claudio Parodi
(@)
Title:
A tree, at night
Format:
CD
Label:
luscinia discos
(@)
Rated:
Claudio Parodi seems the typical example of an errant composer always searching for new path; after album of rigorous, and abstract, music research arrives at a sort of narrative album closer to the Residents' releases of the '80s. The relocation in a new house is the excuse to make a portrait of the new neighborhood which is a mirror of a part of the country and a social reflection as our cities became empty as book shops and cinemas close. So, the album is completely focused on the voices of Luigi Marangoni and Bobby Soul while Claudio Parodi set a quiet musical background with thumb piano and shakers overtly influenced by the african tradition of accompany a narrator which entertains the listeners.
The thumb piano that opens 'A tree, at night' introduces the listener into a sound field closer to some forms of radio drama as it aims to underline the voices; and the line "feather of an eagle" sounds as a loop which will recur along the album. 'Il Sediosauro' enacts the figure of the meddler living in a bench observing everything while 'corridoio, la Donna bicipite' portrays the figure of a smoking woman. The female cook of 'scale, Foglia rinsecchita' talks about the altercation heard in a condominium. 'Sutra di Guscio di Lumaca' features the most complex writing of this release as it compares the cyclist to the snail as only who travels slowly has the time to know the places and it could be a metaphor of the writer. 'Il Maniaco della Pulizia' is a mockery of the kind of person obsessed with cleanliness seen as someone who sees the world out of control. 'Sentenza n. 2255' orders the tree's cut that deprives the snail of an home. 'The red bad cat gang' is an interlude which reminds of some old cartoon about cats. 'Feather of an eagle' closes this release depicting the sense of relocating in a new home.
This release is another shift in the musical output of this artist as it's a work completely focused on words and is an half-serious portrait of a condominium so it's truly recommended to follow the music with the booklet to enjoy the search of the musicality of the speech. Truly recommended.
The resemblance between French chantler and composer Rougge and Radiohead's voice Thom Yorke is not only limited to their voice and their stroke on piano keys (listen to "Fragment 13" for instance in order to find similarities), but also facial... Rougge's obscure sensitivity brings the listener close to the melancholic raptures of Anthony and The Johnsons, who are musically mirrored on the uproaring grace of Fragment 47, and his howling glossolalia to Jonsi Birgisson (the voice of Sigur Ros), but besides possible matching, its second album "Monochrome" emphasizes the beauty of his ethereal darkness and is other than lamentably lacklustre. The most heart-rending moments evoked by his highest peaks could let you imagine that some prankster or Rougge himself his some pointed thorns under the black faux leather of his piano stool, but I'm pretty sure many listeners will get immediately captivated by the dialogue between his voice and his piano, which didn't get disfigured by Melanie Pernet's violin, Anais Jansen's violin and Stephanie Bertrand's cello on the bonus track "Fragment 22", particularly when they both sound like bleeding honey.