image not
available
anymore
Artist:
VV.AA.
Title:
Reinterpretations (a remix album of timeless Kitaro songs)
Format:
CD
Label:
Kanpai records
(@)
Rated:
More interesting sounds from Kanpai come in the form of a remix album that tributes the work of Kitaro, a Grammy Award, Golden Globe and Artist of Peace Award winning japanese composer/musician known for his timeless spiritual music pieces, that blend "the ago-old and the space age", like "wordless poetry", they say of him. "Reinterpretations" brings together eright artists and their twelve remixes of his songs (most of them can be found on the 2003 "The Sacred Journey of Ku-Kai") and takes his vision for a new spin, adding dub colors to it, flirting with electronic flavors and marrying his sound with their sound in ways that are unique and personal to each group. AudioMoe (a.k.a. Moses Truzman), Turbotito (a.k.a. Filip Nikolic/Junior Senior/Djosos Krost), Inside the Sun, Peas, Timmy the Terror (a.k.a. Tim Anderson/Ima Robot), Appogee, Occidental and Stephan Hauptfeur take turns to get their best shot at it.
image not
available
anymore
Artist:
Appogee
(@)
Title:
Unconscious Ruckus
Format:
CD
Label:
Kanpai records
(@)
Rated:
I am excited as I start reviewing a bunch of CDs from this new label out in Los Angeles called Kanpai. They've been releasing some really dope shit lately, I must say, and the first one I picked out of the batch is Appogee's debut CD "Unconscious Ruckus". These dudes are based in LA and have been growing alongside Dntel (The Postal Service), Planktonman (Nortec Collective) and The Mutaytor, altough I must say they don't seem to lack anything in their approach. You can't really tell it's newcomers, they sound like they've been around for a decade. Their sound is pointy, full, well-produced, well-arranged, sophisticated sonic artifacts. No messing around, they know what they are doing, that's for sure. They shoot for the drumn'n'bass formula mainly, but let themselves be carried away with implants of electronica, industrial, rhythm-noise, rock and some ambient/idm. Particularly interesting is the use of acoustic guitars and vocals on some tracks, which definitely makes them stand out of the crowd for originality. Where else can you hear a fast-paced d'n'b beat pumping while buried underneath a Radiohead-ish ballad with an acoustic guitar, or a Beatles-like pop tune with an Autechre/Aphex Twin-like beat, or Lycia-like lush electric guitars with vaguely flamenco-sounding nylon guitars that try to keep up with a cut-up and frenzy beat. Most definitely an awesome sounding record! Well done indeed!
Artist:
Batzz
Title:
In the Belfry / Come and Die
Format:
3" MiniCD
Rated:
It doesn't happen very often that CDs with just one song on them are released and it happens very rarely that I like gothic music that is sent my way, but it happened this time. Packaged in what looks like a Xmas card, this 3" mini CD (less space wasted) delivers the lyrics and music of "Come and Die". Some of you might know that I stopped reviewing goth/dark a while ago because everything sounds the same and is mostly crap or, when you are lucky, a good carbon copy of the old masters of the genre... Well, altough you still can hear the echo of the Sisters and the Nephilim (if you consider the drums, the Peter Steel-ish vocals and the nice string arrangements and songwriting) or even the Cure or Lycia (for the lush chorused guitars), Batzz's echo is actually a pleasant one, one that doesn't necessarily lack in personality. It is hard to be original in the genre, but it's quite something when at least you can get personal, and that is what Batzz have done. Beautiful gothic music, just short enough not to bore me or anybody and offering you a good time with some deep vocals and almost unusually fast-paced and (dare I say?) even ever so slightly happy solar progressions. Very beautiful indeed.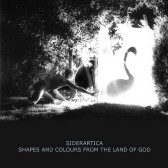 Artist:
Siderartica
(@)
Title:
Shapes and Colours from the Land of God + Toys and Robots from the Land of God
Format:
2 x CD (double CD)
Label:
Trisol
(@)
Distributor:
Soul Food Music Distribution
Rated:
It is with great pleasure I begin to listen to and review Siderartica's latest album. After "Night Parade", the gorgeous and sexy Kirlian Camera member Elena Alice Fossi (on vocals, vocoder, programming, keyboards), her brother Andrea (on e-guitar and effects), Andrea Savelli (additional programming) and the occasional vocal contribution of Carlo Dainelli are back with a double CD featuring 11 tracks plus 6 bonus tracks (among which a Morph remix and an Y-Luk-O remix). The trio delivers a music packed with emotions, from the shivering cold and apocalyptic visions of another world to the elegant and retrospective outerspace electronics that vocoding techniques ever so slightly trigger. With lyrics in german, english and italian, "Shapes and Colours from the Land of God" conveys momentous and intense compositions, which are minimized in their structure but maximize their zealous impact and their touching sonics. "Toys and Robots from the Land of God" explores the more dance-friendly insights of the band and might definitely be a club smasher in Germany and other places with huge dark-electro crowds. Siderartica is trying hard to find their independent dimension, and even though it almost unavoidably echoes some of their originating musical counterpart, I don't think they actually care to deny it or care at all. The truth of the matter is that I am listening to some beautiful music, which is far more important than looking for ties with past and present experiences and collaborations. Take it simply as a tip aiding the contents' description.
image not
available
anymore
Artist:
Black Lung
Title:
The Grand Chessboard
Format:
CD
Label:
Ant Zen
(@)
Rated:
The never resting David Thrussell's latest effort as Black Lung is represented by "The Grand Chessboard", an instrumental album of glitchy and saturated electronic textures that comes with or as a definite political statement (Thrussell-style!). Consistently less distorted and dark-ambient oriented, Thrussell's work as Black Lung is much more intellegible and structured. It appears to be increasingly based and inspired by rhythm noise while redefining its musical collocation maintaining an overall endeavoring and challenging free spirit, as one would expect in the least. "The Grand Chessboard" contains no vocal parts whatsoever and comes with quotes of Zbigniew Brzezinski (from his 1997 "Basic Books"). There is a regularly issued 6-page unfolding digipack CD release, but there is also a full colour cover LP and a CD+CD EP slimline case version of it (the latter is limited to 501 copies and contains the CD EP "The Sound of Meat").