image not
available
anymore
Artist:
DENSE VISION SHRINE
Title:
Magic & Mistery
Format:
CD
Label:
Iris Light
(@)
BUY from
Born when Karsten Hamre decided to pause his main project, Penitent, Dense Vision Shrine explore even more the visions of the man bringing us six dense dark ambient suites and two videos of "Snowsand" and "The Stronghold". If with Penitent, Karsten, paid his tribute to classical music and to poetry, with MAGIC AND MISTERY he seems to stop time giving to all the sounds more space and calm. The dilated pads of the tracks are like floating water that little by little runs though lands, covering everything. Listening to this album I feel a general sensation of apparent calm which passing from track to track mutates into a nightmare. You know, it's like into the Lovecraft novels, where everything seems going fine since suddenly you discover that pain took an hold of your heart. Also the two videos present images of nature, you know: woods, caves, mountains. But those images change their meanings if associated to this music. Creepy...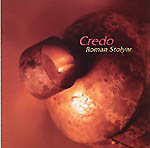 Roman Stolyar's "Credo" CD is probably one of the most free-jazz releases to have seen the light on Electroshock records. Progressive, jazz, fusion, electronics, experimental, ambient, traditional and world music all find a way to be heard on this release, with compositions spanning from '93 to 2000 that prove Stolyar's eclecticism and talent. The Jethro Tullish flute along with the marked seventies' progressive art-rock structures, the freeform jazz improvisations of piano, flute and other instruments, the unusual mixing of the standard ensamble's voices, the nice electronics that lays the grounds for acoustic instruments' improvisation, the occasional quasi middle-age/new-wave/celtic tunes, reverberated lush atmospheres, the almost Zornish nowave bursts of energy, the cheap found fake sounds (bells, brasses, strings, drums), the cymbal-generous fusion drumming, the experimental overall veil, the female vocals and lyrics of William Blake are but some of the pieces of this intricate and sophisticated puzzle. As always the art work is simply superb but this time probably even superior to the contents it represents. I am not going to argue with the choice of the sounds if indeed it was a choice, but I personally wasn't to enthusiast about those above-mentioned fake sounds (maybe live musicians would fix that) and some of the prog-jazz-rock passages of this CD. I am into and around a lot of jazz so it's not a matter of genres. There obviously are several good ideas and nice parts in this CD (for example the first and third of the three-part vocal suite "Songs of the Seasons"), I just didn't seem to find the key to understand it completely. This is the Russian composer's first solo CD but I am sure he's got an extensive background in jazz improvisation so I will look forward to see where this new direction will bring him and how he will develop his newly found electro-acoustic soul.
Though given my rule of fururistic electropop only", this one seems pretty interesting. The tracks remind me of some of the music played in gay nightclubs around my street (no I'm not by the way), very dancefloor oriented and overly happy, in true pop style. Altough the bands on here remind me a lot of Erasure, Psyche and Depeche Mode though, yet not too much. I am a rather untrained ear though in the basic synthpop and electropop fields though, so I may be wrong. A nice little trip back into basic synthpop, pure and simple, away from some of the boom-chukka synthpop so prevailent nowadays. And chock full of bouncing ballads as well, though they are rather peppy! Rating: 8.Anything from Anything Box is also recommended when you're in that guilty sugary electropop mood. I'm hiding right now and listening to both back to back, then I'm back to my hardass rivethead self by morning, promise! :-)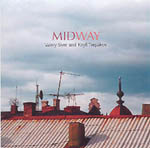 Starts out like a Michael Hedges composition with a Spanish flavour only to evolve into this electro-ambient soliloquies with deep lounge bass lines, lush beats, shy synth pads, world music instruments and tasty found sounds organized with meticulous artistry to originate a sophisticated spell of blended impressions and expressions. Valery Siver (composer as Migrator and dance remixer as Love Unlimited) is a multifaceted St. Petersburg native musician who has focused his career on the study of guitar and who brings the richness of his instrument in "Midway"'s playground to meet with Moscow based Kiryll Trepakov (part of K.U. Street and Medusa7 as well as founder of Expedition Zero) who also studied guitar but who later concentrated on folk string-instruments plucking, drums, audio engineering, sound research and manipulation and the study of the characteristics of sounds. From such team players you can of course expect great things in terms of quality of compositions, wideness of palette, variety of moods etc. Personally I'd expected or hoped for a little more of those enchanting Hedges-like atmospheres for acoustic guitar and reverb only, but the duo has decided to make use of such passages only as a mean to introduce more complex pictures of auditory elements, and the result is but gorgeous and regenerating. By the time I listened to this album half way down for the first time it had already become one of my new favourite soundtracks for relaxation and of the best ways I can think of to represent the essence of the electro-acoustic music that Electroshock so promptly and magnificently sorts out.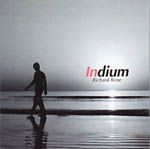 Without knowing founder of Aikido Morihei Ueshiba (1883-1969) described American composer Richard Bone's new album when explaining which the eight forces that sustain creation are: movement and stillness, solidification and fluidity, extension and contraction, unification and division. Translating those eight forces in sounds seems to be exactly Bone's mastery because you can feel those strengths. You can hear the absolutely still tranquillity move around you in a warping fashion, you can feel the fluid sounds solidify at times and then flow away with the same grace they were flowing in, you can sense the way the visions drawn by these aural sonics extend beyond imagination designing new landscapes that your mind has not yet conceived and then contract inside to change the surrounding environment, you can allow your mind and your soul to unify while dividing what is around you from what is inside you while listening to this. "Indium" (a soft, malleable, ductile, lustrous and silver-white metallic element that remains liquid over a wide range of temperatures) is the right title for such achievement and the beautiful artwork in helps conveying the message. If you are in search of your intimate universal balance and you want to deepen your research with some first-class organic ambience, "Indium" should be the next CD you accompany your voyage of exploration with. Beauty is mystified, stillness is actualized, quietness is spread and ethereal softness is solidified. Never boring (even without beats), quite simply excellent and utterly astonishing.