Artist:
Gray Acres
Title:
Gray Acres
Format:
Download Only (MP3 + Lossless)
Label:
Sound In Silence
Brothers Andrew and Michael Tasselmyer (Hotel Neon, The Sound Of Rescue)'s debut album as a duo is a nearly-hour-long collection of guitar, synth and sometimes piano ambience, drone and soundscaping with a general feel of sedentary loveliness. It's one of those releases where it's hard to judge the temperature- technically it could be described as cold, but there's something about the lapping reverb that actually comes across as reassuringly warm.

Opener "Sightlines" is particularly pretty. Other pieces, like "Return To Self" with its occasional piano chord, are somewhat more melancholic but in a way that's arguably a little wishy-washy and as such a little forgettable. "Vestiges Of Form" is almost the definition of soft ambient drone, though none the worse for it and a very nice inducement to sleep, but certainly a little short of unique selling points.

A smart, smooth, relaxing but ultimately slightly forgettable bit of mellow ambient.
Artist:
Yair Etziony
Title:
Deliverance
Format:
Download Only (MP3 + Lossless)
Label:
False Industries
Yair Etziony's sixth album is an array of drama-laden electronic soundscaping full of dark symphonic chords, echoey rumbles and percussive hits, subbass groans and slow synthetic washes abound. Sounds familiar to the darkest of minimal techno production are repurposed into these sometimes-arhythmic arrangements that seem purpose-built to create a sense of dread.

After the full-on overture of "Justice", "Am aller Ecke" is a more hollow affair that aims for the lower end of the register, before "Gesundbrunnen Ghosts" with its bottle-like melodic noises initially offers something a little more lightweight before distempered scratching sounds bring back the sense of fear.

The second half is more rhythmic. "Unterwelt" introduces a steady pulsing element that reconnects to Etziony's techno roots and gives a different flavour of tension, while "Unheimlich"'s connection to techno is exhibited through the rasping bass synth note that ebbs and pans aggressively during the slow and ominous arrival of hard-to-place workmanlike hit sounds. By the time a TB-303-esque acid note arrives halfway through we realise we've wondered back into super-slow techno almost without noticing. Final track "Deliverance", rather than being the culmination of what's preceded it, tilts things in a different direction, focussing on a calm organic pattern of natural hand drumming over which the electronic weirdness is sprinkled more sparingly.

In a good way, it's as though this album is the score to a sinister and immersive horror game- always tense and disquieting, but never sudden enough to really distract. The gradual progression from ambience into rhythm throughout the 40 minute span is well handled and forms a very interesting journey that plays things a touch safe at times but is still very engaging.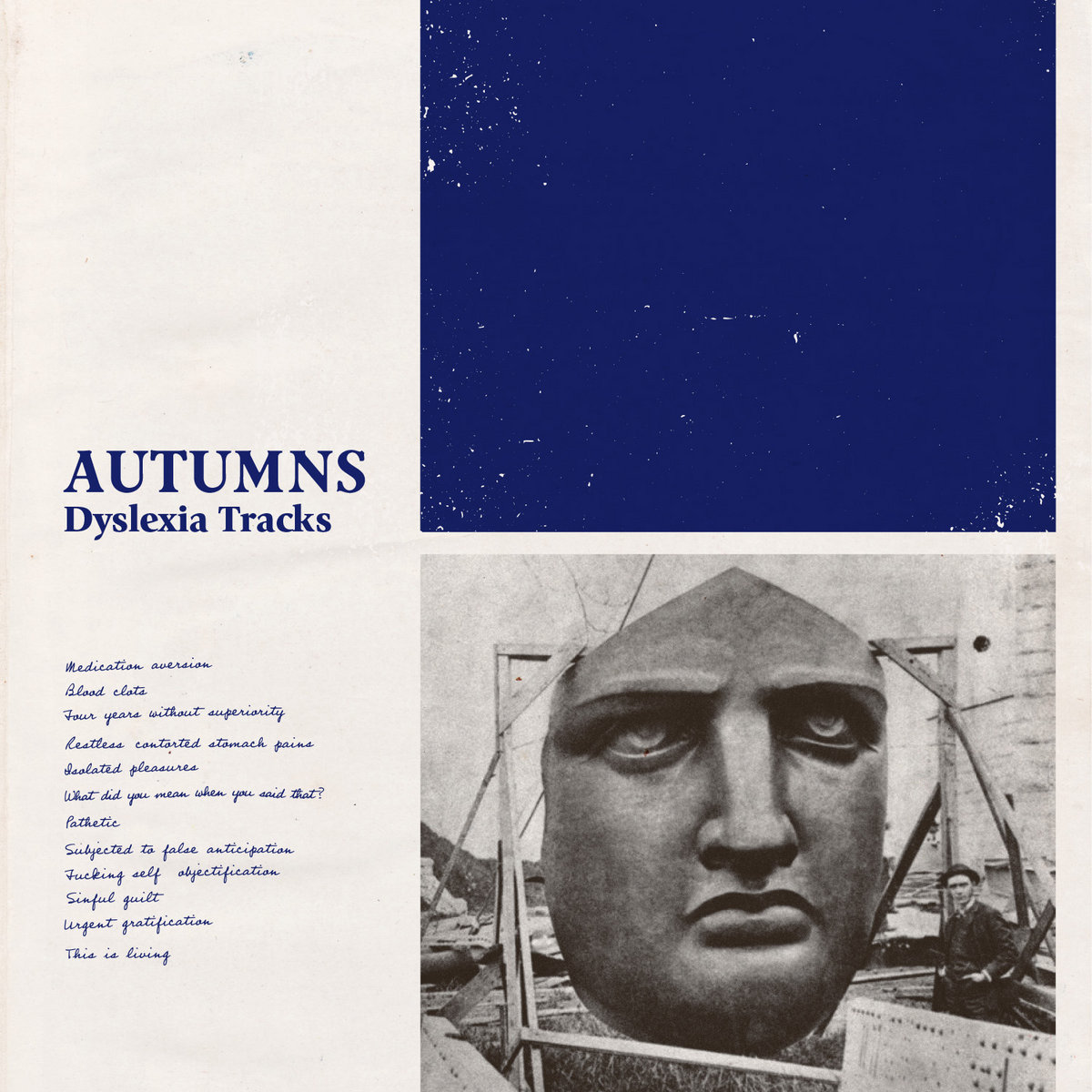 Unlikely elements somehow meld together on the aptly titled, "Dyslexia Tracks" a five-track EP which is noisy, squelchy, inelegant and erratic, yet also structured, rhythmic and somehow danceable; ideal for a younger Molly Ringwald and her breakfast club. Autumns is Derry, Northern Ireland's Christian Donaghey who brings 60's-era psych rock guitar twangs, indecipherable reverb-drenched vocals and tense synth undulations more at home on retro video game soundtracks. Opening track, "Self Consumed" has fist pumping dance beats ideal for an 80's synth rock Billy Idol song on a triple espresso and mean synth lines best suited for a tense first-gen Nintendo game where you square-off against a particularly nasty level master. The following "Headache Tablet" still immerse in continuous undulations of the video game motif with subtle, yet still danceable beat changes as our lead character fights through a horde of baddies. The title, "You're A Right Useless Cunt" was probably coined at an Irish pub just before a fight over the last pitcher of Guinness while an early New Order song plays on the PA and a 60's-era Godzilla film on the telly. Nice, layered electro beats, random laser beam squelches and reverb leaden monster vocals phrase brief yet indecipherable comments. Both "City Secrets" and "Distorted Thinking" have electro progressions and vigorous retro style drum machine rhythms, but this time set to some twangy and echoey guitar music at home on an old Batman TV show if the hero was somehow drugged and disoriented. In addition to early Billy Idol and New Order, Dyslexia Tracks brings to mind minimal techno great, Patrick Pulsinger, electro's, Adult and 'Add N to X', with a middle finger aimed at most techno/electro conventions which is probably the point. Dyslexia Tracks are fun to listen to and Donaghey is not afraid to get unconventional if not erratic and layer elements most would feel have no business being together in the first place. Somehow, it works.
Artist:
Alameda Duo
Title:
The Luminous Guitar Craft of Alameda Duo
Format:
CD
Label:
Instant Classic
(@)
Rated:
This intense avant-folk release by Alameda, the project by Jakub "Kuba" Ziolek and his long-lasting collaborator and friend Mikolay Zielinski on guitar, is an awesome musical bridge between the so-called American folk primitivism and the obscure (but really luminous indeed) tradition of ancient Greek music, that Ziolek knew through Rafal Iwanski, who let him listen a tape "Music of Ancient Greece" (dating back 1946 and reissued after decades by Orata records) where Christodoulos Halaris, a sort of archeologist of composition, who tried to study and recover some old ethnic traditions (mostly the Greek and the Byzantine ones), tried to remove the dust away of some ancient Greek music, including the notorious Delphic hymns. The environment where Alameda recorded "The Luminous Guitar Craft of Alamada" in a couple of nights (in order to avoid distractions and dirty interferences of daytime) in an evangelical church in Bygoszcz, the native town of Jakub in the Nortwestern Poland, could have influenced the blissful nuance of the melodies, the virginal singing and the "spellbound" sound together with the link to Greek music (people who only know sirtaki could notice some resemblances with the sonorities of the popular dance in the first part of "Laurel" only!) and the myths they quoted through titles and lyrics (not only the Greek ones of Ate and Daphne - "Laurel" is the alternative name of Daphne as she got transformed into this notorious and scented tree according to the moving notorious myth -, but they also quoted the Norse one of Yore). I particularly appreciated the alternation of moments when the almost hypnotical "quotations" of Greek music prevail and the ones where they push those melodies into more modernist styles, as it happens, for instance, when they unleash a hectic tapping after the first five minutes of the opening "The Silver Chant of Ate" or when they let guitars fade out to give space to some evocative field recordings, wrapping the recitation by Tomasz Nosinski on "Ming".
This has to be one of the oddest releases to cross my path of late- an avant-synthpop band called Armoteque from Italy that sounds anything but Italian. According to the accompanying one-sheet provided by the band they used to have a singer who went by the name of vanilla punk, but he departed a while ago, and now they have a new vocalist by the name of y:dk. He sounds quite American (sings in English) in an almost swampy sort of way on most of the tracks. The music is predominantly synthetic/electronic, provided by fredbo ( keys, sequencers, synths, fxs, programming) and jean-loux boka (guitars, basses, sequencers, synths, fxs, programmings) but a far cry from your typical euro-synthpop. While not directly emulating them, the band has a NIN sensibility that carries a definite edge. It's a dark, melancholy sort of synthpop that has no equivalent that I can think of, so comparisons with other acts are out the window. Unlike many synthpop outfits these days, Armoreque doesn't seem to be interested in making hit tunes, and that may be due in good part to y:dk's lethargic, baritone, drawly vocals. Yet there is a visceral, nihilistic quality about the songs that's almost painful. A lot of the synthwork is gritty and abrasive, pushing this project even further away from the mainstream. For some strange reason though, 'Dusting the Plants' really resonated with me, even though it isn't what I'd call a great album. It's just so different from anything else out there. The last track on the album, "So2speak," is the most atypical, yet perhaps the one track y:dk's vocal is perfectly aligned with because it's a slow ballad, and the main instrument on it is acoustic guitar. Yet, if the whole album was like that song, I'd probably wouldn't care for it. I have no idea if anyone else is going to find 'Dusting the Plants' an enjoyable album, but frankly, I don't give a damn.