Artist:
Mlada Fronta
Title:
Dioxydes
Format:
DVD
Label:
Parametric
(@)
Rated:
The new release by Mlada Fronta is a beautiful DVD in a metallic case packaged with a dozen full size postcards, stickers and what not. This time Remy Pelleschi wears even more hats than he usually does: besides being in charge of the entire musical production of the DVD (I didn't call him a producer, I now know he doesn't like the term...), he also operated the video camera and directed "Dioxydes" and its filmed contents. Dedicated to John Carpenter, but probably equally or at least somewhat influenced by Ridley Scott as well, this twelve chapter experimental movie presents audio-visual works which borrow from every day urban landscapes to transform its surroundings in complex operas of architectural arbitration, where common view angles and scenarios turn into new shapes and new visions. Suitable to a number of different state of minds, "Dioxydes" will provide multi-sensory gratification to all those who are in search of a relaxing experience, or an entrancing escape or even just a completely conscious full immersion into the admirable work of an obviously multi-faceted and talented artist. The DVD also contains a Quick Time video of a live performace, pictures, logos and interview and a couple of short films with Mlada Fronta music, where the sound is actually even more obviously synched with the picture. The sound of Mlada Fronta keeps drifting away from its original form, in a very evolutionary manner, and builds a thick crust of ethereal electronics that crawls beyond the surpassed need for defined rhythmical patterns reaching a new nirvana of sonic obsession, which this time is greatly aided by the eye.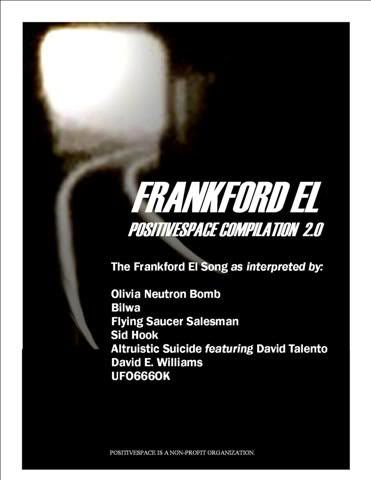 Artist:
VV.AA.
Title:
FRANKFORD EL POSITIVESPACE COMPILATION CD 2.0
Format:
CD
Label:
POSITIVESPACE
(@)
Distributor:
David E. Williams
Rated:
"You can't get to heaven on the Frankford El." "You can't get to heaven on the Frankford El." "You can't get to heaven on the Frankford El, because the Frankford El goes straight to Frankford." This silly, sing-song choral lament is the vocal centerpiece in this fun tribute to the Frankford elevated (or "el") train line, which was completed and dedicated in 1922. According to the liner notes this delightful diapason "is an old Philly favorite, sung around campfires, inside bars, and in recording studios for generations." Originally recorded by The American Dream on their eponymous album (which was produced by Todd Rundgren) in 1970, this song is revisited a lucky seven times by a menagerie of artists connected with the Philadelphia POSITIVESPACE organization.

First up is Olivia Neutron Bomb who, in addition to having an awesome, v/vm-esque parody name, have one hell of a good time with this song. The style is very upbeat and bouncy, as a whole gaggle of ladies belt it out loudly and proudly. Their verses are alternately funny and raunchy, suggesting alternate modes of transportation the first time around and lewdly describing the various things that can be "picked" on the Frankford El on the next go. There's also a good deal of hilarious editorializing that goes on throughout the course of the song. Bilwa is next, blending strange synth sounds with a light, infectious rhythm to form an interesting sonic sanctuary in which disembodied vocal and guitar refrains from various parts of the Frankford El song swim around, occasionally emerging to frolic about. The third iteration of the song is performed by Flying Saucer Salesman in a particularly creepy fashion. Whispered vocals warn aural passengers of that unreachable destination as fingers claw out a couple of major scale amid a field of spacey bleeps. The most abstract take is the 7:49 journey by Sid Hook, which features all manner of percussive sound-makers -- bells, cymbals, wood blocks, water bottles (?), various drums, and a subtle layer of shimmying, meandering electronic noises to tie them together (y'know, like that rug in The Big Lebowski that really tied the room together?). This mellow approach is left in the dust by the techno-powered Altruistic Suicide featuring David Talento. Four-on-the floor action and what sounds like actual samples of the El itself rolling along the tracks give this version a mild industrial feel. The twangy vocals go together with the pumping beat like America & apple pie! Next up, a slow, lumbering beat rumbles out of the station with conductor David E. Williams at the wheel. He guides his tour slowly and stealthily along the namesake railway, singing with perfect lucidity in his unmistakable voice, commanding the riders to "jump on board" as his synthesizer morbidly accentuates the passage of the spectral locomotive. UFO666OK teasingly extracts us from the slow-burning frying pan with a few short refrains of jangling, hippie-country-infused fun (perhaps sampled from the original recording?), only to cast us quickly back into the fire with an unforgettably brutal sample from The Exorcist III by George C. Scott.

Though it clocks in at a mere 23:59, this short, sweet salutation to the great Frankford El packs quite a wallop. Its variety of sounds and schemes makes up for its scant quantity with an abundance of quality.
This is the second CD produced by the POSITIVESPACE arts cooperative, based in Fishtown (which lies to the north of City Center, Philadelphia). Their first disc, entitled simply "Volume l," also features Bilwa, UFO666OK, and David E. Williams, along with A.M. Endeavors, Roachhowsen and Paul Aston Group, and the cover of each copy featured original artwork! This CD, like the Frankford El, won't get you to heaven... but it's still a damned good ride! Highly recommended.

Artist:
David E. Williams
Title:
Hope Springs A Turtle
Format:
CD
Label:
Old Europa Cafe
(@)
Rated:
It's a rainy day in southwest Baltimore. A few brave souls wander the streets huddled under their bumbershoots, picking through the few vendor stalls still in place from a mostly aborted street festival. I'm standing under the awning of a local taproom with a trio of friends, anxiously waiting for the entertainment to begin. David E. Williams and his posse of musical miscreants are about to risk electrocution to play a show, just for us. They share their gift, and it is truly great. Jump ahead several years to the present day. David E. Williams has just released his first full-length CD in eight years, and I'm beside myself with anticipation. Unsurprisingly, this masterfully provocative lyricist has once again delivered with gusto! Actor Bob Crane's lurid life's tale is told for posterity. A pushy "Game Warden" chides a boy of six over the size of the fish he has caught. Another tells the tale of a doctor who keeps finding foreign objects inside her niece's nether passage during gynecological checkups. "First Time Offender" chronicles the naughty misdeeds of a perverted priest. My personal favorite is "The Need for Less Sex in the World," a cheery tale about a closet homosexual who plies a homeless man for sex, using money, food, and drugs. He gets a lamp crammed up his poop chute for his troubles. I can only hope that we won't have to wait eight more years for another long player from this brilliant songwriter. Why, that'd be almost as awful as suffering through eight years of a really bad presidency!
image not
available
anymore
Artist:
DANIEL MENCHE
Title:
Drunk gods
Format:
CD EP
Label:
Lapilli
Rated:
After its remarkable debut with Francisco Lopez's "Untitled#119", Lapilli now releases an ep of one of my all-time fave artists. Through his extensive discography, Menche has developed a unique approach to noise, managing to fuse harsh electronics, minimal drones and concrete recordings into a mass of pure physical power. After a recent series of ok, but not earth-shaking releases, "Drunk gods" puts him back to the sheer brilliance of mature masterpieces like "The face of vehemence" and "Beautiful blood", and at the same time offers a diverse, possibly more daring work. The piece begins with a series of crazed glitches and pulses, sounding like an electronic device about to explode. Gradually and relentlessly, more layers (a sustained organ drone, insect buzzes, his trademark noise electronics, etc.) are added, up to a climax of head-splintering intensity. Believe me, the title IS an appropriate suggestion of what's going on here.
image not
available
anymore
Artist:
VĀLI
Title:
Forlatt
Format:
CD
Label:
Foreshadow Productions
Rated:
"Forlatt" ("Abandoned") marks the debut of this mysteryous Norwegian one-man project. There are no liner notes nor credits, but anyway, Vàli offers 10 beautiful tracks of mostly instrumental music - acoustic guitar being the main instrument, accompanied by cello, flute and violin, plus an ethereal - and luckily not over-the-top - female voice here and there. Together they weave some melancholic and grey-tinged atmospheres, but nothing as bleak as the layout or their label roster could lead you to expect. With a crystaline sound and a precise execution, "Forlatt" is a bit reminiscent of '60's/'70's folk, but also of a more serene version of Amber Asylum. What is particularly appreciable is that arrangements are kept minimal and intimistic, so that it doesn't become a gaudy goth-folk or metal-folk hodgepodge. A relaxing listen for frozen winter afternoons like this.