image not
available
anymore
Artist:
ALESSANDRO BOSETTI-ANTJE VOWINCKE
(@)
Title:
Charlemagne, la vue attachče...
Format:
CD
Label:
Bowindo
(@)
Distributor:
Frnges
Rated:
Here we have three long takes: a couple of big suites and a shorter closing track. Field-recording (even if "microphoned-live-performance" could be more appropriated), "concrete music" and electronics melted together with a really "personal touch" by the hyperactive musician Alessandro Bosetti and by Antje Vowinckel. The period of recording ranges from Y2k and 2003, funny, because after two years it all still sounds "fresh", above all if compared to a lot of similar releases without a sparkle of its "inspiration". As you can imagine it's hard to express an aesthetical opinion about a record like that (yes, it's "unconventional" music as you can guess) and its fruition remains really subjective, some of you will complain about the fact "every fruition, be it a book/records/painting/whatever is subjective" and you're right, but it becomes a bigger problem when the work is so unconventional that standard categorizations fall. Subjective or not, if you listen to "Charlemagne, la vue attachèe..." with your beloved headphones, I'm sure you'll live this experience of "music where something is happening" and let me also add the second "song" (Kitchen place) has some really "musical moments", both during the "confidential" "home-performance" and during the high frequencies' blast. An homogeneous cd without any doubt, despite the big lapses of time passed between the different takes it all could have been performed during the same session. To be listened silently with loads of patience (the way it SHOULD always be) and keeping in mind Mr. Bosetti is "different" musician according to the specific project to which he's working (visit his personal website, please).

image not
available
anymore
Artist:
GALAKTLAN
Title:
Constance
Format:
CD
Label:
Kohvi Records
(@)
Rated:
This is the second Galaktlan release I have the opportunity to listen to. The first one has been "Sinine platoo" back in 2002 (you can check my review here http://www.chaindlk.com/reviews/index.php?id=168). CONSTANCE is the new album and from the limited pressing of the old release (printed in 500 copies, only) we are passed to a proper CD release promoted and reviewed by different magazines. Well, the ten tracks paint a gentle picture made of ambient sounds, electronic and acustic drum sounds and light melodies that help making of CONSTANCE a perfect album. If a lot of ambient records result dull for the normal audience, Galaktlan succeeds into giving to his tracks something to remember of something to follow: a sound, a gentle female voice, a melody or whatever. The dreamy atmosphere doesn't distract the audience from the essence of the track and all the other elements (rhythms, melodies, etc) enrich the tracks. Sometimes the album sounds like an ambient record played by a kraut rock band coming from the seventies or like the early J.M. Jarre records (do you remember "Oxygen"?). Just check the closing "Zolishka" where it seems to listen to Cocteau Twins playing a folk Estonian song. My thumb is up!
Artist:
Arcana
Title:
The New Light
Format:
CD
Label:
Cyclic Law/Erebus Odora
(@)
Rated:
A joint releases with Swedish label Erebus Odora. For this release Peter Bjärgö has put together works spanning 10 Years of his work with Arcana. Lost songs from the early years, alternative recordings and new beautiful songs share the space on this anniversary album. Hear the music evolve from it's groping first steps to what it has become today. Arcana really stands for all things emotionally grandiose and this release serves has the perfect commemoration to such a talented artist.I found this album to be hauntingly beautiful and full of emotional melancholy. Arcana has been compared to such bands as Dead Can Dance but I thought this album far surpassed the majority of DCD's work. If you haven't heard of Arcana yet this album is definitely one you must hear.
Artist:
Chiasm
(@)
Title:
Relapse
Format:
CD
Label:
COP International
(@)
Rated:
Magnificent. Chiasm (aka Emileigh Rohn) has really done it here with her new cd masterpiece, "Relapse". This is a follow up from her previous critical acclaimed release "Disorder", a second full length album on California's COP International Records. Its signature sound is electronic/industrial with passionate ethereal vocals, excellent and moving lyricism. Each track on disc is worth listening to without skipping. Songs about love, pain, escaping the past, and looking for one's self to have a perfect life. Emileigh delivers another power punch album that's very emotional, simply wonderful, abroad, and catchy melodies, driving synths and samples. Two mixes as bonus tracks "Rewind (Floating Tears Mix by Zentriert ins Antlitz)" and "Surrender (Dark Techno Mix by TL5)" are included. Highlight tracks include "Embryonic", "Delay", "Still" and "Phobic". Pick up the album.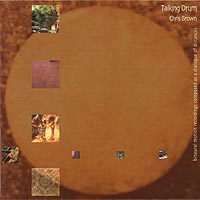 Artist:
CHRIS BROWN
(@)
Title:
Talking drum
Format:
CD
Label:
Pogus
(@)
Rated:
If some days ago you've read the review of "Rogue wave" just forget it, this release is completely different. If you go to the Pogus' home page you'll read that the label's releases are: "uncompromising, non-commercial, and definitely not for everyone (unfortunately), these releases are geared towards discerning listeners" and an original composer/musician like Chris Brown couldn't miss from a catalogue of label like that. This record could be a 72 minute long trip around the world, "field recordings" through a binaural microphone from Philippines, Turkey, Europe, Cuba and America, technically I beg you to read what Pogus and Chris Brown wrote about the making of this work/performance (http://www.pogus.com/21034.html) because it's really complicated to be described in the short space of a review. Anyhow I'll try to cut it short by saying this composer not only recorded the music and the sound of different "environments" but he managed to "play" it via a computer ensemble, a sort of interactive installation where computers play "polyrhythmic music" (but please go and read what he says about the work and you'll understand it much better). The most of the songs at the beginning of this long release remind me (and obviously not by chance) Afro rhythms and Balinese/Gamelan music, somebody could say it's a reinterpretation of "world music", but if this term brings to your mind Peter Gabriel's "Real World": you're totally out of place. Too bad this cd can't be listened with the support of a "documentary", I think it would be a great experience. Music and environment filtered through computers programmed "ad hoc" to interact with the original players during the installation, the release is the result of the different performances plus the original "field recordings", it all is a continuous conversation between different places, environments and people. I've had a split sensation while listening: it somehow sounds traditional, but the work is for sure fresh and innovative and the fact itself it's quite interesting. The only possible remark is the length of the release (it takes a lot of attention) but if you like great ideas you'll love the concept behind this cd.