Artist:
Endanger
Title:
Addicted To The Masses
Format:
CD
Label:
Nilaihah Records
(@)
Distributor:
Nilaihah Records
Rated:
This album represents my first exposure to Germany's Endanger. Not being the world's biggest fan of synthpop, that's more an indictment of my tastes than a criticism of this particular band – in fact, if "Addicted to the Masses" is any indication of the quality of their previous two albums, I should probably be paying more attention! This duo's music is slick, well-produced, highly emotive, and catchy as all hell. Rouven Walterowicz's strong vocals, delivered with stunning clarity, are a perfect match for the hook-infested tunes churned out by programmer Marc Pollmann. Among the nine new tracks on this disc (not counting "Enter the remix zone," which is more of a short bridge between the regular and bonus tracks), almost all of them are upbeat dancefloor odes that should set even the most stoic toes a-tapping. "Like heaven," "Sp,rst du¥s nicht ?!" and "I come undone" are personal favorites. There's also a very nice ballad called "I count on you" that is notably more laid back than the rest of the songs.The disc also includes seven bonus tracks. Five remixes of "Give Me a Reason," including their own "club mix," alongside remixes by Assemblage 23, NamNamBulu, Massiv in Mensch, and Hecq. The "Rock Lobster" synthline in the "Pestillanz Mix" by Massiv in Mensch is a nice little hidden treasure. There is also a "2004 hardbeat" mix of "Mein Stern," which originally appeared on the album Eternalizer in 2002. The track list is slightly different on the US (Nilaihah) and European (Infacted) releases, but nothing too drastic. Very reminiscent of Wolfsheim or Covenant – sparkling fresh and squeaky clean!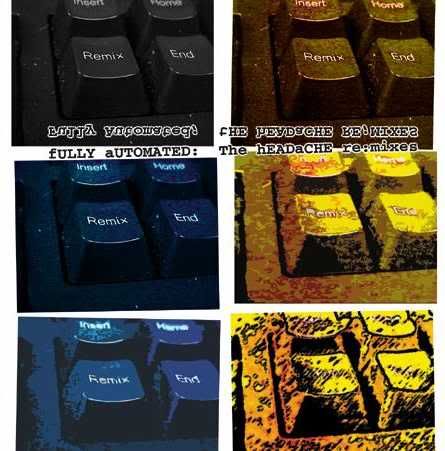 Artist:
hEADaCHE
(@)
Title:
Fully Automated: The hEADaCHE re:mixes
Format:
CD
Label:
Uncoiled Loops
(@)
Rated:
Chicago-based hEADaCHE flexes his sonic architectural muscle on fourteen club tracks in this full-on remix effort. Primarily electro-industrial in their original incarnations, these re-born tunes emerge with shiny, synthetic wings, flying away in all new directions. The disc is solid from front to back, but some tracks really sprint to the fore. "Wings of Steel" by Collide glides on shimmering blanket of slowly waxing and waning trance lines, while a terse broken-beat stutters underfoot. Diverje/Soul Circuit's "Stronger," is indeed a brawny beast, distorted breakbeats giving it a completely different edge than the original version. The extended mix of Noxious Emotion's "Mystery of Life" is a hellacious long-player, somewhat reminiscent of the music used in some of the fiercest levels in the game Gauntlet: Dark Legacy, clocking in at an inhuman 9:37! "Mettle IV: Programmed Apathy" goes in the opposite direction, getting a quick, yet intense makeover. The Bottomfeeders track "Maybe Someday" is an interesting departure from the heavy-breakbeat sound, as hEADaCHE allows a strong vocal track to remain the focus of this song. Slow, deftly rendered beat clusters give a lift to the tender, ballad-like "Ovoid Vovoid," by Flood Damage. "T-T-Trainwreck" is a techno-infused rappel down the side of a skyscraper, as Five Star Reject's track cranks up the adrenaline. hEADaCHE's band CEOXiME closes out the disc by stepping out of the club and into a dark alley with a low-key alteration of Radiohead's "Exit Music."hEADaCHE does a remarkable job of weaving his broken-beat styling into many of the remixes on this disc, considering the varied musical styles and textures of the source work. The CEOXiME track was a great choice as a finisher, too. A fine piece of remix work!
Artist:
ITALCIMENTI
Title:
Under Construction
Format:
CD
Label:
Hot Elephant Music
Rated:
It is always exciting when new electro bands show themselves, taking the 80's electro flag just to re-process the original sound giving to it a fresh reading of that synthetic sound. You can imagine how could be exciting when the precursors of the genre decide to release a new album full of cool sounds and ideas. In this case Alexander Robotnick and Ludus Pinsky (keyboard player of I Refuse It. Band who was active in the 80's with their particular hard core punk) decided to give their personal version of the modern electro clash showing us where everything is coming from. The eleven tracks of Italcimenti's UNDER CONSTRUCTION take inspiration from the italo disco sound mixing it with a good dose of humor (see titles like "Disco tamarro" where "tamarro" in Italian is a rough person which behave like a redneck). Rhythm and melody is the main thing and there's also some space for the re-interpretation of classic songs like "Bela Lugosi is dead" (while the original Bauhaus version was based on obscure ambience, Italcimenti makes of it a throbbing dance tune) or "Trigger happy" (if I'm not wrong this is a version of a Nitzer Ebb song and the duo is giving us an analog version of it). If you are tired of techno based only on looped rhythms and fashion I suggest you to check UNDER CONSTRUCTION. Enjoyment is assured!
Artist:
COLD FLESH COLONY
(@)
Title:
Burial
Format:
10"
Label:
Blade Records
(@)
Rated:
After releasing "Sanatorium" back in 2003, Koen is back with his Cold Flesh Colony project, with a limited edition 10" (only 200 made) titled BURIAL. Released by the new Italian label, Blade, BURIAL contains eight tracks of total pain, where treated screaming and feedback is the main sound source. As you can imagine the effect of tension is really thick as well as the level of saturation is. The tracks haven't got proper titles and are called after their playlist order. Lyrics are buried within noise and layers of feedback. Unfortunately I can tell you what they are about of how the cover looks like because I've got this release only thank a cdr that Koen sent me, even if Blade promised me one. If you are into old 80's industrial and into stuff like Con-Dom you should dig this release as well.

Artist:
Any Questions?
(@)
Title:
Death (Special Edition)
Format:
CD
Label:
Floating Fish
(@)
Rated:
Originally released with different cover artwork in 1996, this special edition re-issue of "Death" features the eight tracks from the first issue of this disc along with two new tracks recorded in 2004 and two live tracks from way back in 1991. All have been mastered/re-mastered by Brad Vance (who has also done work for Skinny Puppy, Hilt, and Download) at Red Mastering. The "Special Edition" is presented in an attractive, glossy digipak with gruesome artwork by Mike Bohatch (Eyes of Chaos) that suits its title.

Heavily distorted vocals rip through layers of heavily processed guitars, pummeling percussion, and squiggly synthesizer shrieks in "Bones Bent." Machines reign supreme in "Lousy Human," as AK-47 beats ride shotgun alongside blistering vocals and the tune closes with an ironically appropriate Schwarzenegger sample. Four on the floor beats from a retro-80s kit drive the pedal to the metal in "Presto (You're Dead)," maniacal laughter ringing in the background. "Stasis Interrupted" is a two-minutes-hate interlude of digital dementia. Frequent sci-fi samples are littered throughout "Or I Die." "Even in Death" slows things down considerably, reminding me in equal measures of "Satellite" by Pigface, and "Carrion" by Project Pitchfork. "Dismembered" leaps quickly back into the fire, though, its vocals wafted upon a furious, bubbling cauldron of pounding drums, raging axes, and screeching electro-chickadees. "This Universe" is uncharacteristically laid back, a mantra-like sample declaring time and again "this universe is mine," as a creepy howl repeats over a disconnected drum beat. Where the earlier tracks are shorter on duration and longer on industrial-metal intensity, the newer ones are definitely more structured and disturbing in their own subtle ways. The vocals and samples on "War Broke (You Will Die)" and "Sonic Death Line" are much clearer than in most of the older songs. "Indust Shot" (Live) is a marathon instrumental of primitive eletro-percussion, and "Conformers Die" (Live) is similarly focused on electronic drum beats, and cut with Desert Storm samples for good measure.

The man vs. machine aesthetic is certain to remind listeners of bands such as Frontline Assembly, Numb, and Chemlab. Perhaps even the nightmarish, dystopian landscapes in the movie Hardware. Good stuff!