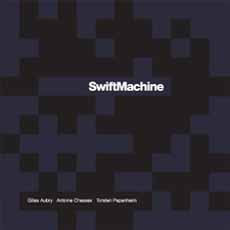 Artist:
AUBRY/CHESSEX/PAPENHEIM
Title:
SwiftMachine
Format:
CD
Label:
Creative Sources
Rated:
Eight tracks for 39 minutes of intense improvised playing, recorded in Berlin in 2003, by Gilles Aubry (computer, editing and mixing), Antoine Chessex (sax) and Torsten Papenheim (guitar). This has the sort of trademark sound you'd expect from a Creative Sources release, with barely recognizable sounds from instruments-played-as-objects, but also a more distinct electronic feel. I wonder if the computer also sampled and filtered the other instruments - probably not, but anyway the interplay of the three performers is quite remarkable, and the whole set sounds powerfully cohesive. Listen to track 2, for example, with (computer-generated?) white noise and the frantic blowing of breath through the sax, which eventually seem to mimic each other; but all the cd is filled with a boiling and constantly distressed set of abstract, yet brutally physical sounds. The structured disorder of the SwiftMachine trio makes this a very engaging listen throughout.
image not
available
anymore
First off, since this' not the first release on Thisco I happen to review, let me tell I think this label is doing a really god job (and that's not just my opinion), the quality of their releases is often good and I'm into that idea of the 3-way split series, they assembled a god number of interesting cds. This time it's not extremely experimental electronic music but it's bread for those who have been "electronic-aficionados" for a long time. The first one of the lot is Mikroben Krieg, you know it has to go deep starting from the skeletal titles, and you won't be disappointed, above all the tracks in the middle of this split cd (consider the artists have n alternate-random order inside the tracklist). Rhythmically this artist make me think of the coldest beat created by Photek (not that super-structured) but it has also that rhythmical skill of many releases on Planet Mu, the melodies are obscure and have that north european feeling, good. Shhh... has a strong rhytmhical framework as Mikroben, but the beat is more eighty-fashioned, the songs are less "into your guts" if compared to the previous musician and the atmosphere is that of some old anthems on Warp: imagine the darkest L.F.O. tracks, maybe a bit of the early Black Dog and U-ziq, his remix of Sciencia's "At the gate" is boombastic. Sciencia still works a lot on the beat and is not that far from that Warp influence you hear in Shhh... even if it's even more into the best works of Warp's golden age. I found there's something of the early Autechre (Anvil Vapre-era) even if Sciencia is not that "ambiental" and less fragmented than the english godfathers. Danceable electronic music with a "late at night-rave" feeling.

image not
available
anymore
Artist:
COMPEST
(@)
Title:
Kryptozoologie
Format:
CD
Label:
Einzeleinheit
(@)
Rated:
Sometimes it happens you find some new musicians you never heard before that have something more than the rest, I think Compest fits perfectly in that category. Dark (sometimes not so dark but mystical for sure) electronica mainly based on samples, sounds, and sequncer which Martin Steinbach probably manages to use with a good mastery. The beat of the tracks is pretty squared, probably there's some post-industrial influence, martial beats even if it's not an apocalictic release, it's strange since here and there this german guy gets a bit mistycal...dark and mystical, and probably he prefers to keep the rhythm under a constant control. There's some personal interpretation of dark electronica, he fuse together some odd drones with some sad but relaxing melody. The quality of the sounds he uses is impressively good in comparison to many minimal artists but again what makes the difference is the cocktail he poured out of his shaker. His tracks create an evocative atmosphere that keeps marching maintaing a mid-slow tempo. I've had also the impression there's some middleage atmosphere sometimes, like some of the manimals he used for the layout, but probably that's just an impression.
Electronic music with an aftertaste of minimal techno. Soiled has been defined underground techno punk, some driving rhythms building a bridge under grey meloides, this ep could be a soft version (but not that softer) of the releases put out by Mick Harris' Possible label (for those of you who have a good memory). Industrial techno?..not really, but the clouded sensation is pretty similar. Teessides Marcus a.k.a. Soiled has a minimal lo-fi approach to his tunes but it doesn't mean this record is poor under the production profile, it just mean this guy probably loves the naivity of early techno. Many of the sound used probably are analog or at least he probably used some virtual synth cause that's the impression you get. I think "Happyland" is an ironic title, there's no doubt the most of the tracks are far from being happy and the front cover adds an odd atmosphere, but the music is not even claustrofobic techno or post-industrial dance. Clean production and at times some melodies are really well done. Something reminded me of the early M.A.R.R.S. or S-Express but this not really acid house.
If you read this strange band name backwards, you get it that this is a side-project by Jan of X-FUSION, a good known German Electro/Industrial project. This NOISUF-X project was created to share the more Powernoise-influenced side of the main project. And so you get here 15 noisy tracks with distorted beats, never-ending monotony and some harsh structures. The main difference to other bands out of the Powernoise genre could be the fact that all this stuff is produced by somebody who has found his home in the Electro/Industrial genre. It could surely be that real Powernoise supporters would rate this release as too danceable Electro-minded. Indeed, Jan can not forget his influences here, so this release should also be able to please the fans of harder EBM/Electro/Industrial music. The whole stuff is of course reduced to a minimal composition effort, the destroying beats rule this scenario. Adding to this some more or less well chosen voice samples ("Die Tam-Tams klopfen nicht mehr", here available in three different versions) with the outstanding work "Happy Birthday", a track with funny voice samples which can also be discovered on the Alfa Matrix quadruple compilation "Endzeit Bunkertracks Act 1". I have found also some outstanding pieces which provide several effected rhythm patterns to avoid too much monotony, for example "Apocalypse", "Das Ende der Welt" or "Axion". This release walks on the thin line between harsh EBM and Powernoise, so if you like this sound you should give this a try.