image not
available
anymore
Artist:
VV.AA.
Title:
A Tribute To Dead Or Alive
Format:
CD
Label:
Section 44
(@)
Rated:
If I think about the Dead Or Alive, a couple of things immediately came to mind: their distinctive icon, Pete Burns and their hit album "Youthquake". Similar to the Fixx tribute project, Empire State Human produced, always for Section 44, the Dead Or Alive tribute. Even if the band is still active, they produced only five album and they knew the international success mainly for the "You spin me round (like a record)" single and for the "Youthquake" album. In my opinion the main difficulty of covering D.O.A. songs is the fact that every listener would for sure paragon the vocals of the various bands with the peculiar one of Pete Burns. Another thing to count is that D.O.A. were already an electronic combo, so the arrangements must be well personalised to pass the audience's judgement. Well, after listening to the compilation a couple of times, I can tell that all the band passed the exam and some with something more than a good impression! I was really impressed by the version of Astromill (their "Isn't it a pity" is a catchy pop/new wave version and it sounds really fresh), Giallo, The Dignity of Labour, Electroluvs, Baxendale (their "Come home with me baby" is a killer. It seems a remixed version of their own track...), Ganymede (their "Lover come back to me" seems more a Kraftwerk/Telex cover), Empire State Human, Spray (which had the difficult mission of covering "You spin me round -like a record" and it sounds pretty similar to the original version, being also more pumped and fast) and Royal Visionaries which make "Stop kicking my heart around" play like an early Human League song. The tracklist has been selected picking up tracks coming mainly from the second half of the 80's band period (from the albums "Youthquake", "Mad bad and dangerous to know" and "Nude"). Another album you shouldn't miss! P.s. Visit www.doatribute.com for more infos and audio clips.
image not
available
anymore
Hip Hop, acid house, techno, gabba, hardcore and various improvised craziness. This are the first terms that popped out in my mind when I listened to Hellfish's ONE MAN SONIC ATTACK FORCE. The album basically is a compilation of recent 12"s and remixes and gives an idea of Hellfish's way of dealing with rhythms. Having no problems into blending reggae moments with gabber and soul music, Julian Cobb (which is also the owner of Deathchant records) sometimes surprise the audience: like on "Iron hand - Steelfinger remix" where he taskes the original Speed Freak theme and mix the 70's soul beginning with sprays of rage or like on "Rampage@218" where he creates an intriguing ambient track which little by little turns into an experimental track based on rhythms and noise. Remixes seem to me to be more experimental, because the rhythmical section and the changes of sounds are more radical respect the original tracks. On his tracks Hellfish tend to develop an idea (even if you've got to think that each track is based on different influences and sounds) while on remixes he use all his creativity tending to give an anarchic printing to the track structure.
image not
available
anymore
Artist:
JIM FOX
Title:
Descansos, past
Format:
CD EP
Label:
Cold Blue
Rated:
Written in memory of composer and friend John Kuhlman, "Descansos, past" sounds like the sweetest dirge ever, where the pain for loss seems to be diluted in serene recollections. Written by Fox in May 2004 and performed by Barry Newton (double bass) and a cello quartet formed by Erika Duke-Kirkpatrick, Jessica Catron, Aniela Perry and Rachel Arnold, the 15-minute composition developes around the dialogue of solemn, repetitive bass picking, and the driving power of the strings, literally lifting the piece to the sky. As with the previous ep, "The city the wind swept away", Fox has written some painfully emotional music, and I envy the sage outlook on living its suggests.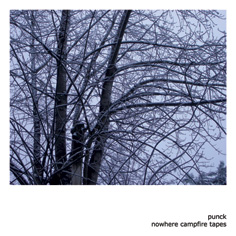 Artist:
PUNCK
Title:
Nowhere campfire tapes
Format:
CD
Label:
Ctrl+Alt+Canc/AFE Records
Rated:
Sound-wise, Adriano Zanni/Punck has departed quite a bit from his initial cdr releases, which were mostly based on sinewaves and digital electronics, but even that is true only to a certain extent. His first printed cd (initially to be released by the defunct S'Agita recordings, and now co-produced with AFE) follows, in a more mature way, the style of the 3" ep "A movie without images", mixing environmental recordings, piercing or droning electronics and, here and there, vocal samples. For his non-bucolic, non-documentary and brutally existentialist approach to field recordings-based music, Punck is very close to his fellows Logoplasm, so there is no surprise in listening to Paolo Ippoliti's frantic cut-up in "Tsunami notes". Zanni shows how the ever-present recordings of dripping or flowing water, the scraping of contact mics, and cold, primitive electronics, can convey the feeling of a diary written during a turbulent period, rather than dissolve in academic vagueness.