image not
available
anymore
Artist:
THIRD ORGAN/GOVERNMENT ALPHA
Title:
Counterattack of Shine-Shine-Dan/Dr. Freudstein
Format:
7"
Label:
Dada Drumming
Rated:
I've probably lost touch with the extreme noise scene over the last few years, but I think that the flood of records by Japanese noisemakers is not as intense as before. Well, this is surely a much anticipated release for harsh noise freaks, as Third Organ and Government Alpha are without doubt two of the best projects in the field. The 7" comes on marbled pink vinyl, but most of all, there's a bonus printed cd of live material (recorded in October 2003), so it's quite a massive dose of noise for your ears. As for me, the vinyl record wins the comparison: mean, brutal noise mess as expected by them. No frills, just a minor dose of theremin and bowed strings (!) on G.A.'s side, and that's it. Nothing new under the sun, but it literally pulverizes all the mediocre, heartless digi-noise by avantgarde wankers I've listened to lately. This hurts for real. As with grindcore, the limited length of a 7" keeps it short and violent. The bonus live stuff is mastered at a ridiculously high volume, but as expected from lengthy pieces, it also has weaker moments. Anyway, this is Japanoise to the bone... If you browse Lasse Marhaug's exquisite site and go to the photo section, there are a couple of great shots of Yasutoshi Yoshida (G. A.) in action - in one he's standing on a table, tweaking on a series of pedals, in the other I think he's showing a theremin which looks like a space weapon. Rock'n'roll intensity, man! Here, his side is titled after Lucio Fulci's masterpiece "House by the Cemetery", and dedicated to the master of Italian gore, so he immediately was in my good books. Instead, Third Organ's cover looks like a demented collage of various b-movies (but is that a picture from "The Brood"?). So the record is a winner in the visual department as well.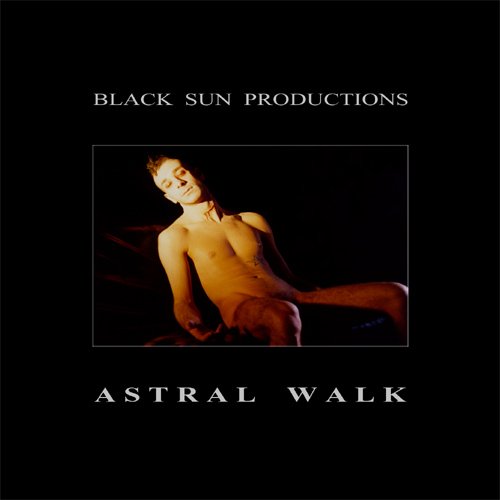 The Plastic Spider Thing duo has been active over the last few years with strong ritual/sexual performances, often in relationship with Coil, who also endorsed their debut cd. "Astral Walk", released by the new-born Italian label Final Muzik, was actually conceived as a soundtrack for "Plastic Spider Thing Part XXII". This could explain the fact that the music is at times very static and repetitive, and one feels the lack of visuals; but as a whole, the 9 pieces, titled as orchestral movements, are intense enough to keep your attention focused. The cd begins with a rhythmic loop, first as light as dripping water ("Entrata Lentissima"), then gradually getting heavier like military drumming ("Marziale") - along the way, electronic patterns are added, reaching an ecstatic cosmic ambient symphony. From the fifth movement, the music changes quite drastically to dark, compressed techno electronica, with some natural references to post-"LSD" Coil. On these minimal beats is whispered a tribute to Soft Cell ("Macabre (Meet Murder My Angel"), and the dedication to Derek Jarman sort of closes the circle. Surely a complex and, at times, demanding release, with plenty of good sounds, but also some less focused and engaging moments.
image not
available
anymore
Artist:
FREIBAND
Title:
Drone Works # 5
Format:
CD EP
Label:
Twenty Hertz
(@)
Rated:
Somehow, I'd have expected that Frans de Waard (Kapotte Muziek, Beequeen, Goem, "Vital Weekly" 'zine etc. etc.) would use the Shifts alias when taking part to the Drone Works series. Instead he chose Freiband, a monicker under which he has released quite different experiments over the last few years, including two cds, several limited editions and a tons remixes. This 20-minute track is definitely a drone thing, but a very nasty one. It's basically a static synth pattern, with deep basses and tinkling, glassy high-ends giving it a crisp edge. Very minimal and tense: all changes seem to involve equalization, panning and volume, and if you use headphones it's like having a clockwork machinery about to explode in your head. On a side note, it reminded me a lot of Illusion of Safety's track from the split with Randy Greif. I'm not a fan of synth-based drones, but this is great and definitely goes for the throat.
image not
available
anymore
Artist:
MONOS
Title:
Landscapes
Format:
CD
Label:
ICR/Twenty Hertz
Rated:
Two lengthy pieces for this brand new release in Monos' impressive discography. This time, veterans Darren Tate and Colin Potter are joined by Paul Bradley, so the ICR/Twenty Hertz partnership comes full circle. "Entering" begins with serene, melancholic guitar sounds (incidentally reminding me of Kranky works like Stars of the Lid or Growing), before gradually turning to Monos' trademark drones, powerful and menacing. The following "Surface form" further increases the tension, with its maelstrom of metallic waves and layers of insect-like turbulences. Everything billows until it reaches a climax of ecstatic intensity, like a Buddhist ritual chant. A very emotional and evocative release, "Landscapes" is also an impressive show of talent in designing and controlling these huge, yet ethereal sound textures.
image not
available
anymore
Artist:
ALEXANDER RISHAUG
Title:
Possible Landscape
Format:
CD
Label:
Asphodel
Rated:
Seven long tracks of glitchy minimalism by this Norwegian sound artist, here at his second full-length, after "Panorama" (Smalltown Supersound 2002). The work begins with a blissful and vaguely Steve Reich-sounding drone, then explores the various nuances of the style: clicks and skips, loops, more "ambient" parts... Very Oval-esque, no way to avoid the comparison, so if you're a die-hard fan of the genre you may find this very enjoyable or very predictable, or even both. Rishaug is not exploring any new ground, but after all, why should he? His intimistic electronica is probably closer in spirit to folk ballads than to avantgarde research - and in that, this is a warm and satisfying album.