image not
available
anymore
I think that this 14 TRACKS / PIECES by Ed Lawes is one of most particular CDs released by Planet Mu. With the lastest label's releases I was used to rhythm based music and this CD sounds really different. Anyway. Ed Lawes process of creating music seems to be as much important as the final result as for each track you can find a note where he describes the process. The tracks sound like contemporary music made now with electronic processed sounds and then with acoustic instruments only, like violin, double bass and tenor saxophone (like on "An ordered set"). The final result is a mixture of experimentations and studies which gathers jazzy improvisations, experimental music, concrete music and improvised stuff. Sometimes it sounds too arty but the fact that for each track you've got notes to follow it could change your experience about it. Ed states that he would like to write a whole website about his tracks: in this way it would be like a book of experiences that you could couple with sounds. A CD to experience...
Progression is what I describe the band and their debut release "The Beginning". Their music is so mature with a profound 100% pure sensational goth rock. Guitar driven goth bands from the 80's like The Mission, Fields Of Nephilim, and The Sisters of Mercy, influence innovating Seattle based underground band. They combine slick melodic vibe by fusing past sounds of the British punk with their modern rock influences and ideas. A cultivating band who is able to break through the cutting edge of rock. The Sins is a diamond in the rough by having their claws scratching the surface and painting a visual picture to get to the point by expressing anger and exceed to take you on a mystery ride like The Doors. Thought provoking lyrics that will draw you near and the sound of a bowed violin delivers a sweet melody that blends with the heavy guitars. All 11 tracks provide a solitude thinking feel and will redeem you. The Sins are truly the real missing dark rock in the 21st Century.
Artist:
LITTLE SAP DUNGEON
(@)
Title:
Silent Entities
Format:
CD
Label:
Dungeon-Recordings/Backscatter
Distributor:
DSBP
Rated:
Hailing from the breeding dark Electro/Industrial scene of Salt Lake City we have here another fine project next to the already known SYMBIONT, LEXINCRIPT or BOUNDLESS. After having released 3 demo CD's mainly distributed in their home area they now have decided to bring out their official first full-length. And no doubt - with this "Silent Entities" they can surely get the same attention and success like their area comrades mentioned before - if not more! The music presented by this duo is overall dark Electro/Industrial filled with extremly well-placed but scary voice samples taken from several horror/splatter movies, mad tremendous vocals, deep dark atmospheric layers and rough distorted drum patterns close to what I would call Powernoise. This is hard stuff, but not primary designed to fill the dancefloors. Tracks like "The Children Sleep", "In the Dark (You're mine)" and more over "Never Ever Land" will awake your deepest nightmares. If you have already called a well known act like VAC to be a "Splatter Electro" band then you haven't heard this. This is much more deeper and heavier into this theme. I would call this full-length a little masterpiece in this style. Highly recommend!

image not
available
anymore
Artist:
TEMPLE OF TWILIGHT
(@)
Title:
Moon Attraction
Format:
CD EP
Label:
Equinoxe Records
(@)
Distributor:
Masterpiece Distribution
Rated:
BUY from
HERE
Debut Ep for this German band, free from the excessive bonds of the "Gothic" scene. Music can surely be described as Dark Rock, but the various influences the band shows and the will to avoid copying the too abused Eldritch's deep voice, give a personality to these new comer and puts them outside the flock. Songs are fresh, above all good rock music, with good choruses and harmony among musicians.After the short intro "The Temple of Twilight", the first song "Misery" starts as an intense ballad, a mid tempo with a strong emotional charge, exploding as a desperate cry. The following "Anywhere" enforces this rock attitude: I imagine an 80-'90 American hard-rock band playing in a empty room, but with a darker feeling. The result, I must admit, is touching. "Firewalking" starts with a piano, again a midtempo, with a violin giving an atmosphere à la apocalyptic folk (SOL INVICTUS, but it's the only similitude), then a break, something like a bell freezes the air, and a dramatic '80 New Wave guitar riff explodes, introducing a pressing and rhythmic chorus, with a good keyboard work. "Into the Light", in my opinion, is the best song, since the first notes it sweep you away with a heavy wall of sound and the chorus is damn good. Rhythm section and guitar give their best performance. "Poison", good song with some '70 LED ZEPPELIN influences in the guitar "obbligato", in the choruses shows Darc's voice at his dirtiest point, a gothic Rod Stewart or QUIREBOYS' Spike.Surely many things can be done better, both in arrangements and production, some passages give the impression of a bit "out of phase" at the beginning of "Firewalking", for example. But this is only the first TOT's work, an Ep and I expect good things from this ensemble. Well Done!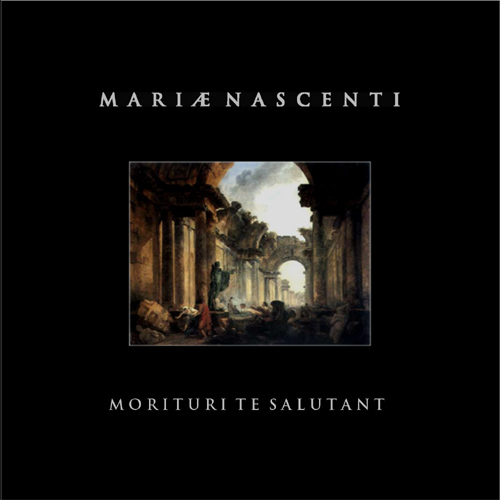 Artist:
MARIAE NASCENTI
Title:
Morituri te salutant
Format:
CD
Label:
Final Muzik
Distributor:
Nail Records
Rated:
Mariae Nascenti is a solo project of Angelo Visone's, here debuting on Final Muzik after a series of self-released cdrs and live performances. I don't know much about him, except that he used to collaborate with Speed Demon, probably the only underground queer(core) fanzine in Italy. Here he's helped by Massimo and Pierce (Black Sun Productions), Marco Schiavo (Larsen), Fabrizio Modonese Palumbo (Larsen and (r)), XS (Sadomarta) and Paul Beauchamp (Sikhara), all offering spoken vocals. Mariae Nascenti's sound is a mix of harsh old school industrial, death ambient drones and pounding rhythms ("A dead deer"), all very minimal and to the point; the vocals add a disturbing and dreaming atmosphere to the whole, and though at times I feel they are a bit over the top, they surely are one of the most interesting characteristics of the cd. While sound-wise this falls somewhere between '80's ritual industrial and early Cold Meat Industry acts, the carnal, decadent feel unavoidably brings to mind early Coil; and probably my favourite track is "I miei amori (and ode to P. P. P.)", where Pasolini's lyrics are half-whispered over droning sea-waves sounds.