Artist:
Ricardo Tobar
Title:
Luturgia
Format:
12" vinyl + Download
Label:
ESP Institute
"Liturgia" is an EP of four eight-minute-long, gentle and atmospheric instrumental house music taking some organic-sounding rhythms and blending with quite melancholy slow chord pads and smatterings of electronica bleeps and clicks. Both sides of the 12" pair a clubbier tune with something a little more out-there.

Opener "La Dormida" has a faintly South American percussive flavour and feels steady and determined, whereas "The Lake" is distinctly more glum, with an interesting use of sawtooth-edged, semi-patterned, slow-rising high synth line. "Liturgia" is a more regular, bass-driven steady house track, and then "Star Alliance" wigs out somewhat with a really unusual lead line that sounds like a pitched-up didgeridoo, but, erm, better.

It's a really strong and immersive EP- or at 36-minutes perhaps I ought to describe it as a mini-album- with a quality imbued with confidence. Definitely one to check out for fans of thoughtful deep house.
Artist:
Dream Weapon Ritual
Title:
The Uncanny Little Sparrows
Format:
LP
Label:
Boring Machines
Simon Balestrazzi and Monica Serra's music as Dream Weapon Ritual is an unusually textured blend of Middle Eastern-style folksy plaintive drone work with electronic hums and digitally sawtoothed noises. Long vocal notes, reverberant cymbal crashes, processed found sounds and metallic hits and scrapes meld into odd, deeply expressive and somewhat sinister atmospheres.

The first side of the LP is one 18-minute track, "Bird Mother", which is a melancholy and relatively busy affair with a sustained approach whereby the same elements fade and return in a variety of patterns but without any real sense of progression. It's quite guttural and wears its emotions on its sleeve, but it perhaps doesn't have quite enough variety in it to justify filling the whole side of vinyl.

The second side is four shorter tracks with greater breadth. "Mating Call" is bordering on playful, a short arrangement of vocal bird noise impressions that morph into an odd robotic tango rhythm. "Two Little Sparrows Sitting On A Bough And Waiting For Enlightenment" is a much tenser affair than the title suggests, with twanged melodies and tension notes that sound like a sort of horror / spaghetti western hybrid. "Tittle-Tattle Among Secret Devices" is more percussive and has a greater sense of urgency, underpinned by some almost anachronistic steady hand-drum patterns and a frankly bizarre breathy male vocal that sounds like at times like a cartoon animal impression, before "The One With The Iron Beak" is the most prog rock-like piece of the set, eerie with a slightly more retro and live feel.

It's an unusual release, oozing with character and probably an interesting live proposition, a sort of prog rock drone electronica that certainly stands out in a crowd.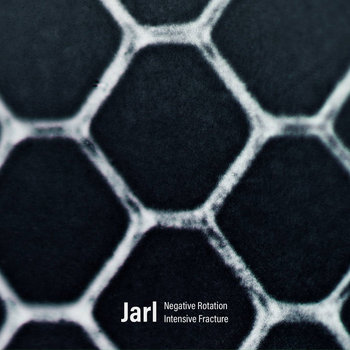 Artist:
Jarl
(@)
Title:
Negative Rotation / Intensive Fracture
Format:
2 x CD (double CD)
Label:
Zoharum
(@)
Distributor:
Alchembria
Rated:
While in this current age of so called "Retromania" by Simon Reynolds, most labels are busy with relentless reissue of known names with a perceived fan base that will follow them, labels as Zoharum have plans of reissue of unknown gems of obscure names. While already known by the release of the remarkable "Tunguska Event" with and Envenomist which was reviewed a couple of years ago, his relatively large discography is dispersed on rare cassette editions. This double cd collect two of this tapes, from mid 2000 with a fistful of bonus tracks. This music is a type of noise that sometimes doesn't follow the canonical thick mass of sound to follow a more meditated approach bordering the territories of industrial.
The first of the two tapes, "Negative Rotation", is a monolithic track in eleven parts starting with sparse and hypnotic noises whose rhythmic structure and evolves with echoes of guitar, feedbacks, phantoms of radio waves, grains of noises, drones, quiet basses, ample noisy resonances, and sparse beats with the result that the listener is not overwhelmed but questioned by the effort of creating a such cohesive structure with so many sonic variations. There are two bonus tracks, "No Response" and "Succubus", which sounds like an outtake of the main release as they are based on the same ideas.
The other tape, "Intensive Fracture", is more oriented towards noise and is based upon a thick background noise and psychedelic evolution of high pitch so, instead of being a monolithic mass of noise, it features even some quiet moments of background noise resulting in an irksome but surprisingly varied opus as it moves to the spacey 2nd part to the overwhelming crescendo of the 4th. While in the same vein the bonus track "Stenbergsmannen", "The Great Moloch" and "EnvÄgskommunikation" are less oriented towards noise and especial in the second track a certain research for sound development is exposed.
This release is a little surprise form a relative obscure name which reveals a personal vision of a genre which is sometimes plagued by the dull repetition of a model. Recommended for all fans of noise and industial music.
Artist:
Gianluca Livi
Title:
Fleeting Steps
Format:
CD
Label:
Eclectic Productions
Rated:
Even if this is formally a solo release of Gianluca Livi which takes a step from the from the hard rock of Anno Mundi, for whom he plays drums, to this mostly prog oriented relase, the front cover credits the other musician of this release in clear jazz style: Stefano Pontani, a jazz / fusion guitarist, Domenico Dente, a bassist, and Massimo Sergi, whose piano and synth are a major part in this album. The overall style of this release is a sort of crossover between krautrock, prog and ambient in a crystal clear '70s style so a more modern use of laptop is used with remarkable parsimony.
The album starts with a track in two parts "Birth Of A Flower (In A Post-Atomic Landscape)" which starts with the guitar of Stefano Pontani showing the influence of certain '70s prog rock and creating a dreamy atmosphere with the almost imperceptible, at first sight, aid of his mates which punctuate rather than accompany. The second part is centered instead on the piano of Stefano Sergi that borders jazz territories which could be misinterpreted as modern classical. The first part of "Fujiko Mine" starts to expose the interaction of a real band as the interaction of synth, percussions and percussion revolves around a basic melody for an hypnotic effect while "Irrational Thoughts" revolves around the sustained noted of the guitar and the melodies of the piano. While, until "Zero Gravity In My Lair", the role of Gianluca Livi was more on the background, with this track his laptop begins to take a structural role on the track so the track stays in an unstable equilibrium between rock and experimental. While the first part of "Lost In Space" is suspended the entrance of the drum introduce a twist towards a free form. The longest track of this release, "Talkin' To An Alien About Eternity", is a sort of pendulum where all instruments has a primary role until it's time to give space to another so it sounds quiet but there's a lot of movement involved and is followed by the shortest track, the second part of "Fujiko Mine", closing this release bordering noisy territories.
It's evident that this is not a release for those who search for the next big thing or the trend, this is music tailored for nostalgic connoisseurs of an age where the first skill of a musician was to be able to play and compose not to be a PR of his art. Like a lost gem from the past.
While having a discography starting in 2006, this is the first release of Sven Laux which I've heard of and he describes himself as one of those artist working around "the evolution of micro composition" which means more of less the canonical form of minimalism. This release is based on structures centered around small melodic cells slowly evolving upon a minimalistic soundscape using organic sounds as a squeaky chair, recurring several times, as if it were recorded live.
The first track, "Are You Still With Me?", creates a quite atmosphere using long string loops and takes his charm from being almost unresolved while "A Glimpse Of Memory" is more layered and closer to certain modern classical without be overtly romantic and "Out Of The Blue" sketches an harmonic development and some proper melodies. The title track is a minimalistic tune based on a single melodic cell slightly variated and "From Sadness To You" centered on a piano line introducing a drone and the strings marks a part closed by "There's Still Hope" where there's more a work on writing than on sound so it sound old and new at the same time. "The Lost Violin" returns to a sound framework based on strings and a certain quietness or stasis and introduces "I Wish I Could Sleep" the closing track of this release which uses found sounds as a rhythmic background to the development of the string musical cell.
This album takes his strong point of his position in the evolution of a genre, so it's not that kind of innovative release which displaces the listener but it's something that cradles him into familiar places. Fans of ambient and modern classical will truly enjoy this release.