"Paraphon" is the third album from Para, a trio consisting of prepared piano, French horn and double bass. It was recorded live at the Kaleidophon festival in 2016, though the sonic quality is easily that of an expertly produced studio album. There's a broadly improvised feel, that I might even label as "traditionally avantgarde" if that's not a contradiction in terms. Each instrument gradually builds or wanes its performance either in parallel with, or counterpoint against, what the other two are doing- leaving some periods of near-silence (and some very lush low subbass tones) and some periods of cacophony and chaos.

Of the seven tracks, over half of them have titles that were totally indecipherable to my media player, so I'll have to refer to some tracks by number rather than name. The opening track "Karpaten" has a short and almost scat-like spoken-word section towards the end (Greek I think but I'm a language novice so I'm not sure) which gives a nice twist in an almost-jazz direction as it develops. The scat style reappears to strong effect in the fifth track, in which the French horn commits to a very passable didgeridoo impression and, with the best will in the world, it starts sounding like the soundtrack to a brilliantly deranged spaghetti Western.

The sense of tension in third track "Aupa" derived from the relentless piano high note hammering gives it a more horror-like flavour that isn't necessarily all that welcome or successful, as for me the arrangements work better when they're more refined, such as in sixth track "Matrjoschka" which develops a very dark, breathy and alien second half, and the much more relaxed final track "Glut".

It's a sterling performance that must surely have been mesmerising to watch live. Over the course of 53 minutes it's got a careful level of dynamism and progression that keeps you attached at all times. While a couple of tracks some to lose themselves somewhat in their own melée and the sinister tones just occasionally come across as insincere, overall it's a bold musical work definitely worthy of attention.
Artist:
Peter Schubert, Andreas Usenbenz
Title:
Plaqué
Format:
CD + Download
Label:
Klanggold
"Plaqué" comprises a single 41-minute piece of sound art intended to commemorate the 200th birthday of a man called Daniel Straub who was influential in railroad construction and who founded a company called WMF, who nowadays produce kitchenware and cutlery. But rather than being a bunch of pots and pans clinked together, this is a thoroughly ambient work with a somewhat holistic approach, where Schubert and Usenbenz have gathered together field recordings from Straub's home town of Geislingen and layered and gently processed them into a gradually shifting rhythmless soundscape.

Opening with a somewhat cliché arrangement of farmland and birdsong noises, the work slowly delves into odder territory, with strangely flanged sounds like running water inside pipes. The extremely subtle and measured way in which the sound morphs into more industrial and unpleasant tones- scraping and bending metals, soft distant impacts and electrical hums- is expert and surprisingly disorientating.

As we enter the second half, sonically it opens up somewhat into a broader and oddly sci-fi space where everything feels very timestretched and slow-motion. This devolves into a wash of crunchy white noise which, in turn, fades to leave just some bottle-like pure tones before we wrap up with the reintroduction of what sounds like genuine light industrial and workshop noises, which ease away so gradually into infinity that you don't even spot that playback has stopped.

The manner in which this work evolves throughout its 41 minute duration has an exemplary execution. Whether it challenges any boundaries or contributes any new ideas to this field of sound design is debatable, as is whether a 200-year-old Daniel Straub would have appreciated the tribute (it would probably just have all sounded like tinnitus to him anyway given his old ears…), but nevertheless it's a quality work.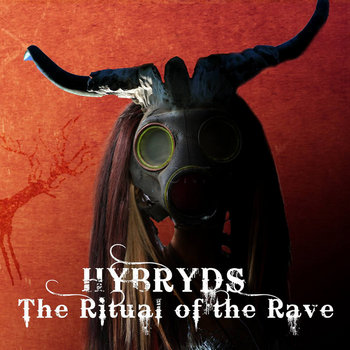 Artist:
Hybryds
Title:
The Ritual of the Rave
Format:
2 x CD (double CD)
Label:
Zoharum
(@)
Distributor:
Alchembria
Rated:
This new reissue of the Hybryds' discography was originally published the same year as "Soundtrack for the Antwerp Zoo Aquarium" but while those album was a demanding gem of experimental music, this one is more oriented towards a dance oriented electronic music whose development is mostly slow or static and where even the hypnotic element is put aside.
The rhythmic framework of "Red Lebanon" immediately exposes the style of the band at the crossroad between tench and ethnic music or between dance and hypnotic aims while "Sjamanistic Dream (ravemix)" is more unbalanced towards the dance floor as it's completely focused on the rhythmic functionality of all the elements. While the initial of "Icarus" with the apparently ritual spoken words hints a change of direction, there's a immediate return to the rhythmic elements but with a subtle research for a sonic nuance mainly for the ambient background. "The Ritual Should Be Kept Alive (Part 3)" revolves around ever evolving rhythmic patterns and "Prometheus' Quest for Fire" uses a piano in the first part to mark a break for this rhythmic exploration only to return to an obsessive rhythmic part seldom doubled to create variation and movements and using the ethnic overtone while "Sjamanistic Dream (computermix)" has a synthetic palette. After three minutes of silence, an hidden track closes this release with an evocative ambient tune.
The bonus cd collects a live recording where the sound construction is in evidence instead of the rhythmic element even if the sound quality is not always excellent mostly in tracks like "Zoo Intro" and "Call of the Tuareg" and other rarities which are on the same framework of the other tracks of this reissue.
Honestly, this is mainly a release for fans and collectors that, even with the undoubtable ability of the performers, sounds more as an adjustment to times than a proper follow up of their masterpieces. However, it's not even aged a little bit.
Artist:
Patrizia Oliva
Title:
Numen - Life Of Elitra Lipozi
Format:
CD
Label:
Setola di Maiale
(@)
Rated:
This is a cd reissue of a work published on cassette from an artist which, even with a considerable discography, has always had a so low profile, or lack of interest from press, that most of the releases listed on her website are not on Discogs. Even if she's mainly a singer, this release is a mostly instrumental work where she seems to fuse sparse ideas into a coherent work in a precarious equilibrium between composition and improvisation. It's been edited for a tape but, instead of being two full tracks, they sounds as a sequence of tracks mainly because there's seldom a second of silence to mark the end of a section.
The first track, "Danse Des Fantomes", starts quietly with the voice singing under a loop in a crescendo which abruptly stops for a quiet section based on found sounds, or so they seems, which seems mainly obtained from a film perhaps for the blurred sound; a vocal loop introduces a part for synth featuring even some sample from an opera and a part for organ introducing the final section where the tones sung creates an atmosphere vaguely reminiscent of minimalism.
The second track, "A Day Long To", is more divided in sections and completely revolving around the impressive vocal qualities of the singer which is able to give a catchy allure to the noisy background and, after an ambient interlude, there's even a spoken word part under a vocal loop. After an almost dark ambient part the voice of Oliver Sacks, to whom this work is dedicated, closes this release.
It's difficult to make a list to all the influence which is compressed in a so multifaceted work which could be a little bit disorienting and lacking, mainly for editing reason, a real musical unity but it reveal a little nuance at every listen. Recommended.
Artist:
Giovanni Lami
(@)
Title:
Hysteresis III
Format:
Tape
Label:
Soft Error
Rated:
While the previous two parts were recorded in Ravenna and Solfatara, "Hysteresis III" was recorded in Valencia and, more or less consciously, this in another step forward an organic sound object from the noisy and abstract introduction to this modus operandi heard in "Hysteresis I", where the manipulation to enhance the typical noises of a reel to reel tape recorder as the Nagra V, used in this project, created a sonic representation of a ghost.
As the first voices of the first side are heard, this third chapter is marked by an approach closer to the canonical field recordings release with the tape manipulation reduced to the minimum; the great cure for spatialization creates a realistic environment and the tape noises are mainly used to separate the section of the track. The B side is instead more on the path of the previous chapter as more time is devoted to the tape manipulation at the beginning and at the end of the track while the central part is based on the playback of the voices recorded and this is another cue of the character of this release, while the first two parts were recorded in a probable uninhabited environment, in this tape the human presence is underlined.
Instead of repeating himself, Giovanni Lami decided to take his project in a slightly different direction so it could probably be enjoyable by a wider audience as it's less noisy and more evocative. I'm curious to hear the last two chapters.