Artist:
Chiasm
(@)
Title:
Relapse
Format:
CD
Label:
COP International
(@)
Rated:
Magnificent. Chiasm (aka Emileigh Rohn) has really done it here with her new cd masterpiece, "Relapse". This is a follow up from her previous critical acclaimed release "Disorder", a second full length album on California's COP International Records. Its signature sound is electronic/industrial with passionate ethereal vocals, excellent and moving lyricism. Each track on disc is worth listening to without skipping. Songs about love, pain, escaping the past, and looking for one's self to have a perfect life. Emileigh delivers another power punch album that's very emotional, simply wonderful, abroad, and catchy melodies, driving synths and samples. Two mixes as bonus tracks "Rewind (Floating Tears Mix by Zentriert ins Antlitz)" and "Surrender (Dark Techno Mix by TL5)" are included. Highlight tracks include "Embryonic", "Delay", "Still" and "Phobic". Pick up the album.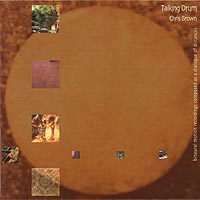 Artist:
CHRIS BROWN
(@)
Title:
Talking drum
Format:
CD
Label:
Pogus
(@)
Rated:
If some days ago you've read the review of "Rogue wave" just forget it, this release is completely different. If you go to the Pogus' home page you'll read that the label's releases are: "uncompromising, non-commercial, and definitely not for everyone (unfortunately), these releases are geared towards discerning listeners" and an original composer/musician like Chris Brown couldn't miss from a catalogue of label like that. This record could be a 72 minute long trip around the world, "field recordings" through a binaural microphone from Philippines, Turkey, Europe, Cuba and America, technically I beg you to read what Pogus and Chris Brown wrote about the making of this work/performance (http://www.pogus.com/21034.html) because it's really complicated to be described in the short space of a review. Anyhow I'll try to cut it short by saying this composer not only recorded the music and the sound of different "environments" but he managed to "play" it via a computer ensemble, a sort of interactive installation where computers play "polyrhythmic music" (but please go and read what he says about the work and you'll understand it much better). The most of the songs at the beginning of this long release remind me (and obviously not by chance) Afro rhythms and Balinese/Gamelan music, somebody could say it's a reinterpretation of "world music", but if this term brings to your mind Peter Gabriel's "Real World": you're totally out of place. Too bad this cd can't be listened with the support of a "documentary", I think it would be a great experience. Music and environment filtered through computers programmed "ad hoc" to interact with the original players during the installation, the release is the result of the different performances plus the original "field recordings", it all is a continuous conversation between different places, environments and people. I've had a split sensation while listening: it somehow sounds traditional, but the work is for sure fresh and innovative and the fact itself it's quite interesting. The only possible remark is the length of the release (it takes a lot of attention) but if you like great ideas you'll love the concept behind this cd.



image not
available
anymore
Artist:
BARBERÁN/GARCÍA/COSTA MONTEIRO/FAGES
Title:
Octante
Format:
CD
Label:
L'Innomable
Rated:
Coming in a cardboard cover exquisitely designed by Jani Peternelj, "Octante" documents an improvised session recorded in Barcelona in July 2003, with Ruth Barberán at trumpet, Margardida García at electric double bass, Ferran Fages at feedback mixing board and pick ups, and Afredo Costa Monteiro at accordion. Those who know other projects involving some of the musicians, like Cremaster (Fages and Costa Monteiro) or I Treni Inerti (featuring Barberán and Costa Monteiro), or their solo or ensemble recordings on Creative Resources and Rossbin, can probably imagine what this sounds like. As for the others, to sum it up, this is pure scorched earth policy improvisation: all instruments are scraped and misused as side arms, with Fages' input+output electricity washing everything away in white noise. There are times where the physical stress of the improvisers (especially Barberán's compressed breathing) is almost unbearable. A harsh and vexatious performance, giving the perverse satisfaction of seeing everything collapse and crush.
image not
available
anymore
Artist:
JGRZINICH
Title:
Equal and Distant Lines
Format:
CD
Label:
Cloudmirror
Rated:
As in "Intimations", which was one of my favourite 2004 discs, Jgrzinich takes a limited set of environmental, site-specific recordings (here, stones and water, I suppose) and merges it with the prevailing element in his music, i.e. deep organ (or definitely organ-sounding) drones. Except for the metallic rumblings of the fifth track, everything sounds in constant suspension, as if bathed in the pure light of a mountain top. While working with a similar raw material (field recordings and drones), Jgrzinich is probably the most "ambient sounding" artist in the remarkable Cloudmirror catalogue. His form of ecstatic drone music is heartily recommended to everyone into the likes of Ora, Monos or Mirror, and this album proves him one of the best in the genre.
image not
available
anymore
Artist:
SPIRACLE
Title:
Iris
Format:
MCD (Mini CD)
Label:
Cloudmirror
Rated:
I don't know much about this Switzerland-based project, except that he's involved in Cloudmirror and is going to release a cdr on Mystery Sea anytime soon - but this mcd is surely enough to make me drool for more! Apparently inspired by an Eastern legend, this quite lengthy single track is a hypnotic power drone probably originated by manipulated string bowing. The repetitive playing tecnique is nerve-breaking but also exhilarating, creating a fine example of hardcore minimalism lying somewhere between La Monte Young and a less electronic Colin Potter.