Kratos Himself's second album "Stay True" is a collection of 13 warm, jazzy organic electronica pieces. They're mostly under the three minute mark and some are more like sketches than fully-fleshed out standalone works, but there's a consistency throughout that makes it a smooth 46-minute listen.

Much of it has a leisurely, lounge-like flavour, with the Rhodes piano and vibes feeling cosy, relaxed and loosely improvised in parts. The rhythm programming is generally a little sharper but not so much that it plays against the rest of the mood. The mood of it, rather than the sound, reminds me strongly in parts of Cinematic Orchestra pieces, but in a smaller ensemble (Kratos Himself, Jethro Hopmans, is a one-man band besides the guest appearances on two tracks).

Highlights include the partner pieces "For Me" and "For You", and the slight ethnic flavours of the title track "Stay True". Copasetic's guest vocal on "Float" lasts barely 90 seconds and is something of a teaser of how brilliant it could sound if Kratos Himself explored the possibilities of vocals more fully. "Your Body" is something inbetween romantic and sleazy, in a good way. Bev Lee Harding brings soft vocal layers to "Bits & Pieces", as well as very faint, not-entirely-sure-if-it's-there hints of the kitchen sink instrumentation that she employs in her solo work.

If this album hadn't already got a solid home on the Youngbloods label, it could easily have found a home on the Leaf label or even the jazzier side of Warp. It's out December 9th as a pay-what-you-want download as well as on vinyl, and this is absolutely a release worth clicking more than a '0' button for.
Artist:
Guillotine Dream
(@)
Title:
Lemuria
Format:
CD EP
Label:
self-released
Rated:
The sound of an English Gothic rock band is unmistakable which shouldn't be surprising considering the Brits led the way in the genre. They don't sound like German Goth, American Goth, French Goth, or any other Goth. They don't even all sound alike. Bauhaus sound nothing like the Cure, Sisters of Mercy nothing like Sex Gang Children, and Killing Joke nothing like Killing Miranda. Yet there is a certain commonality that distinguishes them from the rest. Okay, so you must have guessed by now that Guillotine Dream is an English Gothic rock band, from the nethermost regions of Somerset they say. This band goes back to the mid-80's, but their output was slim (a cassette demo was about it) due to personal, and other circumstances. Now though, they have sprung this six-track EP and it certainly hearkens back to the glory days of Goth. Members are Arc - guitars, vocals; Lake - bass; Mapk - drums, vocals. Their identities are "a loosely guarded secret" but they all admit to having played in the Gothic Death Doom Metal band My Silent Wake. I'd have to say Arc is obviously Ian Arkley, while the others, I'm not totally sure of. I'm guessing that the raison d'être for Guillotine Dream is that Arkley wanted to do something more straight ahead gothic rock. To a degree what they sound like is Fields of the Nephilim with the tongue-in-cheekiness of Spinal Tap. Arc apparently has the Carl McCoy raspy vocal style down pat. But there are other influences here as well - The Cure, Sisters, Mission, Joy Division and more. And yes, it's derivative, a throwback if you will, but while more, newer so-called gothic rock bands are indulging in elaborate production and striving for a hit single, these guys remain true to their roots and put forth the kind of dark music you loved in the 80's and 90's. Nothing fancy, just solid, intense goth-rock. I'm sure if this album was released in 1986 this band would have made its mark at the time. While I can't really pick a "best track" on 'Lemuria' I'm somewhat partial to the Nick Cave-ish "Man on Fyre," although the songwriting is quite good across the board. If basic goth-rock with attitude and atmosphere is what's been lacking in your life, let Guillotine Dream fill the void.
Artist:
My Silent Wake
(@)
Title:
Eye of the Needle
Format:
CD
Label:
Stone Groove Records
(@)
Rated:
I don't believe My Silent Wake has ever gotten more than a passing mention (usually in connection with other artists) here at Chain D.L.K., that is until now. My Silent Wake, from the south west of England, is a Gothic Death Doom Metal band who have put out 11 albums since 2005, and most of them (I gather) are Gothic Death Doom Metal, but not this one. 'Eye of the Needle' is indeed something else. The current (regular) line-up of MSW is: Ian Arkley - vocals, percussion guitar; Addam Westlake - bass; Gareth Arlett - drums; Mike Hitchen - rhythm guitar. The line-up for 'Eye of the needle' though is Ian Arkley - vocals, percussion guitar; Addam Westlake - bass; Kate Hamilton - keys, vocals. Also, Martin Bowes of Attrition guests on synth (boy, does that guy get around!) and also mastered the recording. Mark Henry guests on percussion. 'Eye of the Needle' is very different than just about anything I've heard from MSW previously. This is NOT METAL! let me say that again, no metal, no metal, no metal. This is more along the lines of dark ambient, or more precisely, atmospheric psychedelic dark ambient. It's the kind of recording that might have popped up on the Cold Meat Industries, or other similar small label years ago. What's really amazing about it is not chock full of of electronics and sampling. Obviously there there was some employed, but it's understated here. The music is somewhat minimal but still very full-sounding. Right from the beginning you will know you're listening to something completely different. The musical structure is rather loose but often held together by Westlake's bass riffs. Some passages are very, very dark, while others merely exhibit a morbid melancholia. Primarily instrumental, there are some vocals by Ian and Kate that fall more into the recitation than singing category. The slow hypnotic effect through the repetition of some music lines gives a gloomy psychedelic aura; stoner music for the woebegone. Although there are lighter passages, the pervasive atmosphere is dense and heavy, like a dark grey pregnant sky that waits in ominous oppression before giving birth to a storm. Only on the final track, "Three Furies" is there any hint of metal with the muted slabs of distortion emanating from Arkley's guitar pushed to the background, more for ambiance than any power ride. 'Eye of the Needle' is a wonderfully well-conceived and well-executed work that will appeal to doom and dark ambient enthusiasts alike. It was originally released in 2014 as a digital download only to deservedly great acclaim, but only more recently as a CD release. IF MSW chooses to go down this path in the future again, count me in.
Artist:
Mental Overdrive
(@)
Title:
Plugged
Format:
3 x 12" vinyl
Label:
Rett I Fletta
Rated:
I'm happy to notice and notify that many techno producers are removing dust and sometimes reinvent those phunk and IDM sonorities, which got pushed since the first half of the nineties by artists like that fucking genius of Richard James or top labels like Apollo. One of the relatively less known names of the rising stars, that came out of darker lights of that wave, mostly driven by hours and hours of work on the glorious drum machines like Roland TR-808 or 909, was the Norwegian techno-maker Per Martinsen, who was just 23 years old when he signed as his brainchild Mental Overdrive for the legendary Belgian label R&S, after he met its smart boss Renaat Vandepapeliere at Boccaccio club in Gant, Per's temporary hometown, in 1989. After a series of EPs on R&S, Per came back Norway, where he founded Love OD Communications and released "Plugged," the album that 21 years after its launch got reprinted on triple vinyl by Rett I Fletta, sister label of Norwegian disco-house label Full Pupp. This reissue, including original tracks and some alternative takes, will make you clear why some connoisseurs of electronic music consider him the father (and godfather!) of the whole Norwegian cosmic disco, house and techno scene and why many notorious Norwegian producers such as Royksopp, Bjorn Torske, Lindstrom and even Thomas Moen Hermansen aka Prins Thomas, one of the founders of Full Pupp, could be considered his beloved sonic progeny. Per should be around 50 nowadays, but the music he made is still fresh... Years advance for artists as well, but some of their offspring will never die.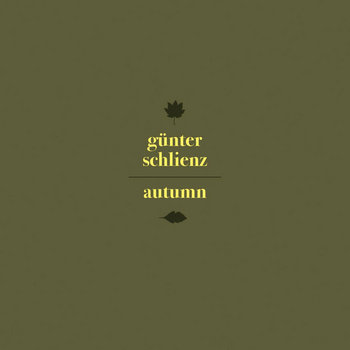 Artist:
Günter Schlienz
(@)
Title:
Autumn
Format:
CD
Label:
Zoharum
(@)
Distributor:
Alchembria
Rated:
The sense of this release is expressed by the quote David Pearce in the cover of this release: i see the leaves fall, in times of change; i see the trees fall, but i remain in the light of time, with the dawn. Günter Schlienz, who plays synthesizers and uses tape machines to construct his music, is that kind of artist whose music is rooted in the tradition and could be described as modern classical if he had used acoustic instruments as his music is evidently written playing an instrument with a melody in mind.
The sparse notes of "Oktober" open this release introducing a track which slowly unfolds exposing his layers one by one until they interact creating something at the crossroad between a drone and a soundscape as it has the apparent stasis of the first and the richness of details of the second until the sound of the wind introduces the second movement of this track based on sustained notes and cymbals. The sustained notes are the fundamental element also of "September" whose melody develops really slowly generating a sense of meditation and decadence until it fades under small noises at the edge of audibility that closes the track. The resonances of "November" are used to break the silence at the core of the first part of the track closed by the emergence of the notes of the second part that, like a sort of theremin, exposes a melody over a quiet drone in the background slowly ending in silence.
This is a release that could be enjoyed in a quiet mood and it's almost elusive in his evanescence. As an example of descriptive music, it captures the essence of fall and decay of the season which is dedicated. A really nice release able to change the mood of the listener.