Artist:
Liam J Hennessy
Title:
Held
Format:
12" vinyl + Download
Label:
Sound In Silence
Liam J Hennessy's debut, a mini-album based on the concept of writing a song every month throughout 2016. "Held" represents the first six results, January through to June, a 21-minute six-track collection of gently atmospheric soundtrack-style instrumental pieces featuring gentle guitar melodies, soft synthetic drones and chords, and lightweight beats structured out of field recordings.

"Beacons" is a highlight, a slowly evolving and measured layering of elements with piano and a last-minute slightly militaristic snare drum that sonically veers a little close to Coldplay without getting too close. Final track "Viewpoint" is also strong, infusing the guitar patterns with a strong and not too cliché emotiveness.

There's a certain sketch-like feeling to this release. Several of the tracks feel shorter than their atmosphere would have warranted. Opener "Frozen Lights" feels like an unfinished idea, especially when it stops ("Viewpoint" also has an over-abrupt tail). "Over The Bay" has the flavour of an instrumental that's waiting for a vocal to be added.

Gentle, relaxing, inoffensive, cinematic and smooth, "Held" is a polished bit of downtempo melancholy which perhaps falls a little short of being a fully coherent work but is certainly a deeply pleasant aural wash.
Atonalist is a collaboration between Renaud-Gabriel Pion and Arnaud Fournier, with Gavin Friday providing vocals on half the tracks. Between them their CV's have an extremely extensive list of name-drops, everybody from Antony & The Johnsons to Björk to U2. One man whose name isn't on that list is David Bowie- yet what they've managed to create here sounds very much like a missing late 1990's David Bowie album, or at least a tribute to one. It's dark electronica with steady rhythms, overlaid with jazz noodling and occasional diversions into hardier and glitcher electronic noise. This is fashionable pop music gone seriously dark.

Gavin Friday's deep, breathy vocal has more than a few shades of Bowie at his most low-key, particularly in the extremely languid "la la la la la" refrain of opening track "Different To The Others". The gravelliness also has hints of Dieter Meier at times. Shunning verse-chorus structures for the most part in favour of a more off-the-cuff storytelling approach gives it plenty of character.

"The Philosopher's Argument" is a highlight, a mellow and atmospheric call-and-response-style instrumental between wind instruments with the most subtle use of electronic clicks as a gentle bed. "Final Prayer" pushes the edgy guitar crunching and white noise before starkly contrasting it with a sombre clarinet, to great effect- an antagonism that's explored again back-to-front in "Behaviourist". In other parts, such as "Massacre Of The Pretenders", the juxtaposition is a little less successful, coming across as uncomfortably awkward.

It's a deep, genre-defying collection of pieces with an absolutely lush production quality that manages to bring sharp electronic production into a more organic, Brian Eno-ish soundscape with great success. It perhaps runs out of tricks a little before the end of its fifty minute run but nevertheless it still shines brightly.
"Wagenpark" is an EP of 5 radio-length slices of acid bigbeat and dark sample-stacked squelchy hip-hop. It evokes comparisons with Luke Vibert (particularly his Wagon Christ alias) and DJ Shadow, but it's a little darker and more distorted. Sampled live drum loops roll under deep and funky basslines, while vocal snippets and jazzier instrumental elements pop in and out on top. Occasional scratches and fills keep the energy up.

The tracks are arranged alphabetically, but the sequencing kind of works. After the rather poppy light-stepping "Denkteek" comes the slightly more sparse, 70's-tinged instrumental groove of "Dolksteek". "Mandaat" has a full rap vocal on it and starts developing that electro-heavy breakbeat groove akin to what it's sounded like when Chemical Brothers try doing hip-hop. "Wanbeleid" is a slower and quirkier appear revolving around a weird lethargic bassline on which some anachronistically rapid-fire toasting samples have been interjected. Final track "Welkoop" is the most Vibert-ish, revelling in analogue acid squelch with some atmospheric chords chugging along for good measure.

There's not a lot out there that sounds like this at the moment. It's full of character, endearingly a bit strange, and well worth checking out if you never agreed with the 'four legs bad' instruction that bigbeat is supposedly a dirty word.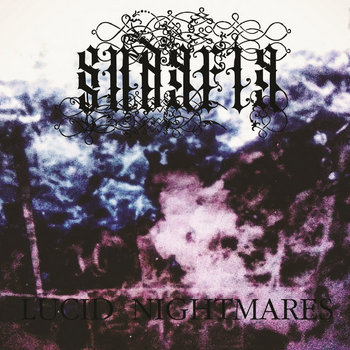 Artist:
Sudaria
(@)
Title:
Lucid nightmares
Format:
CD
Label:
Frozen Light
(@)
Rated:
Just a few months after "The Syncretic Labyrinth" this Spanish project returns with a release which confirms the quality of this project. While in the previous release the black metal influence was under the curtain of experimental music, this release shows more clearly this reference as there's even vocal and a more defined song form in certain parts of this album which, however, is closer to a single piece in seven parts than a collection of tracks.
The masses of violins of "Lucid Nightmares" introduce a listener into a sound field where movement is generated by the overtones and some small noises in the background so it could be a little too long and requires a reasonable high volume to be fully appreciated. "Mirrors of Ignorance" is instead a more constructed and atmospheric track as the various sounds are immersed in silence while the second part is a slowly moving line of synth. "Pale Old Gods" oscillates between quiet synth movements and dark moments of noise where the black metal influences emerge clearly. While the first and third part of "Age of Vice" are based on a sort of lied for piano, guitar and growl vocals the second and central part is a thick soundscape for low frequency drones. After some seconds of silence "Shapeless Flame" erupts in a mass of feedback which has a resolution in "Abhorrent Breeding" with his mass of sustained tones of synth that, after some second of silence, introduce the listener to "Abortion" whose quiet and almost psychedelic developments accompany the listener towards the end of this release in an almost dreamy atmosphere as a sort of relief after a nightmare.
More focused than his predecessor even if plagued by a production somehow a little too blurry or unbalanced in volume in certain moments, but this is a standard for the genre, he gives the impression that there's more to come from this project. Highly recommended for fans of weird black metal.

p.s.: there's also space for an unlisted bonus black neofolk track.
Artist:
Vogon Poetry
Title:
The Heart Of Gold
Format:
Download Only (MP3 + Lossless)
Label:
self-released
While Vogon Poetry owe the name of their band, this single, previous single and forthcoming album "Life The Universe And Everything" entirely to Douglas Adams' "Hitchhiker's Guide To The Galaxy", sonically their retro synthwave seems to be targeting just a few years later than "Hitchhiker's" was released, channeling a mid to late-80's electropop sound with thick drum machine kicks, bright synth arpeggios and simple one-note basslines. A long-note-friendly male vocal croons over the top.

The lyrics are all a tribute to the eponymous spaceship's first appearance in the "Hitchhiker's" story as well, making this effectively a piece of indulgent fan-tribute pop. I was half expecting the music video to be populated by people in dressing gowns waving towels alongside people with prosthetic second heads. I wasn't far off- there's so cosplay involved, but plenty of (presumably unlicensed) video extracts from the 2005 movie.

The package comprises the original version and three remixes, all of which stay firmly in synthpop territory and never stray far enough from the original to justify their existence. The Peter Bolmehag remix in particular has all the same flavours as the original. Egil Axelsson's remix ups the pace of the synth patterns with a long drumless intro that sounds like it's going to break into happy hardcore before settling into something more like U96. Oren Amram's remix, after a classy intro, settles into a steady and familiar groove with an arrangement of sounds reminiscent of early Erasure at times. A bundle of remixes that dared to try different genres and being less respectful to the original would have been more interesting to hear.

I'm not sure the world needed another piece of "Hitchhiker's Guide"-related fan pop, but this is a reasonably polished and high quality bit of synthpop that should have a fairly wide appeal even to people too young to get any references to froods or Pan-Galactic Gargle Blasters. Vogon Poetry are not, in this case, the third worst in the universe.