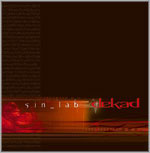 Artist:
DEKAD
(@)
Title:
Sin Lab
Format:
CD
Label:
Boredom Product
(@)
Rated:
After partecipating to a couple of compilations (Frenchviolation magazine CD and to the "Synthétique" CD compilation) the French trio called Dekad finally arrived to an important target: their first album. SIN LAB contains fourteen original tracks composed thank to the efforts of the whole band team. The tracks sound fresh and inspired and the band show confidence on their skills. For this reason the whole album is a surprise and the blend of synthpop, new wave (see the use of flangered/delayed guitar on some tracks) and e.b.m. can convince even the occasional listener since the first spin of the CD. Tracks like "Club devil" or "I want" are really powerful and the mix of dark atmospheres with melodical refrains is a winner one. The band sound is ready to compete with the one of bands of the like of Toy or Covenant even if Dekad are less pop. Give them a chance!
image not
available
anymore
Artist:
TANGATAMANU
(@)
Title:
Tangatamanu
Format:
MCD (Mini CD)
Label:
Wallace
(@)
Distributor:
Audioglobe
Rated:
Another fine 3" on Wallace and it's again visceral music. While musicwise Tangatamanu reminds "new age/ambient" music much more than "isolationism", the use of repetitive patterns has the same discipline of the Claudio Rocchetti's works. Tangatamanu reminds of Morton Feldman, Can, Popol Vuh (above all their works for Herzog's movies), Cornelius Cardew, just to name a few, but there's also a big minimalist feeling haunting the ten tracks of this mcd. Reading the list of the instruments (Prepared piano, guitar effects, bamboo flutes, seashells, percussions, flautos de barro, electronics) you can get the idea the "seventies-sensation" is there and it's true, but thanks to god it's not an useless "kraut-freak-wonnabe". To complete the picture of this cd consider it consists in the music for two installations realized by Studio Azzurro: therefore if you're into contemporary art maybe you know what to expect. Sit down, relax and read your old zen meditation manual this could be the soundtrack.
Artist:
CLAUDIO ROCCHETTI
(@)
Title:
I could go on singing
Format:
MCD (Mini CD)
Label:
Wallace
(@)
Distributor:
Audioglobe
Rated:
Let's start by saying: "concrete music for concrete people!" and even if it's not that much it will give you an idea of what you're going to listen. Claudio Rocchetti comes from Italy and is one of the most interesting, active and above all personal musicians of the "experimental jet set" (check his website). If on his solo debut the most of the song had a sort of framework constantly manipulated according to Claudio's will, on "I could go on singing" the musician plays much more patiently with noises and silence. If on his previous record Mr. Rocchetti could remind the collection "Cinema pour l'oreille" that came out on Metamkine, this 3" reveals he's much closer to the musical ideas that belonged to John Cage. Field-recordings, audiocassette, turntables (the real power point of his live performances), radio, objects, mouth dosed wisely like every expert "chef" should, therefore if you're looking or something noisy and chaotic that's not your cup of tea. Both of the songs have a rare gentle taste which many concrete musician are lacking nowadays, this work could be listed in the dictionary among the definitions for "self control".
Artist:
Mephisto Walz
Title:
Insidious
Format:
CD
Label:
The Fossil Dungeon
(@)
Rated:
I give southern California-based goth rock troopers Mephisto Walz every bit of credit that I can find from their latest release, Insidious, for upholding the true spirit of Christian Death (of which Walz instrumentalist Bari-Bari, t/n Barry Galvin, was once a member), but they seem to be running out of breathing room. Certain of the song concepts work really well--in "A Magic Bag," the first track, singer Christianna tells this story:

"William likes his suffering
All the attention-love it brings
Club to club he revels 'round
Another fool for the lost and found
William is a serious guy
Carries a sword by his side
Tied with twine to a ragged string
His idea of a wedding ring

"A magic bag suddenly appears
Plastic straws like rabbit ears
Carved bone dice across the bed
He took his coat, covered up his head
And to his made up gods he cried
Give me another place to hide
William likes his many friends
Lives his life to meet their ends"
...

We definitely want to hear more about pagan lost souls like William, who perfectly mirrors so many among us--the dice-carrying, Medieval sword-wielding, RenFaire-going, role-playing gamer, who can't seem to figure out which world he really belongs in. Sound familiar, anyone? (I assume, too, speaking of Christian Death, that in an alternate sense there's no intended reference here to poor Rozz Williams?) "Nightingale," an interpolation of lines from "Ode to a Nightingale" by John Keats, and Handel's "Ombra Mai Fu" aria, rendered on synth with a guest vocalist, make up the last two tracks. But Keats and Handel can't save the fact that MW could use a few shots in the arm. This CD, and their genre in general, are awfully close to falling into a formulaic rut, as the particular Cocteau Twins and Dead Can Dance influences they employ here and there sound less and less refreshing. The sixth track, "I Want," which has a chorus that strongly recalls Berlin's "Riding On the Metro," would indicate to some that MW are in desperate need of some new musical DNA. And it could be said that, by handling all of their own recording and arranging, MW are staying true to the punk-rock, do-it-yourself ethos in which they were initially forged as a band (not to mention staying within budget, always a legitimate concern). Still, a session drummer (for example) would have bolstered their production significantly (fellow Christian Death alum drummer David Glass makes an appearance on "One Last Day," but that's it). Make no mistake, the songwriting and overall pacing of Insidious is great, and those MW fans whose hindsight is less than 20/20 will be immune to any cliches. But we all still deserve better, and should rather see them break the mould next time around.
Artist:
SEVERE ILLUSION
(@)
Title:
Accomplishments of Leopold II
Format:
CD
Label:
DSBP
(@)
Distributor:
DSBP
Rated:
After having heard and enjoyed their previously released stuff I really thought I would know this band and their music very well. Well, I have to revise my judgement on this Swedish duo, because this new full length release surprises me in many ways. First I am wondering how this guys came to the idea to work out a conceptual release with the happenings – better said atrocities - of the Belgium king Leopold II in Africa more than 100 years before. This is thematically far away from all "end time visions" any other current EBM/Electro band would offer. And also musically is this new release of Sweden's power-hitters No. 1 far away from any trendy SC/HOCICO clone. I get hold of myself often that I think: "Oh-no, this is stupid, it sounds chaotic and/or imperfect – they can not do this and take it seriously." Well, I've missed the target again! Where other bands of this genre wouldn't waste any further second to use some more experimental and disturbing noises, here comes SEVERE ILLUSION to show and teach us how they can. I would describe SEVERE ILLUSION's music as a mixture between old-school EBM lines with a rich amount of static and unconventional noises mostly arranged in a chaotic style, combined with some extremely rough distorted vocals. This explosive mixture awakes some real Punk-like feelings in me and has more life and identity than any other current release can offer. I have to admit that this new output of this duo needed a lot of time to grow on me. I still had in mind the long and often heard predecessor "Discipline is Reward Enough" which features more the classic EBM patterns which I enjoyed so much. And so this new and MUCH MORE destroying release needed several rotations before I recognized the whole potential this fantastic disc has to offer. Some memories on classic swedish EBM-tracks like "Keine Zukunft" or "Die Jugend" of the veteran POUPPEE FABRIKK they awake with the opening track "Genau wie Ich" where the try to sing in German. My favorites can be found with the track "Beautiful" which follows much the sound of the predecessor and with fast pieces "Stay Away From Us" and "Open Rebellion" which can cause simply some injuries by hitting your head against a wall! Also the almost Powernoise-like effort "Congo by Force" impresses totally where they give the overall distorted track some nice melodic layers.17 destroying tracks full of madness far away from any hypes and a playing time of never boring 75 minutes make this release outstanding. This is once again an extremely good release by the DSBP label and I can only congratulate Tommy T to have this great artist under his wing. Bad luck for the European audience that they still have to wait to get this release official. The German label Celtic Circle Production has the rights to release this masterpiece as a limited double CD with a slight different track list and artwork (done by Anders Karlsson of the legendary Powernoise act THE PAIN MACHINERY by the way...), but it is still delayed. This stuff doesn't take any prisoners and needs some more rotations to get fully enjoyment. Give it the needed time and you will be richly rewarded.