image not
available
anymore
Artist:
EAT YOUR MAKE-UP
(@)
Title:
First Dinner
Format:
CD
Label:
Adipocere
(@)
Distributor:
Masterpiece Distribution
Rated:
Eat Your Make-up formed in France back in 2003 and soon after they started to play gigs in their homeland. In the same year they produced a five songs demo which helped them getting booked for several other gigs. The year after Thib, their drummer, left and Anthony joined them helping the band evolving their sound inspired by '80s Batcave gothrock / postpunk and by L.A. bands such as the early Christian Death. After some other gigs (they opened for Cinema Strange, Trisomie 21, etc) the band entered into the studio to record their first album: FIRST DINNER.The album opens with "First dinner" and immediately you can hear their influences and for sure you'll appreciate the guitar style with the riffs alternated to arpeggios and razor blades sounds. Generally the tracks create a good ambience even if innovation isn't exactly what Eat Your Make-up are looking for (even if "Amar Ni Xov" starts as a almost jazzy rhythm). Most of the tracks are fast and distorted and the post punk atmosphere is well created. For sure FIRST DINNER is a good first album but I think that the band is able to give to their audience a lot more. P.s This is the first release of the new Adipocere sub label Darkside, whic is focused on releasing goth music.
Artist:
NEGATIVE FORMAT
(@)
Title:
Moving Past The Boundaries
Format:
CD
Label:
Metropolis-Records
(@)
Distributor:
Alive!, Metropolis Records
Rated:
The well known US project NEGATIVE FORMAT consisting of Alex Matheu returns with a new full length CD and sets some new standards into the Techno/Trance/Electro/EBM genre. It was his classic release "Result Of A New Culture", released back in 1997 on both defunct labels Gashed (for North America) and Zoth Ommog (for Europe), as well as his own released debut CD "Pathologic Syndrome", which brought me to this project. All further releases then turned into a more Techno/Trance up to Futurepop oriented direction which I haven't found too impressive at all. "Moving Past The Boundaries" can be seen now as a reminder of the good old days while not a stop of the latest evolution of Alex' music. 13 new tracks are available here, most of them with a long enough playing time to produce fat and resonated filter loops in and out of the tracks – yes, that Techno/Trance element in Alex' music is still richly present. I of course prefer the tracks which leave a bit the current NEGATIVE FORMAT mood, the tracks which can be called near and comparable to the past "Result..." influenced era. Here are the marvelous tracks like "Centralized" and "Focus" to name. Also well done and worth to mention are the female vocals by Rashree Matson thrown into 3 tracks, the slow and smooth "Sustain", the already named "Centralized" and "Heterodox", on which male and female vocals start a duel. This is a very modern sounding piece of fat and well produced electronic music, and of course way back better than his last releases. Maybe the right step to bring NEGATIVE FORMAT back to that outstanding era on which it all begun. Strange for me is the fact, that this release will distributed and marketed world-wide by Metropolis-Records and that there is no license deal to the German Out Of Line label, which was lately responsible for the last NEGATIVE FORMAT releases. Who cares finally – check this out, listen to yourself and enjoy this modern and technically rich produced album!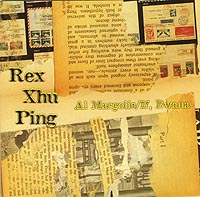 Artist:
AL MARGOLIS/IF, BWANA
Title:
Rex Xhu Ping
Format:
CD
Label:
Pogus
Rated:
Al Margolis is internationally known for his indefatigable activity as a label owner (the historical tape-label Sound of Pig and, of course, Pogus itself) and manager (Deep Listening, XI Records and Mutable Music), but his 20-year old musical alias If, Bwana has gained a cult status as well. "Rex Xhu Ping" presents six compositions featuring Margolis at tapes, electronics and clarinet, with guest musicians Laura Biagi (vocals), Dan (speaker, tapes) and Detta Andreana (tapes, bowed cymbals) and the Orchestre de Fou, an ensemble playing everything from organ to a mysteryous "bikelophone". The six tracks are even radically different from each other, but this doesn't mean the cd sounds incoherent or randomly assorted, which is, I guess, a very positive quality for a composer/performer. The doom-laden "Natraj" opens the album with a looped bass note and screeching electronics, but the sullen atmosphere is soon washed away by "Frog Field", a mix of ecstatic xylophone loops and field recordings, easily the best piece of the disc. "Tattoed Love Muffins" features male/female rants (in English and Italian) over disjointed electroacoustic improvisation, while "Oy vey, Angie", performed by the above mentioned Orchestre, is a dark and beautiful droning piece, another highlight of the work. The last two tracks, "Cicada # 5: Version Bohman" and "Quaderni", experiment on manipulated vocals disintegrating "normal" speech, and would be a suitable soundtrack for some play of Beckett's. As a whole, "Rex Xhu Ping" is a fascinating and almost constantly sombre work, and a successful bridge between historical minimalism and concrete music, and 80's/90's industrial experimentation.
image not
available
anymore
Artist:
INCITE/ /STAPLERFAHRER
Title:
Split
Format:
CD
Label:
Authorised Version
Rated:
Germany's Incite/ present(s?) four tracks (+ intro and outro) of geometric microwave techno: frequencies, hisses and pin-like beats structured in algid rhythmic frames. Though it's obviously hard, if not impossible, to add anything to the style canonized by Noto, Ikeda, Pan Sonic and the likes, Incite/ is truly good at what he's (?) doing. Staplerfahrer comes from the Netherlands and explores the more radical and free-form side of the glitch aesthetic, with exercises on pure sine waves forms. His 6-track part of the split begins with pulses sounding like Morse code signals, and ends with noisier and harsher tracks. All very minimal, meaning that the initial sound pattern is maintained to the whole piece, without much variation or composition; so it's interesting but sometimes lacking depth.
Artist:
TERRORFAKT
(@)
Title:
Cold World Remixes
Format:
CD
Label:
Metropolis-Records
(@)
Distributor:
Metropolis Records
Rated:
A Powernoise/Harsh Industrial act signed to the big Metropolis Records label is a rarity, but it shows that the huge stable of them is growing into all genres and styles. TERRORFAKT are releasing herewith their remix companion to their last year debut, so you get here 10 remix works done by more less known artists like ANGEL THEORY (created lyrics and added their vocals on their more Dark Electro inspired remix for "No Frequency" – a rarity for the Powernoise genre and I can't find enough praising words for this almost new track...), PNEUMATIC DETACH (offer as usual an excellent remix for "Arsenal" – of course the most harshest piece here...), TOTAKEKE (a heavily Dark Ambient inspired remix for "Zero" with uncountable layers – excellent!) or the always fine RE_AGENT (defines the standard to a high quality level between Dark Electro and Powernoise on their "Arsenal" remix...). Further remix works are done by CERVELLO ELETTRONICO, DISPLACER, SYNTH-ETIK, E-CRAFT, LIFE CRIED and IMPERATIVE REACTION. There is no really bad or boring remix here – I only picked out the four mentioned outstanding works. There are also 5 new harsh tracks at the end of the CD and also here are some nice surprises worth to check out. While "An Age Of Terror", "Corrupt" and "God Of Killers" offer new food to storm the dancefloor, the slow and dark "Elimination Chamber" offers some great delay and reverb effects. But the best piece is the duel with PNEUMATIC DETACH on "Black Hoods In Brooklyn", which features the best elements of both acts. I would like to hear about a further cooperation between this both excellent acts! You'll get with this remix companion disc a marvelous release which can impress by the good choice of different remixing acts out of different genres. You'll get too 5 new and worth to get heard tracks by TERRORFAKT, so – what are you waiting for? Get it!