image not
available
anymore
Even if you are a rookie and you don't know that much about
the alternative scene of the last twenty years, I think that you heard the name of the Swans. If you missed they early works and beautiful tracks like "Hanging" or "Greed" maybe you had the chance to check their latest releases where the acustic guitar took the place of the hammering guitars. Anyway... Jarboe was a Swans member and even if she wasn't with them since day one, she soon became an important part of the crew. It's years that Swans split but Jarboe never ceased to create her own vision of music, made of spiritualism, mysticism, everyday life and thousand of influences. Her life is an interesting one and since her early youth she's been in contact with inusual stuff (both her parents were F.B.I. agents). Her new double album is titled THE MEN ALBUM and it took six years to be finished. The two CDs are divided into "guitars" and "rhythms" and the twenty tracks see an incredible amount of collaborators. Do you want some names? Here they are: Blixa Bargeld (Einsterzende Neubauten, Nick Cave & The Bad Seeds), Alan Sparhawk (Low), Iva Davies (Icehouse, Master & Commander soundtrack), Jim Thirlwell (Foetus), Edward Kaspel (Legendary Pink Dots), Paz Lenchantin (Zwan, RTX), David Torn (David Bowie, David Sylvian), Chris Connelly (Revolting Cocks, Ministry, Pigface), David J (Bauhaus, Love & Rockets, The Jazz Butcher), Percy Howard (Bill Laswell, Meridiem), Steve Von Till (Neurosis), Joseph Budenholzer (Current 93, Lydia Lunch), Mika Vainio (PanSonic, Bjork) and many others. Wow, at this point it isn't a surprise if it took her six years to record this album, is it? Listening to the twenty tracks I was surprised to check how the guests haven't been invasive about the song writing. You know, the track where you find Jim Thirwell doesn't sound like a Foetus song or "Feral Blixa" doesn't sound exactly like Einsturzende Neubauten (even if all the track is based on Blixa's guitar and on hisses produced by the duo). So, we have two different CDs where the first one is mostly based on guitar sounds: the opening "This is life" and the final part of "Feral" are distorted and rhythmic while the others are acustic ballads. The second CD is different as it is based on different musical styles but all linked by a rhythmic urge that moves its steps through the oriental dub of "Angel David", the bass distortion of "Bass force / Angel Jim" which seems a sort of "Angel David"'s reprise which turns into a spanish vertigo helped by Foetus, Paz Lenchantin and William Faith. The following "Torn kiss" is a sensual electronic short track that anticipate the jazzy eight minutes of "Penance". Not all the tracks have a training rhythm but if you think about the rhythm of a pulsing heart, well, at this point you can say that they are based on rhythm. Eclectic and personal, Jarboe succeeded into the difficult art of seducing her audience.
image not
available
anymore
Artist:
CHEFKIRK + CARL KRUGER
Title:
The Plain People
Format:
CD
Label:
Retinascan
Rated:
Being a repetitive whiner, I've kept on writing, in my reviews of Chefkirk's cdrs, that it'd been great if the prolific US noisemaker explored his more "ambient" or electroacoustic side, rather than the rhythmic noise one. Well, this collaboration with Carl Kruger (unknown to me), released in an unlimited cdr with a wooden frame by German Retinascan, sort of proves me right... We are not informed of who plays what, but I think it's a mix of electroacoustic sounds (possibly obtained via contact microphones or whatever) filtered through various plug ins or analogue devices. Chefkirk's deranged beats surface here and there, but are kept to a (welcome, by me) minimum. Chefkirk had already scattered similar tracks in all his works, but this time the sound palette is much more varied: the really noisy parts are more ferocious, and the "quiet" ones offer more microscopic details and subtle changes. Everything is fast paced and headache inducing in the best Chefkirk tradition, but with a degree of maturity which makes these 45 minutes a pleasant -ahem- listening experience. By the way, all titles are inspired by the Amish community, with a crazy parallel between that form of secluded living and the noise underground.
image not
available
anymore
Artist:
BLACK TO COMM
Title:
Rückwärts Backwards
Format:
CD
Label:
Dekorder
Rated:
I was not familiar with Dekorder owner Marc Richter's musical alias, who must have released some vinyl or ep before, this "Rückwärts Backwards" being his full-length debut. The lavish, multi-coloured and vaguely surreal collage-based packaging serves as a good introduction for BTC's approach to music: Richter basically revisits pre-existing melodies by using shellac and vinyl loops, adding some bizarre vocals here ("Bees"), some toy gamelan there ("Virtuosity Is A Means To An End") and environmental recordings, creating floating and fragile soundscapes which will appeal anyone into Philip Jeck's humane turntablism. Tracks like "Lucifer Lacca", with its looped choirs and a slowed down, hyper-dilated string plucking, or "March of the Vivian Girls", with a triumphant crescendo of distorted melodies and skipping snare drums, show Richter's talent for out there but emotionally moving compositions - I'd dare say "experimental pop" (there are a lot of pops throughout, actually) if it didn't suggest radically different things. Not all tracks are as convincing and memorable as the above mentioned examples, but "Rückwärts Backwards" is still a finely crafted album, perfect for quiet and melancholic afternoons.
image not
available
anymore
Artist:
BELONG
Title:
October Language
Format:
CD
Label:
Carpark
Rated:
Hailing from the ill-fated New Orleans, Belong are a duo formed by Michael Jones and Turk Dietrich; the latter has previously collaborated as Benelli with Telefon Tel Aviv's Joshua Eustis on a remix of Nine Inch Nails' "The Frail", and Eustis is now co-producing and mastering this disc, besides offering his guitar abilities in the title track. Belong must have had a serious crush on Fennesz's works, and probably with Kevin Shields' before those. As I only occasionally go and listen to Fennesz, my appreciation of "October Language" is already flawed, but I'd say it's a nice, if highly derivative, collection of smooth melodic guitar drones smudged with all sorts of digital and analogue defects - but still quite easy listening. Everything is top-notch in terms of production, but with little to no emotional grasp on yours truly.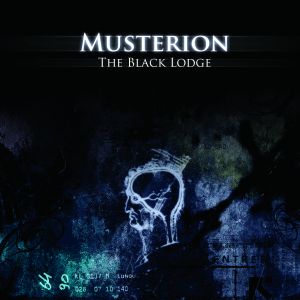 Artist:
MUSTERION
(@)
Title:
The Black Lodge
Format:
CD
Label:
HORUS CyclicDaemon
(@)
Rated:
It has always been a problem for me to find a dark ambient release that was able to fullfill my needs of darkness. You know, the problem is that with the years I became used to listen drones and mysterious voices coming from dusty closets. Musterion's first release THE BLACK LODGE fortunately isn't a darkambient release that contains tracks made with two sounds with titles that evoke unknown demons. Simon AA Kölle had the idea to ideally describe the voyage of agent Cooper (do you remember Twin Peaks?) through strange lands and situations. Try to imagine the agent Cooper in the red room that was placed in a sort of nowhere land (in this case it is called "The black lodge") and then make him visit mystic places where yogi create a Tulpa (a place created by collective immagination) and then place him in a Lovercraft novel. The fifteen tracks are like soundtracks but they doesn't sound like soundscapes. Fortunately each track, along with the usual drones, have got elements that make them sound different from the usual tracks of the genre. Tracks like "Unknown Kadath", "Tannerhauser gate" or the following "III - Lost", for example, contain also a piano that duet with violins, vocals and other elements that bring some melodic line that create a sound similar to Autopsia that play darkambient. Also the tracks that are mostly based on sound samples are really convincing because they always have a sound or a sample that help into the creation of the atmosphere. In my opinion you should try it...