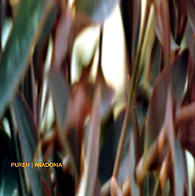 Artist:
PUREH
Title:
Anadonia
Format:
CD
Label:
Pharmafabrik
(@)
Rated:
Of the many deeds done by Mick Harris, I'm sure he will be remembered together with Justin Brodrick for having established the industrial dogma of effected drum beats with a light dub influence. Pureh aren't absolutely a senless clone of Scorn or Godflesh (as if it was so easy) but I'm sure this cd is suitable for those who think Earache during the "experimental/industrial" transition kicked ass. "Anadonia" keeps on following that dead-end street discovered by Mick Harris after the "Colossus" album which implies repetitive rhythmic patterns that become hypnotical, lysergic synth canvas and above all "lost in space" melodies. A friend of mine suggested this music should be experienced under the effect of soft drugs, sure I dare you to deny these tracks haven't been designed to induce a state of (dark) trance. Honestly of most of the bands approaching to this style of music, Pureh is one of the most interesting I've listened lately. I think "Anadonia" is a good example of how good taste can add that something more that saves a cd from being ordinary administration. Sorry if I get boring while repeating that's not a mere clone but the fact is they mix the dark-industrial/industrial-dub feeling with some cold-ambiental melodies not so far from litanies used by many artists from the early Warp orde. If you think it's a weird mix you always have to remember apart from the ordinary tracks had an all british dark feelings (Autechre in primis). Not bad at all.
image not
available
anymore
Listening to this cd the first aspect I couldn't but notice was that Vittorio De Marin and his Gomma Workshop had a lot to offer. From the very first track you get a pop approach that ends in a fake traditional chinese song (Yoshimi?...), but the second track clears immediately up your mind from every doubt this' just a "particular pop release"...a crazy release maybe. A good way to describe the result could be to devide it in melodic strange pop tunes (Pijama'o' Rama, soLOFOne, caLOMOre), orchestral works (KGphono, Clawnsclan, Woodhood) and "I've had an hard time trying to file it under something" tracks (almost the majority of the songs). Probably this weirdo accomplished the unusual result of combining an inveterate love for soundtracks an damn good writing skill, the listening of many different kind of music and it's hard to say what else. Morricone, electronics, Nyman, Califone, Calexico, ethnic music (mainly asiatic style, the same passion the brought together many contemporary composers) are squeezed together in this incredible grey area of visionary compositions. I can't say I'm into everything but tip of hat to Gomma Workshop for the damn good job.
image not
available
anymore
Artist:
MUELLER/KAHN/WOLFARTH
Title:
Drumming
Format:
CD
Label:
Creative Sources
Rated:
"Drumming" is quite a deceiving title if taken literally, though Kahn's liner notes in Creative Sources website are explicit: this trio recording is meant to further explore the possibility of drumming beyond the usual notions and tecniques. Both Jason Kahn (here at laptop) and Guenter Mueller (here at ipod and electronics) have creatively played drums and percussions for years before almost exclusively moving to electronics; and their experimental approach is evidently shared by Christian Wolfarth, whose minimal drum set is barely distinguishable from the digital mist of his two companions. Much like Kahn's typically abstract yet somehow organic layout, the nine improvised tracks are a successful blend of algid electronic particles and an urgent rhythmic flow, especially in little gems like "Drumming 2" and "Drumming 4", the latter with a train-like loop throbbing beneath.
image not
available
anymore
Artist:
DOERNER/KAPLAN/CHAMY
Title:
Absence
Format:
CD
Label:
Creative Sources
Rated:
One of the most esteemed performers in contemporary improvisation, trumpet Axel Doerner is here portrayed in a live in studio recording which took place in Buenos Aires in 2003. His accomplices are Leonel Kaplan (trumpet) and Diego Chamy (percussion): the former uses his instrument pretty much in a Doerner-like style, so that their frantic blowing, hisses and crackles make for intense duets, while Chamy punctuates the performance with sparse, but loud banging on unidentified percussions (probably bare metal pieces). If you're already familiar with Doerner's improvisation tecniques, this disc won't take you by surprise, but it will be a nice add anyway; otherwise, it could be a good starting point.
image not
available
anymore
Artist:
DOUG THERIAULT/BRYAN EUBANKS
Title:
Big Clouds in the Sky Today
Format:
CD
Label:
Creative Sources
Rated:
Two tracks recorded live in Portland this April, improvised by Theriault at "sensor guitar controlling" and live electronics and Eubanks at "open circuit electronics", which I have honestly no clue about - maybe it's a kind of synth, or some self-built effect. The two pieces, "don't worry about the future" and "a majestic", are quite massive in length (21 and 41 minutes respectively), and unfortunately quite similar in the sound amalgamation: harsh and granular guitar noise and equally noisy electronic interventions. "Big Clouds in the Sky Today" suffers the risk of many improvised and unedited recordings: the listening experience is fascinating dunring the very first minutes, only to become stale afterwards. The duo's performance is not as varied and graceful as improvisation has to be, and not as brutally pregnant as a good harsh noise recording.