image not
available
anymore
Coming from Brazil A.Set ideally continue the tradition of Aghast View / Biopsy music by presenting a distorted e.b.m. based on linear bass lines and focused on a less distorted vocal which gives the rhythm by following the 4/4 drum beats. Hilton Seawright is the man behind the project and he started in 2002 with a black metal band called Diatribe which he produced two demos with. As the time passed he feeled too many differences with the black metal scene so he decided to focus his efforts on electronic music (he's following that kind of music since the '80s when it was impossible to get a synth in Brasil). A DEADLY PAST RISES THE FUTURE is the first self released album by A.Set and it already shows a good level of personality where industrial attitude meets e.b.m. rhythms creating a good mix of melodic anger. The twelve tracks have a simple but efficent structure and for sure Hilton will gather a good amount of people interested into his sound. You can check some tracks at his website www.a-set.com.
Artist:
Vienna Skye
(@)
Title:
Who Am I
Format:
CDS (CD Single)
Label:
Audio Assembley Productions
(@)
Rated:
"Who Am I" is the first enhanced cd single release by the new sensational bright young cute little girl, Vienna Skye, who is best known for appearing in music videos. Produced by her dad, MBJ, who is famous for his multi-talent in directing music videos, djing in clubs, producing and recording and doing remixes for artists, and has released various of electronic band projects such as ISH and Velvet Vimoz.

The heavier synths and samples sound gives the track a fully synth-pop danceable that's refinement in this pumping mix structure. The single also features a trance remix for trance dance lovers and two video versions, which is directed by no other than the one and only, MBJ. This daughter and father collaboration sets a new voyage through their dance music universe. If you have any children at a young age from 5-14, reserve a copy for them. If my 5th graders in my music appreciation class enjoyed listening to Vienna Skye, then yours will too.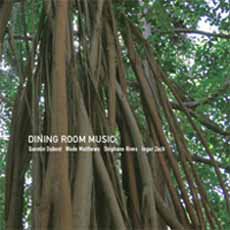 Artist:
DUBOST/MATTHEWS/RIVES/ZACH
Title:
Dining Room Music
Format:
CD
Label:
Creative Sources
Rated:
Featuring Quentin Dubost at electric guitar, Wade Matthews at bass clarinet and alto flute, Stéphane Rives at soprano saxophone and Ingar Zach at percussions, "Dining Room Music" features three remarkable improvised tracks, recorded in the dining room of the Maison Bustros in Beirut. The liner notes question the tradition according to which "the ideal recording [...] is the one in which the music exists in a sort of vacuum, insulated from all possible interference and so thoroughly manipulated that no trace remains of where it was actually recorded". The "where" is, in this case, is the "resonant marble-floored dining room of the Palais Bustros". What I ask myself is: would have I listened to the cd in the same way hadn't I been influenced by the gorgeous photos of the Maison, after reading that its "high windows welcome light conveniently filtered by garden foliage"? Autosuggestion can enhance a listening experience, but also be distracting sometimes. Anyway, this recording does convey an idea of spatiality. It's a warm performance full of restrained movements giving birth to fragile filaments of sound - but also powerful scrapings and hisses battling above the low-end drone generated by the percussions (or so I guess).
Artist:
THE-PULSAR
(@)
Title:
Awakening
Format:
CD
Label:
Advoxya Records
(@)
Distributor:
Last Exit
Rated:
Electro/Industrial music awakes currently in East Europe and Advoxya Records is present at the frontline to service us with some not expected talented acts like they did with the Estonian band CYCLONE B. THE-PULSAR is a three men outlet from the heart of a growing Russian scene which has found its home in St. Petersburg. The band already exists since 10 years but their output is limited to only three demo with the last one released back in 1999. And now, 6 years and a lot of more experience later, this trio is now ready to release its debut called "Awakening" with 11 tracks and 63 minutes playing time. Their music is influenced by diverse EBM structures but they have also to offer some not expected programming surprises. I would tend to qualify their music in far away vein of acts like NOXIOUS EMOTION for example. Most steady EBM beats, some nice old school influenced EBM sequences and here and there some melodic ingredients as well. The vocals are dark, melodic but mostly without overwhelming distortions, sometimes they add some vocoder effects to it. Personal favorites I have found in "Huge Satisfaction", an excellent played EBM piece with hard ripping sequences and in the bombastic melodious piece "Father" with a very personal lyrical content. Another remarkable piece is the track "Stalker" with some cool sounding Russian voice samples and a globally dark atmospheric touch. THE-PULSAR have produced a nice and diverse debut album and they are acting well for a newcomer. There is still enough music to discover behind the iron curtain and THE-PULSAR give a decent release to follow this trend. Well done, guys.
image not
available
anymore
Artist:
ELIO MARTUSCIELLO
(@)
Title:
Aesthetics of the machine
Format:
CD
Label:
Bowindo
(@)
Distributor:
Fringes
Rated:
Ever heard about Elio Martusciello?...I think you should, above all if you're into exsperimental music and electronics. This musician plays in the ensemble of Ossatura and recorded for/with: Elliott Sharp, Recommended records, Staalplaat, Splas(h) records, Goethe Insitut, Giancarlo Schiaffini, Metamkine, Chris Cutler, Otomo Yoshihide, Sachiko M, Christian Calon...just to name a few (yes, a "few"). Anyhow, beside being a versatile musician he's a composer and a researcher and this cd joins together the last two sides of his complex personality. "Aesthetics of the machine", following the words of Martusciello, goes beyond the "point of listening" and sometimes is much closer to Cage "idea of performance" than anyone else. The sounds on which this cd is based often cross the soil of the auditory apparatus: "ultrasounds" (up to 20kHz) and the infrasounds (down to 16Hz) and when these sounds are audible, sometimes it's a total blast (on the back of the record there's a warning, infact cause of the loud-recording of the release and the power of the frequencies the record could damage ears and hi-fi systems...and hell knows he's not joking at all!). Martusciello uses the adjective "concrete-electronic" and explains it, but I can't say if that helps to figure out how it may sounds since it's such a singular audio-experience it's hard to imagine something like that. If power-electronics someday will become academic I'm sure Martusciello will be the headmaster and it's funny since this record is not meant to be power-electronics at all but it's is twice as solid and thrice as hard (even if you try to turn the volume down). This work has much to do with theory and aesthetics (therefore with philosophy), probably it goes beyond what many people means with music but that's the point. There's music borne out of an idea, but there's music that fills you mind with ideas, this release "just" instills big question marks into the poor head of the listener...if you think that's not extraordinary , tell me what then?.