Artist:
Nouvelle Culture
(@)
Title:
Fading Pictures
Format:
CD
Label:
Le Cabaret Electronique
Distributor:
Intrapop
Rated:
French band Nouvelle Culture deliver a powerful brand of synth-pop dance music that have retro 80's and today's 21st Century sound. A fantastic beautiful synth melodies and vocals work. Their debut "Fading Pictures" is a serious invincible music that is full of fun, energy, and ethereal style. The vocal chemistry between Jacky and Ladybionic is exquisite and crystal clear in French and English. This album contains two discs; 15 tracks on the first disc and 16 remixes on the second. It have been in rotation heavily in my cd players (stereo, portable, and boombox) and I just can't stop listen to it. An emotional strong dramatic theme describes this brilliant superb release is GLAMOUR, GLITTER, MUSIC, FASHION, LOVE, SEX, PAIN, DESIRE, SEDUCTION, and PASSION. A beauty of elegance and emotion that sets the standard of its interesting lyrical tapestry. All 15 tracks sum up the feel of the album. Favorites include "Turn Me On", "Desire Mistress", "La Fille", "Shadows (Holy Love Long Mix)", "Mathilde (Etre Enfin Aimee)", "I Dream", and "Heaven".

As for the 2nd cd that contains remixes, my favorites are "Heaven (Remix by Millimetric)", "I Dream (Jesus Rock The Beat Mix by Code Machine)", "La Fille (Madchen Remix by Equatronic)", "Heaven (Reworked Dynamic Master vs Marysa (10ve10m)", "a beautiful track with female vocal sung in French combined with vocoder, "Shadows (Epic Club Mix by People Theatre)", "Mannequin (Remix by Chinese Theatre)", a track that's on the line of Kraftwerk "Man Machine" era using vocoder, "Steel City (Glasgow's Remix by Hoboken)", a lovely dance track with guitar melody, even a visual feel of imagination depicting Metropolis, "The Perfect Way (Italo Remix by Project Alpha Style)", an outstanding heavy club disco track, "Mathilde (Twisted Nerve RE-Cut by ELLEcTRIKa)" and "Mathilde (Mister Karpe Remix by Foretaste)".

This double album shows alot of promise for further creative of synth-pop music. Certainly my best favorite.
Artist:
Yuko Nexus6
(@)
Title:
Nexus6 Song Book
Format:
CD
Label:
self-released
Rated:
I sit here frustrated at my work desk and looking for some form of escape I reach into my pile of releases waiting for review and my hands found this: Yuko Nexus6 "Nexuss Song Book". The CD is professionally pressed and the artwork has a nice vibe to it. Kind of aloof and casual. Original lyrics and English translations are included in the booklet which allow non-Japanese listeners to appreciate more than just the textural nature of the works thereby giving some insight into her actual intentions. Yuko Nexus6 should appeal immediately to fans of Michael Patton's self-titled solo works looking for extreme vocal experimentation and manipulation with a slightly less caustic edge to it... sometimes even a downright peaceful vibe. Drifting the edges of noise to lullaby, this release will not likely appeal to the casual listener of experimental music but more to those who've taken the time to appreciate the silence between the edits. While I appreciate the collage work on the release I find myself wanting to hear the material originally used for the collage instead of the collage itself... but maybe that's the point. It certainly has me focusing more on the music than I would more accessible releases. All in all it's a fine release with interesting material that comes across relatively pure and not too conceited. Stand out tracks are "Lazy Bones", "He's a Jolly Good Fellow" and "Tetsudoh Shoka"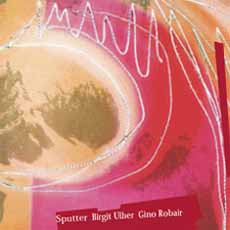 Artist:
BIRGIT ULHER-GINO ROBAIR
Title:
Sputter
Format:
CD
Label:
Creative Sources
(@)
Rated:
Differently from the recording with Zerang and Malozzi this performance is more relaxed and ambiental, but please take what I've said with a grain of salt. This piece is gently proportioned, both for the trumpet of Birgit Ulher and also thanks to the "electricism" of Gino Robair. Every improvisation is a voyage and this one is definitely a relaxed one if compared to the troubled trip with Zerang and Malozzi. Softness is the driving force and no one of the players, despite some fast eruption, has the need to rush to go anywhere. "Timoger's formula" for example is reduced to some long singular "blow"/noise, that's the good thing, it emphasizes the strength thru self-discipline, nothing scratches the surface and the "piece" flows slowly like a quiet river. The central part of the record is soft and elusive (Burble), but even where Ulher and Robair go for some tension (Loarchfillet) it's completely in control. I imagine many could get bored to death by such a record, but the idea to keep improvisation and solos controlled to me is a demonstration of "wisdom". This duo passes from odd tracks (The downy monsters) to performance well pierced with silence, by the way the typical abstractism of Creative Sources remains the dominant therefore take your pillow and have a comfortable sleep. Bushido for improvisational-performers?.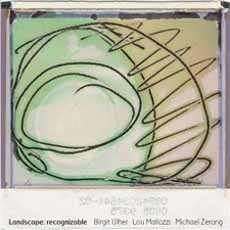 Artist:
BIRGIT ULHER-LOU MALLOZZI-MICHAEL ZERANG
Title:
Lanscape: recognizable
Format:
CD
Label:
Creative Sources
(@)
Rated:
First things first: this gonna be the first review in a serie of three of cd came out on Creative Sources the lowest common denominator of which is the fact they all feature the mighty miss Ulher on trumpet. "Landscape: recognizable" is much more acoustic than electro-acoustic (whatever it means), while Birgit holds back the voice of her instrument, rumorism marries the non-intrusive percussionism-rumorism of Michael Zerang, Lou Malozzi follows perfectly, it's hard to get who's doing what except for the noises/notes "tricks" emitted by the one-lady-horn section. It may sound contradictory but for those who are new to Creative Sources, imagine this "electro-acoustic" music sometimes gives the idea "concretism" reaches its point of ebullition thru improvisation. This cd in particular sounds like it's impro-jazz played without its traditional "dress", what do I mean? Simple, the basic idea evolves around some of the most avantgardist thoughts of Beefheart and Ornette Coleman but don't think the comparison explains it all. Improvisation without emitting classical "notes", but at the same time think of this cd as a "free jazz" ensamble with the antenna oriented toward the action/reaction rail. Impro after impro that "no-jazz" thing arives slowly at its climax (Taming the nobility, Blame Pericles) and the fact the songs become barely structured is nothing but an illusion. Her we've music where something is happening, music without music, somebody will define it "acoustic rumorism" but it would be just too easy.

Although Greece is the current European soccer champion, their team couldn't qualify themselves for the upcoming world championships in Germany. And although that the Acropolis and the haven of Piraeus are worth to start a sight-seeing tour, this most hidden musically secret of this country has more to offer. Greece was until now a white spot on the globe regarding Electro/Industrial music, but this will change with this excellent debut. Discovered by Torny Gottberg of PROJECT-X (who is also the label chief behind Progress Productions...), this band was ready to release a CD on the now defunct Energy-Records two years before. But things have changed, Torny left Energy to built up Progress Productions, and IAMBIA are still alive and faithful at his side. This is one of the very few debut releases on which you have to make sure to own it. Straight and hard ripping EBM tunes with a lot of dedication in detailed arrangements, so could a description be. This Greek duo surprises from the from the very first tune up to the last one – a really intense assault burning its way from the brain through your body to the feet to teach you to dance! They left me breathless in front of my home entertainment! Rough and angry male vocals and always this steady beatings on a high quality level – you can't ask for any other strong effort currently! To guarantee diversity they throw also in several instrumental tracks like "Ominous", "Sepuku" or the tough "Depressonic", which all can satisfy with well worked out arrangements. But diversity can be found on almost all tracks here, "Resurrect" surprises with a remarkable melodic content and unaffected vocals, while "Chaosmancer" turns into a hot Hellektro-like piece with sequences along the AGONOIZE direction. "Tetragon" is more evil and fills in some rough guitar sounds, a bit comparable to their label mates of RED CELL. Comes at last the hard ripping "Tyrrania" which holds all talents of this duo in stock. I should also mention that this release – like all previous releases of Progress Productions – will also released as a limited to 200 pieces DCD edition with several extra tracks and versions. This whole release is only limited to 1000 exemplars and regarding the strong quality here you should act soon to save your item.