image not
available
anymore
Artist:
PAUL BRADLEY/DAVID WELLS
Title:
Heart of Embra/Op. 5
Format:
3" MiniCD
Label:
Twenty Hertz
Rated:
UK dronemakers Bradley and Wells had already published each other on their respective label (Bradley's little gem "Immure", on Wells' sadly defunct Locus of Assemblage, also being my first exposure to his soundscapes), so it's only logical that they now carry out this collaboration/split project, both using and mixing each other's material. Oddly enough, Wells sounds a lot like Bradley and vice-versa, which made me wonder if I had got the track list right. Wells' "Op. 5" is a very austere and convincing piece of vaguely metallic drones, low-end tones and looped field recordings, while Bradley's "Heart of Embra" is based on similar elements, but in a more fragmentary and collage-like way, with field recordings soldering the various movements - much in the wake of Wells' contribution to the "Drone Works" series. I slightly prefer the first piece, which sounds more cohesive, but the second one has a nice cinematic quality, which also proves Bradley's dexterity at mixing. Fans of both artists take note - there is also a new full-length work by Wells in the pipeline.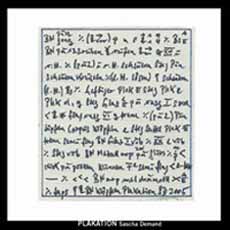 Artist:
SASCHA DEMAND
Title:
Plakation
Format:
CD
Label:
Creative Sources
Rated:
More solo electric guitar on Creative Sources, but quite unlike Pedro Chambel's album I have just reviewed. Rather than opting for the instrument-as-object performance, German Sascha Demand plays several short soliloquies - from sombre janglings to minor feedback effects, everything is based on limited set of sounds and gestures that are repeated with autistic precision. Here lie both the strength and the frailty of the album: it has a dark feel to it, with an underlying tension that never breaks out; but on the other hand, its fragmentary nature somehow limits its evocative effects, as one sketch is quickly replaced by another, which is distracting on the long run.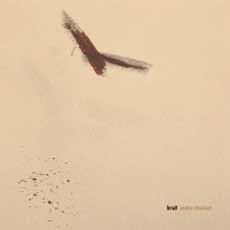 Artist:
PEDRO CHAMBEL
Title:
Bruit
Format:
CD
Label:
Creative Sources
Rated:
"Noise" is an adequate title for this solo guitar record by Portuguese musician Pedro Chambel, who has already appeared in the Creative Sources catalogue a few years ago. Not that it is extra loud (quite the opposite, actually),but it's surely based on un-musical (micro)sounds - the static feedback coming from guitar and amp, the scratching of fingers on the chords... using the guitar surface and components to produce anything but notes. Chambel is surely not breaking any new ground in the radical improvisation field, but the album has a sort of suspended feel that I quite liked - and the more physical pieces, like the feedback driven second track and the delay loops (only my guess) in the sixth one added some nice bursts of electricity.
A Japanese progressive rock duo (Satoshi Kobayashi – bass; Kazumi Suzuki – flute) with the help of supporting musicians (two guitars, keyboards, and drums) to fill out the ensemble. This is their second album. All the Prog-rock elements are here: heavy riffing, lots of solos, the frequent change of timbre and tempo within tracks. There's even the de riguer King Crimson-flavored mellotron epic (Tautology). The presence of the flute as solo instrument certainly sets the sound apart and all musicians play well. But hasn't this all been done before? Of course, but when you like something there's no reason why you shouldn't keep on doing it and fans of this genre will not be disappointed. Lots of good solos, interesting melodies and attention to changes in sound and feel drive each track. On the whole this isn't really on the spacey side of things although there are elements of it every once in a while, but come on, this is Prog-rock after all. The tracks exhibit a most decided Spanish flavor (made prominent by the guitar work, reminding me at times of Al DiMeola's solo work and his work in Return to Forever) which is odd but not necessarily bad. Just different. Jazz elements make their appearance here and there, like on track three (Lethe), with the inclusion of a trumpet by guest musician Mitsuo who also plays electric guitar. Like I said, there's spice here and there and that just makes the dish that much more tasty. The rhythm section keeps everything moving nicely with interesting changes so you don't get bored. High marks for musicianship and composition. Worth more than one listen at least if you like good solos and interesting compositions.


image not
available
anymore
Cryonica is into dance till death: therefore expect nothing but dance floor oriented music. Honestly I was afraid it was one of those boring cd that make you wonna skip from the first track to the last one right after the first listening, but thanks to god I was wrong. Hey you dancing queen out there, this is rave oriented music and most of the tracks on both of the cd s are somehow dark or not "in yer face" techno. Yes, techno and 4/4 rhythms are the basic rules of the game, the sampler is over all heterogeneous but the receipt remains almost the same. The first cd is the one I prefer, probably it has to do with the fact it's the most refined of the lot, but there're some "hot kicks" on the second one too. Thee Hyphhem, Blue October, and Fiction 8 (with their Depeche Mode mood) are good but Diskonnekted and Swarf are my favorite names on the first one. The second cd opens in the most direct way with Spiritual Reality and with Militant Cheerleaders On The Move but it gets a bit boring though the high energy overdose is still in the vascular system. If you're looking for some Chicago or Detroit influences you'll find them here and there but most of the bands have a european sound. Bowie would have commented by saying: "...Put on your red shoes and dance the blus".