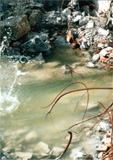 Artist:
CLOAMA
Title:
self-titled
Format:
CD
Label:
New Old Sentinel/Neuroscan
Rated:
Though Finnish project Cloama has an increasing series of cd/cdr/vinyl under its belt, this is my first exposure to it - and while I can hardly make any comparison, I guess that many of its works are far harsher and noisier than this one. Cloama's eponymous disc, coming in an A5 jacket, is an interesting mix of dark ambiences, throbbing synths and noises (though quite far from power electronics industrial), and manipulated samples, be they vocals, field recordings or stolen music (I even recognized some jazz in the fourth track). In this sense, the five tracks are quite similar to each other - all are quite cinematic and well constructed, with an interesting use of layers, but at the same time, and that's my main quibble with the work, they don't show much variation, composition-wise. Nevertheless, this remains an enjoyable release of post-industrial ambient, evoking some kind of nuclear dumping ground instead of immaculate landscapes.
image not
available
anymore
Artist:
VEILED ALLUSIONS
Title:
Visions of the World
Format:
CD
Label:
Trinity Records
Rated:
Out of the recent batch of Karsten Hamre-related projects, Hong Kong's Trinity Records has also re-released his solo outfit Veiled Allusions' first cd, recorded between 1997 and 2000, with four bonus tracks recorded in 2002 and 2004. I'll get straight to the point: I find this record as unsatisfactory as many other releases by Hamre's. It could be me, but I can't really get into his production, save for a few tracks or the Defraktor disc. Veiled Allusions are more minimal dark ambient with standard synth patterns and reverberated noise loops. Most tracks are just not memorable, but there are also a few I can't really stand (like the grotesque "Mephisto's Waltz", which seems to last forever). Sorry, not my cup of tea at all, and 68 minutes of it are way too much.
image not
available
anymore
Artist:
POLARLICHT 4.1
Title:
Drittklangträger
Format:
CD
Label:
Zone 30 Records
(@)
Rated:
After their debut album "Industrielle Hypnose", Polarlicht 4.1 are back with a new album. DRITTKLANGTRÄGER has been released in two different versions: a regular one containing eleven new tracks and a video and a double CD package (only 222 are available through the label's mailorder) containing also "Metronom", the album of Polarlicht 4.1 side project called Transistor. Polarlicht 4.1 present to the audience an album that will be loved or hated. There are no midways to be taken in this case because the tracks (three of them see also the collaboration of Wynargtage, Bluthund and Transistor) are based on a mixture of dark ambient and industrial music where vocals are used only on few parts. Rhythm has also an important part into the texture. The effect created is like a magma of sound where distortion, rhythms and tension play the most important part on the process. Personally I found the album a bit too homogeneous but the hardcore fans will find it intriguing.
image not
available
anymore
I'm always happy to hear something so good that comes completely out of the blue... but are we sure Yannis Kyriakides is a "new-jack" for real?!. Obviously the answer to the previous question is "no", and I think if you'll visit the Unsound website you'll find it yourself, but to understand this guy is a top class musician, you just need your own ears and a bit of attention. This work is based on material segmented and manipulated from interviews to twelve Brussels' residents, and it all has been taken from the BNA-BBOT archives. The final result could be "easily" labelled as experimental electronic music, but I can guarantee "Wordless" sounds unlike a standard electronic release. For those who need references (that in this case could be also very deceptive), Kyriakides' "artefact" is by some means really close to some of Elio Martuscello's work with Z_e_l_l_e or with Metaxu, but could be also compared to Jorg Piringer's "vokal". Also Piringer decided to rework/reshape radio/tv sources even though the result is fairly different, but consider these two musicians had different intentions and different approaches. The music sometimes is glitchy and makes you feel like the cd skips furiously as if it were damaged, but there's also melody in "DJ_0617" or in "Music sales person_0618". In the most of the tracks "Wordless" is the son of a juxtaposition of sound and silence, its forged by cuts and proportion, by hook or by crook it goes really close to concrete music. Abstract? Avant-garde? "oui" but not just autistic...bravo!.
image not
available
anymore
Artist:
VV.AA.
Title:
Electronic Renaissance
Format:
12"
Label:
Enfant Terrible
(@)
Rated:
Compilations for independent bands are always a chance to get known but they are also an hazard for the buyer because sometimes a cool track isn't enough for understanding the quality of a band. ELECTRONIC REINAISSANCE brings to the attention of its five hundred potential buyers twelve bands/tracks of pure retro electronic new wave produced by nowadays bands. All the bands have the distinctive analogue sound of the Roland / Korg gear and each of them give their personal view of the genre giving to it an experimental treatment, an electro e.b.m. touch or a minimal detached approach. Fortunately most of the tracks are intriguing and worth a listening. Among the others I preferred the tracks of: Porn Darsteller ("L'Ingénue"), Jeunesse Fantôme ("Ksiezyc"), Wermut ("Media In Vita In Morte Sumus"), Solitarien Effekten ("Zeitgeist Overkill"), Konform ("Nachts") and La Comtesse Morte ("No No Never").