Artist:
SILENCE
Title:
Key (Anthology / Rarities)
Format:
2 x CD (double CD)
Label:
Accession Records
(@)
Distributor:
Indigo
Rated:
If music would be that easy to understand and consume after only 2 – 3 rotations, I would have written this review much earlier. "What the FUCK is this?" – well, that does fit with my first impressions on the music of this Slovenian duo and I have also to admit that I've never heard any of their highly acclaimed releases before, although they were signed on the well known Germany-based label Chrom Records. No, their musically career went totally away of my attention. Here are two musicians at work – I mean "real" musicians – persons which are able to perform live on stage with real instruments, although when there's someone switching off the voltage. In short – people with more talent in a little finger than any else PC musician around. Also the named category I've chosen for this review explains nothing at all. It's not Synth Pop, it isn't Wave or something else. I would tend to name it Pop-Art, only at times Synth Pop, but also often inspired by orchestral/classic related themes. The Polish act CABARET come to my mind somehow, but also acts like DEINE LAKEIEN. As I said, this stuff is a musically discovery, but I mostly like to dive into it. This DCD set features one the first "Anthology" CD a kind of "Best of..." compilation to give the greenhorns (like me) a first overview of what has happened through the years. The mainly Synth Pop influenced tracks like "I Love You", "Belief" or the outstanding melodious masterpiece "Kraljestvo macjih oci" convinced me the most. Please check also out the addictive cover version on KRAFTWERK's "Hall Of Mirrors" featuring Anne Clark on the guest vocals. Also available here is a "rocking" remix of the DEINE LAKEIEN musician Ernst Horn on the track "Scream, Greeneyes". The second CD entitled "Rarities" features (you got it!) unreleased stuff this band has recorded through the years. On it you can find an impressive dark piece named "Der Untergang", featuring a nice German lyric content. Not all of the tracks can grab my totally attention here, some stuff turns to much into classic inspired or Avantgarde anthems. Globally I must say that I am quite impressed and surprised by this abilities of this act. That they've signed to Accession Records, a label mainly focusing on Electro/Industrial music, is just another surprising point. What could I read in the inlay of their CD? "Music is art, as long as you don't ask me what art is" – well said – keep it on!
This is the new full length and self-produced release by the German Electro/Industrial musician Nick Jonath, better known under his band project MC1R. He has made himself already a good name through some promising compilation appearances and some good reviewed remix works for different acts like OBJECT or FINAL SELECTION for example. Still strange to me is the fact that unfortunately no serious label has made a try to sign this promising Dark Electro act. Disregarding the fact that Nick could investigate some more time and effort into his coming out, his music is well produced enough to beat some established acts. Musically mainly inspired by Dark Electro music made in the USA leaded by the big names like MENTALLO & THE FIXER to their "Revelations 23"-times, G.G.F.H., or his German partner in crime, OBJECT, Nick presents us here 15 Dark Electro pearls which will leave you astonished. This is no minimal Body music, also no hunt to follow any trendy styles. Nick describes his stuff himself as "Intelligent Splatter-Electro". Thick melodic Synth layers, dark samples, heavy restranged vocals and a wide complexity in arrangements and rhythm programmings, yes – the "North-American" factor is rich present here. MC1R can be easily taken to satisfy all fans of this genre, especially when acts like the already mentioned MENTALLO & THE FIXER present uninspired stuff. It's only a pity that he hasn't received until now the well deserved success and response. If the mentioned music style is yours, you should immediately pick up this promising act and order his releases. Check also out the new Interbreeding VIII compilation of BLC Productions (www.blcmusic.com), which features a remix of MC1R for the US-act FUNCTION 13...
Artist:
Angel Theory
(@)
Title:
Re-Possession
Format:
CD
Label:
GUP / Endless Records
(@)
Distributor:
Alive!
Rated:
The Australian Electro/Industrial musician Charles Fenech returns with his second full length CD, again released under the GUP label and licensed to Europe to the German Endless Records. He goes on with his known style, playing a kind of EBM with some well balanced melodic input and some Dark Techno hints. Think about the early INFORMÄTIK as a possible reference, this could somehow work as a comparison to describe his music. It is one of the albums which can be heard from the first to the last track without any lack of quality. Charles' composition abilities are tremendous, he always tries hard to create remarkable but still dark Synth layers to give his tracks a strong recognition. He also has learned well to include his voice ranging from clear ("Breathe") to diabolic rough ("I Feel Disease"). His bass lines are almost straight and very linear filled in, this gives the tracks a strong European influence. It is for sure not the hardest EBM around, but I enjoyed his efforts a lot. Less aggression is definitively more here. The main track of his last EP "Black And Blue" is also available here, another "hit" candidate could be the track "Human". Also his collaboration track with the US Powernoise act TERRORFAKT called "No Frequency" is included. Some tracks like "Witness", "Possession" or the last very dark piece "Horizon" are slowing down the tempo and have a stronger dedication to the dark melodic content. Two instrumental piece, both different in style and arrangement are featured as well. This release offers a great quality Electro/EBM/Industrial music not like anything else. It should and must be heard by a wider audience and I wish Charles the best for this. Please note that also ANGEL THEORY is a member of the Australian Crash Frequency community (www.crashfrequency.com). Buy this release, you can't go wrong with it!





Artist:
KLUTĘ
(@)
Title:
Hit'n'Run
Format:
CD
Label:
Alfa Matrix
(@)
Distributor:
Soulfood
Rated:
The output of the Danish mastermind Claus LEÆTHER STRIP Larsen finds no sudden end, only three months after the LS DCD "After The Devastation" and only one month after the KLUTÆ returning EP he releases this full length album. If this all will end sooner or later in a total overkill has still to be proven. His fan base should be strong enough to be happy with a new release of the master at all three months. Also a new LEÆTHER STRIP EP with six new tracks and a few remix works is again in preparation... But back to this release, the new KLUTÆ CD goes on with that style and work how the "Sinner" EP has already started. The symbiosis between the typically LEÆTHER STRIP-like bass lines, some well melodic synth layers and the hefty guitar riffs works well once again. But against the early works of this side-project – to that days where KLUTAE was named KLUTE – this project has lost its aggressive mood. Everything is a bit calculated here – at the earlier days it was more Punk-ish, well maybe more into pure sound anarchy. So I am not sure if the MINISTRY or any else hardcore guitar listeners will really dig this, because it is definitively more LEÆTHER STRIP-infiltrated. Nothing against the banging hard stuff tracks like "Fuck-a-Billy" or the "Desert Storm 2006" reconstruction version – but especially the cover of NEW ORDER's "Blue Monday", "Please Don't Cry" or "God Bless You" offer only a few KLUTÆ attitudes. So you'll get an impressive KLUTÆ full length which appeals as well to the fans of LEÆTHER STRIP. Hopefully the overkill I've mentioned will never come true...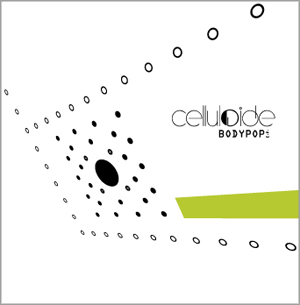 Artist:
CELLULOIDE
(@)
Title:
Bodypop
Format:
MCD (Mini CD)
Label:
Boredom Product
(@)
Rated:
BODYPOP is the new release by Celluloide, a French trio that started their activity on early 2000s. After several E.P.s and a couple of albums, they decided to move a step forward into their style and the result is represented by the five new songs of this MCD (there's also a sixth song, a remix of "I am fine" reworked by Ciëlo). If the vocal style hasn't changed that much (Darkleti use her detached style of singing since day one) the music has taken some influences from a certain techno electro dance (see Vitalic or Miss Kittin) but always having a song structure without being distracted by the acid attitude of some dance scenes. In this way tracks like the opening "People like me", "Audio therapy" or the following "I am fine" show a danceable attitude really catchy where the analog sounds are free to create interesting layers of melody. Even if the vocal style isn't always functional for the immediate enjoyment, after a couple of listening the band sound succeed into breaking the barriers of preconceptions showing all its potential.