Artist:
ZOMBIE GIRL
(@)
Title:
Back From The Dead
Format:
CD EP
Label:
Alfa Matrix
(@)
Distributor:
Soulfood
Rated:
Thanks to the unbeatable success of husband Sebastian R. Komor (ICON OF COIL, MONOFADER, MOONITOR, BRUDERSCHAFT, producer jobs for SPECTRALIZED and so on...) also Ms Renee Cooper-Komor can now look on a CD release in the Electro/Industrial music scene. This sounds a bit expected – also the fact that this female leaded act got signed by Alfa Matrix. Nevertheless the debut of this ZOMBIE GIRL was hardly awaited by community and maybe moreover from some DJ's, because this project could enter a lot of recognition thanks to the bot compilation appearances on "Advanced Electronics Vol. 4" and on the Alfa Matrix comp Cyberl@b 5. Both presented tracks, "We Are The Ones" and "I Want It" are also here in their original version available, plus they received alternative remix versions done by good names like ICON OF COIL (no – not Mr. LaPleague...) and the Infacted Recording artist SOMAN. Two more tracks have found the way on this debut, "Creepy Crawler" (which also got remixed by the legendary KMFDM, it ROCKS...) and "Bleeder", and – don't ask me why, I do enjoy them here the best. Musically ZOMBIE GIRL are based in the gray area of danceable Synth-/ and Futurepop, real EBM efforts are sparse mixed in. Lyrically – you may expected this – this projects covers all related themes of being a zombie, you know, all that cliche-loaded stuff of eating a human brain. Not very innovative at all, but it fits with the image of this act and I've recognized the black humor behind it. The problem I have with it is that this stuff doesn't come over really reliable – that's maybe the biggest difference to the female label comrade UNTER NULL.I don't understand the overdone hype of this act – but hey, that's just me. It's average, not more.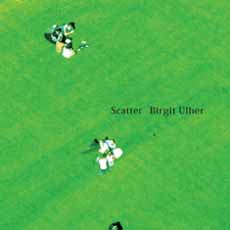 Artist:
BIRGIT ULHER
(@)
Title:
Scatter
Format:
CD
Label:
Creative Sources
(@)
Rated:
People like Taylor Deupree, Koji Asano and Birgit Ulher knows the meaning of the words "relax" and "stand by" but most of all do they know what "rest" means? Probably the answer is "neee" and this new cd on Creative Sources is here to confirm it. After some collaborations we reviewed in the last months this musician is back with a proper "solo recording". If compared with her collaborations this release is much more minimal and above all softer, if you're familiar with the usual sound of this portuguese label I'm sure you won't be dissatisfied by "Scatter". The trumpet sounds choked, its voice passes from suffocated notes/noises to short but never violent incursions. The voice of Ulher's trumpet rears its head just a few times (as I've said many times before when speaking about this style of free-improvisation forget academic use of instruments) and if you consider the average length of most of the tracks goes from three to four minutes: it means the most of the lexicon is represented by electro acoustic" noises. Birgit use her instrument as a nail with which she pierces silence more than in any other previous recording. I can imagine many listeners when giving a listen to "Scatter" could think of a joke, or even worse that the recording indulges on a bunch of senseless exercises, but wasn't that the opinion many had about the abstract expressionists' works in New York? Isn't contemporary art trapped in that no mans land that separates a serious piece from a joke?.
Artist:
DIVE vs. DISKONNEKTED
(@)
Title:
Frozen
Format:
CD EP
Label:
Alfa Matrix
(@)
Distributor:
Soulfood
Rated:
There are out several more or less interesting collaborations or questionable side-projects between bands out of the Electro/Industrial scene – and then this! Electro/EBM veteran Dirk Ivens aka DIVE joins the studio battlefields with one of the best talents the Electro/Industrial scene of Belgium has ever brought out, DISKONNEKTED aka Jan De Wulf. Both haven't seen a sense to create a funny pseudonym for this project, they rather believed in the good effect of their names, which is a wise decision. So to all of you listeners – and I tend to say this in advance – we have here one of the best EP's in this year - maybe the best which the Alfa Matrix label ever brought out!!! Take both winning elements – the noisy minimal Electro of DIVE to his "Concrete Jungle" and mix it with the unbelievable talents of DIKONNEKTED, dancey breakbeats and rhythm patters par excellence – and ready is a refreshing mixture I couldn't imagine of. You have never heard DIVE into his best phase that danceable and for all who found DISKONNEKTED too poppy – well here is Jan's darker side rich presented. Four new tracks which all feature Dirk's nice and a bit dramatic voice – and they all will satisfy you. Adding to this four remarkable remix works which offer another fine surprise with the return of another Electro/Industrial legend, NUMB aka Don Gordon offers a remix work on the main track "Frozen" – surprisingly a very melodious one without the beast-like noise attacks and effects, which this act made that famous and sought-after in the history of Electro/Industrial music. Also the other remix works deserve the mentioning, LEAETHER STRIP turns "Frozen" into a straight Electro piece, while the COMBICHRIST remix of "Do You Believe It" more than ever heard before joins a minimal Powernoise effort very much in vein of the self-titled first DIVE album. Also the remix work of the new Alfa Matrix signing INURE deserves the fully respect by adding more modern bass lines and rhythm patterns to the original. So we have 8 tracks in all and no filling stuff. I hope the best that both artists will soon find the time to join again this collaboration project. More stuff is required here!
Artist:
TAXIM
Title:
Ecclesiophobia
Format:
CD
Label:
Telegrammetry Recordings
(@)
Distributor:
DSBP
Rated:
This is a release published by the new Miami-based label Telegrammetry, which we at the Chain D.L.K. like to welcome to the world of Electro/Industrial music. With the German one-man act TAXIM, this label presents here after a compilation called "Weatherhead" and a release by ELEMENT 104, their third official CD release. Shame on me that I haven't heard before of and about TAXIM, although we're countrymen! TAXIM, consisting of Alex Ney, plays generally a fast paced Dark Electro/Industrial music, mostly aggressive and straight – that kind of "4/4 on the floor" that keeps some bodies of the Rivethead culture in motion. The speed of the tracks can be seen as a difference to other acts out of the scene, especially for Dark Electro music. I nevertheless got the feeling that TAXIM's music is generally more leaded by its dark melodic mood, which turns at times into a diabolic attitude (nothing wrong with this – a lot of bands tend to "play" with related things...). The fast tracks here get also some well played interruptions with the calm and with piano sounds arranged pieces like "Freier Fall" or "Das Schwarze Kreuz". Take the music efforts by acts like FEINDFLUG or the BLC Productions recording artist BETA as possible comparisons and you maybe get an idea, how the stuff of TAXIM sounds. Here we have the little flaw of this release, which I would like to criticize: as much I am impressed by the music efforts and abilities of TAXIM (check back the outstanding "Das 25. Jahr"), I am a bit disappointed how poor and sparse Alex decided to fill in his vocals. Some more tracks which can be seen as real compositions also for the lyrics wouldn't be bad. That he can do it well, he proofs on the final track "Time Out" – it is definitively next to the hard driving and pummeling "Inkompatibel" the highlight of this CD. Check back the given resources here and/or the cool DSBP mail order service and get this promising release of this new and refreshing artist.
Artist:
CRYO
(@)
Title:
Cryogenic
Format:
CD
Label:
Progress Productions
(@)
Distributor:
Border Music
Rated:
Another fine debut for the growing Armada of the Swedish Progress Productions! The long awaited first CD for Martin Rudefelt's project CRYO is finally out now and – to make the diversity of the label program perfect – his musically direction tends to integrate the ideas of some old school EBM classics played with the technique of the current times. What I've already discovered with the marvelous track "The Pain" appearing on the Plutonium Showcase Vol. 2 compilation, finds here a well and full of decent ideas produced continuation. It is always great to hear a release based on this old school vibe without falling into that "copying old NEP bass lines with shouted vocals" syndrome - this syndrome is without doubt also heavily based in Sweden, but Martin has spend a lot of efforts not to fall into this cliche. His music is cold and machinated, also mostly very static along the lines. Nevertheless his tracks offer a lot of free space to express some nice worked out effects, just use this CD under a good pair of headphones – you'll be amazed about the used stereo mix! I also don't share the opinion, that "Cryogenic" sounds "like a logical follow-up of COVENANT's "Sequencer" – a few similar bass lines like presented in "One" do not at allow a comparison between apples and pears – I would moreover say that CRYO can be the Swedish answer on acts like the French E.S.R., only focusing on the more minimal and old school influenced part of EBM/Electro. Another winning point of CRYO is the sound and diversity of Martin's vocals – no matter if clear ("The Pain"), filled with distortion effects ("Does It Hurt") or vocoderized ("Want It" or "Uniform"). I hope the best for a total breakthrough for this amazing project with a similar success like his label comrades of HYPE could earn, they entered lately the official album sale charts of Sweden. Well, that's maybe a bit too pompous for CRYO, but the hope dies at last...