Artist:
FAKE THE ENVY
Title:
As They Fall...
Format:
CD
Label:
Idle Works
(@)
Rated:
This is the debut release for Danish Synthpop duo consisting of Kristian Kroll and Kent Petersen. Also for the label behind this release, Idle Works, it is a debut and we like to say "Hello" to a new promising force which can set already with this first release a big exclamation mark on the still very poor looking Electro/Industrial map of Denmark. And when I said Synthpop, I mean Synthpop. No Futurepop attitudes have found the way on this 8 tracks, it can be also generally said, that FAKE THE ENVY do not at all produce their kind of music to build a dancefloor compatibility. The music is smooth, catchy and fills in the right melodic synth swabs when needed. Similarity also for the vocals, which are excellent set in. MESH, DEPECHE MODE back to their "A Broken Frame" times only played with Synths of the current times come somehow to my mind when I try to find possible comparisons. Especially their right nose for the ideas of the Pop/Wave times of the 80ies is the outstanding ability on their valuable work here, it may needs 2 – 3 more rotations until it totally gets you! Remarkable and recognizing refrain works can be heard in both "Obsolete" and "What Kind Of Mess", while the title track of this album is maybe the only one track which can lead the Synthpop maniacs to a residence permission on the dancefloors. This is dreamy and valuable Synthpop in its clearest form and I hope the best for this act that they can soon enter a wider recognition and success. Same for the label Idle Works, which will soon return with the band MACHINE SOLDIER which more focuses on harder EBM-like music.
Artist:
TAMTRUM
(@)
Title:
Elektronik Blakc Mess
Format:
CD
Label:
Alfa Matrix
(@)
Distributor:
Soulfood
Rated:
The French mass destruction machinery aka TAMTRUM returns with a completely new studio album, their first on the rising Alfa Matrix label. Their signing nearly to the end of the last year has caused some confusion, because only a few weeks before Christmas they'd re-released their successful debut "Some Atomik Songz 2K5" at the US label DSBP in collaboration with their first French label La Chambre Froide. Surely the hopes were high at the DSBP to have them now on board, until Alfa Matrix intervened and gave them a contract "they could NOT resist". Somehow understandable, the possibilities with the Matrix are multiple, especially for the European continent. So here is the newest onslaught of this Punk- and Terror-inspired act, which now has became a trio. This new album is again an elementary assault against the fainthearted of us here, TAMTRUM again mix their influences well to a another explosive slop. Their typical speedy and straight Electro richly influenced by some Punk- and Death Metal attitudes, added male shouted vocals full of hate, sexism, sickness and perversion and a globally rebellious behavior are documented here already with the title of this CD (no typos here!!!). For the opening track of this CD "In A Little Skull Box" they could also add Rose Hreidmarr of the Black Metal act ANOREXIA NERVOSA for some guest vocals behind the microphone. Other outstanding tracks here can be named in the ultra-fast piece "Paranoiak, Hypokondriak and Toxicomaniak" (what a cool title!!!) and "Abort The Pope" (Yeah, this act doesn't like to be sparse against religious themes...). That TAMTRUM are besides all rebellious and "Against Everything"-mood some well producing Electro musicians goes somehow a bit under. So please check the musically strong pieces here with "Deshumanization" or the surprising melodious track "My Fall". TAMTRUM take again no prisoners at all and you should pick up these piece somehow. Please note also the release date, 06th of June and so their number constellation: 6.6.6. Of course, this hellish stuff RAWKS again!
Artist:
TACTICAL SEKT
(@)
Title:
Syncope
Format:
2 x CD (double CD)
Label:
NoiTekk
(@)
Distributor:
Nova Media
Rated:
No other act signed under the German label NoiTekk has formed the typical sound and attitude of this label like Anthony Mather's project TACTICAL SEKT. Having started as a solo effort to waste some time between releases for his main project ASLAN FACTION, TACTICAL SEKT became more successful with both previous releases "Geneticide" and the EP "Burn Process". Yes, this act is nowadays a big player in the hard Electro/Industrial scene, highest chart positions at big mail order services like Metropolis for example prove this well. No real wonder that the audience was waiting anxiously for this new full length. Too much hasn't changed in the direction and the style of music for sure – why should it? Anthony again combines mostly hard and straight rhythm patterns with Tekkno-sounding bass lines and synth play, plus he adds his ultra-harsh distorted voice to the tracks. Definitively the kind of music nobody really can really sit still to – it works the best on the dancefloor of the dark clubs. It's also a hard and noisy listening for your home entertainment, maybe a bit to much and overdone for the fainthearted of us. The stupid genre name "Hellektro" comes here definitively to mind and the music of some other acts like RETRACTOR, AGONOIZE or VIRTUAL EMBRACE offer allowed comparisons. Of course it is solid done and maybe the quality of TACTICAL SEKT lays in some thicker and more complex bass line sounds, but it definitively holds nothing surprising in the background. It is the expected kind of EBM/Dark Electro dose, which has some highlights, for example in "Awaken The Ghost (Final Awakening)", "Waiting For The World To End" which both offer a strong dedication to some changes of the snare and kick sounds. Also "Dark Sky" offers some well done breaks, while "American Me" brings in some heart-felting voice samples all based on the tragic happenings at 9/11. Maybe this track is meant as a special "welcome back" statement to the Californian Governor Arnold Schwarzenegger, because Anthony lately decided to go back to the States and he's currently on the move back to his home area in California. So we have in all 12 very satisfying tracks which once more will mark TACTICAL SEKT's status to be one of the leaders of hard Electro/EBM/Industrial music in the world. I had also the luck to receive a piece of the limited and numbered of 2000 exemplars box set as a promotional copy for this review (thanx Marco!!!). It features an extra disc with 8 new and previously unreleased track of TACTICAL SEKT. Normally bands out of this music genre do offer more less tasteful arranged remix works done by mostly well known scene acts – but not TACTICAL SEKT. Again – this 8 tracks are PREVIOUSLY UNRELEASED!!! EXTRA TRACKS for your hard earned money!!! The quality maybe alters a bit on a few tracks, also some long-time running instrumental pieces are on here, but the die-hard fans of this act know very well, which issue they have to pick up. Hurry up and ask for this limited box set - it should be sold out soon and become a collectors item.
Artist:
TWZ
(@)
Title:
B-Sides 0
Format:
CD
Label:
Void Recordz/Deathproganda Records
(@)
Distributor:
Void Recordz
Rated:
The promising Swedish duo of TWZ returns here, this time in collaboration with the underground label Void Recordz hailing from Portugal, which musically program is dedicated to all forms of Experimental Electronics up to some real sick Powernoise efforts. Packaged in a cool DVD box, this edition features – like the title said already – a collection of some b-side tracks, which somehow do not fit with the typically sound of TWZ. That's also a matter of taste I think. It is still amazing how this act spins and produces their Dark Electro, I kindly prefer that they not focus on the newest Tekkno-inspired synth machinery. It is a purest analogue sound machinery and the band have a lot of ideas in the back to keep their arrangements interesting. Just check out some bass lines they produce ranging between purest simplicity up to thick complexity. There's a fine old-school blood floating in their veins, and this does of course not mean that they would produce minimal NEP-like music. I would take some PUPPYan, at times some KLINIK-like efforts as a possible reference, but please note and check out their own authentic kind. Best tracks here are "Purge" and "Terror Cell", a track I could also thankfully discover on the last Plutonium Distro "Showcase 2" compilation. Check back their website, where this up and coming act offers some more stuff, visit also the given references of Deathpropaganda Records as well as Void Recordz and place an order. While you read this review this Swedish should have already out another new album.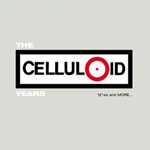 Artist:
VV.AA.
Title:
Celluloid Years
Format:
2 x CD (double CD)
Label:
Collision (Cause of Chapter 3)
(@)
Distributor:
Caroline
Rated:
1983 Herbie Hancock's "Future Shock" (and it's opening hit track "Rock It") was the first million selling album in the eighties to expose the sounds of the newly emerging rap music to the masses. If you look at some of the musicians involved, you'll find drummer Sly Dunbar, turntable-scratcher DJ GrandMixer D.S.T. (now DXT) and bassist Bill Laswell, the latter of which had been producing and releasing crossover albums for years on his label Celluloid records. This double CD release is a celebration of those years and of that label, a NY-based outlet that changed the face of music for years to come and contributed as much to the growth and sonic definition of the undeground rap movement that bloomed around 1979 (through its genre-defying crossover releases of those years) as it did to the evolution and quality of electronic music (check out Bill's massive discography online at www.silent-watcher.net/billlaswell, and you'll only be scratching the surface of how important this man's contribution to the genre has been through out the years, and still is).The sound of those days, defined by Linn drum machines, Yamaha DMX keyboards and early turntable scratching, represented the crib from which Fab Five Freddy (Change the Beat), Afrika Bambaataa (Zulu Nation movement guru) and the graffiti artist Futura 2000 were emerging from. All these artists, as well as Jalaluddin M. Nuriddin (one of the first of the Last Poets), The Clash, Sex Pistols' John Lydon, Manu Dibango, Jaco Pastorius, Jimi Hendrix, Herbie Hancock, Robert Musso (Material), Bernie Worrel (Talking Heads), Wunderwerke, Bernard Fowler (Peech Boys), Nicky Skopelitis (Material), Time Zone, Grandmixer D.ST, Deadline, D.ST, Lightning Rod, Shango, Tribe 2 - What I Like and Bill himself, were all brought together by the far-reaching hand and mind of Laswell and were mixed, re-mixed and re-arranged as to form duets you had never heard before anywhere else (Hendrix & Lightning Rod, Futura 2000 & The Clash), Grandmixer D.ST & Jalal etc). 21 tracks, among 12" releases, remixes, B-sides, dub versions and special remixes that will make you fly right back into the eighties and hover there for quite a while! Of historical importance!