Artist:
RESURRECTION EVE
(@)
Title:
Ascension
Format:
CD
Label:
GUP / Endless Records
(@)
Distributor:
Alive!
Rated:
Yes, it took me a while until I had the right feeling for this review. But this has nothing to do that this release would lack somehow of quality, no, it depends more on the opposite of this. I have heard a lot of Synthpop/Futurepop influenced stuff, but lately nothing like this second CD of this Australian duo. Especially the vocals done by front man Jordan Robbins are somehow strange, but also beautiful placed in the mix, plus Robbins is able to change the octaves. A very catchy and important point in the music of RESURRECTION EVE for sure. But also the music has its quality and surprises to offer. Take the slow starting and with decent piano and flute sounds arranged "Hope" as a well produced reference here – the rich musical content only placed in this track beats a lot of Genre-related acts out of this playing field! RESURRECTION EVE have found the right feeling to fill in a well working melody when needed without sounding like heard several times before. And although they are sounding modern and up-to-date, they still do not feature that typical F-Pop sound, on which almost everybody has to suffer in between. Next to the already mentioned "Hope", I would like to advise you to check out their tracks "Life", "Ascension" (danceable, but strong melodic...) and "Guide Me Home" (remarkable Synthpop entertainment...). Also RESURRECTION EVE are a member of the Australian Crash Frequency community (www.crashfrequency.com). This album has a lot of to offer, also for some open-minded Electro listeners. What a pity that their label Ground Under Productions in Australia has finally closed their business doors – for Europe this great release is still available through Endless Records, for the USA you have to contact the known mail order resources like DSBP or Metropolis-Records. Get it!
Artist:
PLANNINGTOROCK
Title:
Have It All
Format:
CD
Label:
Chiks On Speed Records
(@)
Distributor:
Wide
Rated:
BUY from
Planningtorock is the personal project of Janine Rostron, a girl from Berlin that besides creating her personal musical vision she is also a video artist. HAVE IT ALL is her first album and it's a real threat for the occasional listener because the twelve tracks are a sort of aural circus where she uses brasses, strings, xylophone (to name few) to create a blend of blues, opera, hip hop and tons of craziness. If you want me to do names, I feel someway an affinity with a Swiss electronic band that was more active in the past, called Yello but the attitude seems more similar to projects like Peaches. The effect is interesting but after six tracks the attention starts to fail because of the repetition of the main idea. Things change with "Have it all" where the dance structure awaken the senses and the particular coupling of upbeat tempos and Janine's dramatic way of singing here works really well. Also the closing "When are you gonna start" is a good one with its structure made of strings layers. In my opinion HAVE IT ALL could be a great E.P. with half of the track but I'm sure that Planningrorock will know how to surprise the audience in the future.
Artist:
GIUSEPPE IELASI & HOWARD STELZER
Title:
Night Life
Format:
CD
Label:
Korm Plastics
Rated:
Born out of the residency offered last year by the Brombron project, "Night Life" finally brought together Italian soundmaker Giuseppe Ielasi (know for a theory of solo and collaborative albums and for his remarkable label Fringes) and his US friend Howard Stelzer, equally well-known for several records and the beloved Intransitive recordings. These 4 tracks, clocking in at 30 minutes (a good choice, to keep it short and intense), are the edited result of various sessions played with guitars and cassette tapes (respectively Ielasi's and Stelzer's main instruments), effects, microphones, field recordings and synths. Ok, it's unfair and pointless to say this and I know it, but the result is not as stellar as Ielasi's "Gesine" - that being said, this is one of the best assembled and most adventurous discs off the impro area that I've listened to lately. The performers' palette range from the all-out noise screech of track 2 to the string bowing and quiet plucking of track 4 (actually quite reminiscent of the style of Ielasi's latest masterpiece) with pretty much everything in between: electroacoustic improvisation with a strong sense of timing, variation and interaction, which definitely encourages repeated listens.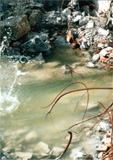 Artist:
CLOAMA
Title:
self-titled
Format:
CD
Label:
New Old Sentinel/Neuroscan
Rated:
Though Finnish project Cloama has an increasing series of cd/cdr/vinyl under its belt, this is my first exposure to it - and while I can hardly make any comparison, I guess that many of its works are far harsher and noisier than this one. Cloama's eponymous disc, coming in an A5 jacket, is an interesting mix of dark ambiences, throbbing synths and noises (though quite far from power electronics industrial), and manipulated samples, be they vocals, field recordings or stolen music (I even recognized some jazz in the fourth track). In this sense, the five tracks are quite similar to each other - all are quite cinematic and well constructed, with an interesting use of layers, but at the same time, and that's my main quibble with the work, they don't show much variation, composition-wise. Nevertheless, this remains an enjoyable release of post-industrial ambient, evoking some kind of nuclear dumping ground instead of immaculate landscapes.
image not
available
anymore
Artist:
VEILED ALLUSIONS
Title:
Visions of the World
Format:
CD
Label:
Trinity Records
Rated:
Out of the recent batch of Karsten Hamre-related projects, Hong Kong's Trinity Records has also re-released his solo outfit Veiled Allusions' first cd, recorded between 1997 and 2000, with four bonus tracks recorded in 2002 and 2004. I'll get straight to the point: I find this record as unsatisfactory as many other releases by Hamre's. It could be me, but I can't really get into his production, save for a few tracks or the Defraktor disc. Veiled Allusions are more minimal dark ambient with standard synth patterns and reverberated noise loops. Most tracks are just not memorable, but there are also a few I can't really stand (like the grotesque "Mephisto's Waltz", which seems to last forever). Sorry, not my cup of tea at all, and 68 minutes of it are way too much.