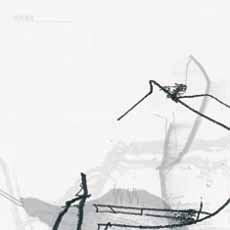 Artist:
DAVID CHIESA
Title:
Phonèmes
Format:
CD
Label:
Creative Sources
Rated:
I was not familiar with Chiesa's work, but in the same Creative Sources batch there's an improvised performance where he plays with Jean-Luc Guionnet (here offering his drawings for the layout), Eric La Casa and Emmanuel Petit, which I'll review anytime soon. "Phonèmes" features two improvised studio sessions recorded last november, where Chiesa explores the possibilities of double bass, his instrument of choice. I am always a bit skeptical when it comes to solo improvised recordings, but this French musician manages to pour both the free-flowing qualities of radical improv and a great sense of timing and discipline. "Phonèmes" is indeed an appropriate title, as Chiesa is apparently stripping the sound qualities of his instrument to their very physical components - from intense bowing to sparse thumps. It's obviously not an easy listening record, but there's an underlying, compressed strength to it that makes the experience a rewarding one.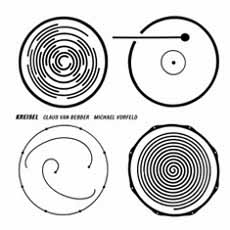 Artist:
CLAUS VAN BEBBER/MICHAEL VORFELD
Title:
Kreisel
Format:
CD
Label:
Creative Sources
Rated:
Aaaah, the ever charming sound of turntable motors and crackling vinyls! Here the man behind the turntable is Claus Van Bebber, while Michael Vorfel skillfully blends percussion and an unidentified "stringed instrument". Minimal sources but used in a pretty varied way, creating throbbing, multi-layered soundscapes, from the boiling surfaces of "Eingekreist" to the hallucinated stasis of "Gerundet", from the noisy outbursts of "Gekreiselt" to the percussive patterns of "Umrundet" and "Abgredeht". In the niche of improvised turntableism this is surely a nice release, and in spite of a few repetitive moments here and there, a tight one from start to end.
image not
available
anymore
Artist:
SASSE
Title:
Made Within The Upper Stairs Of Heaven
Format:
CD
Label:
Mood Music
(@)
Distributor:
Audioglobe
Rated:
After having recorded many vinyls under several guises (Freestyle Man, Winston Fletcher, Morris Brown, Sassomatic, Thirsty Monk and Mr. Negative), Klas Lindblad, a Finn residing in Berlin and the owner of Moodmusic, releases his first album. "Made Within the Upper Stairs of Heaven" is an interesting mixture of the '80s with today's trends in music, and shows his musical roots starting from disco and italo, going through the clubby Chicago and Detroit techno influences mixed with his fine ear for catcy melodies and fine tuned arrangements. The album is featuring vocalists Kiki (B-Pitch Control), Malte (Losoul/Playhouse), Jani Lehto (Star You Star Me) and Bernadette Hengst (Die Braut Haut ins Auge) and mainly consists of modern disco combined with house, electro and some deep house. The productions that stand out are the vocal ones, primarily: "Loosing Touch" with Kiki, "Up To You" with Malte (Losoul) and "Legacy". Perfect to groove the acid-infused "Soul Sounds" features Jani Letho from Finnish nu-disco outfit Star you Star me on vocals. Strong drum production and thight arrangements takes you a ride to Chicago groove, while in "Octagon" melodic Italo meets Cologne techno-structure and Sasse shows his ability to mix sounds and styles from various influences and creating an hybrid sound design with strong emotional touch, even if my favourite tune is the instrumental "The Sound of Highlife" with its daft punkish bass. The rest of the CD is filled mostly with calmer, more dreamy tracks so you listen to this unmixed album almost as if it was a cohesive DJ set, while "Notz" is a perfect ending to the album with its modulatine, arpeggiated synths, creating a dense, rhythmic groove with a mystic vibe.
image not
available
anymore
Artist:
TOMCRAFT
Title:
Hyper Sexy Conscious
Format:
CD
Label:
Kosmo Records
(@)
Distributor:
Caroline
Rated:
BUY from
If I should sum the review of the third Tomcraft's album titled HYPER SEXY CONSCIOUS I would only write: "wow"! I mean, this album is a smash! It contains all the elements that a dance album needs: good tunes, rhythm, house as well as techno and electro elements all blended into a perfect formula. Produced into his home studio in Munich, Tomcraft called Tai Jason for production (he also did the rap parts into the smash hit "Sureshot" and the electro gem "Quelle heure est il") and Rolf "Jam El Mar" Ellmer (from Jam & Spoon) for the creation of three tracks ("Electronic toys", "Roots" and "Dirty Sanchez"). For the female vocals he called Dacia Bridges and Stephenie Coker (she sung into "Bloated" a sensual soul'n'blues electro track and into "Da disco", a house track where her bluesy vocal enrich the cool melodies created by Tomcraft, Tai and Trokken & Lützenkirchen). The album opens with "Sureshot" (which is also the first single released after the album), a track that will convince you in no time with its hip hop techno structure (if you love Prodigy tracks of the likes of "Breathe" or "Smack my bitch up", you'll love this one) and which is also present as bonus into the version featuring Sido & Tai Jason for an even more rappier version. "Quelle heure est il" is a perfect track for the electro lovers and it has already released as a single the last year. Check its 4/4 rhythms and the funky guitar...I'm sure you'll love it! House techno is present with the following "On screen" where Dacia Bridges gives her sexy performance on vocals. "Roots" changes the atmosphere of the album turning it into a dark soundtrack with long synth pads and a catchy rock guitar. There are so many high points into this album that it is difficult to name each of them but each track contains something new that will catch your attention while your feet will start moving since the first notes of the album. Tomcraft is a well respected producer, he did remixes for Depeche Mode, Pet Shop Boys, Simple Minds and Dandy Warhols to name few and this is your chance to check his skills in full. Don't lose this opportunity!
1. Breast Eggplant[angry mosquito drums circling overhead – ring of positron whistles parting your follicles and foibles – Ponce de Leon in a grass skirt doing the hula with the native girls hoping for a snog]2. Camera Up Uranus[rummaging around the house trying to find it – throw the cushions aside – push the furniture again the wall – no sign – blood pounding at the temples – where the (h) (e) double hockey stick is it?!!! – maybe under the bed? – nope – under the fridge? – nope again – under the cat? – nope nope again – might as well give up]3. GMO's Meet PMS[dance you moron! – she's still not interested – wail and flail – speak in tongues – jabber and gabber – twitch and switch – pay and pray – she still not interested]4. I'm not Perfect[grovel and grind in the dust – wriggle and writhe – eat dirt maggot!!! – stop making excuses! – try harder! – no one gets anywhere by quitting! – whine you little fanboy – nobody's impressed]5. Plastic Loves Global Warming[artificial – repetitive – a sore spot]6. Buddha & The Blueberry Wizard[stuck in the mud – avatar in chains – mind over matter – wizards in treacle – does this mean anything? – I like blueberry muffins]7. Error And Error[portrait of a young man – pulse and pound – blood and brain – swish and wash – all lost in repetition – warts and all]8. Mummy Crazy[mummy or mommy – fixation – Freud and Oedipus dancing a jig]