image not
available
anymore
Artist:
SELAXON LUTBERG/.:C@SSX://
Title:
Split
Format:
CD
Label:
Cold Current
Rated:
As I wrote some days ago in the review of Selaxon Lutberg's ".Total Control in the Heart of the Sun.", the definite dark ambient nature of that release could be misleading. The three tracks of his split with the bizarrely named project .:c@ssx:// are indeed a far cry from that style, rather being experiments in melodic electronica. "sector E.1" is arguably the most successful, if a bit unrefined, track, with backward melodic loops and a feel of melancholic indulging; but also the liquid throbs of "Static Solution" could have lead to interesting results had they been developed into more daring solutions. Not a bad listen, just not memorable. .:c@ssx://, on the other hand, opts for distorted and under-produced beats - a sort of minimal industrial-tinged electronica that honestly goes nowhere. The cdr comes in a square dvd box and is limited to 40 copies, currently sold out from the label.
Artist:
The Moon and the Nightspirit
Title:
Of Dreams Forgotten and Fables Untold
Format:
CD
Label:
Equilibrium music
(@)
Distributor:
audioglobe
Rated:
The Moon and the Nightspirit is a musical project formed in 2003 by Agnes and Mihaly. To share their experiences gained in worlds arcane with others, Agnes and Mihaly recorded a promotional EP in 2004, then signed to Equilibrium Music for their first full-length album. With the help of a guest musician (Gabor Vegh) on percussions, they released "Of Dreams Forgotten and Fables Untold"
The album is a mystical journey into the amaranthine realm of dreams and beauty, inspired by pagan fables and ancient Hungarian folk music. 9 songs filled with enchanting female vocals, violins, woodwinds and piano, accompanied by acoustic guitars and percussion. This fusion of neo-classical and mediaeval music and the emotive singing give to the listeners some melodies immediately memorable.
Their sound remains to Ataraxia, Hagalaz' Runedance but also to the mainstrem like Enya or Loreena McKennitt. A nice release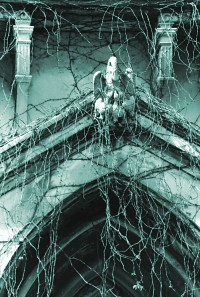 Artist:
ataraxia
Title:
Arcana Eco
Format:
CD
Label:
Ark
(@)
Distributor:
masterpiece
Rated:
Ark Records is an Italian music label that has produced Argine.Now Ark Records has produced Arcana Eco of the Italian neoclassical masters Ataraxia. Ataraxia is a neo-classical group with a number of releases under their belt and Arcana Eco is a book+cd that describe the complete discography of ATARAXIA with black & white and color photographs that include live shots of the band in concert, photographs of the band members posing in natural settings, and several images of band members dressed in medieval.The CD is packaged in a DVD pack, and the book and the CD are packaged together in a slipcase. BOOK : 164 pages,six chapters developping through Livio Bedeschi's photos, Ferruccio Filippi's reflections and Francesca Nicoli's writings; an exhaustive interview; a full discography and the 'Arcana Eco' Cd lyrics.CD : 7 exclusive tracks recorded and mixed between April and July 2004 (total length35 mn), four of them are new, the other three are older songs revisited with a todaysensibility.Cobalt(exclusive new song)Astimelusa(new key-chimes version)Mirsilo(exclusive new song)Fire in the Wood(exclusive new song)Nossa Senhora dos Anjos(new studio version)De Pourpre et d'Argent('A baroque divertissement' version)The Island of Docteur Moreau(exclusive new song)Arcana Eco is a an impressive job and an excellent guide to the vast offerings of Ataraxia .
image not
available
anymore
Artist:
JODA CLÉMENT
Title:
Movement + Rest
Format:
CD
Label:
Alluvial
Rated:
Joda Clément is a very young Canadian musician, here debuting on an important label like Alluvial. "Movement + Rest" is an apt title for these six tracks of droning ambient, played with a series of instruments ranging from synthesizers to harmonium, from laptop to firebells, plus several field recordings taken in Canada, Mexico and France. Clément blurs all his sound sources in apparently static, yet layered and detailed soundscapes, with a style reminding of Monos, Alio Die, Mirror or Paul Bradley. While there are no let downs, not all tracks are memorable either; I personally find "The Ballad of Sleep", for example, a bit too standard sounding. Fully successful pieces like "Sacré-Coeur" or "Song of Threes", however, make this a very promising debut nonetheless.
image not
available
anymore
Artist:
WERCHOWSKA/PONTEVIA/BOUBAKER
Title:
Glotosifres
Format:
CD
Label:
Creative Sources
Rated:
"Glotosifres" is a quite short cd (three tracks, 28 minutes), and also one of the very few, in the Creative Sources catalogue, which could be still defined "free jazz" without much forcing. Nush Werchowska (piano), Mathias Pontevia (drums) and Heddy Boubaker (alto sax), here offering two live performances recorded in July and December 2004, are evidently a close and well assorted trio. Listen to the restrained storm of "Bribes", for example, with a climax of bowed piano chords, hysteric sax and menacing percussions, or to the suspension and dilatation of "Spires". Particularly appreciable is the mastering work, by Boubaker himself, which underlines Pontevia's inventive drumming.