Artist:
Shroud of Vapour
(@)
Title:
Suicide Forest Sessions
Format:
CD
Label:
4iB Records
(@)
Rated:
Shroud of Vapour is the work of four musicians: Hiroshi Hasegawa (Astro), Hiroko Hasegawa (Rohco), Daniel Sine (L'eclipse Nue), and Yoshiko Honda. I was already familiar with Hiroko Hasegawa and Hiroshi Hasegawa's work in the legendary noise ensemble C.C.C.C., but the others are new to me. I must admit that my first thought on seeing the title and the cover art was that this would be pretentious neo-folk or worse, but it seems that the title is drawn from the actual place in which the recordings took place, The Suicide Forest in Aokigahara, Japan. According to the label, "The dense forest and its still quiet void of almost all wildlife bring out the very nature of the artists' true intent, reflecting the atmosphere of desolation and despair of a haunted suicide ground. The weaving in and out of distant female wails and ambient like soundscapes seem to echo the lost spirits of those that have chosen to take their own lives here." Sounds promising, so let's get into it. "In Memory Of" is a 49 minute slab of intense soundscape. It opens with a woman singing simple tones (rather than words) This continues throughout the track, giving the composition an otherworldly, mournful feeling (which complements the title well). The music, however, becomes increasingly more forceful, with waves of gritty noise threatening at times to drown out the vocalist. This ebbs and flows, with noise giving way to burbling electronics and static. This track does a lot with the tension between calm, peaceful passages and static-laden, aggressive noise. In some ways, you know that one will follow the other; it's just a matter of waiting for it to happen. The vocalist gives no clues either, as I could not understand any of her words, making it just more of the composition. Later on in the track, we have some male chanting, but this is just as difficult to decipher. The track eventually ends with a slow decrescendo of noise. Well done, if perhaps a bit too long for my tastes. "If it Pleases the Deceased" keeps the female vocals, but then buries them under a nice wall of noise. Like the previous track, there is a battle between dissonance and quiet, and although the winner seems to be static, the calm wins out in the end. Overall this is a nice blend of noise and ambiance, with just a hint of dread thrown in for good measure. This album weighs in at around 67 minutes and is limited to 250 copies.
Arpatle is the work of Dutch artist Patrick Bossink, who has been active since 2009, but this is the first I have heard from him. In the press sheet that came with the disc, one thing caught my eye: "For this project, I experimented a lot with granular synthesis, 'acoustic' feedback loops, and some programmed effects. Although the album sounds fairly obscure and sometimes even psychotic and aggressive, there's no concrete meaning behind it. I intended it as a mere sound sculpture." I have a lot of respect for this approach – no pretentious manifesto here! So let's put it on and see what we have. "Little Red Cap" starts us off on a mellow note, allowing the listener to simply sit back and enjoy the music. I almost didn't notice it moving into "Zombie Boat," which features a lot of noisy synth blips and clicks over a slow, mellow groove. "Tunnel" is a microcosm of the album as a whole though – it's noisy but not noise. For example, "Ionized" closes out the disc with slow moving walls of sound interspersed with high pitched, modulated waveforms and "Labrynth Hub" features pulsing crescendos of noisy soundscapes. Others, like "Piano Flower," are sort of peaceful, with random guitar mixed with noisy synth. Overall, this is what I like to file under "easy listening for the difficult music set." Sometimes you don't want ear-shredding noise, but pop music gets pretty boring and predictable. Arpatle has no intentions of hurting the listener. He just wants to take you for a ride. It won't be to where you planned to go, but you'll enjoy the ride nonetheless and the scenery is interesting and pretty. This album weighs in at around 47 minutes.
Artist:
Velvetine
(@)
Title:
Crematorial Dance
Format:
CD + Download
Label:
Facthedral's Hall
(@)
Rated:
Yet one more from the French Facthedral's Hall label. Formed in the 90's under the name Septembre Noir, the band changed its name in 2006 to Velvetine. Band member are: Peache (Pierre-Henri Mandine) on guitars + manufactured instruments; Stef.a (Stefan Mandine) on lead vocals + guitar; and Le K. (Marc Reina) on electronic percussion. Their debut album, 'Septembre' was released in 2007 and they followed that up with several EPs and a couple of videos, so 'Crematorial Dance' is their second full-length release. I wasn't able to preview much of 'Septembre,' but from the little I've heard 'Crematorial Dance' is much father along the path. Opening with "Far Away," Velvetine sets a strong dark tone with this impassioned creeper. Part of Stef's vocals are in French, and part in English, but you'll have no trouble getting the gist of the alienation and angst. At first, I thought this reminds me of some metallish dark alternative band whose name escapes me... The second track, "Ulan Bator" (sung completely in French) made the inevitable comparison much clearer - Bauhaus. It's not only Stef's sort of vocal similarity to Peter Murphy, but also the psychodramatic intensity of the band's musical style. It became even more evident on "Along the Way". The mood and phrasing, very Bauhaus, but still very French. These guys may not be Goth, but the maudlin music and lyrics should perk up the ears of every goth and emo who hears it. To wit, on "L'Immeuble" - "I don't know who I am, I don't know who you are, I don't care for myself..." While it may seem almost a parody taken out of context, Stef's impassioned delivery makes it real. The music is as simple and uncluttered as Bauhaus, yet refined in ways Bauhaus never was, and often fragile and poetic as on "Broken Harp." Velvetine cooks up a real NIN-style stomper on "Resolution," and kicks it up a notch or three on "The Shuttle." The rhythm aspect of this band is interesting too; Le K. uses a programmed drum base while he manually plays percussion over the top. The dense, distorted guitar give the music a metallish aura, but it's really far from metal. I really like that the lyrics are in both French and English; it is surely a refreshing approach to this type of music. The exception though is the last track, "Maha Mritunjaya," a Great Death-Conquering Mantra from the Indian Rigveda. Velvetine puts it across with aplomb and a forceful dramatic flair. Way cool!

'Crematorial Dance' is an album that can't help but grow on you. In fact, during the course of listening to the music (for a fifth time) for this review, I'm upping the rating half-a-star because it's just that damn good. Copies are limited to 500. Obviously I have mine. I wouldn't wait to get yours if I were you. Highly recommended!

Artist:
Minitel
(@)
Title:
Abimes
Format:
CD + Download
Label:
Facthedral\'s Hall
(@)
Rated:
More interesting music from France courtesy of the Facthedral's Hall label. There seems to be very little information on the artist, even from the label. 'Abimes' is the debut Dark Ambient Industrial Drone project composed and recorded in 2006 by Iconoclast, under the project name of Minitel, and not released until this year. Why, I have no idea. As for Iconoclast, the only other info I have is that Raphael Henry played (and maybe still plays) guitar in a Black Metal band called Sael under the name Iconoclast. Well, that's at least something, and does explain some of the music on this album. 'Abimes' begins with "Vitriol," a 4 minute noise piece that sounds like white hot ore being processed in a steel mill. Good for noise enthusiasts, but I was hoping the whole album wasn't composed of pieces like this. "Novocaine Messiah" put my fears to rest with an uneasy calm. Primarily hollowish synth drone with a vague, eerie whistling melody over the top, this somnombulant ambience might lull you to sleep but also inspire nightmares out of the twilight zone. I swear I heard some snoring in there... "Inner Filth" presents a much heavier ambience, a spiraling dark ambient drone piece that lasts for over 22 minutes. "Lurker at the Threshold" juxtaposes a very low tone melodic loop over even lower engine idling with other sonics that sound like snakes slithering over sleeping monsters of the deep. This is the creepiest track on 'Abimes,' and owes much to Lustmord's oeuvre. Finally, we have title track "Abimes" and here is where the black metal comes in. It begins with thick slabs of distorted guitar amidst cooing dove-like sounds, and a thick underpinning of deep, dark drone. As the piece progresses, squeaky metallic sounds can be heard, the guitar fades away, then a slow doom drum loop, and all the while that low, thick drone holds down the bottom. This goes on for quite a while until it seems to fade out until... BAM! at a little over 14 minutes the black metal guitar returns with a vengeance swallowing everything and returns into the abyss from which it came, with only traces of doom drum left. While 'Abimes' seems minimal in form, there is a lot of complexity in the drones. I know people who would absolutely love this because of the black metal aspects. For me though, I preferred the middle tracks. Still, very well done. Limited to 300 copies.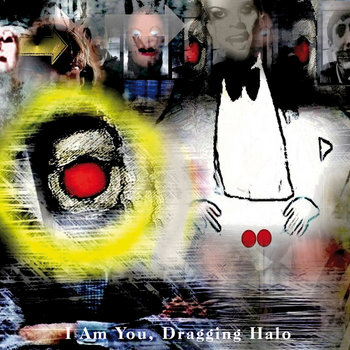 Artist:
Murmurists
Title:
I Am You, Dragging Halo
Format:
CD
Label:
Zoharum
(@)
Distributor:
Alchembria
Rated:
This new release from Murmurists, the project from Antony Donovan aided by a bunch of collaborators which adds levels of complexity to a rather intricate composition. Apparently, as there's any published lyrics and is should exists a libretto according to the liner notes, it seems to talk about immigrant's life in a western city but it's a strictly personal impression. It sounds as a really evocative journey where reflexive moments and action ones come in a succession.
"I Am You, Dragging Halo" is a single track which seems centered upon a sort of plot as almost all voices are speaking but it seems to be fragmented and evocative rather narrative. The music is mostly a background for the voices and tries to evoke the noises of everyday life when it doesn't expand into cinematic moments when it seems to happen something. When almost rock moments follows narrative ones and are interrupted by long electronic interludes, there's that sort of film editing applied to music which creates a sort of abstract radio drama.
It's a really demanding listening that could be enjoyed by fans of avant-garde or, perhaps, even improvised music and will have precious moments of amazing playing and creative writing. The casual listener will be perplexed but the others will love it.