image not
available
anymore
Artist:
Atrium Carceri, Cities Last Broadcast, God Body Disconnect
Title:
Miles to Midnight
Format:
CD
Label:
Cryo Chamber
(@)
Rated:
While, at first sight, this could seems a split album, it's a true and proper collaboration between three acts that already have a significant amount of release on Cryo Chamber. As it's now a sort of development for this label, "Miles to Midnight" is another step away from the dark ambient form; evidently inspired from noir movies, the most recognizable elements of the OST for this kind of movies are used: the drum played with brushes and melancholic piano lines.
The usual barrage of sound effects, almost canonical for this type of releases, opens "Miles To Midnight" evolving, just after a minute, in a form close to a song because, when the drum enters with a reverse loop, there a hint of melody in the background and a well defined structure. The piano of "A Thousand Empty Rooms" is ever more audacious in this exploration towards pop territories, so "Scene Of The Crime" with his sound details return to something closer to dark ambient but with an experimental twist. "Floor 6, Please" sounds like the second part of "A Thousand Empty Rooms" while "The Other Lobby" shows the technical abilities of this artists with a recreation of an old style sound spectrum and "Sorry Sir, You Are In The Wrong Room" starts as the first true approach to the canonical form of the genre. While "The Sleep Ensemble" is impressive with his sharp tones and detailed but quiet background, "Quiet Days On Earth" sounds more like the track which are usually used in the end titles of a movie.
This release could perhaps upset the die-hard fan of the genre as it has weak ties with the genre but it will be truly enjoyed by open minded fans and even fans of ambient in the wide sense. Recommended.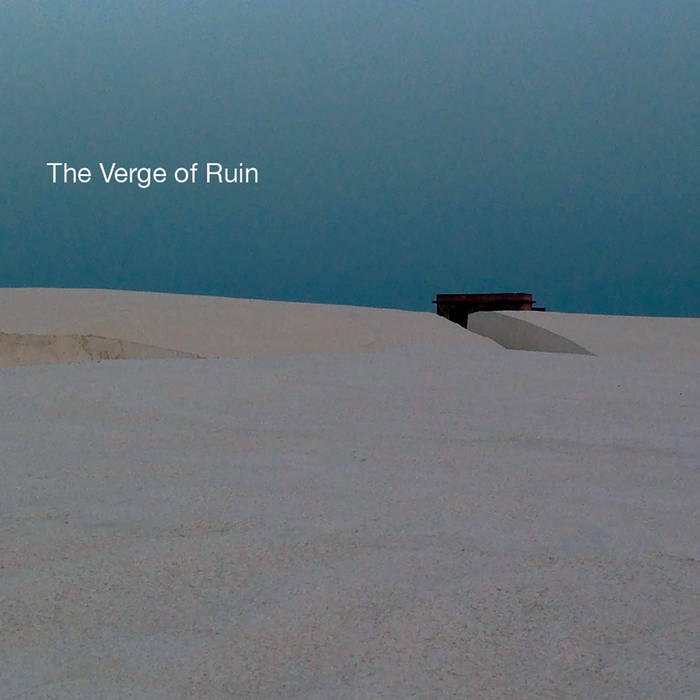 Artist:
The Verge Of Ruin
Title:
Learn To Love Solitude
Format:
CD
Label:
Setola di Maiale
(@)
Rated:
This project is presented by their members, Stefano de Ponti and Shari DeLorian, as "a research in sound and poetry" and, while it's not clear the meaning of this claim after the listening of this first release, sounds as completely focused on a idea of "writing as editing". This release sounds as developed by pasting fragments until the result is more than the sum of the parts.
The track starts in a relatively free form dominated by sparse sound mostly of concrète origin and percussion; after all this movement, there's a part based on drones of long tones searching resonances and juxtaposition. Then, the track begin to oscillates between static and dynamic moments so e.g., after a detailed drone there's an abrupt explosion of noise. Above all, there's the impression that, more than a sound research, there's an idea of musical movement based on short musical moments in direct contrast between them as a sort of dialetic without synthesis.
All those materials compressed in a so short span (the release lasts just over twenty minutes) means a demanding listening asking for a particular concentration. Not exactly a easy listening but it's full of subtle ideas that could have been perhaps more developed. However, it's recommended for fans of experimental music.
Artist:
Frank Meyer | Roman Leykam
Title:
Nebbia
Format:
CD
Label:
Frank Mark Arts
(@)
Rated:
The title of this new collaborative album by Frank Meyer and Roman Leykam is the Italian word for 'fog', but there are not so many tracks that I'd label as 'foggy', maybe due to the habitual clarity of the sound that characterizes most of the releases coming from the imprint of Frank Mark. I sometimes griped about a lack of innovation of the sonorities explored by the label as well as other stylistic choices that could sound old-fashioned, but I have to say that this "Nebbia" includes many intriguing moments and very good tracks by this "run-in" artistic collaboration, in spite of the fact that some distinguishing marks have been kept such as the centrality of electric guitar in the line-up and a "new-ageish" coating of the sound. Even if many tracks keep on being very similar to previously composed material by these musicians, I appreciate the attempt of dusting their style down that can be perceived in many tracks over this retro mists... Lovers of supposedly mystical and meditative music (...and there are many more than someone can imagine, following the explosion of DIY or copy'n'paste religious beliefs and a rich assortment of "spiritual bundles" in the times we're living) won't really look after these details and they could appreciate it as a nourishment for the reaching of some enlightenment as they appreciate some brand new soy-based beverage or any other healthy goop, but a music reviewer can't but highlight that some outputs by these guys are excessively pleonastic and so repetitive that they could bore more demanding listeners. Fortunately, some of the sphere they forged (I'd rather match them to giant soap bubbles that explode just before the listener realize they're enveloping its aural sphere...) feature a different approach to compositions. I particularly enjoyed the ones where they added more beats (even if rhythmical patterns are quite simple) such as "Auxiliary Truth" or "Creative Hostility" as well as the ones where one of the two electric guitars dictates the pace, while the other one rambles on some melodic motif. Have a check and a comparison against other outputs by Frank and Roman.
Artist:
Francois Bayle
Title:
Tremblements
Format:
LP
Label:
Editions Mego
"Tremblements" re-issues two experimental electronic works from the end of the 1970's, when the synthesizer was well on the way to stepping out of the avantgarde and the Radiophonic Workshop and into mainstream and pop music. But this arrangement of oscillators, sparkling bleeps, tweaks, bells and found sounds (footsteps, radio noises etc.) is firmly in the former category, with a certain air of theatricality in the deliberately rise-and-fall, stop-and-start performances.

"Tremblement de terre très doux" is a cycling 28-minute series of "climate", "transit" and "landscape" elements, each one building from a flat soundscape- sometimes silence- into more frenetic sections of layered and high-pitched electronic waves that sound at times like a 70's TV spaceship computer bank in turn launching, running smoothly then threatening to crash.

There's less of a sense of revelry in second piece "Toupie dans le ciel", which is described as containing 27 interconnected 'cells' each with a different theme of scientific measurement (distance, pressure, density etc.) though compared to the previous piece this distinction is much more arbitrary- the sound itself is a 21-minute continuous series of meandering, 'blinking' oscillators which switch constantly between two slowly changing minor chords, sometimes tending towards surprisingly high, tinnitus-and-dog-whistle level pitches. After eleven minutes we begin to hear lower, more metallic, scratchy tones, but the alarm-like bleeping promptly re-engages and never strays too far away. Things get a little warmer towards the end.

Speaking only for myself, I much preferred the first track, which brought with it a sense of fun, to the harsher and more immersive second piece. Neither track provides a particular 'missing link' in the history of electronic music, but fans of this stripped back, in-depth analogue electronic experimental tone will certainly find something to engage with in this.
Artist: DJ Taye
Title: Still Trippin
Format: LP
Label: Hyperdub

Though branded as a relatively straightforward hip-hop electronica album, as you'd expect this offering from Hyperdub is a bit smarter than many of its peers. The groove and the swagger are definitely there, but the tempos are more varied and the drum programming is complex, the melodic synth work is smart and ambitious, and the fast-cutting production touches are quite deft, allowing the subbass to shine and offering something really different to listen to.

"Need It" is particularly unusual, cutting up jungle rhythms and bending them into a subdued multi-tempo affair that turns the vocal into something oddly stalker-ish. The tracks collaborating with DJ PayPal, such asl "Bonfire", are equally jittery in interesting ways, with "Pop Hop" taking a surprising turn towards acid gabba (to a small extent). Fabi Reyna's bass guitar playing and vocal on final track "I Don't Know" give it an unusual vibe as well.

Lyrically it's a mixed bag, with some unusual cultural and political lines at points, but also a fair share of the usual tedious testosterone-fuelled bragging and rapping-about-rapping that gets quite dull quite quickly.

Across sixteen tracks, mostly around three minutes each, there's a breadth of ideas that keeps things running smoothly, but it is perhaps lacking enough real dynamics and highlights to make this a repeat-go-to album.