Artist:
Weingarten - Charlton
(@)
Title:
Where There is Light
Format:
CD
Label:
Spotted Peccary Music
(@)
Rated:
Now this is something- a collaboration between guitarist Carl Weingarten and (Steinway) pianist Catherine Marie Charlton in an ambient excursion titled 'Where There is Light'. Not only a guitarist and a photographer but also the founder of Multiphase Records and the short-lived 80's band Delay Tactics, Weingarten employs acoustic and electric guitars, dobro, loops, delay and effects on this recording. Charlton has released numerous solo piano albums since 2000, some of them award-winning. If you're expecting this to sound like some Harold Budd/Robert Fripp collaboration it isn't exactly that, but in places you might be tempted to think so. For one thing, Weingarten's guitar style is different than Fripp's and more understated here. Charlton's piano is more impactful and not gauzy and submerged like Budd's, yet much attention given to spatiality. There is also the addition of Windham Hill house bassist Michael Manring in places, a seasoned musician quite adept at this kind of collaboration who supports and fortifies the ambiance rather than detracts from it. Throughout the eight tracks on the album there is a pervasive aura of melancholy, but it's a beautiful sort of melancholy that puts one in a reflective mood. These artists seem to mesh perfectly combining their talents in an improvisational tapestry that is simultaneously unobtrusive yet engaging; a real delight to experience. I think this team will find much favor among electro-acoustic ambient enthusiasts and hopefully more will be forthcoming from them.

Artist:
Matthew Stewart
(@)
Title:
A World Bathed in Sunlight
Format:
CD
Label:
Spotted Peccary Music
(@)
Rated:
It doesn't bode well when I get a "Forbidden: Access Denied" error message when attempting to visit an artist's website to get more information on said artist, especially if that artist has just put out his debut release. Hopefully Mr. Stewart will get that problem resolved soon. So all I really have to go on is Spotted Peccary's one-sheet from which I'll quote a little. "The album is a musical chronicle of a fictional story I've had in my mind," explains Stewart. "The literal story arc follows the destruction of earth, the escape of a few seeds of humanity, and the discovery of a new world." Kind of a generic sci-fi plot I suppose, but it's the music we're really interested in, not the story per-se. Stewart executes this undertaking with guitar, bass, synthesizers, drums and percussion programming, and most prominent- piano, and the only vocal is an atmospheric wordless one by Deborah Martin on one track.

Opening with the title track, a wistful, romantic piano-dominated theme with a nice melody and just the right amount of orchestration from synths and percussion, you should get a pretty good idea of what you're in for. As the journey continues, synth orchestration grows fuller and more lush, and there is an emotive quality that can't be denied. Still, overall I get the general impression of placidity as opposed to adventure, and in that regard it's kind of disappointing. Instead of being super-cinematic, the music on 'A World Bathed in Sunlight' falls more into the grandiose New Age category, and piano passages wouldn't be out of step with Jim Brickman, David Lanz, Michael Nyman and John Tesh. Still, if you like that kind of music, Matthew Stewart's debut might just be your cup of tea. I will probably play this occasionally in my bookstore where it won't ruffle any customer feathers.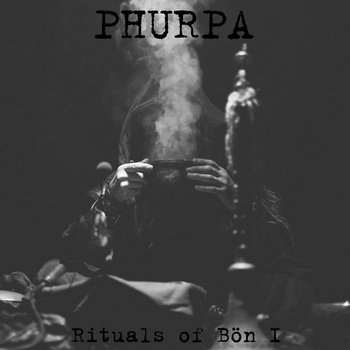 After their remarkable "Chöd" reviewed a couple of months ago, this russian project returns with the first part of their exploration of the rituals of Bön (a pre-buddhist tradition of the far east) continuing their rescue of a spiritual sense of music. For this means, they use traditional instruments and a music form unbased on the western concept of development and writings. This is music organized in prevalently static moments where timbre is moving instead of pitch.
When the traditional chant, which opens "Yan-Drub", begins there's a sense of spiritual rest, as it sounds as a continuation of the musical path of the previous releases. The quiet percussions in the background act as an introduction of the second part of the track based on aerophones with a lower volume so they barely embrace silence instead of the listener, as the first part did with the remarkable volume of the voice which returns in the final part of the track. "Long Life" starts in the same manner of the first side but the second part is based on chordophones, or so they sound, and percussion so they create an evocative sense of spiritual movement. An extremely silent part based on aerophones and small metallic resonances of the percussions has a sense of focus that is broken by the entrance of the didgeridoo accompanying the listener towards the end of the track asking a full concentration to appreciate the small movements of his sound.
This is music so "pure" at a linguistic level that requires complete cohesion with his listeners and could be inaccessible to people with listening habits rooted in the western concept of "expectation" as Phutpa requires "contemplation". So this release is unrated, as it's too extreme for the typical listener, but all fans of minimal music, with a proper attitude, will play this music until the vinyl is consumed.
Artist:
Dronny Darko
(@)
Title:
Spira Igneus
Format:
CD
Label:
Cryo Chamber
(@)
Rated:
This new release by Dronny Darko is another statement of how a label as Cryo Chamber choose their releases with sound quality in mind. When liner notes state that "massive deep drone builds momentum as reality cracks open to reveal the darkness of the void", there's a sense of exaggeration that is suddenly erased as the disc begins and the first seconds of the first track show a real craft.
While the first part of "Scriptures" is made out of thick drone, the second one reveals subtle sounds, perhaps samples or field recordings, hidden in the mix. "Rotten Orchestra" intertwines deep basses with quiet meditative moments while "White Eyes" use even noisy moments, as an SW radio, to create a real dynamics and "Three Rulers" reveals a circular structure as it starts quietly to evolve in a deep mass of sound to return to a quiet environment. "Endless Cave" uses the soundscape to underline the sparse sounds emerging during the development of the track. "Forbidden Wisdom" is apparently static as it unfolds small nuances during his duration. "Grey Echoes" closes this release featuring long notes instead of drones over an evocative soundscape.
This is those kind of release that is completely based on carefully chosen sound manipulations that could be so imperceptible in a noisy environment as charming in proper listening environment. It could be structurally derivative in his musical writing but the sound production is so overwhelming to stand upon the best releases from this label. Recommended if using headphones.
Artist:
Azalia Snail
Title:
Dream Dazzler
Format:
Download Only (MP3 + Lossless)
Label:
Silber Records
(@)
As an installment in Silber's "5 in 5" series, "Dream Dazzler" breaks the mould somewhat, with an audacious stretch to a total of six minutes across the five tracks. Call the librarians! This abuse of the format must not go unreported…

Azalia Snail's attitude to making this music is as flagrantly disrespectful as Azalia's attitude to the 5-minute rule. Five almost randomly structured collections of synthesizer experiments and slaps, sample loops and effects that's irreverently lo-fi and difficult. Opener "78" is the most atmospheric, with discordant bottle-note sustains and sinister, distant mechanical noises. "Exit" has a strong Art Of Noise flavour, except that this is what Art Of Noise would've sounded like if JJ Jeczalik had been extremely drunk and wanted to get himself fired. "Deep" is the sound of an artificially intelligent church organ that's panicking because it's being invaded by bees. "Return" is an adventure in stereo and the use of stop-start effects as instruments, jumping inexplicably into early Prodigy-esque sine wave rave horns before getting bored and stopping. "Dance Baby", with a synth line that feels like it's been borrowed from a lightweight bit of synthpop, surrounded by threatening noises and then roundly beaten up, ends up being one of the most playful pieces.

This is an out-there little release that revels in its own lack of convention, lo-fi credentials, even down to the frankly daft and quite under-selling artwork. It's practically incoherent but nevertheless it's still actually rather fun.